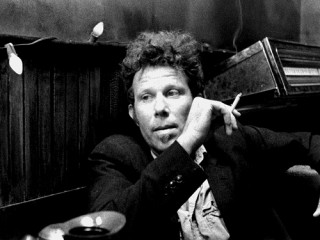 Tom Waits biography
Date of birth : 1949-12-07
Date of death : -
Birthplace : Pomona, California
Nationality : American
Category : Famous Figures
Last modified : 2010-12-07
Credited as : Actor and singer/songwriter, Closing Time 1973,
Although he has applied his many talents to acting and composing for stage and screen,
Tom Waits
' performances on albums and in concert have remained his trademark. His rumpled suits, his rough and gravelly voice, and his songs about downtrodden but hopeful characters all make a Waits performance instantly recognizable. Still, there have been changes in Waits's music. Early on, his songs showed the influence of the jazz and blues he had listened to as a child. Over time he became more experimental, showing classical influences and a willingness to use any object that could make a sound as an instrument. Then, after his 1992 album Bone Machine, Waits seemingly stopped recording new material, releasing only retrospectives and music from movies and musicals. This hiatus ended in 1999 with the release of Mule Variations, where he brought together the various sounds and styles from his entire career.
The way life began for Waits sounds like something that might have happened in one of his songs. He was born in a taxicab outside a hospital in Pomona, California, on December 7, 1949. His parents taught school, but more important for Waits, his father taught him how to build Heathkit radios. On his crystal sets he heard radio programs from around the country, and listened to the blues of Ray Charles and Leadbelly, the country music of Johnny Horton and Floyd Cramer, and the rock and roll played by Wolfman Jack. While his musical tastes were forming, so were his literary ones, as he discovered the works of the Beat authors, especially Jack Kerouac and his best-known work, the novel On the Road.
Waits took to the road himself, heading to Los Angeles, California. There he continued to be fascinated with the lives of the people who populated the city late at night, who were living on the margins of society. These people became a sources for the songs that he began performing around the city. His appearance on stage meshed with his characters. Dressed in a rumpled old suit and often wearing a porkpie hat, Waits would brandish a cigarette or a drink while telling stories between songs. He became well known on the Los Angeles club circuit, and during a 1969 stint at the Troubadour, a legendary West Hollywood club, he signed a contract with rock manager Herb Cohen. Still, he remained a songwriter and stage performer until 1973, when his first album, Closing Time, was released on the Asylum label.
Weird Life on the Road
Even though he had signed with a major record company, Waits did not lead the stereotypical life of a rock star. Living in Los Angeles, he roomed at the Tropicana Hotel, a residence more seedy than luxurious. He stayed at similar places when he toured. He explained his reasons to David Fricke of Rolling Stone: "I would wind up in these very strange places—these rooms with stains on the wallpaper, foggy voices down the hall, sharing a bathroom with a guy with a hernia. I'd watch TV with old men in the lobby. I knew there was music in those places—and stories. That's what I was looking for." Many of his early gigs were not all that glamorous, either. At one time he found himself performing in front of children, serving as the opening act for 1950s children's television star Buffalo Bob and his famous marionette Howdy Doody. Even when opening for other rock acts, Waits wasn't really comfortable. On a tour with Frank Zappa, Waits had what he described to Fricke as his "first experience with rodeos and hockey arenas … It was like Frankenstein, with the torches, the whole thing."
While the life of a rock and roll star didn't appeal to Waits, his music appealed to many of the stars themselves. Artists such as the Eagles, Bette Midler, and Bruce Springsteen all recorded their own versions of Waits's songs from the 1970s and 1980s. Waits was prolific throughout the decade, releasing a total of eight albums on Asylum from 1973 through 1981, including The Heart of Saturday Night in 1974, Small Change in 1977, and Heart Attack and Vine in 1980. Steve Huey of All Music Guide summarized Waits's music during this period as "a mix of Beat poetry recited over jazz-trio backing and blues, alcohol-soaked piano and/or orchestral balladry." The 1975 live album Nighthawks at the Diner captured the full Waits stage performance, laced with the story telling and one-liners that he interspersed between his musical performances.
Waits's penchant for performing led him into acting. He made his film debut with a small part in the Sylvester Stallone film Paradise Alley in 1978. Waits went on to appear in numerous films, working with such respected directors as Robert Altman (Short Cuts), Terry Gilliam (The Fisher King), Jim Jarmusch (several films, most notably Down by Law), and Francis Ford Coppola (several films, including Bram Stoker's Dracula). Working with Jarmusch and Coppola also gave Waits the opportunity to write soundtracks. A collaboration with Coppola also led Waits to one of the most important events of his life and career. While writing the soundtrack for One from the Heart, he met script editor Kathleen Brennan. The two married in 1980, and while she changed his life in small ways, such as not allowing him to wear his suits to bed, she also influenced his song writing by encouraging him to open up musically.
A Musical Marriage
Waits's first album after their marriage was 1983's Swordfishtrombones, which marked the beginning of a new sound for him, one that came out of collaborating with Brennan. He described her liberating influence to Gil Kaufman and Michael Goldberg at the Addicted to Noise website: "You try to reconcile the fact that you like Collapsing New Buildings and Skip James and Elmer Bernstein and Nick Cave and Beefheart and Eric Satie and all this stuff that you don't know what to do with. I guess it was her [sic] that gave me the notion that you can find some reconciliation between these things that you like. That was the beginning, and we've been working together since then." Among the new elements to appear in Waits's arrangements during this time were the influence of German composer Kurt Weill, as well as the use of sounds made by everyday objects. Waits told Fricke, "I'm the kind of bandleader who when he says, 'Don't forget to bring the Fender,' I mean the fender from the Dodge."
While Waits's music and instruments changed over time, the lyrics of his songs continued to explore the lives of the down-and-out and the dispossessed. Waits and Brennan wrote from everyday life, although they exaggerated a bit. Waits told Fricke, "If I know three things about my neighbor, I take those, and that's enough for me to go on. Everybody mixes truth and fiction. If you're stuck for a place for a story to go, you make up the part you need." In an interview with Jonathan Valania of Magnet, Waits stressed the impor- tance of making the setting for the song feel authentic. "Every song needs to be anatomically correct: You need weather, you need the name of the town, something to eat—every song needs certain ingredients to be balanced."
Swordfishtrombones marked a change in the tone of Waits's songs. MusicHound Rock described the songs from the 1970s as "sentimental in the way people get after a few too many cocktails," but by the time Bone Machine was released in 1992, Waits's material was the "most harrowing ever." Even this material appealed to other artists. Rod Stewart scored a hit with his cover of "Downtown Train" from 1985's Raindogs. Bone Machine brought Waits recognition from the recording industry when it won a Grammy Award for Best Alternative Music Performance. Evidently Waits didn't think much of the award designation. Jim Jarmusch reported Waits's reaction to Valania: "He flipped out when he got the Grammy. He hated that. 'Alternative to what?! What the hell does that mean?'"
Stage, Screen, But No Studio
Following Bone Machine Waits turned his attention away from the studio and toward the stage. He had already collaborated with Brennan on the musical Frank's Wild Years (1987), the story of an accordion player recalling his life while freezing on a park bench. In 1993 Waits teamed with legendary Beat author William Burroughs and composer Robert Wilson on a musical called The Black Rider, based on a nineteenth century German folk opera about a man who makes a Faustian bargain with the devil so that he can marry the woman he loves. Waits then worked with Wilson on an operatic adaptation of Alice in Wonderland. He also continued composing for movies, collaborating with Brennan on the music for the Oscar-winning animated short subject Bunny in 1998.
In 1999 Waits released Mule Variations, his first album of new material not related to stage or screen work in seven years. It immediately became Waits's largest commercial success. Only two of his previous albums had even cracked the Billboard Top 100, but Mule Variations debuted at number 30 on the charts. The album also achieved good critical notices, with many reviews pointing out that all the sounds and styles of Waits's earlier recordings appeared here in various songs. Valania wrote, "Mule Variations, his first album in seven years, and possibly his best, finds him moving full circle." As usual, Brennan collaborated with Waits on the album, receiving co-writing credit on two-thirds of the songs. The couple composed on a rented piano in a hotel room, a process that Waits described to Fricke as "a sack race. You learn to move forward together." Reviewing the album in the Village Voice, Robert Christgau wrote, "Together they humanize the percussion-battered Bone Machine sound, reconstituting his '80s alienation effects into a Delta harshness with more give to it—enough to accommodate a tenderness that's never soft."
Ironically, after all his years of recording for major labels, this most commercially successful of Waits's albums appeared on Epitaph records, an independent company known for its punk rock emphasis. Bradley Bambarger of Billboard reported that Waits "wanted to avoid what he calls 'the plantation system' of the music business." For Waits, remaining independent of the business dealings of major record labels brought him the freedom to make the kind of music he wanted, and to take seven years between album releases if he so chose. Comparing song writing to fishing, Waits told Fricke that it didn't matter how frequently he produced new work: "So you don't want to fish for a couple of weeks, a couple of years? The fish will get along fine without you."
In 2002 Waits simultaneously released Blood Money and Alice. The former was a song cycle written with Brennan for a stage production by Robert Wilson, based on the nineteenth century play Woyzeck by Georg Buchner. The songs were dark and moody, based on the true story of a German soldier driven insane by infidelity and medical experiments, who subsequently murders his unfaithful lover. Guest artists on the album included blues harmonica player Charlie Musselwhite, Police drummer Stewart Copeland, and guitarist Larry Taylor. The songs on Alice were written in 1990 as part of a stage collaboration with Robert Wilson and Brennan, and are based on the life of Alice Liddell, the young muse who inspired Lewis Carroll's most famous literary character, Alice. Alice's Adventures in Wonderland and Through the Looking Glass have provided ample fodder for literary critics, psychoanalysts, etymologists, and philosophers since their publication in the nineteenth century. Both albums were critically well received, and furthered Waits's reputation as one of the twentieth century's most daring, wide-ranging, and creative composers in any field of music. For the 2004 release Real Gone, Waits once again enlisted the aid of guitarist Larry Taylor, and also brought bassist Les Claypool and guitarist Marc Ribot into the mix. Waits's son, Casey Waits, contributed percussion and turntable duties on an album that, for some critics, seemed to be Waits marking time until real inspiration struck. All Music Guide critic Thom Jurek, while assessing the album as more of an experiment than an aesthetic success, acknowledged that the effort included the song "The Day after Tomorrow," which Jurek called "one of the most insightful and understated antiwar songs to have been written in decades. It contains not a hint of banality or sentiment in its folksy articulation." In 2006 Waits cleaned out the garage, attic, basement, tool shed, and fruit cellar of his copious and creative past for Orphans: Brawlers, Bawlers, and Bastards, a three-disc anthology of rare and unreleased songs spanning his entire career. The set was a treasure trove for Waits's fans looking to complete their collection, but has also served as a terrific entrée into the oeuvre of one of the most challenging and compelling pop artists since Captain Beefheart.
Selected discography
Closing Time, Elektra/Asylum, 1973.
The Heart of Saturday Night, Elektra/Asylum, 1974.
Nighthawks at the Diner, Elektra/Asylum, 1975.
Small Change, Elektra/Asylum, 1976.
Foreign Affairs, Elektra/Asylum, 1977.
Blue Valentine, Elektra/Asylum, 1978.
Heart Attack and Vine, Elektra/Asylum, 1980.
Bounced Checks, Elektra/Asylum, 1981.
One From the Heart, Columbia, 1982.
Swordfishtrombones, Island, 1983.
Asylum Years, Elektra/Asylum, 1985.
Anthology, Elektra/Asylum, 1985.
The Asylum Years, Elektra/Asylum, 1985.
Rain Dogs, Island, 1985.
Frank's Wild Years, Island, 1987.
Big Time, Island, 1988.
Bone Machine, Island, 1992.
Night on Earth, Island, 1992.
The Black Rider, Island, 1993.
Beautiful Maladies: The Island Years, Island, 1998.
Mule Variations, Epitaph, 1999.
Alice, Epitaph, 2002.
Blood Money, Epitaph, 2002.
Real Gone, Epitaph, 2004.
Orphans: Brawlers, Bawlers, and Bastards, Epitaph, 2006.
Awards:
Rolling Stone Magazine Music Critics' Picks for best songwriter, 1985;
Grammy Award, Best Alternative Album, for Bone Machine, 1992.
Read more
Latest headlines