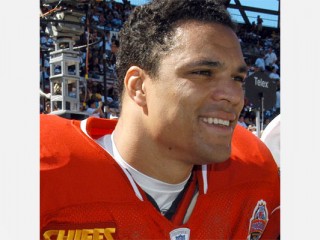 Tony Gonzalez biography
Date of birth : 1976-02-27
Date of death : -
Birthplace : Huntington Beach, California, U.S.
Nationality : American
Category : Sports
Last modified : 2010-08-09
Credited as : Football player NFL, currently plays for the Kansas City Chiefs,
Playing tight end was never considered a glamorous vocation—that is, until
Tony Gonzalez
came along. At 6-4 and 250 pounds, he has the classic build for his position, and with the brute strength to take on linebackers and the sheer speed to run by safeties, he has the prerequisite skills, too. But Tony also possesses keen athletic instinct and intense competitive fire, the intangibles that hardcore football fans can spot in a second. Tony's matinee-idol looks and good-guy charm don't hurt, either.
GROWING UP
Anthony Gonzalez
was born on February 27, 1976 in Huntington Beach, California, a beach town nestled slightly south of busy Los Angeles. He and his older brother, Chris, were raised by their mother, Judy. She worked two jobs to support her two sons.
Tony's last name and his skin color made most people think he was pure Hispanic. But his family roots ran much deeper. One of his grandmothers was white, and the other heralded from Jamaica. His mother's father was part American Indian and part African-American. His other grandfather was a native of Cape Verdan, located among the Portuguese islands off the African coast. His last name, Goncals, is pronounced "Gonzalez" when Americanized, and when he came to the U.S. that is how it was recorded. It has been the family name ever since.
As a kid, Tony did not list sports among his priorities. Though Chris was an excellent athlete, Tony had no interest in following in his brother's footsteps. His friends liked to go skateboarding, ride their bikes and hang out at the beach. Tony was happy to do the same.
Chris, however, wouldn't let up on his little brother. He convinced Tony to at least give organized sports a try. In the fall of 1987, the soft-spoken, reserved 11-year-old suited up for the local Pop Warner league...and hated it. Tony quit after just a few games. The following season Chris worked on his brother again. This time, Tony stuck out the entire campaign, though he remained lukewarm on the sport. His coaches played him the requisite six snaps a game, the number he was guaranteed according to league rules.
Away from the gridiron, Tony encountered an issue more pressing than athletic apathy. A school bully hassled him throughout the entire eighth grade. Most days, Tony hustled home from school for the refuge of his house. But after a year of running and hiding, he had had enough. Tony finally stood up to his tormentor, and the confidence he felt spilled over into other areas of his life. In school, he sat next to a student who suffered from seizures. Because Tony was now considered cool, nobody picked on his classmate.
By the summer of 1990, Tony had begun to fill out. A friend's father thought the teenager might be a natural on the basketball court. He was right. Tony scored 18 points in his first rec league game. From there his athletic ability poured out.
Tony went out for the football team in his freshman year at Huntington Beach High School. Still learning the sport, he showed potential as a linebacker for the Oilers, the same position his brother played. But basketball remained his first love.
Tony sprouted to more than six feet during his high school career, and maintained his agility and versatility. He played hoops every chance he got, and hit the all-star camps every summer, competing against the likes of Stephon Marbury and Jerry Stackhouse. Tony's jump shot was only average, but he used his strength down low to establish position near the hoop both on offense and defense. A bull with soft hands, he also excellent as a post passer and rebounder.
Tony started to gain national attention as a junior, when he averaged 17.1 points and 9.1 rebounds. Named an All-USA Honorable Mention by USA Today, he was already being recruited by the top college programs. Topping his list of schools was the University of Arizona.
But clouding the picture was Tony's development in football. In his junior campaign, he had starred at middle linebacker for the Oilers, posting 68 tackles and six sacks. Tony was equally effective on offense. The 6-4 tight end caught 38 passes for 800 yards and seven touchdowns.
Tony enjoyed an even better year as a senior. A first team All-American at tight end (and linebacker), he piled up 62 receptions for 945 yards and 13 touchdowns. When the basketball season rolled around, he broke Huntington's career scoring record—held by his coach, Roy Miller—going for 26 a game on 65 percent shooting. Voted Orange County and Sunset League MVP, Tony's most prestigious honor came in the spring of 1994, when he shared his region's High School Athlete of the Year award with Tiger Woods.
Tony had the college sports world at his feet. Though crazy about basketball, it seemed that football offered the clearer career path. Tony wasn't sure whether he would play linebacker or tight end at the next level, but he knew he would probably start as a freshman no matter where he went. The same wasn't necessarily true on the hardwood, where there was more pressure on him to refine and develop his game.
Tony eventually decided on the University of California at Berkeley. The school was a manageable drive from home, boasted excellent academics, and Tony was promised the opportunity to pursue varsity football and basketball.
ON THE RISE
On the gridiron, Tony joined a team with high hopes for the ''94 season. Despite the graduation of several key contributors, including offensive tackle Todd Steussie and kicker Doug Brien, head coach Keith Gilbertson still had plenty of talent at his disposal. The offense was led by quarterback Dave Barr, who was coming off the 10th-best passing campaign in NCAA history. All-American Regan Upshaw spearheaded the defense, while Ryan Longwell handled th punting and kicking duties. Despite all this top-level talent, however, Cal sputtered in the Pac-10 and crawled home at 4-7.
The team's poor play actually opened the door for Tony, who settled in on offense at tight end. Though his numbers were modest (eight receptions for 62 yards and a TD), he displayed the speed, hands and blocking ability that promised a bigger role in the future.
Tony traded in his cleats for high tops as soon as the football season ended. Cal basketball coach Todd Bozeman faced a daunting task in the 1994-95 campaign. His top two players, Jason Kidd and Lamond Murray, opted early for the NBA draft, leaving the Bears thin in the backcourt and frontcourt. If the squad was going to make any noise in the conference, Bozeman would need a lot of help from the trio of Monty Buckley, K.J. Roberts and Alfred Grigsby. Tony was part of an impressive recruiting class that included Tremaine Fowlkes and Jelani Gardner.
The year started promisingly enough, as the Bears won their first seven and climbed to No. 14 in the nation. But when Grigsby was sidelined with a bulging disk, the season took a turn for the worst. Cal got hammered in Pac-10 play and finished a game under .500, at 13-14.
The good news was that Bozeman found lots of minutes for Tony, whose high energy and willingness to throw his weight around gave the coach an interesting option off the bench. He netted 7.1 points and nearly four boards a game, playing a key support role to Fowlkes and Gardner, who scored in double-figures.
Tony's sophomore football season proved another clunker. Despite a deep roster, the Bears underachieved and wound up at a dismal 3-8 in 1995. Gilbertson lost his job, and Cal's two best defenders, Upshaw and Duane Clemons, jumped ship for the NFL. The bright spots were mostly on offense, where junior Pat Barnes emerged at quarterback and Bobby Shaw demonstrated big-play ability at receiver. Tony also had a nice year with 37 receptions for 541 yards and two scores.
After the disappointment of the football season, Tony looked forward to his second year of hoops. Though young, the Bears had a chance to challenge for the Pac-10 title and return to the NCAA Tournament. Fowlkes and Gardner were penciled into the starting lineup, and Bozeman had a stud in incoming freshman Shareef Abdur-Rahim. Junior college transfers Ed Gray and Prentice McGruder also figured into the picture. Tony again expected to see most of his time off the bench.
Behind Abdur-Rahim, who more than lived up to all his billing at 21.1 ppg and 8.4 rpg, Cal bounced back in the 1995-96 campaign. Tony contributed to the turnaround, his minutes increasing to almost 20 a night. Though his scoring dropped, his inside play added a physical presence to the Bears, who embraced an up-tempo style. The team finished fourth in the conference, and earned an at-large bid to the NCAA Tournament. The season ended on a down note, however, with a loss to Iowa State in the first round of the Big Dance.
Change was the theme as Tony headed into his junior year at Cal. Bozeman shocked fans by stepping down in August of 1996, leaving the basketball program in disarray. Meanwhile, Steve Mariucci took over the football team. After working with Brett Favre in Green Bay under Mike Holmgren, he brought his West Coast offense to Berkeley. Mariucci also introduced former San Francisco 49er Tommy Holmoe as his defensive coordinator.
Tony was one of many Bears eager to learn Mariucci's system, knowing he would have a prominent role in it. The Bears were stacked on offense, with Barnes and Shaw back and freshman Deltha O'Neal among those fighting for the starting tailback job. The line was anchored by mammoth Tarik Glenn and Jeremy Newberry. With all this firepower, Mariucci was excited for the season to begin.
The Bears roared to a 5-0 start, including their first win over USC in Los Angeles since 1970. In the victory, Tony caught five passes for 74 yards and a touchdown. The performance was indicative of how Mariucci was working his tight end into the offense. In turn, Tony's stock was rising in the eyes of NFL scouts. Though he was sharing the stage with Pac-10 stars like Jake Plummer and Darrell Russell, he was grabbing his fair share of the headlines.
Ranked 19th nationally at mid-year, Cal imploded over the final two months of the regular season. Decimated by injuries and plagued by sloppy play, the Bears dropped five of their last six, including three in a row to Arizona State, Oregon and Stanford by a combined score of 117-51. Still, the team managed an invitation to the Aloha Bowl against Navy. In Hawaii, they lost 42-38 in a barn-burner.
Tony was one of Cal's primary threats against the Midshipmen, catching nine passes for 69 yards. It was one of many impressive performances for the junior. For the season, he posted 46 receptions for 699 yards and five TDs. Tony tied BYU's Itula Mili for the most catches among NCAA tight ends, and his yardage was tops in the nation at his position. A first-team All-Pac 10 selection, he was voted a first-team All-American, too.
By then, Tony's focus had already shifted to basketball. New head coach Ben Braun welcomed the burly power forward with open arms. With the defection of Abdur-Rahim to the NBA and Fowlkes and Gardner transferred to other schools, Cal was thin up and down the roster. Tony scored eight points and pulled down seven rebounds against Mississippi State in a contest before the Aloha Bowl, and then joined the team full-time after acing three final exams and spending the Christmas break with his family.
WIth the Bears off to a surprising 9-4 start, Tony and his teammates were riding high. Gray developed into one of the Pac-10's best players, while Braun offered a calming presence on the sidelines. Tony was also key, again providing a spark off the bench.
But he had more on his mind than basketball. His sparkling junior football campaign had given him solid footing in the NFL draft. When it became clear he would be a first-round choice, he decided to go pro. The announcement did nothing to slow down the Bears on the hardwood. The squad made it to the NCAA Tournament, where it advanced to the Sweet 16. Tony was a monster in Cal's second-round win over Villanova, scoring a season-high 23 points.
At 6-4 and more than 240 pounds with a 36-inch vertical leap, Tony was in high demand by NFL teams. The Kansas City Chiefs were his most ardent suitors. Head coach Marty Schottenheimer had watched Tony on the basketball court over the winter, and was convinced he was a special player. The Chiefs traded up five spots to No. 13 to get their hands on him. Tony signed a six-year deal, and got ready for his first pro season.
With a solid offensive line and an improving receiver corps, Kansas City looked to build on its 9-7 mark from 1996. Even with a potential quarterback battle between Elvis Grbac and Rich Gannon, Schottenheimer figured his offense would put points on the board. He also knew that defense would not be a problem. Derrick Thomas and Dale Carter led a hard-hitting unit with a talent for generating turnovers with its aggressive play.
After dropping their opener in Denver, the Chiefs surged to five straight wins. The team later shook off losses at Miami and Jacksonville to finish at 13-3, the best record in the AFC. Armed with homefield advantage in playoffs, Kansas City and its fans had dreams of a Super Bowl title. But the wild-card Broncos came into Arrowhead Stadium and Elway-ed the Chiefs with a 14-10 victory. Like the rest of the team, Tony sat in the locker room in stunned amazement after the game.
His rookie season had been a roller coaster ride. He caught just eight passes in the first seven games, and appeared lost at times on the field. But things began to click in late October. Tony developed a nice chemistry with Grbac, and he started to decipher the coverages he faced. By season's end, he was a bona fide go-to guy. He also contributed on special teams, including a blocked punt against the 49ers. In all, Tony had 33 catches for 368 yards and two TDs. In Kansas City's playoff loss to the Broncos, he scored the team's only touchdown.
The Chiefs loaded up in the off-season. Believing they were just a player or two from the Super Bowl, the team signed a trio of free agents, defensive linemen Leslie O'Neal and Chester McGlockton and receiver Derrick Alexander. Meanwhile, offensive coordinator Paul Hackett left and was replaced by Jimmy Raye.
Kansas City stalled early in the year, and found itself at 4-5 after nine games. Tony was part of the problem. Drawing more and more double-coverage, he struggled to get open. The varied schemes got him thinking too much, and he started dropping balls. Though he wound up with 59 receptions and averaged nearly 11 yards per catch, Tony admitted his frustration over his lack of production. Kansas City management was just as frustrated with Schottenheimer and showed him the door after a 7-9 campaign. In his place the Chiefs promoted defensive coordinator Gunther Cunningham.
MAKING HIS MARK
The 1999 campaign got off to a rocky start for Tony, when he sprained ligaments in his right knee during the pre-season. Tony sat out the opener, but came back the following week to help Kansas City beat Denver, 26-10. The next Sunday he notched the 100th reception of his career in a victory over Detroit. The season was still young, but Tony seemed to have shaken the case of the drops that had plagued him in '98.
The Chiefs, meanwhile, were horribly inconsistent. They began November with three consecutive losses to fall to .500. Tony then rallied his team on the month's last Sunday against the Oakland Raiders, hauling in a short pass from Grbac and rumbling for a 73-yard touchdown to spark a 37-34 victory. Kansas City went on to win its next three to push its record to 9-5. During this span Tony recorded a pair of two-touchdown performances.
Though seemingly poised to take the AFC West, the team crumbled down the stretch. A loss in Seattle was followed by a devastating defeat at home to the Raiders. In that one, Kansas City led by 17 points, only to fall 41-38 in overtime. The Chiefs failed to make the post-season.
Despite his team's lousy finish, Tony was heralded for his outstanding campaign. With 76 catches for 849 yards and 11 TDs, he was a consensus first- team All-Pro selection, and became the first Chiefs tight end to make the Pro Bowl. His touchdown total was second in the NFL to Marvin Harrison and the second-highest mark in franchise history. In the eyes of fans, reporters and players, Tony had arrived.
But whatever personal satisfaction Tony derived from his breakout season was tempered weeks later by a car accident that claimed the life of Thomas, Kansas City's All-Pro linebacker. The shocking news left everyone on the club reeling. The Chiefs prepared for the 2000 season with heavy hearts.
Kansas City tried to make up for the absence of Thomas with Lew Bush and Tony's old Cal teammate, Duane Clemons. In the draft, the Chiefs picked up receiver Sylvester Morris, who gave Grbac another option in the passing game. The team, however, struggled once again under Cunningham, going 7-9 and missing the playoffs for the second year in a row.
Despite another disappointing year for the Chiefs in 2000, Tony established himself as a superstar. In September, he ran roughshod over the Broncos with 10 receptions for 127 yards, including a 15-yard TD. Tony got better as the season wore on. In October, he launched a streak of four games with at least 100 yards receiving, an NFL record for tight ends. A month later on Monday Night Football he put on a show with 11 catches for 147 yards and a touchdown. The performance marked his sixth 100-yard game of the season.
By the end of the year, Tony had rewritten the Kansas City record book. He set a franchise mark with 93 receptions, and his 1,203 receiving yards were also a record. Earning his second straight trip to the Pro Bowl, he was one of just five NFL players to top the 10-catch plateau three times, joining Keenan McCardell, Muhsin Muhammad, Marvin Harrison and Joe Horn. Tony also teamed up with Alexander to establish another team record. The duo combined for 171 catches for 2,594 yards, both single-season marks for a KC receiving tandem.
Starving for a winner, the Chiefs lured Dick Vermeil out of retirement in 2001, and asked him to rescue the franchise. He brought in Trent Green as his quarterback, took a chance on free-agent running back Priest Holmes, and installed a high-flying offense similar to the one that helped him win a Super Bowl with the Rams. The main difference between the teams was Tony. Vermeil had never had a dominant tight end in St. Louis. Working Tony into his offensive scheme was a bit of a challenge, but well worth it.
The Chiefs went 6-10 in their first year under Vermeil, but there were signs of hope. Green showed the grit and brains to be a top quarterback, Holmes flourished under his increased workload, and the special teams were outstanding, a Vermeil trademark. Tony also sparkled. Though his numbers declined somewhat, he was voted All-Pro for the third year in a row. Vermeil tried to seize on his versatility, incorporating trick plays that had Tony running the ball and another that had him complete a pass for 40 yards against the Chargers.
Speaking of versatility, Tony also talked during the season of his desire to suit up for an NBA team. Losing was driving him crazy, and he wasn't completely happy with his role in Vermeil's offense. With his contract up after the '01 campaign, Tony saw pro basketball as an intriguing bargaining chip. The Chiefs hinted at their negotiating strategy by designating him as their Franchise Player.
In the summer of 2002, Tony hooked on with the Miami Heat's rookie squad. In a 72-71 victory over the Indiana Pacers, he cleaned the boards to the tune of 11 rebounds and was everywhere on defense. But the Chiefs knew what everyone else did: Tony wasn't serious about the NBA, and the NBA wasn't serious about Tony. Still, Kansas City chose not to skimp on its star. In early September, after sitting out the entire pre-season, Tony inked a seven-year deal worth $31 million, including a signing bonus of $10 million.
With their tight end in the fold, the Chiefs concentrated on improving elsewhere on the field. The offense was again unstoppable in '02, with the trio of Green, Holmes and Tony was as dangerous as any in the league. They helped Kansas City light up the scoreboard with a whopping 467 points to lead the league and set a new team record. But the Chiefs continued to lay down on defense. They surrendered nearly 25 points a game, which made it impossible to win on a consistent basis. Their 8-8 record was as good as anyone could have expected.
For Tony, the '02 campaign was another exercise in frustration. Green found a reliable target in receiver Eddie Kennison, which meant Tony saw the ball less often. While he was voted to the Pro Bowl again, his numbers dropped to 63 receptions for 773 yards and seven touchdowns. Had the Chiefs been winning, he wouldn't have minded the statistical decline.
Vermeil recognized Kansas City's shortcomings and worked with GM Carl Peterson to address them. Linebacker Shawn Barber and defensive end Vonnie Holliday were added to the roster to help the Chiefs put more pressure on opposing quarterbacks. The team also welcomed back safety Jerome Woods from a broken leg that had sidelined him all of 2002.
Vermeil called Tony's number more often, too. Though minor injuries slowed him early in the season, Tony regained his stride in October. That month, in an overtime win at Green Bay, he burned the Packers for 121 yards and a TD on just four catches. In back-to-back games in November, he finished the day with seven receptions. In December, he registered the seventh multi-touchdown effort of his career in a 45-17 blowout of the Detroit Lions. Tony ended the year as the NFL leader among tight ends with 71 catches, 916 yards and 10 TDs.
Most pleasing to Tony was Kansas City's resurgence. At 13-3, the Chiefs captured the AFC West and a first-round bye in the playoffs. But they drew a tough foe in the Indianapolis Colts, who had the firepower to match them. In a shootout, Indy hung on for a 38-31 victory. Tony pitched in with four catches for 55 yards.
Unfortunately for Tony and the Chiefs, a return to the post-season in 2004 quickly became implausible. Despite bringing back Cunningham as defensive coordinator, Kansas City was unable to stop the bleeding—or the opposition—on defense. Compounding the problem was a lack of quality at receiver. Ironically, while this has forced Green to look in Tony's direction more often, it also allowed enemy defense's to cover him more effectively. The final nail in KC's coffin was an injury that sidelined Holmes for the season. Though Larry Johnson put up some impressive numbers in his absence, the Chiefs weren't the same team without their leading rusher. They finished the year at 7-9.
Kansas City limped from the starting gate, winning just one of its first five. The club exploded in its next two, totalling 101 points in victories over the Falcons and Colts. Tony was murder against Indy, hauling in eight passes for 124 yards and two scores. He was one of several offensive stars on the day, as the teams combined for 11 touchdowns and more than 1,000 yards.
At 3-4, the Chiefs hoped a playoff run was in the offing. But the club dropped four in a row, and fell completely out of the postseason picture. Tony was one of the team's few bright spots. Over the losing streak, he posted 30 receptions.
Frustration began to creep in around Thanksgiving. In a Monday Night game versus the Patriots, Tony argued loudly when officials ignored what he felt was an obvious interference call at the end of the first half. Vermeil was also livid, but to no avail. New England wound up winning 27-19, and Kansas City's struggles continued.
After Holmes went down, opponents focused more attention on Tony, regularly double-teaming him, and even tripling him at times. This strategy opened the field for the rest of the Chiefs, which is partly why Johnson emerged as a threat out of the backfield. Despite the complex coverage schemes thrown at him, Tony finished on a hot streak. Against the Raiders, he caught 11 balls for 124 yards and two touchdowns. A week later, he burned the Chargers for 14 receptions for 144 yards.
Tony ended the season with Pro Bowl numbers, including an NFL-leading 102 catches (which is also a record for TEs) for 1,258 yards and seven TDs. In turn, he became the first tight end since 1986 to win the league's receiving title. In addition, he found time to work on his Spanish. During the summer of 2004, Tony spent a month in Mexico learning the language. He improved his mastery of it whenever he got the chance during the season.
With his monster year in '04, Tony confirmed his status as the NFL's best tight end. Not only was he unstoppable as a receiver, but he did his usual yeoman's work as a blocker in the run game. Tony has already passed some of football's greatest TEs in the record books, and he's far from done. Even if the Chiefs don't revisit their glory days during his career, he has already accomplished something no tight end has in more than a generation: make his position cool again.
TONY THE PLAYER
Tony brings athleticism to his position that no one has seen since the days of Kellen Winslow. He is fast and agile, and knows how to use his body in traffic. Even when he has a defender draped all over him, his quarterback isn't afraid to go to him. Tony is so strong and has developed into such a sure-handed receiver that he always looks like he's open.
Unlike some other receiving threats at tight end, Tony is a fearsome blocker who takes great pride in being an all-around performer. He benefits from playing with a group of talented offensive lineman, but he fits right in with them. One of the reasons Kansas City runs the ball so effectively is Tony's ability to seal the corner or get down field on a linebacker.
Tony's history as a basketball player has helped him a great deal in football. His footwork is excellent, and he can shield defenders from the ball as if he were boxing them out. Tony still plays basketball almost everyday during the off-season, which also keeps him in top shape.
Tony is a cerebral player who understands the difference between being fired up and being out of control. Teammates respect him for his work ethic and his desire to win. When he complains about not seeing the ball, it's because he wants to help the team, not bolster his individual stats.
EXTRA
* Tony was the first Cal player to letter in football and basketball since Joe Kapp in the 1950s.
* Tony's career-high in scoring at Cal was 29 points against Washington State.
* Tony majored in Communications at Cal.
* In 1997, Tony received the Mack Lee Hill Award, given to Kansas City's top rookie or first-year player.
* In 1999, Tony became the first Kansas City tight end to lead the team in catches since Walter White had 48 in 1977.
* Tony is already the all-time leader in receptions by a tight end for the Chiefs. He broke the team record of 198 by Fred Arbanas in 2000. During that season, he also became the first player other than a running back to lead Kansas City in receptions in consecutive seasons since wide receiver Stephone Paige did it in 1989-90.
* Tony reached the 300-catch plateau in 71 games, quicker than any player in Kansas City history. The previous mark was set by Chris Burford (76 games).
* Tony became Kansas City's all-time leading receiver in 2003. During the season he passed Chief legends Otis Taylor and then Henry Marshall.
* One of these days, Tony plans to do a 360 slam-dunk under the goal-post after a touchdown.
* Tony wears a very special necklace that his mom gave him before he went into the pros. Inscribed with Chinese characters, the front says "Protection" and the back "Longevity." Tony never takes it off.
* Tony has been taking Spanish lessons for the last several years. In the spring of 2004, he spent time with a family in Mexico to fully immerse himself in Latino culture.
* Tony has size-16 feet.
* Tony appeared in the 2001 Sports Illustrated swimsuit issue with supermodel Heidi Klum.
* Tony's five favorite movies are One Flew Over the Cuckoo's Nest, Weird Science, Forrest Gump, Coming to America and Gladiator. His five favorite books are The Seven Spiritual Laws of Success, The Way of the Wizard, Zen in the Martial Arts, and First and Second Corinthians from the Bible.
* Tony's teammates call him the "Big Mexican."
* Tony is single but has a son named Nikko.
* Tony is an entrepreneur off the field. He is partners with Warren Moon in Sutra, a restaurant in Newport Beach, California, and also has an ownership share in several Baja Fresh restaurant franchises in Kansas City.
* Tony has appeared in several TV shows, including ABC's "Married With the Kellys" and HBO's "Arliss." He was also a consultant for the movie Any Given Sunday, an Oliver Stone production.
* Tony has created his own charitable organization, the Tony Gonzalez Foundation (http://tonygonzalezfoundation.shadowbuddies.com/). It focuses on helping medically challenged children through the Shadow Buddies Foundation, and providing support for disadvantaged youth through The Boys and Girls Club. Tony is the only NFL player to have his own Shadow Buddy doll.
Read more
Latest headlines