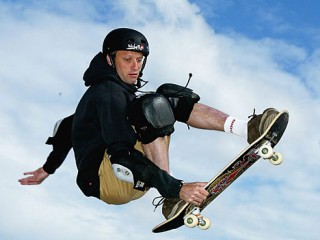 Tony Hawk biography
Date of birth : 1968-05-12
Date of death : -
Birthplace : San Diego, California, United States
Nationality : American
Category : Sports
Last modified : 2010-09-24
Credited as : Skateboarder, ,
Tony Hawk
is considered one of the greatest skateboarders in the history of the sport. From his first turns on a board at age nine, Hawk has consistently challenged physics, gravity, and his own body by accomplishing astonishing acts on a piece of wood attached to four wheels. The California native was instrumental in the evolution of skateboarding from the preppy recreation of the 1960s to the daring and extreme test of physical limits and mental creativity it has become. In seventeen years as a professional skateboarder, Hawk has invented more than eighty tricks and competed in an estimated 103 contests, winning seventy-three and placing second in nineteen. He quit competing in 1999 after landing the first-ever "900"--which is two-and-a-half mid-air spins on the board.
Hawk was an accident; his parents were both in their mid-forties when he came into the world on May 12, 1968, in San Diego, California. Hawk's two sisters were already in college when he was born and his brother was a teenager. Frank Hawk was a veteran of World War II and the Korean War, and Nancy Hawk took classes at night, eventually earning her doctorate. While Hawk's parents had aged into a relaxed style of childrearing, their youngest child was a self-described, high-strung "demon boy." He also was a gifted child who was pathologically determined and hard on himself when he could not achieve what he set out to do. He once had to be coaxed out of a forest by his father after striking out in baseball.
Skateboard Calmed Him Down
Hawk found an outlet for his hyperactivity in a skateboard that his brother gave him when he was nine years old. He became obsessed with his narrow Bahne board, and quickly became proficient riding it. Finding something he was good at calmed him down, which his mother appreciated. Still, his perfectionist nature plagued him once he started competing in 1980. Even if he won, he would banish himself to his room with his cat, Zorro, if he felt he had not skated his best. He was sponsored by the Dogtown skateboard company at age twelve, placing second overall in his first contest, and continuing to compete respectably.
Both of Hawk's parents were supportive of their son's athletic passion. His father was a regular part of Hawk's skateboarding life, driving Tony all over California to various skateboard competitions, and building countless skate ramps over the years. Frank Hawk founded the California Amateur Skateboard League in 1980 and the National Skateboarding Association (NSA) in 1983. The NSA organized many high-profile skateboarding competitions and was a key factor in the resurgence of skate culture that took place in the 1980s.
Before his thirteenth birthday, Hawk was approached by skateboarding legend Stacy Peralta to ride for his Powell & Peralta skateboarding company. His Bones Brigade team dominated the sport for a decade, and Hawk skated for Powell until 1994. Peralta handpicked Hawk, as he had numerous other skaters who went on to superstardom, including Steve Caballero, Rodney Mullen, Colin McKay, and Bucky Lasek, among others. Hawk turned pro in 1982, at age fourteen, and placed third in his first professional contest. At the time, there were only about thirty-five professional skaters, compared to the hundreds of pros today. Hawk went pro years before skateboarders started making any serious money. Skaters earned money from boards, stickers, and T-shirts sold with their names on them. Hawk's first royalty check was for eighty-five cents.
An Outsider in Both Worlds
Small and underweight and dressed in worn, skate-punk clothes, Hawk was not popular in school and did what he could to remain unnoticed there. The fact that he was a professional skateboarder meant nothing to the bullies and jocks who harassed him. He got good grades, but school was just what he had to do when he wasn't riding his skateboard. His parents often excused him from class to travel to contests and demos.
Hawk appeared on the cover of Thrasher magazine shortly after turning pro, but was something of an outsider in the pro-skating world, as well. He was smaller, younger, and skated differently from other skaters, and invented so many "flippy tricks" that he was called the "Circus Skater." He could win contests at his home skatepark, Del Mar, but had trouble adapting to unfamiliar terrain. A string of miserable competition finishes after turning pro left Hawk frustrated.
Hawk spent the summer after ninth grade skating demos in Australia, Europe, Canada, and the United States. A change of graphics to his signature skateboard model at Powell translated into increased sales and bigger royalty checks for Hawk. After the release of the Bones Brigade Video Show, Hawk, aged fifteen, was making $3,000 a month.
Masters the McTwist
The McTwist is one-and-a-half rotations on a skateboard with a flip in the middle. A skater rides up a vert ramp, grabs his board, launches into the air, spins and flips around until he is headed facing back down the ramp. Hawk admitted it was one of the toughest to learn, but mastered the McTwist in 1983. He used the stunt to take first place at the St. Petersburg Pro Am that year. At the end of 1983, when all the contest results were calculated, Hawk turned up as the NSA's first world champion. He was the NSA's vert champion for each of its twelve years in existence.
Hawk mastered "720s," two full mid-air spins, while training in Sweden in 1985. The second Bones Brigade video, Future Primitive, captured Hawk at his best, landing tricks--with names like Airwalk, Switcheroo, and Saran Wrap--that he had yet to try in competition. Still a teen, he was one of the most popular skaters in the world, and became famous after starring in a Mountain Dew commercial. The video was a huge seller and Hawk began earning about $7,000 a month. He bought his first house before graduating high school.
By 1987, skateboarding's popularity had skyrocketed, and Hawk was making large sums of money. But he was also beginning to feel pressured to maintain his winning streak. Burned out at age nineteen, Hawk retired from skateboarding. He soon missed competition, and returned before the year was through. He married Cindy Dunbar in April 1990. They had their first child, Hudson Riley, in 1992, and divorced in 1994.
Rough Times and the Year of the "9"
The skateboard industry plummeted in the early 1990s. Sponsors faded, prize money dried up, and Hawk's own income dwindled. Facing bankruptcy, Hawk raised enough money to start his own skate company, Birdhouse, with fellow Powell pro Per Welinder. The business was draining, and Hawk budgeted his meager contest winnings obsessively to support his family. The industry got a shot in the arm in 1995, with ESPN's first Extreme Games, which included bungee jumping, BMX riding, inline skating, and skateboarding. ESPN made Hawk the star of the games. Because of the X Game's mainstream success, Birdhouse sales shot up, and sponsorship money began to flow again. He married his second wife, Erin, in 1996. They had two sons: Spencer in 1999, and Keegan in 2001. By 1998, Birdhouse was one of the biggest companies in skateboarding, and Hawk was the sport's unofficial ambassador. Mainstream media latched onto Hawk and made him the most recognizable skateboarder in the world. He still was a leader in competition, and enjoyed skating demos around the world.
Hawk had been flirting with a "900" or "9"--an unheard-of two-and-a-half mid-air spins on the board--since about 1986. He tried it in practice and in competition many, many times, but never could land it. As he tired of winning contests and was facing a crossroads in his career, Hawk became obsessed with the notion of landing the world's first-ever 9. After finally landing one at the 1999 X Games, Hawk announced his retirement from competition.
Retirement meant nothing for Hawk; he was more in demand than ever. He retained his superstar status in the skateboarding world, and starred in one of the most popular video game series ever, Tony Hawk's Pro Skater. He appears at countless demos and signed a contract with ESPN to commentate skate contests for the network. In addition to Birdhouse, he also launched the popular Hawk Shoes and Clothing lines. "I'm pretty happy with the way things turned out," Hawk is quoted as saying online at Club Tony Hawk. "I mean, I never thought I could make a career out of skateboarding."
Tony Hawk - Chronology
* 1968 Born May 12 in San Diego, California
* 1976 Receives first skateboard as a gift
* 1980 Father, Frank Hawk, forms California Amateur Skateboard League
* 1980 Is sponsored by Dogtown skateboards
* 1980 Joins Bones Brigade team
* 1982 Turns pro
* 1983 Frank Hawk forms National Skateboarding Association
* 1983 Appears in Bones Brigade Video Show video
* 1984 Is considered best skateboarder in the world
* 1985 Appears in Future Primitive video
* 1986 Buys first home, appears in Mountain Dew commercial, and graduates high school
* 1987 Appears in The Search for Animal Chin video
* 1987 Plays a pizza boy in Gleaming the Cube
* 1988 Retires from skateboarding but returns to competition
* 1988 Appears in Public Domain video
* 1989 Appears in Ban This video
* 1990 Marries Cindy Dunbar
* 1992 First son, Hudson, is born; starts Birdhouse Projects
* 1994 Divorces Cindy Dunbar
* 1995 Skates in first X Games
* 1996 Marries second wife, Erin
* 1997 Is honored with his own Sports Illustrated for Kids trading card
* 1998 Produces first video, The End
* 1998 Launches Hawk Clothing
* 1999 Tony Hawk's Pro Skater video game debuts
* 1999 Second son, Spencer, is born
* 1999 Stops competing after landing the first-ever "900" at the X Games
* 2000 Autobiography, Hawk-Occupation: Skateboarder is published, becomes a New York Times bestseller
* 2001 Third son, Keegan, is born
* (With Sean Mortimer) Hawk-Occupation: Skateboarder, HarperCollins, 2000.
1980, Second place overall, ASPO Series (Amateur, 12 and under); 1982, Third place, World Challenge (Professional); 1983-95, Vert champion, National Skateboarding Association; 1995, First place, vert competition, second place, street competition, X Games; 1996, Second place, vert competition, X Games; 1997, First place, vert and doubles vert competitions, X Games; 1998, Third place, vert competition, first place, doubles vert competition, X Games; 1999, Third place, vert competition, first place, best trick and doubles vert competitions, X Games.
Read more
Latest headlines