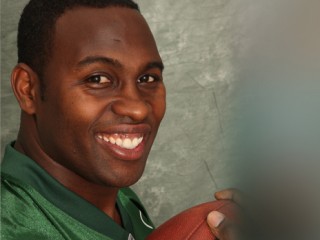 Tony Richardson biography
Date of birth : 1971-12-12
Date of death : -
Birthplace : Frankfurt, Germany
Nationality : American
Category : Sports
Last modified : 2010-10-31
Credited as : Football player NFL, fullback for the Jets, Pro Bowl/NFL Draft player
"Tony" Richardson is an American football fullback who is currently on the
New York Jets.
He was signed by the Dallas Cowboys as an undrafted free agent in 1994. He played college football at Auburn.
CAREER HIGHLIGHTS
◊ Played in 202 regular season games, starting 113, rushing for 1,666 yards and 15 touchdowns on 417 carries…Also logged 202 receptions for 1,502 yards and nine touchdowns.
◊ Led the way in 2008 for the Jets pair of Pro Bowl running backs, Thomas Jones and returner Leon Washington.
◊ Earned third career Pro Bowl berth as a fullback in 2007 for MIN (2003-04 with KC).
◊ Named Associated Press second-team All-Pro (2004, 2007).
◊ Named to USA Today All-Joe Team (2000-01).
◊ Named Sports Illustrated All-Pro (1999, 2000), recognizing the overlooked and under-appreciated in the NFL.
◊ Has blocked for a 1,000-yard rusher seven times since 2001 (Priest Holmes 3, Larry Johnson, Chester Taylor, Adrian Peterson, Thomas Jones).
◊ Cleared a path for Pro Bowl rushers Thomas Jones (2008), Adrian Peterson (2007), Larry Johnson (2005) and Priest Holmes (2001, 2002, 2003)
◊ Blocked for Larry Johnson's KC-record 1,750 yards on the ground in 2005…Helped Priest Holmes establish an NFL record with 27 rushing touchdowns in 2003.
◊ 2008 (JETS)
Led the way for Thomas Jones to pace the AFC with 1,312 yards and team-record 13 touchdowns rushing as Jones earned his first Pro Bowl berth...Rushed 10 times for 65 yards and one reception for four yards while playing a key role on special teams...16-yard run at SEA, 12/21, was his longest run from scrimmage in seven seasons. SEASON HIGHLIGHTS: (12/21 at SEA)…Collected 24 yards on the Jets opening drive, including two key first downs leading to a field goal…16-yard run was longest since he gained 19 yards vs. NYG, 9/23/01…Finished with 34 yards on five carries, the most since 2001 game vs. NYG. (12/14 vs. BUF)…Played in his 200th career game, rushing for 13 yards as he was named Jets Offensive Player of the Game. (11/23 at TEN)…14-yard rush led to a field goal.
◊ 2007 (MIN)
Earned berth in Pro Bowl and recognized as an Associated Press All-Pro 2nd-Team honoree as a fullback… Team rushed for 2,634 yards, tops in the NFL…Blocked for Adrian Peterson as he ranked second in the NFL with 1,341 yards and was named Associated Press Offensive Rookie of the Year. SEASON HIGHLIGHTS: (11/4 vs. SD)…Helped Peterson set the NFL record with 296 rushing yards. (10/14 at CHI)…Helped Peterson rush for 224 yards.
◊ 2006 (MIN)
Started seven of nine games to start the season before he was placed on injured reserve, 11/22…Helped pave the way for Chester Taylor to break the 100-yard mark three times in the opening six games of the season…Rushed five times for 12 yards and caught 13 passes for 111 yards. SEASON HIGHLIGHTS: (10/22 at SEA)…Opened path for Taylor to run for career-best 169 yards and break off a 95-yard scoring run, the longest play from scrimmage in MIN history. (10/1 at BUF)…Recorded a season-long 25-yard reception.
◊ 2005 (KC)
Started 16 games at fullback for the second straight year…Played key role in the emergence of Larry Johnson, helping him to 1,750 yards rushing and break the 100-yard mark 10 times with a pair of games over the 200-yard plateau and a Pro Bowl berth…Helped Chiefs lead the NFL in total offense with 387.0 yards per game…Rushed for 20 yards on six carries and caught nine passes for 68 yards and a touchdown. SEASON HIGHLIGHTS: (1/1 vs. CIN)…Caught a 22-yard pass, his longest of the season. (11/6 vs. OAK)…Recorded two catches for eight yards, including a six-yard touchdown, his first scoring reception in three seasons.
◊ 2004 (KC)
Started all 16 games, gaining 56 yards on 12 carries and 118 yards receiving on 19 receptions…Garnered Second Team All-Pro honors from Associated Press…Earned second consecutive trip to Pro Bowl, first Chiefs fullback to earn back-to-back trips since Kimble Anders (1995-97) …One of three undrafted players selected to Pro Bowl (G Brian Waters and TE Antonio Gates)…Helped KC rank first in the NFL in total offense with 418.4 yards per game. SEASON HIGHLIGHTS: (10/24 vs. ATL)…Rushed season-high six times and caught three passes as part of a KC offensive attack that set an NFL record with eight rushing touchdowns on the day.
◊ 2003 (KC)
Honored with his first berth in the Pro Bowl …Racked up 60 yards rushing on 24 carries, 76 yards receiving on 12 catches…Cleared the way for Priest Holmes to set an NFL record with 27 rushing touchdowns…Opened holes for Holmes to rush for 1,420 yards, his third straight season over the 1,400-yard mark and the fourth-highest total in team history at the time. POSTSEASON: (1/11 vs. IND)…Started Divisional Playoff game, his first playoff start…Helped Chiefs rank second in the NFL in total offense with 369.4 yards per game.
◊ 2002 (KC)
Played in 14 games, starting 12, before he was placed on injured reserve, 12/17…Rushed for 81 yards and two touchdowns on 22 carries…Also gained 125 yards and a touchdown on 18 receptions…Led the way for Priest Holmes to rush for 1,615 yards…Holmes led the NFL with 21 rushing touchdowns and ranked third in the NFL in yardage. SEASON HIGHLIGHTS: (12/1 vs. ARI)…Scored a touchdown on a three-yard run in a game KC won, 49-0. (10/27 vs. OAK) …Scored on a four-yard pass from Trent Green late in the fourth quarter to seal a 20-10 victory. (10/20 vs. DEN)… Scored on a 14-yard touchdown run.
◊ 2001 (KC)
In 14 games (eight starts), scored career-high seven rushing touchdowns on 66 carries, gaining 191 yards…Added 30 receptions for 265 yards…Named to USA Today's All-Joe Team for second straight season. SEASON HIGHLIGHTS: (12/23 vs. SD)…Scored game-winning touchdown on one-yard run in a 20-17 comeback win. (11/4 at SD)…Recorded career-high two rushing touchdowns, including a one-yard plunge for the game-winning points with 1:28 remaining in the 25-20 Chiefs win. (10/7 at DEN)…Streak of 35 straight starts snapped. (9/23 vs. NYG)…Led team with 41 yards on the ground on nine carries. (9/9 vs. OAK)…Hauled in career-long 47-yard pass and rushed for a three-yard touchdown in the season opener.
◊ 2000 (KC)
Started all 16 games, opening 11 at fullback and five at halfback…Team-high 147 carries and 697 yards for a 4.7-yard average…Ranked third on team with 58 catches for 468 yards…Scored three rushing and three receiving touchdowns…Named to Sports Illustrated's All-Pro team at fullback for the second straight season…Selected to USA Today's All-Joe Team, recognizing the hard working and unheralded players around the league…Led AFC backs and ranked third in the NFL with a 5.7-yard average per touch on rushes and receptions, trailing only Marshall Faulk and Tiki Barber. SEASON HIGHLIGHTS: (12/17 vs. DEN)…Notched career-best 156 rushing yards on 23 carries with a 28-yard rushing touchdown and a 33-yard long run. (12/10 vs. CAR)…Caught a career-high eight passes (56 yards) for the second time this season. (11/12 at SF)…Picked up 100 yards from scrimmage on eight catches for 81 yards and four carries for 19 yards. (9/3 vs. IND)…Opened season with first career start at halfback.
◊ 1999 (KC)
Started all 16 games at fullback, accumulating 387 yards on 84 carries and one touchdown…Also caught 24 passes for 141 yards…Named to Sports Illustrated's All- Pro Team at fullback.
◊ 1998 (KC)
Started once at fullback and played in 14 games… Rushed 20 times for 45 yards and two touchdowns…Added two receptions for 13 yards…Served as Chiefs' special teams captain, logging 11 tackles, and a pair of forced fumbles. SEASON HIGHLIGHTS: (12/13 vs. DAL)…Picked up a loose ball on a blocked punt by Brian Roche and returned it 10 yards. (11/1 vs. NYJ)…Scored on a two-yard run… Added three special teams tackles and a forced fumble. (9/20 vs. SD)…Scored first rushing touchdown of his career on a two-yard run.
◊ 1997 (KC)
Appeared in 14 games and one postseason game…Caught three passes, all for touchdowns and had two carries for 11 yards…Ranked third on team with 21 special teams tackles. SEASON HIGHLIGHTS: (12/21 vs. NO)… Blocked for Marcus Allen on his final NFL rushing touchdown, the 123rd of his Hall of Fame career. (12/7 vs. OAK)…Caught a two-yard touchdown pass. (9/21 at CAR)…Scored on a three-yard pass. (9/14 vs. BUF)…His one-yard touchdown catch put KC ahead to stay in a 22-16 victory.
◊ 1996 (KC)
Appeared in 13 games before he was placed on injured reserve, 12/10…Gained 10 yards on four carries, 18 yards and a touchdown on two receptions…Ranked second on team with career-high 25 special teams tackles. SEASON HIGHLIGHTS: (9/22 vs. DEN)…Logged a career-best four special teams tackles. (9/8 vs. OAK)…Scored first NFL touchdown on his first reception, a one-yarder.
◊ 1995 (KC)
Saw time in 14 games, starting one…Gained 18 yards on eight carries…Ranked fifth on team with 18 special teams stops. SEASON HIGHLIGHTS: (10/22 at DEN)… Paved the way for Marcus Allen's 100th rushing touchdown. (10/15 vs. NE)…First NFL start. (8/30 at SEA)…Made NFL debut.
◊ 1994 (DAL)
Spent training camp with DAL before coming back on practice squad, 8/30…Part of team that went 12-4 and advanced to the NFC Championship game at SF… Practiced daily with perennial Pro Bowlers Daryl Johnston, Troy Aikman and Emmitt Smith.
BEFORE THE NFL
◊ Racked up 162 carries for 715 yards and nine touchdowns during four seasons at Auburn.
◊ Grabbed 44 passes for 395 yards and two touchdowns as a senior.
◊ A three-sport standout at Daleville HS in football, basketball and track.
PERSONAL
◊ Named 2008 Walter Payton Man of the Year for the Jets.
◊ Richardson was recognized for his community service during the NFL Charities Week Event and received an NFL Charities grant for $25,000. The grant will by used by the Rich in Spirit Foundation to continue fund the Dictionary Project as well as additional charitable endeavors by Richardson.
◊ The Rich in Spirit Foundation was created by Richardson to extend a helping hand and uplift the lives and spirits of individuals who society has turned their backs on.
◊ Selected by NFL Commissioner Roger Goodell to the sixmember Player's Advisory Committee in Spring 2007, joining Donovin Darius, Jeff Saturday, Takeo Spikes, James Thrash and Troy Vincent.
◊ Serves on the NFLPA Executive Committee.
◊ The Dictionary Project, which provides new dictionaries to schoolchildren and emphasizes the importance of literacy and education, is one of the many programs implemented by Richardson's Rich in Spirit Foundation. His Dictionary Project event at P.S. 14 Fairview will allowed him to spend time with 240 third-grade children and provide them with new dictionaries...Donated over 45,000 dictionaries to elementary school students in the Kansas City area through the years… Also still active in Minneapolis.
◊ Continues to be active in the NFL Entrepreneurship program, taking part in classes at the Wharton School of Business in 2008 and Northwestern's Kellogg School in 2007, marking his third year in the program…Had previously studied at Stanford and Harvard.
◊ Named Pro Football Weekly's "Arthur S. Arkush Humanitarian of the Year" in 2003 and was voted an "NFL Good Guy" in 2002, 2003 and 2004 by The Sporting News based on civic responsibility and character.
◊ Chosen by teammates as the Chiefs' NFL Man of the Year nominee and the NFLPA's Byron "Whizzer" White Award nominee.
◊ Born in Germany while his father, Sergeant Major Ben Richardson, was stationed there with the U.S. Army.
◊ Tony moved to the U.S. permanently in seventh grade, while his father remained in Germany until his senior year in high school.
◊ Sister, Shonn, is a Staff Sergeant in the U.S. Army.
◊ After the 2005 Pro Bowl, he toured tsunami-ravaged Sri Lanka as part of a week-long relief effort.
◊ Sponsors the Rich In Spirit Foundation which benefits Special Olympics and Athletes in Action.
◊ Took advantage of opportunities presented through the NFL Player Programs system to earn his bachelor's degree in education from Auburn in 2000 and an MBA from Webster University in 2004.
◊ Honored with the 2005 Distinguished Citizen Award from the National Conference for Community and Justice, an organization dedicated to fighting bias, bigotry and racism.
◊ Annually hosted the Special Olympics Punt, Pass and Kick competition in Kansas City from 1999-2005.
Read more
Latest headlines