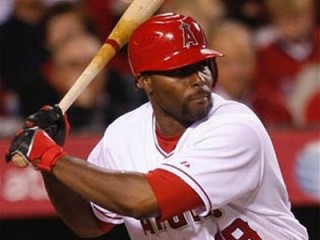 Torii Hunter biography
Date of birth : 1975-07-18
Date of death : -
Birthplace : Pine Bluff, Arkansas
Nationality : American
Category : Sports
Last modified : 2010-11-02
Credited as : Baseball player MLB, outfielder with the Los Angeles Angels of Anaheim,
Torii Kedar Hunter was born on July 18, 1975 in Pine Bluff, Arkansas, about 45 minutes southeast of the state capital, Little Rock. One of four boys produced by Theotis and Shirley Hunter, Torii was a gifted athlete who idolized his older brother, Taru. He credits his sibling with helping him develop into the player he is today.
Shirley worked as an elementary school teacher in Little Rock, and Theotis was an electrical engineer who found steady employment in a cotton mill and with the railways. Torii's parents spent long hours on the job, but still struglled at times to provide the bare necessities for their children. Electric bills didn't always get paid, and roaches and rats were often unwelcome housemates. Torii slept on a towel when the old mattress in his bedroom became too disgusting.
Shirley and Theotis relied on their boys to look after themselves. That made Torii and his brothers mature beyond their years. Torii learned to cook by age 10. Baking cakes was his specialty.
Pine Bluff was not the type of place you'd find pictured in a Norman Rockwell painting. The Hunters lived on the east side of town, where crime and drugs offered tempting shortcuts to the bored and desperate. The Hunter boys were crazy about sports, however, which offerend a perfect alternative to life on the corner.
Torii, who possessed amazing speed, had a sixth sense for tracking down footballs and baseballs. Taru challenged his little brother to run down long bombs and deep flies. He marveled whenever the ball settled into his little brother's soft hands, no matter how far he had to run for it.
Torii's first love was football. On offense, he lined up at quarterback—he had the best arm in town. On defense, he patrolled the secondary as a hard-hitting free safety. Of course, come the spring the youngster turned to baseball. Torii started in tee-ball at age eight and played in organized leagues every summer after, including Little League and Babe Ruth, right into his teens.
A talented two-sport star, Torii naturally discovered a hero in Auburn's Bo Jackson. Torii was in awe of Jackson's sprinter's speed, raw power and impeccable instincts. He thrilled with the rest of the country as Jackson became a star for the Oakland Raiders and Kansas City Royals in the 1980s.
Torii entered Pine Bluff High School as a sophomore in 1990 and immediately became a football star. He also made headlines in basketball and track for the Zebras. Success in baseball was slower to come. It wasn't until his junior season that Torii began distinguishing himself on the diamond. No matter how good he was, however, he could not hope to be the best in the school at any sport. That distinction belonged to his friend, Basil Shabazz.
Considered by many to be the greatest prep athlete in Arkansas history, Shabazz could do it all. Though he played just one season of baseball, he was drafted by the St. Louis Cardinals and received a $150,000 signing bonus. The notoriety helped Torii's cause—when the scouts came to see Shabazz, they noticed him, too.
Voted an All-State outfielder during his last two seasons, Torii had already begun his thieving ways, both on the basepaths and in center. he regularly robbed opponents of homers and extra-base hits. Torii was no slouch at the plate, either. He generated excellent bat speed and once hit a 550-foot homer, according to Zebra coach Billy Bock.
In 1992, Torii was named to the U.S. Junior Olympic baseball squad. When the teenager couldn't come up with the money to cover team expenses, he wrote Arkansas Governor Bill Clinton. A short time later, he received a check for $500.
In the spring of 1993, Torii was wooed by several college recruiters, including Bill Springman of Pepperdine. The Waves had a superb baseball program, and Springman thought Torii had great potential. The teenager was intrigued by the idea of a college scholarship until he began hearing rumors that he might be taken in the first round of the draft. Torii was surprised that he was regarded so highly. Bu draft day, the rumors had been confirmed.
Some 50 relatives gathered at the Hunter home on June 3rd to find out where Torii was headed. He secretly hoped to be selected by the Atlanta Braves. Georgia wasn't too far Arkansas, the team was building a dynasty, and almost all of the club's games were shown on cable. When the phone rang, it was the Twins, who had tabbed him with the 20th pick overall.
Mike Ruth, Minnesota's Midwest Scouting Director, had first spotted Torii in the spring of 1991 and monitored his progress from there. Torii wasn't sure what to think. All he knew of the Twins was Kirby Puckett. After the draft, a local television station wanted to do an interview with Torii wearing a Minnesota hat. A friend was dispatched to the mall, but no one could find an appropriate cap.
A few days later, Ruth arrived at the Hunter home and sweated out a brief negotiation in the family's un-air conditioned living room. Torii accepted the team's signing bonus of $450,000 and packed his bags for Fort Myers, Florida.
Torii's path to the majors began in the Gulf Coast League under manager Jose Marzan. Although he was easily the most talented player on the team, Torii went through a difficult adjustment to pro ball. In high school, he had seen only fastballs and curves. Now he was facing hurlers with explosive sliders and baffling off-speed deliveries. Torii flailed away at the plate, and rarely made contact. On the occasions he got a pitch he liked, Torii tried to hit it a mile. In one game, he struck three times—something he had never done at Pine Bluff—and responded by flinging his bat over the backstop. By season's end, Torii's batting average was a paltry .190.
ON THE RISE
The following spring, the Twins tried to jump-start Torii by giving him a locker in training camp between Puckett and Dave Winfield. The teenager was awed by his clubhouse companions. Puckett and Winfield treated him like a king, treating him to dinner and handing him money whenever he needed it.
Torii spent the summer of 1994 with the Class-A Fort Wayne Wizards, where he batted a solid .294 and played a terrific defense for manager Jim Dwyer. His most memorable moment came in a game with Fort Wayne leading by a run with the bases loaded in the bottom of the ninth. Positioned a few strides toward right, Torii had to get on his horse for a drive hit to left-center. He dove in time to snag the liner and preserve the victory.
Torii's fine performance earned him a promotion to Minnesota's more advanced Class-A club, the Fort Myers Miracle, for the 1995 campaign. There he took a step backward. While few players in the Florida State League had more speed or power, Torii couldn't put it together at the plate. He batted just .246 with seven homers and seven steals in 391 at-bats.
Despite Torii's lack of production, the Twins still considered him a future star and were willing to be patient with him. GM Terry Ryan was amassing a group of talented players in the minors—including Jacques Jones, Doug Mientkiewicz, A.J. Pierzynski, LaTroy Hawkins, Todd Ritchie, Corey Koskie and J.C. Romero. Ryan hoped they would establish themselves in the majors by 1999 or 2000. That gave Torii a few years to get his act together.
In 1996, Minnesota promoted Torii to the Class-AA New Britain Rock Cats of the Eastern League. The move was a double-edged sword for him. At 330 feet down each line and 400 feet in dead center, New Britain Stadium provided Torii all the room he needed to flash his superb defensive skills. For a power hitter struggling to find his stroke, however, the ballpark promised to turn would-be homers into warning-track outs.
Torii's bad habits at the plate continued to plague him with the Rock Cats. He showed little patience and all too often swung from the heels. He also failed to use his speed to his advantage. Torii suffered through another frustrating season, hitting .264, striking out 60 times and getting caught on half of his steal attempts. By the end of the year, he and Twins were beginning to wonder whether he would ever turn it around.
Torii's future gained little clarity as the 1997 campaign opened. After a hot start for New Britain—including a pair of four-RBI games in April—he saw his batting average fall to just over .200. Normally upbeat, Torii was as depressed as he had ever been. Newly married, he missed his wife, Katrina, and his two boys, Cameron and Torii, Jr. He considered calling it quits and taking engineering courses. But every time he thought of how hard his parents worked to put food on the table, he realized how lucky he was to have such a great opportunity. He resolved to work harder and find his way to the majors.
Refocused, Torii began to play better. In a June game at Trenton, he literally crashed through a plywood fence to steal a home run off the bat of Michael Coleman. The catch made highlight reels nationwide and helped bolster Torii's confidence.
Five weeks later, the Twins rewarded Torii with a call-up during a series in Baltimore. The team had a roster spot open after trading outfielder Roberto Kelly to Seattle for pitching prospects Joe Mays and Jeromy Palki. Minnesota wanted temporary insurance on the bench, and Torii deserved a taste of life in the big leagues. He appeared as a pinch-runner in his only game with the Twins, and then returned to the Rock Cats. The brief stint in the majors had a lasting effect. Torii finished the campaign hitting in 14 of his last 17 contests to raise his average to a semi-respectable .231.
Torii went into 1998 revitalized. He opened the season with New Britain on fire. At the end of April, he was recalled by Minnesota. On May 1, Torii collected his first big-league hit, a single off the Orioles' Arthur Rhodes at Camden Yards. He started the next five games in center and put up good numbers, including a two-hit, two-RBI performance at Fenway Park. When the Twins sent him back to the Rock Cats, he took the demotion in stride. In June, he batted .372 over a 10-game stretch andwas named to the Double-A All-Star Game.
Though sidelined briefly with a sprained left wrist, Torii was promoted to Minnesota's Triple-A affiliate in Salt Lake City when he returned to action in August. He had no problem adjusting to pitching in the Pacific Coast League. Torii had a six-RBI game in his first week with Salt Lake, and later went on an eight-game hitting streak. He ended his short stint in the PCL with a .337 average.
Eager for a chance to stick with the Twins in 1999, Torii gladly played in the Arizona Fall League after the minor league season ended. He hit leadoff and further honed his skills.
Going into spring training, Torii was one of several candidates for Minnesota's starting job in center. The Twins made no bones about their rebuilding effort. Certain the club wasn't ready to compete with big-market teams, the brass cut its budget to the bone. That meant carrying lots of prospects—some of whom probably weren't ready for the majors.
The Twins elected to break camp with 10 rookies on their roster, including Torii, who batted .292 in exhibition play. Other youngsters who earned a spot on the team were Mientkiewicz, Koskie and pitchers Mike Lincoln and Dan Perkins. The club's "veterans" included starters Brad Radke and Eric Milton, infielders Cristian Guzman and Todd Walker, and outfielders Marty Cordova and Matt Lawton.
Manager Tom Kelly knew his team was more suited for Triple-A, so he didn't blink when it performed that way. The Twins posted the worst record (63-97) in baseball and ranked near the bottom of the AL in every statistical category. Cast-off Ron Coomer was the primary power source with 16 homers and 65 RBIs. Radke was the club's only reliable starting pitcher.
Torii didn't like losing, but it was even harder to get used to Kelly. The Minnesota skipper had an unwritten rule—hit to the opposite field, or ride the pine. Torii had some early success, including his first home run on April 15 (off Brian Moehler in Detroit) and his first grand slam (off Boston's Tim Wakefield in the Metrodome). Unfortunately, he and Kelly never saw eye to eye. After a game against Kansas City, Kelly accused Torii of missing a sign, and then further embarrassed him by calling him out on the field in front of teammates and fans. Afterwards in the clubhouse, the two nearly came to blows.
From that point on, Torii and Kelly kept their distance. The rookie still managed to put together a respectable campaign, batting .255 with nine home runs and 35 RBIs. He was most productive over the season's final 10 weeks, going 43 for 146, including a nine-game hitting streak in September. Defensively, he committed just one error, posting a .997 fielding percentage and seven outfield assists.
Certain he had paid his dues, Torii felt that his worst days were behind him. Then came the 2000 season. In spring training, he won the starting job in center. From there, his confidence fizzled.
The Twins, content to take their lumps for another season, were in for a long year. Radke remained the ace of the staff—with Milton, Mays and Mark Redman filling in behind him. Hawkins and Bob Wells shared the closing duties. In addition to Torii, the batting order was chock full of inexperienced hitters, including Jones, Guzman, Koskie and David Ortiz. Overmatched most days, Minnesota finished last in the Central Division for a second straight year.
Torii labored throughout the early season. Trying to please Kelly by hitting to right field, he could not get into a groove and his average hoveed around the Mendoza line in late May. The Twins sent him down to Triple-A. For the second time in his career, Torii contemplated retirement. This time, his old friend, Basil Shabazz, talked some sense into him.
Salt Lake batting coach Bill Springman also got his ear. The same man who had once tried to recruit Torii to Pepperdine, Springman remembered the sophomore's old hitting style. He told him to stop listening to the advice of others and just react to the baseball. Thanks to Shabazz and Springman, Torii rediscovered his passion for the game and began stinging the ball. In a June game, he belted two homers and drove in seven runs. A few weeks laqter, Torriwas named Minnesota's Minor League Player of the Month. He continued to sizzle in July, running wild on the bases and hitting .444 during one three-week stretch.
By the end of the month, Torii was back with the Twins. On August 2, he collected four hits at Baltimore, and then homered in three consecutive games a couple of weeks later. Torii raised his average nearly 100 points to .280 over the campaign's final two months. He tied for third in the AL in outfield assists with 12, and was rated Best Defensive Outfielder and Most Exciting Player in the PCL by Baseball America.
MAKING HIS MARK
The Twins entered 2001 with their highest hopes in years. Radke, who had been eligible for free agency, signed a long-term deal, which allowed the rest of the rotation to fall into place. The offense, meanwhile, was developing the blend of speed and power the organization had envisioned years earlier. Guzman, Jones, Koskie, Ortiz and Mientkiewicz also seemed ready to produce at the major-league level. If Torii also lived up to expectations, the Twins would have no problems scoring runs.
Torii began the year sidelined with a strained groin. He was back at full speed by the end of April and beat Boston with a 10th-inning three-run double. A month later, Torii recorded his first two-homer game, against the Oakland A's. His lusty hitting continued into June, including a nine-game hitting streak and a grand slam. The Twins got off to a great start, the winning became contagious, and at the All-Star break, Minnesota found itself atop the AL Central by five games.
Torii stayed hot into August and cruised through September. He finished with 27 home runs, 92 RBIs and 83 runs scored—all career highs. No longer feeling the pressure to be a spray hitter, Torii was more relaxed on the field and more at ease with his teammates. He also built upon his reputation as one of the game's top defensive outfielders. A pair of sparkling plays against the Tigers—one in June and the other in August—had fans in Minnesota buzzing all summer long. His 14 assists tied for second-best in the league. Baseball America ranked him as the AL's Best Defensive Outfielder—and he was eventually honored with his first Gold Glove.
The only down note on an otherwise excellent season came when the much-improved Twins withered down the stretch. The bullpen folded under the strain of the pennant race. Minnesota coughed up one lead after another and wound up at 85-77. Still, the Twins were considered a club on the rise.
Any excitement surrounding the club that off-season was silenced when Bud Selig began talking of contraction. To ensure the stability of the game, the commissioner said that at least two teams would be axed some time in the near future. The Twins and Montreal Expos were the names mentioned most often. With attendance at the Metrodome sagging, Minnesota owner Carl Pohlad didn't want to dip into his own pocket to finance a new stadium, and the state legislature fixed a cap on what it would pay. The franchise was on shaky ground.
The Twins opened the 2002 season literally playing for their lives. Kelly retired and was replaced by Ron Gardenhire, a favorite among the players. With Radke and Mays injured, the pitching staff faced serious questions. Fortunately, veteran Rick Reed, acquired from the New York Mets, settled into the role of the ace. Milton, meanwhile, continued his development. In the bullpen, Gardenhire made journeyman Eddie Guardado his closer and turned Hawkins into a set-up man. Youngsters J.C. Romero and Johan Santana also logged critical innings.
On offense, Torii keyed an attack that was quickly becoming one of the AL's most feared. While the lineup lacked a traditional clean-up hitter, Gardenhire was able to piece together a balanced batting order that did a little bit of everything. Virtually the same cast of characters was back, though young guns Bobby Kielty and Dustan Mohr both earned increased playing time.
Torii set the pace on Opening Day—both on the field and in the clubhouse. He hit safely in 13 of 14 games to start the year. For April, he batted .371 with nine homers and 20 RBIs, and won AL Player of the Month. Torii remained hot through May and into June, and Minnesota established itself as the class of the Central Division—this despite injuries to Koskie, Mientkiewicz and Luis Rivas. Now the darlings of baseball, the Twins were forcing Selig to reconsider his threat of contraction.
In July, Torii became the first Twin since Puckett in 1995 to be voted a starter in the All-Star Game. At Miller Park in Milwaukee, he outlasted Alex Rodriguez and Barry Bonds in the Home Run Derby, and then robbed Bonds of a homer with a miraculous leaping grab in first inning of the Mid-Summer Classic.
Torii's All-Star thievery put him on the baseball map. He began showing up regularly in the evening highlights, and fans paid closer attention to the Twins. In a weakened AL Central, they were playing the most consistent baseball. Thanks to its revamped bullpen, Minnesota stood a good chance of taking the division.
Torii was becoming the team's emotional leader. Sometimes, however, he got too emotional. When Cleveland's Danys Baez hit him with a pitch in July, Torii fired the ball back at the Indian hurler and was ejected from the game (and later suspended for three more). Embarrassed by his actions, Torii apologized for losing his cool.
Though he slumped a bit over the final months, Torii finished as Minnesota's leader in homers (29), RBIs (94) and steals (23). Everyone around baseball, including his teammates, lauded his efforts. Torii was viewed as one of the keys to the Twins' success, as the club took the division crown and advanced to the postseason for first time since 1991. He received the Calvin R. Griffith Award as Minnesota's MVP, and later placed sixth in the AL MVP voting.
In the playoffs, the Twins drew the mighty A's. After dropping two of the first three games, Minnesota stunned Oakland by winning the last two. The series ended with a wild ninth inning, in which both teams' closers experienced stunning meltdowns. For the series, Torii batted .300 against Oakland's formidable pitching staff.
When the Angels surprised the New York Yankees in the other series, Minnesota fans suddenly had visions of a pennant. Mays befuddled Anaheim in Game 1, but the Angels evened the series against Reed in Game 2. The Twins then lost a 2-1 heartbreaker on a late homer by Troy Glaus. When the Halo bats came alive in the next two contests, Minnesota blown out of the playoffs.
In the wake of his team's disappointing finish, Torii was rewarded for his fine campaign several times over. He was asked to tour Japan with the MLB All-Star team, and then earned honors as the tournament MVP. A few months later, he inked a $32 million deal with the Twins, with an option for a fifth year.
Minnesota didn't sneak up on anyone in 2003. Thanks to players like Torii, the Twins were known to fans and foes throughout baseball. As the season began, in fact, Minnesota received a dose of its own medicine, getting ambushed by the no-name Royals. Torii also started sluggishly, falling back into some old bad habits before righting his ship. Along the way, he learned that fame and success come with a price—expectations for him increased dramatically.
By the All Star break, the Twins were five games under .500, leaving their fans to wonder whether the '02 campaign was a fluke. Some asked similar questions about Torii. In July, he batted just .229, though he did slam seven homers and drive in 16 runs. Meanwhile, things were turning around for Minnesota. The team caught fire in the second half and surged to the top of the AL Central in late August.
Key to the club 's fine play were two players. Shannon Stewart—acquired in a deal with the Toronto Blue Jays—provided a much-needed spark in the leadoff spot. That enabled Gardenhire to drop Jones to heart of the batting order, where his RBI ability was much better utilized. On the mound, Santana joined the starting rotation and gave the Twins a bona fide ace. With Hawkins and Gaudado anchoring the bullpen, Minnesota cruised into the playoffs. Torii wound up batting just .250, but his 102 RBIs were a career high. he also patrolled center with the confidence of a confirmed Gold Glover.
Next for the Twins was the Division Series against the Yankees. On paper, the matchup couldn't have been worse for Minnesota. The big-budget New Yorkers had won every game in their season series, including a sweep at the Metrodome. Torii and his teammates had their work cut out for them.
Thanks to some daring baserunning and solid defense, Minnesota opened the ALDS with a 3-1 victory in Yankee Stadium. Torii contributed with an RBI triple (a gift from the official scorer after Bernie Williams bungled his skidding liner to right-center). Up 1-0, the Twins had notions of a major upset.
Their dreams were shattered by New York's experienced pitching staff. Andy Pettitte threw seven brilliant innings in Game 2, and then gave way to Mariano Rivera, who closed out the win. When the series moved to Minnesota, the Yanks quieted the raucous Metrodome crowd with steely efficiency. Roger Clemens and David Wells matched Pettitte's effort, and timely Yankee hitting produced two easy victories. New York advanced to the ALCS, while Minnesota pondered what roster changes lie ahead.
Torii was one of the few Twins who didn't wilt against the NY staff. He hit .429 with a homer and scored half of Minnesoata's runs.
The Twins entered 2004 as the favorites once again in the AL Central. Management chose not to fiddle with the roster, though youngsters Joe Mauer and Justin Morneau figured to see plenty of time. Torii was slowed early in the season by a short stint on the DL. The Twins played great without him, posting a nine-game winning streak in mid-May to move their record to 22-13. From there, however, Minnesota hovered around .500 and went into the All-Star break a game behind the Chicago White Sox.
The Twins looked forward to the stretch run, but when the Indians caught fire, the divison became a dogfight. On August 14, Minnesota was beaten by Cleveland for the second straight day, and the team's lead in the AL Central fell to one game. The Twins recovered to win the following day, and the Indians fell apart. The Tribe lost nine in a row and dropped out of contention.
The leader for Minnesota on the mound was Santan, who was unbeatable from July on. Among the everyday players, Torii was the catalyst. Over the season's final weeks, he batted .333 with two homers, 10 RBIs, and eight runs scored, and the Twins cruised home for their third straight division crown. Torii finished the year at .271 with 23 homers and a team-high 81 RBIs.
The Twins opened the '04 postseason in a familiar place, Yankee Stadium. Gardenhire sent Santana to the hill in Game 1. The lefty threw seven shutout innings—thanks in part to two spectacular catches by Torii—and Minnesota won 2-0. Looking to steal another victory in Game 2, Minnesota forced the Yankees to extra innings. With the score tied in the 12th, Torii hit a solo homer off Tanyon Sturtze to give the Twins a 6-5 advantage. But Minnesota's bullpen could not hold the lead, and the Yankees celebrated a 7-6 win.
After Kevin Brown shut down the Twins in Game 3, Gardenhire brought back Santana on three days rest. He threw five innings of one-run ball, but the bullpen again faltered, and Minnesota was eliminated. Another successful regular season had come to a disappointing end for Torii and the Twins, though he enjoyed another strong playoff performance, hitting .353.
The Twins fell back to earth in 2005. Santana and Nathan were brilliant again, but the rest of the staff came unglued. Minnesota finished 16 games behind the surprising White Sox in the AL Central with 83 wins.
What hurt the Twins as much as anything was the ankle injury that shelved Torii for more than a third of the campaign. He fractured it in Boston, going up for a ball in one Fenway's funky corners. Torii still led the team in slugging and steals, and won another Gold Glove, but it was small consolation for a lost season.
The fans got their money's worth in 2006, as Minnesota ran down the Tigers after a summer-long chase and won the division by a game. The Twins were 11 games out in July, but huge years by Mauer, who won the batting title, and Morneau, who was named MVP, helped them catch up in the season's final week. Santana won the AL's pitching Triple Crown, and Nathan was untouchable with 36 saves.
Torii had a terrific year, too. He won his sixth Gold Glove in a row and socked a career-high 31 homers. A sore left foot sidelined him for 15 days in July, but it barely slowed him down. In the team's remarkable September drive, no one was better than Torii. He hit 10 homers and drove in 29 runs.
The Twins went into the Division Series against the A's brimming with confidence. Oakland was not known for its clutch postseason performances, and this team was now minus Tim Hudson and Mark Mulder. In a shocker, the A's swept the Twins. Torii hit well, just like the rest of his teammates. But Oakland drove in runs when it counted, and Minnesota did not.
Torii enjoyed another great year in 2007. He batted .287 with 28 homers and 107 RBIs, and amassed more than 300 total bases. He put together a 23-game hitting streak that was the fourth -longest in team history. Unfortunately, Torii turned out to be one of the few bright spots for Minnesota. Mauer and Morneau were slowed by injuries, and the pitching staff was unreliable. The club was helpless as the Indians ran away with the division.
The realities of small-market finances forced the Twins to let Torii test the free agent waters after the season. The Angels needed a big-time star in center and inked him to a five-year, $90 million deal.
Torii joins a loaded outfield that includes Vladimir Guerrero, Gary Matthews, Garret Anderson and Reggie Willits. Better still, he will play on an outfield made of grass, not artificial turf. That's an advantage for a player who has made it into his 30s with knee or back problems.
Torii has come a long way since his days in Pine Bluff. Through all his ups and downs, he has never lost his enthusiasm for the game. The bright lights of Los Angeles may be the perfect place for him to finally win a championship.
TORII THE PLAYER
Torii's greatest assets are his glove hand, right arm and live legs. He is the most electrifying defensive center fielder since Ken Griffey Jr. in his heyday in the 1990s. Torii's range is unmatched—a product of his tremendous speed and an uncanny, crack-of-the-bat sense of where he needs to be when a hard-hit baseball returns to earth. Amazingly, some opponents still challenge his arm, and he almost always makes them pay.
Torii will never be a consistent .300 hitter because he's such a free swinger. Ironcially, he's more effective striking out 100-plus times, rather then trying to put the ball in play. His power is mostly to left and center. His speed enables him to collect infield hits and stretch doubles into triples. Though Torii isn't a great base-stealer, he is a definite distraction to enemy hurlers.
You'll be hard-pressed to find someone with something negative to say about Torii. He loves the game and is fun to be around, but he also possesses a serious competitive streak. His teammates have the utmost respect for him—not just because of hard he worked to become a star, but because of how little stardom has changed him.
Read more
Latest headlines