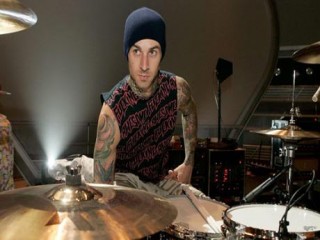 Travis Barker biography
Date of birth : 1975-11-14
Date of death : -
Birthplace : Fontana, California, U.S.
Nationality : American
Category : Arts and Entertainment
Last modified : 2011-10-27
Credited as : Singer, Blink-182, Famous Stars and Straps
Travis Landon Barker is an American musician, producer and entrepreneur, most noted as the drummer for the American pop punk band Blink-182, as well as the alternative rock band +44, the rap rock band The Transplants, and the alternative rock band Box Car Racer. He was a frequent collaborator with the late DJ AM, and together they formed TRV$DJAM. He also went on tour with Quest in 2007. he also made 3 albums with Quest, KSLIP, Why not?, and their most recent one Genius.
After the split of his first band, Feeble, Barker began playing for The Aquabats in 1996 as The Baron Von Tito. He recorded one album with them, The Fury of The Aquabats!, in 1997. His career took off when he joined up with pop punk band Blink-182 in 1998. Barker has since established himself as a versatile drummer, producing and making guest appearances in music projects of numerous music genres including hip hop, alternative rock, pop and country. He has gained significant acceptance within the hip-hop community in particular and often collaborates with artists to compose rock-tinged remixes to their songs.
He founded clothing company Famous Stars and Straps in 1999 and LaSalle Records in 2004. Companies such as DC Shoes and Zildjian cymbals have co-designed products in his name.
Barker collaborated with artists (including Game, Tom Morello, Corey Taylor, Slaughterhouse, Raekwon, RZA, Slash, and other musicians) for his solo debut album, Give the Drummer Some, which was released on March 15, 2011.
Blink-182 was formed in 1992 by Mark Hoppus and Tom DeLonge. After recruiting drummer Scott Raynor, the band recorded three early demos and two studio albums: Cheshire Cat (1994) and Dude Ranch (1997). Hoppus and DeLonge fired Raynor midway through a U.S. tour in 1998 after a drinking problem became far too prevalent.Hoppus and DeLonge asked drummer Barker of Blink-182's support band The Aquabats to fill in for Raynor for the remainder of the tour, and, after being impressed with Barker, asked him to join the band.
Barker (back) with Tom DeLonge and Mark Hoppus in Blink-182 Summer Tour, 2009.
Blink-182 released their breakthrough album Enema of the State in June 1999 to commercial success, fueled by successful singles "What's My Age Again", "All the Small Things", and "Adam's Song". After releasing live album The Mark, Tom, and Travis Show (The Enema Strikes Back!) in November 2000, the band entered the studio and recorded their fourth studio album Take Off Your Pants and Jacket, released in June 2001. The album continued the band's commercial success and popularity.
After performing with Box Car Racer for much of 2002, DeLonge and Barker rejoined the band to record their eponymous fifth studio album, released in November 2003. The album continued the commercial success that previous albums had endured, as well as being critically acclaimed: Blink-182 represented a more "mature" band than seen in the past, with the band infusing experimentalist elements into their usual pop punk sound, inspired by lifestyle changes (the band members all became fathers before the album was released) and side-projects (Box Car Racer and Transplants).
Tensions arose between the band members as DeLonge expressed his desire to cancel the tour and enter a half-year respite from touring in late 2004, and the band officially announced an "indefinite hiatus" in February 2005. DeLonge formed Angels & Airwaves while Hoppus and Barker continued playing music together in +44. In August 2008, the band's frequent producer Jerry Finn died of a cerebral hemorrhage, and Barker barely survived a plane crash, sustaining second and third degree burns on his lower body and torso. Both events would be catalysts for the band reuniting; in 2010, DeLonge reflected, "If that accident hadn't happened, we wouldn't be a band. Plain and simple. That was fate."
The band announced their reunion in February 2009 at the 51st Grammy Awards ceremony. A well-received reunion tour took place in mid-2009, with a European leg performed in summer 2010. The band has released their sixth studio album, entitled Neighborhoods. It was released on September 27, 2011.
Barker has said he has always been interested in many genres of music outside rock, especially hip hop. In a 2002 interview with MTV he said, "I probably listen to more hip-hop and drum'n'bass than I do rock music.". Not being able to explore these interests within Blink-182, Barker participated in two hip hop related side projects during that the time: Transplants and Expensive Taste.
Box Car Racer is a side project begun by Tom DeLonge of Blink-182 in 2002. This project resulted in one self-titled album, which was released that year. DeLonge said he asked Barker to play drums so that he would not have to find and pay a session drummer to come in.
Transplants is a hip hop-induced punk band for which Barker partnered with Tim Armstrong of Rancid and Rob Aston (former roadie for Rancid). Transplants released two studio records as well as a remixed version of their second album, which was chopped and screwed by rapper and hip-hop artist, Paul Wall.The first album released by Transplants was their self-titled album in 2002. The second Transplants record, Haunted Cities, was released by LaSalle Records in June 2005. After the Vans Warped Tour of 2005, the members decided to disband. This was confirmed by vocalist Rob Aston in January 2006 during an interview.[citation needed] In January 2010, Barker announced that the Transplants would reform for new material.
In late 2005 Barker started a new band, +44, with fellow Blink-182 member Mark Hoppus. +44 only released one studio album, When Your Heart Stops Beating. They played several tour dates with Fall Out Boy, Taking Back Sunday, and Cobra Starship.
Barker made a very well received remix of Soulja Boy's "Crank That". In a similar fashion to the Soulja Boy remix, he has also remixed Flo Rida's single "Low" that was later included within the deluxe version of Flo Rida's debut album. Barker is a playable character in Guitar Hero: World Tour and his remix of "Low" is available as downloadable content. Barker is also featured on The Game's latest album, L.A.X., drumming on the song "Dope Boys".
He was the drummer for all of the performers at the MTV Video Music Awards of 2008, including Kid Cudi and LL Cool J.
In November 2009, Barker made a remix with hip-hop artist Drake's song "Forever", featuring Eminem, Lil Wayne and Kanye West.
On April 22, 2010, Barker performed "Stairway to Heaven" by Led Zeppelin on American Idol along with Mary J. Blige, Orianthi, Steve Vai and Randy Jackson.
On March 1, 2011, Ourstage, Guitar Center and Travis Barker team up to create the unsigned artist discovery program Guitar Center Presents Your Next Record With Travis Barker. The winner, Twin Berlin gets a 3-song ep produced by Travis Barker at Red Bull Studios in Los Angeles (Travis Barker will appear on their single), $10,000 in new gear from Guitar Center and Worldwide distribution through TuneCore.
Barker owns and contributes to several businesses in addition to his musical interests. He founded an accessory/apparel company called Famous Stars and Straps in 1999, which sells street/skate style clothing and gear. Barker has said the brand's trademark "F" for the logo was chosen for its resemblance to a car logo but mainly for the fact that it can stand on its own. Barker is also business partners with famous skateboarder Rob Dyrdek and together they are part of the team that own the clothing label named Rogue Status, and in 2009 another label called DTA.
He co-founded LaSalle Records, a record company to which his band, Transplants, are signed. He has dabbled in the restaurant industry, opening a Wahoo's Fish Taco restaurant in Norco, California.
Barker has developed a shoe for DC Shoe Company called the "Alias Remix" and is endorsed by Orange County Drum and Percussion and Zildjian. He also has his own line of drumming products, sponsored by Zildjian.
Barker has been married twice. He first married his long time girlfriend, Melissa Kennedy, on September 22, 2001. The couple divorced August 6, 2002, after eleven months of marriage.
Barker married actress and First Runner Up Miss USA 1995 Shanna Moakler on October 30, 2004. The couple had a Gothic-style ceremony inspired by the Tim Burton film, The Nightmare Before Christmas, which was held on the eve of Halloween.
Barker and Moakler have two children together, Landon Asher (born October 9, 2003) and Alabama Luella (born December 24, 2005). Atiana Cecilia de la Hoya (born March 29, 1999) is Moakler's daughter with former boyfriend Oscar de la Hoya. The family appeared in a reality television series, Meet the Barkers, which aired on MTV from 2005 to 2006.
On August 8, 2006, Barker filed for divorce from Moakler after nearly two years of marriage. The couple's divorce was made public as each used their MySpace pages to air their feelings on the matter. During their separation, Barker had a brief fling with Paris Hilton in September 2006.
Despite their pending divorce, reports surfaced in early 2007 that Barker and Moakler were "quietly trying to give it another go" as they were reportedly seen autographing a fan's book, with a heart around their names.
In March 2007, Moakler revealed to People magazine that she and Barker (still married) were back together, but denied that she was pregnant. This admission came after the couple were publicly affectionate at a surprise birthday Barker threw for his wife in Miami. People.com later reported that the couple had separated again. No reason was given for the split. Barker and Moakler were seen together at the 2007 Video Music Awards kissing and holding hands. However, as of February 11, 2008, the couple's divorce had been finalized.
Barker and Moakler were together during a DJ set Barker was playing with DJ AM in Las Vegas on January 7, 2009. The couple attempted to rekindle their relationship in early 2009 but announced that they were no longer together on April 1, 2009, amid reports that police had been called to their home after a fight; no charges were filed against either party.
On September 19, 2008, Barker was injured when the Learjet 60, which he boarded, crashed outside Columbia, South Carolina. The jet was headed for Van Nuys, California.According to the Federal Aviation Administration, the plane was departing the airport when air traffic controllers saw sparks emanating from the plane.
It went off the runway, smashed through a fence, crossed a nearby road, slammed into an embankment and caught fire. Barker had performed the night before at an event with Jane's Addiction singer Perry Farrell, Gavin DeGraw and DJ AM. Barker and DJ AM were transported to the Joseph M. Still Burn Center in Augusta, Georgia, where they were both listed in critical condition.
Four others were killed in the crash, three males and one female. With autopsies being performed to identify the bodies, two of the deceased were crew members, and two were passengers, including Chris Baker, Barker's personal assistant who often appeared in Meet The Barkers, and Charles Still, Barker's security guard. On September 21, Dr. Fred Mullins, medical director of the Burn Center reported that Barker sustained second and third degree burns on his lower body and torso and was expected to fully recover within a year.Barker stopped his vegetarian diet and began eating meat to increase his protein intake and possibly speed up healing of his burns.
Barker survived the incident, enabling him to return to the recording studio in November 2008 with long time friend and Keys to the Cadillac drummer Mike Barbalaci. On his first television interview since the crash, he said to MTV, "I'm already playing my drums again, and I'm already back in the studio".
Elaborating by stating that the return to the studio "was like riding a bike. It was really exciting to know I still have my chops. It still felt good... I still can make it around the kit. Everything felt right, so I'm thankful to be able to play."
In October 2011 Barker stated the plane crash led him to make some lifestyle changes. He now runs and swims everyday, eats well and has gone vegan since leaving hospital. He has also overcome a painkiller addiction he had for years prior to the plane crash.
Read more
Travis Barker Picture Gallery
Latest headlines