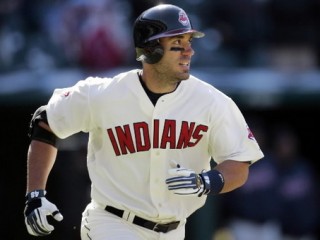 Travis Hafner biography
Date of birth : 1977-06-03
Date of death : -
Birthplace : Jamestown, North Dakota
Nationality : American
Category : Sports
Last modified : 2010-10-29
Credited as : Baseball player MLB, first base with the Cleveland Indians,
Travis Lee Hafner was born on June 3, 1977, in Jamestown, North Dakota. His parents, Bev and Terry, were farmers in the rural community of Sykeston, population about 200—many of whom are members of the Hafner clan. Terry leased a 3,000-acre spread to raise sun flowers, wheat and beans, working the land with Travis's older brother, Troy.
Travis despised farm work, and spent as much time and energy as possible on either schoolwork or sports. He loved baseball. While his dad and brother were out in the field, Travis was behind the house, whacking rocks with a bat.
After his first year of tee ball, Travis wrote a school essay that predicted he would become a major leaguer. As it turned out, he almost guessed the exact season.
Not surprisingly, Travis was the best player on his Little League and Babe Ruth League teams, and was a star in American Legion ball. The kids in Sykeston rooted for the nearest major league club, the Minnesota Twins who played a half-day's drive to the east. Travis liked Kirby Puckett and Kent Hrbek, whose body types he shared. But he was never one to go with the crowd, and ended up a Baltimore Orioles fan. His favorite player was Cal Ripken.
Travis kept himself busy iat Sykeston High School. An all-region basketball star, he had a remarkable vertical leap. Travis also starred for the track team, taking third in the state championships in both the discus and triple jump his senior year. Not bad for a kid who made up one-eighth of his graduating class in the spring of 1995.
During the summer after his senior year, a scout for the Atlanta Braves invited Travis to a tryout. There were about 60 kids there, and Travis was one of two players who were asked to stay afterwards. The team was willing to offer him a contract, but the idea of playing ball professionally was overwhelming to him. He had always dreamed of being a ball player, but was told again and again by his guidance counselor that there was no way that would happen.
The Braves advised Travis to attend a junior college with a good baseball team, and see how things developed. He gave him a list of six, including Cowley County Community College in Kansas. Travis enrolled there that fall.
The experience was quite the eye-opener for Travis, who had no idea what a sheltered life he had led. Driving through Kansas City on his way to Cowley, he got lost. The ensuing panic attack nearly convinced him to turn around and go back home. Once he reached the Cowley campus and attended his first practice, the coach told him to jog out to the field and take some fungoes. Travis searched around and couldn't find anything that looked like a fungo. He finally had to admit he didn't know what it was.
Things improved when Travis started finding his rhythm at the plate. Cowley already had a nationally ranked JUCO team that included future major leaguer Junior Spivey. Travis, however, transfored the Tigers into a powerhouse. He led the team in virtually every major offensive category in 1996, led them to within a game of the qualifying for the JUCO World Series, and was drafted in 31st round by the Texas Rangers. The Rangers weren't offering much of a bonus, so Travis decided to stay in school, sharpen his skills, and hopefully improve his bargaining position.
This he did, guiding Cowley to the 1997 JUCO World Series along with star pitcher Travis Hughes, another future big leaguer. In the championship game, Travis hit a three-run homer against Seminole Junior College. It proved the difference in a 4-2 win, as he was named MVP. Texas then put a decent bonus on the table and Travis began his pro career that summer with the organization's rookie team in the Gulf Coast League. He hit .286 with five homers in 55 games.
Travis's first full season as a minor leaguer was spent with the Savannah Sand Gnats of the Class-A South Atlantic League. He topped the team with 68 walks and 84 RBIs, and was second with 16 home runs. It was a strong year to be sure, but Travis's name was nowhere to be found when the 1999 All-Stars and Top Prospects were named by various scouting publications.
ON THE RISE
Travis logged a second year with Savannah in 1999, but it was nothing like his first. This time, he murdered the ball all year, leading the SAL with 111 RBIs and a .546 slugging average, while tying for first with 28 home runs. His .292 average was third on the Sand Gnats.
The Rangers moved Travis up a level in 2000 to Charlotte of the Florida State League. He and Kevin Mench tattooed the ball all season, with Mench leading the league in homers, runs and RBIs, and Travis finishing first with a .346 average. After the season, Travis flew to Puerto Rico for winter nall, but came home in late December with a sore wrist. He had spent time on the DL in August with a broken toe, but this was the first injury that had ever actually prevented him from playing baseball.
Travis came to spring training in 2001 on the fast track, but left as a surgical patient. The pain he had felt since December was diagnosed as a broken hamate bone. The operation delayed the start of his year until mid-May.
Undaunted, he raked the Double-A pitching of the Texas League as Tulsa's everyday first baseman, making up for lost time with a .545 slugging average and .396 on-base percentage. He batted .282 overall, but hammered lefties for a .343 average. The Rangers, thinking he might be ready to make the jump to the big leagues, sent him to the Arizona Fall league to work on his defense. But disaster struck when he injured his wrist again, and had to go under the knife to remove torn cartilage and scar tissue. There was no timetable for his return.
Travis proved an astonishingly quick healer, making the opening day roster for Class-AAA Oklahoma City. He began slowly but heated up in May, and wound up third in the Pacific Coast League batting race with a .342 mark and first with a .463 on-base percentage. Travis was called up to the Rangers in August. He struck out against the Detroit Tigers in his first at-bat, but went on a five-game hitting streak after that, including a 4-for-5 game against the Indians. Travis leveled off and was sent back to the minors for a week, then recalled for the final three weeks of the season. He ended the year with a .242 average and one home run. When asked to compare his rookie to another major leaguer, manager Jerry Narron answered, prophetically, "Jim Thome."
Following the 2002 campaign, the Indians and Rangers began talking about a trade. With Ivan Rodriguez leaving the club via free agency and a logjam at the corners with Travis, Hank Blalock, Rafael Palmeiro, and Mark Teixeira, Texas was looking to swap a first baseman for a catcher. Cleveland had just let Thome walk as a free agent, and the team had a future star in catcher Victor Martinez, who would soon replace starter Einar Diaz. A Diaz-for-Hafner swap made a lot of sense for both sides. The deal was done (Ryan Drese was a throw-in on the Indians' side). Travis was now Cleveland property.
The Indians were rebuilding, and Travis would be a big part of their plan. The team had been in exactly the same position a decade earlier, and proved it could build a championship-caliber contender. Travis's new teammates included up-and-coming talent like Martinez, Jhonny Peralta, Coco Crisp, Casey Blake, Grady Sizemore, C.C. Sabathia, Cliff Lee and Jake Westbrook. Ben Broussard, a raw-boned slugger like Travis, would compete with him for playing time at first and DH. The team's new manager was Eric Wedge.
When Travis showed up at spring training, half the guys called him "The Project" and the other half labeled him "Donkey." Teammate Bill Selby suggested they combine the two, and thus a brand new baseball nickname was born: "Pronk." The Latino players sometimes call him "El Pronko." Travis loved the camaraderie of the Cleveland clubhouse and played along with the jokes about being a dumb jock. For a while, he wore a t-shirt that said, "I'm not very smart, but I can lift heavy things."
All fun aside, the 2003 season was a rough one for the Tribe. They lost 94 games and had to deal with a rash of injuries. Veterans Omar Vizquel, Ellis Burks, Milton Bradley, Ricky Gutierrez and Matt Lawton all spent time on the DL.
Travis was one of the walking wounded, too. After playing first for the Indians on Opening Day, he slumped badly and then went on the DL in May with a broken toe. Travis logged the entire month of June rehabbing and regaining his stroke at Triple-A Buffalo. He was recalled after the All-Star break, and hit .278 the rest of the way with 10 homers and 29 RBIs in 60 games. His final stats were 14-40-.254, splitting his time between first base and DH. The highlight of Travis's year came on August 14, when he hit for the cycle against the Minnesota Twins.
Travis felt he belonged in the majors, but knew he had to improve to be the impact player Cleveland had traded for. He had given away far too many at-bats in clutch situations, particularly late in games. The Indians had no doubt he would make the necessary adjustments, and signed him to a three-year deal worth $7 million.
In spring training, Wedge informed Travis that he would not see much time in the field if Broussard stayed healthy. Though a blow to his ego, he decided to use the bench time to lock into each at-bat. He developed the routine of running back and forth down the runway to the Cleveland dugout, whacking a ball off a tee under the stands, and watching tapes of the opposing pitcher.
This approach paid immediate dividends, as he topped the .300 mark in April, May, June and July. He was hitting for power, too, with10 homers in the first half.
MAKING HIS MARK
In the second half, Travis dialed it up a notch, belting 18 homers (including five in a two-game span against the Angels). His power, consistency and patience at the plate combined to make him one of the league's most destructive hitters. His on-base (.410) plus slugging(.583)—.993—was second only to Boston's Manny Ramirez. AL pitchers were taking him very seriously, plunking him a league-high 17 times. Travis finished the year as the Indian's best offensive player, leading the Tribe with a .310 average, 109 RBIs and 72 extra-base hits. He hit only seven of his 28 homers at Jacobs Field, which placed him second in the AL in road home runs.
The most remarkable aspect of Travis's breakout season was that he played the second half with a right elbow in need of surgical repair. He had the operation to remove bone spurs right after the season and was 100% by spring training. The Indians were hoping to improve on their 80 wins in 2004, and they were expecting Travis to help get them there.
Travis, often a slow starter, started the season hitting .400 and remained in a groove throughout the spring. With him as an anchor in the lineup, the Indians began winning games they had been losing the previous two seasons. Everyone was contributing, allowing Travis to have the occasional off day without worrying about an automatic loss.
Of course, the Tribe still looked to him for the big hit. And time and again, he delivered. In a June meeting with the Red Sox, he wrapped an 0-2 pitch around Fenway Park's Pesky Pole for a ninth-inning game-winning grand slam off Keith Foulke. It capped off Travis's second 3-for-5 night against the defending AL champs. This hit touched off a homer barrage that pushed him toward 20 at mid-season.
As has so often happened, however, the injury bug bit Travis. In mid-July, his unwillingness to back off high-and-tight pitches finally caught up with him. He took one to the face courtesy of Chicago's Mark Buehrle that landed him on the DL for two weeks with a concussion. In his first at-bat back, he doubled against Shawn Chacon of the Yankees and the Indians won six of their next eight games to surge into Wild Card contention.
The Indians have an exciting young team that is only a puzzle piece or two away from being a perennial contender. With Travis locked up for three years, there is time to put those pieces in place. And time for him to step up as Cleveland's signature player.
TRAVIS THE PLAYER
Travis is that most coveted of baseball commodities: A run producer. He knows how to work a count to his favor, and hits the ball where it's pitched. His power to left-centerfield takes away an important option for pitchers, as does is his willingness to hang in against inside pitches. Instead of moving him off the plate, purpose pitches often end up putting him on first, as Travis is always willing to take one for the team.
It is all part of the same package—a player who locks in at the plate and who battles through each at-bat, looking to get a pitch he can hammer. Travis is as dangerous at 0-2 as he is at 2-0. He stays inside the ball beautifully, thanks in part to incredibly strong forearms, wrists and hands.
The Indians will do whatever it takes to keep Travis away from first on defense. He does not have quick feet, and is not terribly nimble with the glove. The fact that he is a good athlete suggests he will improve, but it is unlikely he will ever rise above mere adequacy in the field.
EXTRA
* Travis is the second major leaguer to be born in Jamestown, North Dakota. The first was Darin Erstad. Both played for the Jamestown Merchants amateur club during their teens, as did Tim Olson, a Diamondbacks farmhand who was born in Grand Forks.
* Travis hit his first big-league homer off Jason Phillips of the Indians in 2002.
* When Travis came up to the Rangers in 2002, the player who took him under his wing was Rafael Palmeiro. He knew he had an appreciative audience when he talked about the nuances of hitting, and the basics of playing first base.
* Travis's first homer against a lefty came in 2003 off Eric Milton of the Twins.
* In August of 2003, Travis bamce the first Indian to hit for the cycle since Andre Thornton in 1978.
* Travis finished second among AL rookies in 2003 with a .485 slugging average.
* Travis finished second to David Ortiz in RBIs by a DH in 2004, 109-106.
* Travis tied a Cleveland mark with 11 RBIs over a two-game span vs. the Angels in July of 2004. He now shares the record with Hall of Famer Earl Averill. He hit five homers in those two games. Travis is one of only 25 major leaguers to have accomplished this power-hitting feat.
* In an attempt to push Travis's candidacy for the 32nd spot on the 2004 All-Star team, the Indians printed up "Vote Pronk" flyers and handed them out at a Kerry-Edwards rally in July.
* Travis tied the Cleveland record set by Minnie Minoso when he was hit by 17 pitches in 2004.
* Travis is the best power hitter out of North Dakota since Roger Maris.
* Travis has "The Pronk" stitched into the thumb of his batting glove.
* Travis was his high school class valedictorian. He graduated with a GPA of 3.99.
* Had Travis not made it in baseball, he planned to become a professional wrestler.
* Travis is addicted to televised poker tournaments.
* Hafner boys traditionally have names that begin with T. Travis's two young nephews are Taylor and Tanner.
* Travis may be the only major leaguer who lists his two favorite hobbies as hunting and chess.
Read more
Latest headlines