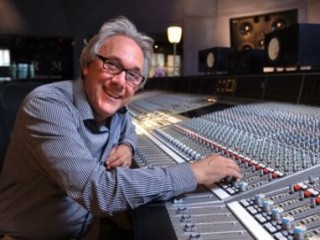 Trevor Horn biography
Date of birth : 1949-07-15
Date of death : -
Birthplace : Hertfordshire, England
Nationality : English
Category : Arts and Entertainment
Last modified : 2011-11-30
Credited as : singer-songwriter, record producer, ZTT house musicians
Trevor Charles Horn is an English pop music record producer, songwriter, musician and singer.
Although his face may not grace the cover of many magazines or be recognizable to groups of fans at large, Trevor Horn is a well-known, driving force within the music industry. Launching his career initially as a musician, the inventive producer has been responsible for bringing forth some of the most defining music of the 1980s and 1990s, including ABC's Lexicon of Love, Yes' 90125, Frankie Goes to Hollywood's Welcome to the Pleasuredome and Seal's debut album, which transformed the talented British singer into a worldwide success. Recognized for his sophisticated production techniques, insatiable work ethic and impressive credentials (he has worked with everyone from Rod Stewart and Tina Turner to Prodigy), Horn has earned a reputation as one of the most sought-after producers in pop music.
Horn was born on July 15, 1949, in Hertfordshire, England. His father was a dairy engineer by day and musician by night, who played acoustic bass with a local band. Inspired by early-1960s British radio and artists such as the Beatles, the younger Horn developed a strong interest in music, eventually following in his father's footsteps, playing bass and performing in high-school bands. At age 19, after quitting college and an attempt at a day job, Horn embarked on a career as a professional musician. Due to his then-rare ability to sight-read bass music, he was able to obtain a consistent string of gigs as a session player. However, the young bassist quickly realized that his stint as a struggling musician was not going to bring him the success he desired.
In a rather odd move, Horn decided to build a recording studio with a partner from scratch, mainly because they couldn't afford to rent one. Although Drumbeat Studios had one of the first half-inch eight tracks in England, it hardly attracted the superstar clientele Horn later became known for producing. Instead, the majority of his early work involved producing demos for fledgling musicians looking to enter song contests. Nonetheless, his short reign in the studio business did prove instrumental in determining his future direction. As he explained in a 1998 issue of Billboard, "I was just drumming up business for the studio and one day somebody said, 'All the things that you're doing are called being a producer.' So I said 'That's exactly what I want to do.' Regardless, within six months Horn's business partnership dissolved and he left his studio behind.
Shortly thereafter, Horn became romantically involved with United Kingdom disco queen Tina Charles. His relationship with the singer developed into a musical liaison when she provided Horn with his first high-profile music job as a backup bassist for her group. Further impressed with his ability, she promoted Horn to musical director, a position he maintained even after their romance fizzled. Notably, the aspiring producer's time with Charles served two purposes. It allowed him to witness how the music industry really worked and introduced him to future collaborator Geoff Downes, whom Horn had initially hired to play keyboards in Charles' backup band.
Horn's attention shifted back toward producing. He was aware that in order to attract quality clients as a producer he would need to establish a track record. Following a brief stint with the band Camera Club (which included Thomas Dolby, Bruce Wooley, Jeff Downes and Hans Zimmer), Horn and Downes formed the Buggles in 1979. As the fledgling producer explained to Musician magazine, "All the time we were working for other people. Finally, in a fit of absolute desperation, we decided to become the artists. We tried to put four and a half years into four minutes and had our first hit, 'Video Killed the Radio Star.'" The song, which was inspired by the sci-fi tale "The Sound Sweep" by J.G. Ballard, took an incredible three months to record and eventually topped the charts in 16 different countries. Although it failed to chart significantly in the United States, "Video Killed the Radio Star" earned a special place in the history of pop culture. On August 1, 1981, the infectious song became the first video ever played on the new cable television network, MTV.
The Buggles' first record, The Age of Plastic also managed to attract the attention of Yes member Chris Squire whose interest resulted in Horn and Downes joining the progressive rock super group in May of 1980. In retrospect, Horn viewed joining Yes, a band he had long admired, as a mistake. "Looking back now, it was one of the two or three times in my life that I have done something that I knew was wrong." He explained in the 1984 issue of Musician magazine, "The experience was in a word, awful." Reportedly, Horn had issues dealing with the immense pressures of performing in front of the large crowds that Yes attracted. "I remember thinking how could I ever be worried about making a record again or getting a mix right after something truly as horrific as this? And I suppose a bit of that has stayed with me ever since. I've put out records that other people would have been quite nervous about."
In early 1981, Yes disbanded. Instead of returning to the Buggles as was originally intended (the group had never broken up), Downes decided to form his own group with Yes bandmate Steve Howe. Asia, Downes' project, achieved a great deal of success in the early 1980s. Horn returned to the studio and with pre- and post-Yes demos in hand, mashed out a second Buggles album entitled Adventures in Modern Recording. As with its predecessor, the record was acknowledged for its excellent production work. However, overall the Buggles' sophomore effort was received to little fanfare.
During 1981-82, Horn's work with unremarkable British pop group Dollar, and a then largely unknown ABC, augmented his reputation as a producer. Dollar approached Horn with the hope of creating a single similar to "Video Killed the Radio Star." The producer in turn jump-started the group's lackluster career. With Horn's assistance, Dollar's "Hand Held in Black and White," became the band's first breakthrough hit single. It was followed by three chart toppers and a successful album, significantly improving Dollar's appeal. Shortly thereafter, Horn further established his business by assembling a group of his own high-quality studios known as SARM (Sound and Recording Mobiles). In 1982, Sheffield natives ABC asked Horn to make an album for them as well. While Horn liked the band's first record, he thought the sound quality was too rough and wasn't certain that they had the same goals in mind. The band assured him that this was not the case, that in fact, they were seeking a high-quality, sophisticated record. As a result, ABC's Lexicon of Love featured impressive orchestrations and a magically clear sound. The record proved to be a major success for the group, launching the hit singles "Poison Arrow" and "The Look of Love."
In January of 1983, Horn--along with several partners--launched ZTT, an innovative record label. ZTT stands for Zang Tuum Tumb, a term described in The Art of Noises, a book about the Futurist movement in Italy at the beginning of the century. Unlike most producer's labels which are generally used to showcase vanity projects and other small side offering, ZTT became a very successful record label in its own right. It also added another positive dimension to the producer's growing company SARM, which eventually grew to include a string of recording studios and a management company.
Britpop stars Frankie Goes to Hollywood became the first band signed to ZTT. With Horn at the helm, the group released its smash record Welcome to the Pleasuredome. The album was the source of several number one singles in the United Kingdom as well as a great deal of controversy for its sexual overtones. What were not controversial were Horn's impressive production efforts, which were highly acknowledged and evident throughout the record. Several months prior to his work with Frankie Goes to Hollywood, Horn surprisingly returned to produce Yes' 1983 album 90125. The single "Owner of a Lonely Heart" was credited with reviving Yes' career and was a number one hit in America for two weeks in January of 1984. Horn's back-to-back efforts with Yes and Frankie Goes to Hollywood were a week away from resulting in the talented producer having two different number one songs simultaneously on both sides of the Atlantic.
In 1983, despite an increasingly demanding schedule, Horn collected the ZTT house musicians Anne Dudley, Paul Morley, and Gary Langan to form the critically acclaimed The Art of Noise, a group light on live music, high on production. The band's EP Into the Battle with The Art of Noisebecame the second ZTT project. Their first full-length recording, Who's Afraid of the Art of Noise, birthed the popular single "Close (to the Edit)." After two records, The Art of Noise parted ways with ZTT, leaving Horn to concentrate fully on his production efforts.
Throughout the 1980s, Horn continued to work with some of the most notable artists in the music industry, generating a much-respected body of work and some of the most notable albums of the time, including Grace Jones' Slave to the Rhythm, Paul McCartney's Flowers in the Dirt, and several records by superstar Rod Stewart.
In 1991, Horn achieved one of his greatest successes when he produced British soul singer Seal's debut album. The record, which contained the single "Crazy," reached multiplatinum status and in turn launched Seal as an international superstar. Horn continued to work with the artist on his two subsequent releases. Seal's second album, also entitled Seal, produced the single "Kiss from a Rose," which reached number one on the American charts and won a Grammy Award for Record of the Year in 1996. The late 1990s also saw Horn reuniting with Anne Dudley and Paul Morley to produce a new Art of Noise record, The Seduction of Claude Debussy.
In 2001, Horn continued to be one of the main purveyors of solid pop music. His tremendous success may be attributed to the fact that despite his impressive credentials, the prolific producer never loses sight of his objective. As he once stated in a 1982 issue of The Face, "The point is to make good records that the people out there are going to like and buy. I believe that every single pop record should have some kind of basic message behind it, a record or a single is a form of communication: you're putting across an idea, a statement, but you've got to be prepared to slog it and not accept second best."
In the 2000s, Horn provided additional production on three international hits for t.A.T.u., "All the Things She Said", "Not Gonna Get Us", and "Clowns (Can You See Me Now)". He also wrote "Pass the Flame" (the official 2004 Olympic song) and co-wrote the title track from Lisa Stansfield's 2004 album The Moment.
On 11 November 2004, a Prince's Trust charity concert celebrating Horn's 25 years as a record producer took place at Wembley Arena. Performers at the show included The Buggles, Bruce Woolley, ABC, Art of Noise, Belle & Sebastian, Lisa Stansfield, Pet Shop Boys, Seal, Dollar, Propaganda, t.A.T.u., Yes, Grace Jones and Frankie Goes to Hollywood (with Ryan Molloy replacing original vocalist Holly Johnson). A double album, Produced by Trevor Horn, was released in conjunction with the concert. An edited version of the concert has been broadcast on television in several countries under the title 25 Years Of Pop: Produced by Trevor Horn, and a DVD release of the full concert called Slaves to the Rhythm is available.
Horn is also the executive producer of Jeff Beck's album, Emotion & Commotion, released in early 2010. He is returning to work with Yes again, producing their new album from October 2010. That album, 2011's Fly From Here, is a reunion of sorts for Horn's former bandmate Geoff Downes; not only is Downes a member of the band's current incarnation, but the album also takes its title from a song written by Horn and Downes during their original stint with Yes in the 80's.
Selected discography
As producer:
-The Buggles, Age of Plastic , Island, 1980.
-The Buggles, Adventures in Modern Recording , EMI, 1982.
-ABC, Lexicon of Love , Mercury, 1982.
-Dollar, The Dollar Album , WEA, 1982.
-Malcolm McClaren, Duck Rock , Charisma, 1983.
-Yes, 90125 (includes, "Owner of a Lonely Heart"), Atco, 1983.
-Frankie Goes to Hollywood, Welcome to the Pleasure Dome (includes "Relax" and "Two Tribes"), ZTT/Island, 1984.
-The Art Of Noise, Who's Afraid of the Art of Noise (includes "Close (To The Edit)"), ZTT/Island, 1984.
-Grace Jones, Slave to the Rhythm , ZTT/Island, 1985.
-Paul McCartney, Flowers in the Dirt (4 tracks), Capitol, 1989.
-Rod Stewart, Storytellers (compilation), Warner Bros., 1989.
-Rod Stewart, Vagabond Heart , Warner Bros., 1991.
-Seal, Seal (includes "Crazy"), Sire, 1991.
-Mike Oldfield, Tubular Bells II , Warner Bros., 1992.
-Seal, Seal (includes "Kiss from a Rose"), Sire, 1994.
-Tina Turner, Wildest Dreams (8 tracks), Virgin, 1996.
-Cher, It's a Man's World (3 tracks), WEA, 1996.
-Barry Manilow, I'd Really Love to See You Tonight , Arista, 1997.
-Seal, Human Being , Warner Bros., 1998.
-Charlotte Church, Charlotte Church , Sony, 1999.
-The Art of Noise, The Seduction of Claude Debussy , ZTT/Universal, 1999.
-LeAnn Rimes, I Need You , Curb, 2001.
As musician:
-The Buggles, Age of Plastic (multiple instruments), Island, 1980.
-Yes, Drama (bass and vocals), Atlantic, 1980.
-The Buggles, Adventures in Modern Recording (multiple instruments), EMI, 1982.
-Paul McCartney, Flowers in the Dirt (keyboards), Capitol, 1989.
-Marc Almond, Jacky (multiple instruments and producer), Warner Bros., 1991.
-Rod Stewart, Spanner in the Works (keyboards, background vocals, and producer), Warner Bros., 1995.
-Tina Turner, Wildest Dreams (background vocals), Virgin, 1996.
-The Art of Noise, The Seduction of Claude Debussy (multiple instruments), ZTT/Universal, 1999.
Awards:
-BRIT Award 1983 - Best British Producer
-BRIT Award 1985 - Best British Producer
-BRIT Award 1992 - Best British Producer
-Grammy Award 1995 - Record Of The Year (as producer of "Kiss From A Rose")
-Horn was appointed Commander of the Order of the British Empire (CBE) in the 2011 New Year Honours for services to the music industry.
Read more
Latest headlines