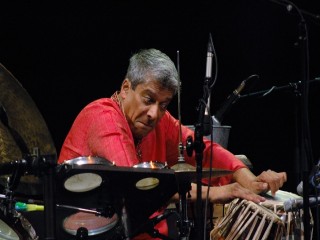 Trilok Gurtu biography
Date of birth : 1951-10-30
Date of death : -
Birthplace : Mumbai,India
Nationality : Indian
Category : Arts and Entertainment
Last modified : 2011-11-18
Credited as : percussionist, composer, Tabla Beat Science
Trilok Gurtu is a Kashmiri Indian percussionist and composer, whose work has blended the music of his homeland with jazz fusion, world music and other genres.
Watching Trilok Gurtu perform live is a mesmerizing experience, an event that captures all the senses. "Seated amid a panalopy of drums, shaker, cymbals, rattles and other indefinable sound producing objects, he moves from one to the other," wrote Don Heckman for the Los Angeles Times in 1999. "Tapping the tabla drums with his fingers, stroking cymbals and bells, occasionally bashing a snare or a bass drum, he is unrestricted by style, a true world music artist." And while many link the musician to jazz based on his work touring with John McLaughlin in the 1980s and 1990s and for joining the band Oregon as Colin Walcott's replacement, Gurtu himself, musically speaking, sees the whole world as his stage.
"We're just trying to say that music is one," the Indian-born percussionist extraordinaire commented to Down Beat's Larry Birnbaum in 1993, upon the release of his third solo outing entitled Crazy Saints. "It's not West and East anymore; it's gone universal. It's possible to play with anybody, if you are open and you adapt." And when asked whether critics should classify his music as jazz fusion or world music, Gurtu replied: "It's very hard to categorize not only my music but the music of anybody who is trying to do something different. I think it's the experience that you have gathered from everywhere. In my experience, I gathered a lot from Africa, South India, jazz, Jimi Hendrix, Cream. I heard everything in Bombay--Motown, Otis Redding, Sly Stone."
For his latest album, an homage to Africa released in 2000 entitled African Fantasy, Gurtu continued to indulge in his appreciation for all forms of music and culture. "African Fantasy is about Africa and India, two great nations for music, and what each has contributed to music," Gurtu, who recorded the album with his band The Glimpse, explained to Meg Dedolph of Down Beat. "When I was in America, I said, 'Please don't forget African music. That's why America's on the map. Because of the funk, because of the jazz, it's African. Keep that. You owe something to these people.'"
A three-time winner of Down Beat magazine's best percussionist award, Trilok Gurtu, born on October 30, 1951, in Bombay, India, came from a long line of musicians. His father's father was a sitar player, his mother's mother a singer and dancer. His own mother, Shobha Gurtu, a frequent guest on Gurtu's later solo albums, was a prominent singer of ghazal and thunzri music, a semi-classical North Indian style. "It's also based on dancing," Gurtu offered further, as quoted by Birnbaum. "In India, a big part of playing the drums is how to accompany the dancer. That's why I loved James Brown, doing all those steps."
Although always receptive to an array of musical forms, Gurtu's earliest influences were rooted in the rhythmic rules and structures of Indian classical music. At the age of six, he began formal training in tabla, an eloquent percussion instrument that provides the pulse of the Indian musical tradition, with his initial tutor, Ustad Abdul Karim Khan Saheb. A strict disciplinarian who would give his young student a good hiding when he made mistakes, as well as reward him with gifts when he played properly, Khan Saheb nevertheless knew that Gurtu possessed magic in his fingers when in the right mood. As a youngster, Gurtu also studied with Ahmed Jan Thirakwa, and in 1965, formed a percussion group with his brother. "Trilok became a kansen (one who learns music by ear) rather than Tansen," his mother said to Nandita Chowdhury of India Today Music. "Whatever the gharana, whatever the music, he played on."
As for other significant influences, Gurtu likewise feels indebted to composers light years away from India, namely Bach and Mozart, who he considers the masters of accessible music. "Everyone's still playing their music," including jazz and pop artists, he noted to Dedolph. "If you take Bach, you have the best bass lines." However accessible Bach and Mozart were to Gurtu, it was American jazz and rock and roll that really made his heart race. And when Gurtu, along with the rest of the world's teenage population, fell under the seductive spell of the rock and soul sounds of Jimi Hendrix, James Brown, Sly and the Family Stone, and the Supremes, his traditional instruments were gradually augmented by all manner of kit drums and percussion, and he gained a reputation experimenting in the burgeoning Indian pop and jazz scenes.
"When I was young, I earned money backing singers, and when I was about 16 I started working in movies. I also worked in five-star hotels; that's when I heard John Coltrane and Hendrix and everything. I came across the record Coltrane Plays The Blues, and Elvin Jones knocked me out," he recalled to Birnbaum. "At 20 or 21, I went to Paris with a progressive group, Waterfront. I used to play Hendrix tunes on tabla, but nobody gave a damn." Returning to Bombay from France, Gurtu played the Jazz Yatra Festival with alto saxophonist Charlie Mariano. "Charlie was the first Western musician I played with."
In 1973, Gurtu toured Italy with an Indian crossover group, remaining there through 1976. In 1977, he traveled to New York City with Indian pop singer Asha Bhoshle. While in New York, he also forged a long-term association with Mariano. "I loved the music and the positive competition--that hunger and enthusiasm for music--but I couldn't stand the one-upmanship, so I left and went to Germany," he said to Birnbaum of his stay in New York, which lasted until 1978. In Germany, Gurtu played drums and tabla for a rock group, but made little money. Thus, he relocated to Sweden to work with Don Cherry, who introduced the percussionist to the music of Ornette Coleman, the genius who invented an entire school of jazz known as the avant-garde; Cherry had played trumpet with the alto saxophonist's powerhouse quartet in the 1950s. During his time in Europe, Gurtu went on to work with Archie Shepp, Jan Garbarek, Philip Catherine, Indian violinist Lakshminarayana Shankar, Gil Evans, Airto Moreira, and Paul Bley, and recorded with Catherine, Shankar, Moreira, Bley, and Barre Phillips.
After living in Europe for a year or two, Gurto returned to the United States, settling in Woodstock, New York, to teach percussion at Karl Berger's Creative Music Studio. Here, he met drummer/percussionist Jack DeJohnette, fusion guitarist Pat Metheny, percussionist Nana Vasconcelos, and a multi-instrumentalist named Collin Walcott, who studied both tabla and sitar and played with the group Oregon, a jazz-influenced world music quartet that used, among a range of instruments, Indian percussion, as well as Eastern modalities and compositions derived from classical forms. Walcott, after meeting the young percussionist, casually mentioned to his bandmates one day that should he ever leave the band, Gurtu would make a fine replacement, and when Walcott died in 1984 car accident, his suggestion by coincidence eerily came true. "People are still moved by that," Gurtu revealed to Birnbaum.
However, walking in Walcott's shadow amid questions by friends and fans surrounding the strange chain of events grew tiring as time passed. Thus, when English guitarist John McLaughlin, having seen Gurtu perform at a jazz festival once in Germany, asked the percussionist to join his trio in 1988, Gurtu immediately accepted the invitation, leaving Oregon soon thereafter. Joining McLaughlin also coincided with the release of Gurtu's first solo album, 1988's Usfret, an open-ended session--with parts written for percussion only--recorded with his mother, Cherry, Shankar, guitarist/multi-instrumentalist Ralph Towner, Jonas Hellborg, and pianist Daniel Goyone, who Gurtu regards as his "musical brother." A second, more structured album, Living Magic, arrived in 1991, featuring Vasconcelos on percussion, Goyone on keyboards, and stellar saxophone by Jan Garbarek.
In 1993, Gurtu released his acclaimed Crazy Saints, for which the percussionist recruited Metheny and Austrian keyboardist Joe Zawinul, as well as his mother. The following year, his rising status in jazz was confirmed in 1994, the year he won his first of three consecutive Down Beat poll awards for number-one percussionist. The next year, Gurtu returned with Believe, followed by Bad Habits Die Hard in 1996 and The Glimpse, a tribute to Cherry and his role in exploring world music, in 1997. In 1999, Cherry's daughter, Neneh, guested on Gurtu's Kathak, a collection of mostly original compositions that drifts easily, yet convincingly, across various cultural boundaries.
With the release in 2000 of African Fantasy, Gurtu paid tribute to the music of Africa and its danceable quality, an important element he sees as lacking in jazz today. "The dance feeling in jazz is gone, the swing. It's getting very intellectual," he insisted, as quoted by Dedolph. "Everybody plays like somebody, but nobody plays like himself. I'm an outsider watching this, not a jazz historian or an American who grew up around jazz. It's too tricky and everyone wants to show their chops, wants to show their technique. Jazz is about listening, not about watching technique. I feel that jazz is very African and should remain like that. Like blues, it's danceable, and ... wow ... it's African!"
In the late 1990s and into the next decade, samples of Gurtu's music began to show up in dance mixes in clubs throughout the world, but the percussionist doesn't mind sharing his work, even with those who most likely don't consider themselves jazz or world music fans. "For me it's a privilege," he said to Dedolph, though he asks DJs and producers to respect what they choose to sample. "If you're going to use Indian music, use it properly," he added. "Keep the integrity, don't make it el cheapo."
As the third decade of his accomplished career approached, Gurtu, who says that Americans--a culture always open to new ideas in music--seem to understand his sensibilities the most, held strong to his creative goals. "You know," he told Heckman, "my first name--Trilok--means 'King of the Three Worlds,' basically, that is, your body, your consciousness and the beyond. And I try to find that kind of integration in my music. Because, even with the most difficult things, if you can make them simple, they will reach a big audience. Everybody should like what you do. That's my view. I don't try to play high flown, I don't try to be complicated just to be complicated. I just try to touch my listeners with my music."
In 2004, Gurtu created an album, Miles Gurtu, with Robert Miles. His collaboration with the Arkè String Quartet began in 2007 with the release of the album Arkeology.In 2010 Trilok Gurtu played into the album Piano Car, opera of minimalist composer Stefano Ianne with Ricky Portera, Nick Beggs (Kajagoogoo), Mario Marzi, Terl Bryant (John Paul Jones/Led Zeppelin), John De Leo.
Solo and collaborative albums:
1974: La Terra (The Earth) LP with Aktuala (Bla Bla, 1974)
1976: Tapetto Volante (Flying Carpet) with Aktuala LP (Bla Bla, 1976)
1977: Apo Calypso - with Embryo
1979: Friends - with Toto Blanke Electric Circus
1980: Family - with Toto Blanke Electric Circus
1982: Personal Note, Mark Nauseef with Joachim Kühn, Jan Akkerman, Detlev Beier
1983: Finale - with Charly Antolini
1985: Song for Everyone - with L. Shankar
1987: Usfret
1987: Ecotopia - with Oregon
1989: 45th Parallel - with Oregon
1990: Live At The Royal Festival Hall - with the John McLaughlin Trio
1990: Living Magic
1991: Always, Never and Forever - with Oregon
1992: Que Alegria - with the John McLaughlin Trio
1993: Crazy Saints
1995: Believe
1995: Bad Habits Die Hard
1997: The Glimpse
1998: Kathak
2000: African Fantasy
2001: The Beat of Love
2002: Remembrance
2004: Miles Gurtu - with Robert Miles
2004: Broken Rhythms
2006: Farakala
2007: Arkeology
2009: Massical
2010: Piano Car - with Stefano Ianne
2011: 21 Spices - with Simon Phillips
Read more
Latest headlines