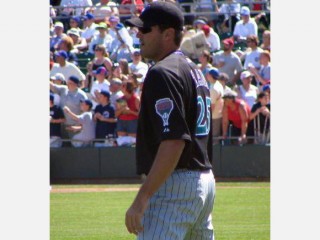 Troy Glaus biography
Date of birth : 1976-08-03
Date of death : -
Birthplace : Tarzana, California
Nationality : American
Category : Sports
Last modified : 2010-10-28
Credited as : Baseball player MLB, third baseman with the Arizona Diamondbacks,
GROWING UP
Troy Edward Glaus was born on August 3, 1976 in Tarzana, California. The son of Tom and Karen, he was a strong, strapping boy who was also exceptionally shy. Troy's reticence was partly the byproduct of his parents' divorce. Tom and Karen split when he was two. Troy stayed with his mom, and the two became very close.
Karen and Troy lived in Chatsworth, a distant Northwest suburb of Los Angeles. She managed an air freight delivery service, a job that often had her working crazy hours. One of the fringe benefits as far as Troy was concerned was the variety of trucks parked in his driveway. He loved nothing more than climbing inside of one and using it like his personal jungle gym. Every now and then Karen would take him on a delivery. Riding along next to his mom was also a huge thrill.
The only place Troy had more fun was on a baseball diamond. His love affair with the game started at age three, when Karen brought him to a fundraiser for the local T-ball league. He begged to get his cuts in, and then astonished onlookers when he whacked the ball farther than any other kid.
According to Troy's sister Kimberly, Tom also fed Troy's love of baseball. He spent most weekends driving back and forth to Southern California to watch his son's games. Troy sometimes joined Tom's team in a sober softball league.
Over the next several years, Troy's passion for baseball grew. He played in the Chatsworth Junior Baseball League. Tom, still in the picture, sometimes served as his coach. But no one did more to foster Troy's career than Karen. In 1987, after tiring of her trucking business, she and Troy moved an hour and a half South to Carlsbad, where she ran a small accounting firm. Her 9-to-5 life gave her plenty of time to spend with Troy. Most afternoons included baseball practice under the sweltering sun of the San Fernando Valley, as Karen would hit ground balls to her son or throw BP.
On the diamond, Troy imitated his favorite player, Cal Ripken. The youngster shared a lot in common with the Baltimore Orioles All-Star. Like Ripken, Troy was powerful and extremely athletic. He experienced a dramatic growth spurt the summer before his freshman year in high school, shooting up from 5-6 to over six feet tall. But Troy didn't lose any of his agility or coordination. Ripken had proved that big guys could play shortstop, and Troy was determined to follow in his idol's footsteps.
Troy didn't get to too many big-league games, but when Karen ponied up for one, it was always when the O's were in town visiting the California Angels. Troy envisioned himself being announced as a starter in the All-Star Game. He also dreamed about playing in the Olympics. Baseball had been a demonstration sport the summer Troy turned eight, when Mark McGwire, Barry Larkin and Tim Belcher led Team USA into battle in Los Angeles. The youngster became intrigued by the prospect of helping the U.S. win the gold.
Troy entered Carlsbad High School as a freshman in the fall of 1990. He quickly developed into a star. As a junior, Troy led the Lancers to the Avocado League title, was named league MVP and earned a spot on the All-California Interscholastic team. He was even more dominant as a senior, batting .525 with devastating power.
Big-league scouts were all over him, as was the media. The quiet teenager was uncomfortable in the spotlight. Sometimes during phone interviews, he unknowingly nodded in response to questions. His mom would have to remind him that the reporter on the other end couldn't write a story based on a shake of the head.
A recruiting battle over Troy ensued between UCLA and the San Diego Padres. Bruins head coach Gary Adams wanted desperately to land the teenager. Only once in school history had the team been to the College World Series, and Troy was the kind of talent who could launch a new legacy of success. The Padres also had big plans for Troy. They selected him with the 37th pick overall in the 1994 draft, and then offered a $250,000 signing bonus. Troy was leaning toward college, figuring that he just wasn't ready for the life of a minor leaguer since he had never really been away from home for a significant period of time. In the end, Troy was certain that he could garner a much larger payday after a few years at UCLA.
ON THE RISE
The Bruin team Troy joined featured an impressive collection of big-league caliber talent. The everyday lineup included Eric Byrnes and Eric Valent in the outfield, while Jim Parque was the ace of the pitching staff. Troy alternated between shortstop and third base, and usually hit in the heart of the order. He struggled a bit in his adjustment to college ball. but after a sluggish start, he finished with respectable numbers, batting .258 with 12 home runs.
Karen made the trip to UCLA on a regular basis, which was a nice security blanket for Troy. He also found a good friend and trusted advisor in teammate Tim DeCinces and his father, Doug, a former All-Star third baseman who played next to Ripken when he broke into the majors and who later manned the hot corner for the Angels. The elder DeCinces could see like everyone else that Troy was ticketed for the big leagues. He served as a father figure and de facto agent for the youngster.
The summer after his freshman season, Troy was added to Team USA, which was tuning up for the 1996 Olympics in Atlanta. The squad made history in July by sweeping Cuba in a four-game series. Troy was front and center in two of the victories. In the first contest, he bounced a single through the infield with the bases loaded, plating Mark Kotsay with the winning run in a 7-6 thriller. Three nights later, with the U.S. trailing by a run in the bottom of the ninth, he singled to right field for a 6-5 victory. It was the first time in more than three decades that the Cubans had been swept in an international series.
Troy returned for his sophomore season at UCLA more confident and considerably more relaxed. It showed in his performance at the plate. Troy hit .352, second on the team to Zak Ammirato, with 17 doubles, 16 homers and 50 RBIs. DeCinces, Byrnes and Valent also enjoyed good years, but poor pitching doomed the Bruins. Despite all their offensive firepower, UCLA went 36-28 and failed to qualify for the College World Series. The club reached the Central I Regional, but advanced no further.
Troy again played for Team USA over the summer, this time realizing his dream to be an Olympian. The Americans won their way into the semi-finals, but lost to Japan and missed out on a medal. Despite the disappointing defeat, the experience was still well worth it for Troy. He blasted four home runs during the tournament, including a couple of upper-deck shots at Atlanta's Fulton County Stadium. On a club peppered with future major leaguers—including J.D. Drew, Lance Berkman, Jacques Jones, Kris Benson and Randy Wolf—Troy established himself as perhaps the biggest star in waiting.
The sports world took notice. Entering his junior year at UCLA, Troy was listed at the nation's fourth-best college prospect by Baseball America. A sure-fire first-round pick, he nevertheless had only team goals in mind. Troy wanted to lead the Bruins to Omaha.
Troy enjoyed another spectacular regular season, totally dominating PAC-10 pitching with a .409 batting average and 91 RBIs in 65 games. With 34 homers, Troy also surpassed Mark McGwire's conference mark of 32 long balls. Most satisfying was the fact that he delivered on his promise, as the Bruins advanced to the CWS for the first time since 1969. Though UCLA went winless in Omaha, dropping games to Miami and Mississippi State, Troy felt he had accomplished what he set out to do.
Not surprisingly, h is superb junior campaign drew the widespread attention of pro scouts. The Detroit Tigers held the first selection in the draft, and announced they had settled on Rice fireballer Matt Anderson. Picking second were the Angels, who seemed a perfect fit for Troy. He would be able to play near his hometown, and DeCinces was very familiar with the organization. The club, meanwhile, had a gaping hole to fill at the hot corner, where Troy projected to play on the major-league level.
As expected, Anaheim (which had changed from California after the 1996 season) took Troy, but a protracted negotiation kept him out of action all of the 1997 campaign. DeCinces ultimately got him a healthy deal that included a $2.25 signing bonus. Eager to show he was a team player, Troy agreed to Anaheim's request that he play winter ball. Now strictly a third baseman, he traveled to Venezuela, where he prepared himself for his first spring training.
Troy didn't figure to play his way onto the Angel roster that spring, but he gave it a go anyway. In 26 Cactus League at-bats, he hit .423 with four homers. But incumbent third baseman Dave Hollins also had a good spring, and despite rumors that the club would deal center fielder Jim Edmonds, move Darin Erstad from first to the outfield, and shift Hollins across the diamond, Troy began the year with Double-A Midland. He tore up the hitter-friendly Texas League, smashing 10 homers in his first 19 games.
In late May, the Angels promoted Troy to Triple-A Vancouver, where he continued his offensive assault. In 59 games with the Canadians, he batted .306 with 16 HR and 42 RBIs. California didn't want to rush Troy along, but he was clearly ready for the majors. The club called him up on July 31, and Troy ended the season seeing regular time at third. Though his numbers sagged in his first look at big-league hurlers, he showed more than enough to the California brass to prove he belonged in the majors for good.
Troy and the Angels headed into the 1999 campaign full of optimism. He was part of a new corner combo for the club, with Mo Vaughn signed for $80 million to play first. The team also welcomed free-agent pitcher Tim Belcher, who rounded out a veteran rotation that included Chuck Finley and Ken Hill, both returning from assorted injuries.
Troy got off to a great start, hitting .344 in April, but things went downhill thereafter. He and batting coach Rod Carew never quite saw eye to eye, and his performance at the plate suffered. Troy, whose average plummeted as the campaign progressed, was getting himself out by swinging at pitches out of the zone. In turn, his strikeout total climbed and his power dropped. While he ended up posting impressive enough stats in his first full big-league season (.240, 29 doubles, 29 HRs and 79 RBIs), the year was hardly what he had in mind. The Angels were anything but divine, going 70-92 and feuding constantly in the locker room. Injuries also took their toll, as Tim Salmon, Edmonds and Vaughn all missed time. GM Bill Bavasi and caustic manager Terry Collins got the axe, as Anaheim tried to regroup for 2000.
MAKING HIS MARK
Without Collins around, the atmosphere in Anaheim was much more upbeat. So even with a questionable rotation of Belcher, Hill, Kent Mercker and Tom Candiotti, the Angels and new manager Mike Scioscia headed into the `00 on an optimistic note. Youngsters Ramon Ortiz, Jarrod Washburn and Jason Dickson added depth to the staff, and Vaughn, Edmonds and Salmon all looked forward to healthy seasons. No one gave Anaheim fans more reason to believe than Troy. He opened the campaign on a tear, cracking six home runs in his first 22 games.
By July, Troy had already surpassed most of his numbers from the previous year. Along with Erstad, he earned a spot on the All-Star team in Atlanta, making him the first Angels third sacker to go the Mid-Summer Classic since his agent, DeCinces. With Troy's fine play came increased media attention, the one part of his success that bothered him. Troy had never been comfortable in the spotlight, and dealing with the press on a daily basis was a challenge for him.
As Troy approached the franchise single-season home run record, the press activity only intensified. Reggie Jackson, who hit 39 in 1982, held the club mark. Troy passed Mr. October in early September with a blast off of Matt Ginter in Chicago, and wound up with 47 homers to go along with a .284 batting average, 37 doubles, 120 runs scored and 102 RBIs. His 29 errors notwithstanding, Troy had one of the best seasons at the hot corner in the last 50 years. The kicker for him was Anaheim's improvement in the standings. Under Scioscia's gentler hand, the Angels went 82-80.
Troy's monster campaign was followed by a wealth of new opportunities. He toured Japan as a member of MLB's hand-picked All-Star squad, and even received an invitation to participate in the World Series of Golf. When the 2001 season started, Scioscia installed Troy as the club's new #3 hitter. With Vaughn again on the shelf, this time with a torn biceps tendon, the third-year third baseman was Anaheim's most dangerous power threat. Big things were expected of Troy, particularly with Erstad setting the table from the leadoff spot and Anderson and Salmon protecting him in the lineup.
The pressure to produce got to Troy at times, especially with the Angels struggling early. He began overswinging at the plate and expanding his strike zone, chasing bad pitches and trying to hit everything out of the park. When Troy batted under .200 in June, Scioscia and hitting coach Mickey Hatcher reinforced the importance of being more selective and using the entire field. Troy righted the ship in time to make his second All-Star Game, where he enjoyed the thrill of his young career when he met Ripken. In his last season, the Orioles legend was voted as the AL starter at third. A nervous Troy sought out his childhood idol to talk shop, and then replaced him in the sixth inning of the game.
With Anaheim's record below .500, the second half of the season dragged on for Troy and the Angels. Scioscia couldn't coax any consistency from his starting staff, so despite lights-out work from closer Troy Percival, the club finished at 75-87. Troy shouldered some of the blame for his team's losing ways, as his batting average dipped to .250. On the plus side, he posted career-highs in doubles, triples and RBIs. In addition, he became just the fifth third basemen in baseball history to top 40 HRs in back-to-back seasons.
The Angels brass concentrated on strengthening the team's pitching for 2002. With Troy, Erstad, Anderson and Salmon—plus the addition of free agent Brad Fullmer—Anaheim had plenty of big bats. This allowed the club to deal Vaughn to the Mets for starter Kevin Appier, while veteran Aaron Sele was also signed. If Washburn, Ortiz and Scott Schoenweiss could pull their weight, the Angels had a chance in the AL West.
Troy and his teammates showed their grit in the preseason when he was knocked down by pitcher Bobby Jones in an exhibition game against the San Diego Padres. The benches emptied, and Troy received a two-game suspension, but the Angels served notice that they wouldn't be pushed around.
Anaheim set its sights on the A's in '02, and battled Oakland all year long for the division title. Though the Angels came up short, they still made the playoffs as the Wild Card with a 99-63 record. Washburn and Ortiz both had good seasons, but it was the bullpen that made the difference. Percival was nearly unhittable closing games, while Ben Webber, Scott Shields, Brendan Donnelly and rookie Francisco Rodriguez let few late leads slip away.
Troy was in the middle of an offense that loved to play long ball. Anderson put up MVP-caliber numbers, Salmon finally stayed healthy, and Erstad and sparkplug David Eckstein were the catalysts at the top of the order. Troy benefitted from all the thunder around him, establishing a new career-high with 111 RBIs despite hitting .250 again. Three times during the campaign, he registered multi-homer games, including three in his final three at-bats versus the Texas Rangers in a September contest. The following day, he went deep the first time he stepped to the plate against the A's, giving him four home runs in a row. He finished the year with 30.
Anaheim's recipe for success in the post-season was clutch pitching and power hitting. The Angels shocked the Yankees in their Division Series, as everyone in the lineup hit. The Halos pounded eight homers off New York in four games, and Troy had three of them. The club advanced against the Twins in the ALCS.
Minnesota's Joe Mays quieted the Anaheim bats in Game 1, but the Angels turned the tables with a 6-3 victory one day later. The win was particularly important because it came in the Metrodome, where the Twins had been dominant. Back at Edison International Field for Game 3, Anaheim gutted out a 2-1 nail-biter behind Washburn, Rodriguez and Percival. Troy's home run in the eighth was the difference. The Angel bats came alive the following day for a 7-1 laugher, and they pummeled the Twins in Game 5 to win the pennant.
The World Series was billed as a showdown between San Francisco's Barry Bonds and Anaheim's Rally Monkey, the lovable marsupial who fired up the Angel faithful whenever the team needed a run. The Giants struck first, getting a couple of runs off the now-vaunted Anaheim bullpen to win Game 1. The Angels got even in Game 2 with a wild 11-10 victory.
The teams split the next two in San Francisco, setting the stage for a crucial Game 5. The Giants were sure of one thing heading into the contest: They had to find a new way to deal with Troy, who was killing them at the plate. Through the first four games, he had seven hits, including three homers and five RBIs. Hoping to unnerve Troy, starter Jason Schmidt buzzed him with a 95-mph heater. The Giant hitters were far more intimidating in this game, however, scoring 16 runs on 16 hits in a 16-4 blowout to take a 3-2 series lead.
Russ Ortiz continued the strategy of dusting off Troy in Game 6, and again the Giants built a big lead. Up 5-0 after six and a half innings, San Francisco was looking to close things out. Troy, boiling mad at the brushbacks, greeted Ortiz with a hard single to left to open the seventh and scored the first of three Anaheim runs. In the eighth, the Angels loaded the bases and Troy cleared them to give his team a 6-5 victory and force Game 7. There have been few legitimate momentum-turning hits in World Series history, but this was definitely one of them.
In the deciding game, Anaheim jumped on Livan Hernandez for four early runs and then rookie starter John Lackey turned a 4-1 lead over to the bullpen. Four innings of scorless relief later, the Angels had the first championship in franchise history. Troy, who hit .385 with three homers and eight RBIs, was the easy choice as series MVP. Looking almost embarrassed by his performance, he accepted his trophy with an awkward grin.
Anaheim returned virtually the same team for 2003, hoping to repeat its magical run to a world title. Injuries, however, racked the club. Eckstein missed 40 games, and Erstad sat out more than twice that many. But nothing hurt more than the partial tear of the right rotator cuff that Troy experienced after falling to the turf on Tampa Bay's Tropicana Field. At the time, he was working his way out of a month-long slump that had seen his batting average drop to .248 after excellent months in April and May. Doctors advised surgery to repair the damage, but Troy opted for rest and physical therapy. Either way, his season was over. Without him in the lineup, the Angels limped home at 77-85.
Anaheim made major changes in the off-season, signing free agents Bartolo Colon, Kelvim Escobar and Vladimir Guerrero. The first two gave the Angels two starters for the top of the rotation, while Vlad became the centerpiece of the batting order. His presence figured to help everyone, including Troy, who would hit fifth behind Anderson and get plenty of RBI opportunities. Entering the walk year of his contract, he was primed for a bounce-back season.
As the Angels hoped, Troy got off to a great start. Showing no ill effects from his shoulder injury, he was hitting .296 with 11 homers through mid-May. Then his shoulder began bothering him. Anaheim placed him on the 60-day disabled list and scheduled him for surgery. With Erstad, Anderson and Salmon also ailing, the club braced for the worst.
The Angels, however, managed to stay within striking distance of first in the division. Troy returned in late August, providing the team a nice boost. Playing strictly as a DH, he gave opposing pitchers another powerful hitter to worry about behind Guerrero. Vlad caught fire down the stretch, putting the Angels on his broad shoulders as Anaheim battled Texas and Oakland in the West. Troy made his biggest contribution in late September, launching a clutch two-run homer off Francisco Cordero for an 8-7 victory over the Rangers. The Angels then beat the A's in the season's final weekend to finish in first with a 92-70 record.
In the playoffs, Anaheim was no match for Boston, as the Red Sox pulled off a three-game sweep. Troy did his part, lashing two doubles and two home runs in 11 at-bats. He had finished the year with 18 homers in just 58 games, hinting at what could have been had his shoulder not failed him.
That shoulder was a topic of much concern during the winter, as Troy tested the free agent waters. He found several teams in need of a third baseman, but most were unwilling to gamble on his bad wing. Arizona ultimately offered the deal Troy was looking for, a four-year contract worth $45 million. The Diamondbacks freed up all of that money after dealing Randy Johnson to the Yankees for Javier Vazquez and several prospects. The club also added starting pitcher Russ Ortiz and slugger Shawn Green. It was a curious free-spending winter for a team that had been crying poor the summer before. The result was a club with some big names but little obvious depth. Of course, that had once been the knock on the Angels.
Despite going into the year with a mix of unproven youngsters and veterans eager to prove they were not washed up, Arizona led the NL West and stayed in the division race throughout the summer. Troy was the team's driving force, slugging home runs and taking care of business at third. Manager Bob Melvin rested him a game each week, which helped him make it through a season marred by a strained left knee.
Troy hit in the middle of a lineup that featured power hitters Green, Tony Clark and Luis Gonzalez, and led the team with 37 home runs and 97 RBIs. The D-Backs lacked a consistent leadoff hitter and, as usual, their closer situation was a mess. That ultimately translated into a 77-85 record, which in the NL West was actually good for second place. Had some of Arizona's other big salaries produced like Troy, the team could conceivably have advanced to the post-season.
Which may just make Arizona a club to watch in 2006. No one is more important to the team's fortunes than Troy. If he stays healthy, he should continue to benefit from the D-Backs' cozy home park. No one carries a club the way Troy can, or cuts a more striking figure as a team's leading man. Of course, no one is less willing to talk about talent and good looks, either.
TROY THE PLAYER
If Troy Glaus had a motto—and he most assuredly doesn't—it would be "Talk softly and carry a big stick." The quiet star has exceptional power to all fields, and his flowing uppercut swing produces majestic home runs. Troy has shown the ability to hit for average, but he gets paid to drive in runs, so batting average is a meaningless stat to him. Harmon Killebrew was the same animal, and he's got a plaque in Cooperstown.
Like most big swingers, Troy strikes out a lot. But he has developed much better discipline at the plate over the years. At 6-5 and 240 pounds, Troy cuts an imposing figure at the plate, but he now has a keen understanding of what that means—sometimes opponents are just going to pitch around him. Period. As a result, he doesn't chase as many balls out of the strike zone as he used to, and will take a walk if that's all that's being given to him.
A fine athlete, Troy is surprisingly nimble for a man his size. In fact, early in his career he was a sneaky base stealer. He played shortstop as a kid and in college, but his body type is best suited for third in the majors. Troy has an absolute cannon. Even after his shoulder problems, he still can gun the ball across the diamond.
In high school and college, Troy was tagged as not being completely committed to baseball. In fact, some scouts didn't believe he would ever reach his full potential. As a big leaguer, the exact opposite is true. Troy is considered a model player because of his work ethic. Teammates also love him for his desire to win. Troy is a clutch hitter who has proven himself on the biggest stage, the World Series.
EXTRA
# Troy played for the U.S. in the 1992 Junior Olympics. The club won the bronze medal.
# Troy was San Diego's second pick in the 1994 draft. Their first was pitcher Dustin Hermanson.
# Troy had such a strong arm as a teenager that some teams considered drafting him as a pitcher.
# Troy lettered in baseball all four of his years at Carlsbad High School. He finished his career as the school's all-time leader in homers (20) and on-base percentage (.732).
# As a sophomore at UCLA, Troy set a Bruin record by homering in five games in a row.
# Troy hit a home run in the last at-bat of his college career, going deep against Mississippi State at the College World Series.
# Troy collected his first big-league hit off of Bret Saberhagen and his first big-league home run off of Cris Carpenter. Both came in 1998.
# Troy hit 46 of his 47 home runs in 2002 as a third baseman. His total broke Al Rosen's record (43 in 1953) for AL third sackers.
# Troy won the 2002 Big League Home Run Challenge in Las Vegas. He beat current teammate Luis Gonzalez in the final.
# Troy made his sixth Opening Day start in a row for the Angels in 2004, matching the franchise mark of Doug DeCinces at the hot corner.
# Troy's 37 homers in 2005 eclipsed the Arizona record for corner infielders. The old mark was Matt Williams's 35 homers in 1999.
# Troy, who wore glasses or contacts starting in childhood, had laser eye surgery done before the 2004 season. His vision now is 20/15. He says he went through 20 types of contacts in the 2002 season alone.
# One of Troy's nicknames when he played with the Angels was "Big Dog."
# Troy is an excellent golfer. His handicap is in the single digits.
# Troy and his wife, Ann, live in Phoenix. She is an accomplished horsewoman, so much so, in fact, that Troy had a clause included in his Arizona contract calling for $250,000 a year for "equestrian activities."
Read more
Latest headlines