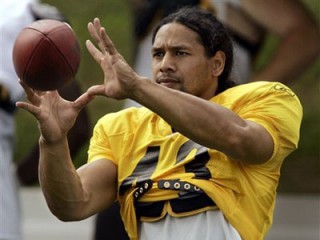 Troy Polamalu biography
Date of birth : 1981-04-19
Date of death : -
Birthplace : Garden Grove, California, U.S.
Nationality : American
Category : Sports
Last modified : 2010-08-23
Credited as : Football player NFL, currently plays for the Pittsburgh Steelers, plays in Super Bowl
GROWING UP
Troy Polamalu
was born on April 19, 1981 in Garden Grove, California. The youngest of five children, he was the product of a single-parent family. His mother, Suila Polamalu, divorced her first husband, Troy's dad, when he was toddler. She later remarried.
Troy grew up in Fountain Valley, which was a short drive from Anaheim. There was trouble to be found there, and one of his siblings would spend time in jail. Soon, Troy was also running afoul of the law.
in 1989, the Polamalus took a trip north to Tenmile, Oregon, where Troy's uncle Salu lived with his wife and three sons. Troy felt like he was in a natural wonderland and begged to stay. His mother, fearing the dangers of the streets back home, agreed.
Football was a family thing for Troy in more ways than one. Pacific Islanders in the U.S. are drawn to the girdiron for a variety of reasons. Notably, football combines the large and supportive family culture that defines this group and speaks to their warrior traditions. The first Samoan to make an impact on the national football scene was Jack Thompson, star quarterback for Washington State in the 1970s.
Troy was raised by his large extended family—what he calls a "community of people." That community included another uncle, Kennedy Polar, a former running back for the Cleveland Browns. His cousins were also football players, including Nicks Sualua. After four good years at Ohio State, Sualuawould go on to play for the Cincinnati Bengals and Dallas Cowboys.
Within a few years, Troy had gained a reputation as the best rec league player around. His team would often scrimmage during halftime at the Douglas High School football games in the nearby town of Winston. Troy played running back and defensive back. Although he was not very big, he was fast and furious. Whatever "it" is, that is what he had, even as a pre-teen.
Troy was also an excellent basketball and baseball player. Because of his cousins, he was able to compete with kids older than he was. NFL punter Josh Bidwell, who is five years older than Troy and grew up nearby, remembers being in awe of him in basketball games. Bidwell told his friends that this kid was the best athlete they'd ever see.
When Troy enrolled at Douglas High in 1994, he quickly became the star of the football, basketball and baseball teams. Baseball was the popular sport in town, and Troy seemed destined for the majors. He batted .550 as a senior centerfielder for the Trojans and was first-team All-State.
Football, however, was his first love. He played running back and gained 430 yards as a freshman, then cracked the 1,000-yard plateau as a sophomore and junior. Douglas went undefeated in 1996, and Troy was named his league's Offensive Player of the Year. He was even better on defense. Troy was so fast and instinctive as a free safety that he could practically play cover-two by himself. A savage hitter as well, he once was penalized for tackling an opponent too hard—even though there is no rule against this.
Troy was off to a roaring start as a senior when a bruised kidney and torn back muscle finished his season. Even so, he made all of the region's All-Prep teams. Despite standing only 5-10 and weighing just 180 pounds, he was recruited by several major Division I programs. For a time, it looked as if he might sign with Colorado. His uncle Kennedy was an assistant for Rick Neuheisel, who was bowled over by Troy's tapes. Safety Michael Lewis was already a star on the team. Troy would have given the Buffaloes the nation's best secondary. Eventually, however, he chose USC. Uncle Kennedy later joined him there as a choach.
ON THE RISE
As soon as Troy hit the USC campus, he made of point of joining several Polynesian groups and learned as much about his native culture and language as he could. He even visited American Samoa to see his mother, who had moved back there when he was in high school. Troy had attended Catholic schools as a child, and went to Mormon and Protestant churches in Oregon. But he did not become the deeply religious persol he is today until he began exploring the spiritual roots of his ethnic heritage.
Troy redshirted the 1998 season under head coach Paul Hackett. he subbed at safety and linebacker as a freshman the following season. In limited duty, he recorded two sacks, caused two fumbles and blocked a punt. In 2000, Troy started all 12 of USC's games at strong safety. He led the team in tackles and was an honorable mention All-Pac 10.
The Trojans struggled under Hackett, who was fired after the '00 campaign. Pete Carroll took the reigns in 2001, and proved a perfect fit, particularly for Troy. The junior made an immediate impression on his upbeat, defensive-minded coach. In his first scrimmage under Carroll, Troy burst through the line, nailed a senior running back, stripped him off the ball before he hit the ground, and took it in for a touchdown.
Troy, who had filled out considerably and could now squat 600 pounds, blossomed as a junior. Soon, he began drawing comparisons to USC legend Ronnie Lott. Troy was voted a team captain, earned first-team All-Pac 10 honors, and was named a first-team All-American by most of the news services. He led the Trojans in tackles again and was voted the team 's MVP.
USC started slowly in '01, dropping four of its first five. But once the Trojans learned Carroll's system, they caought fire, winning five of their next seven games (including a shutout of UCLA) to earn a bowl bid. In the season-ending Las Vegas Bowl, Troy made 20 tackles against Utah in a 10-6 loss.
The cover of the 2002 USC media guide featured Troy's picture—not Carson Palmer's, despite the fact that 6-6 quarterback was a candidate for the Heisman Trophy. As a senior, Troy was once again one of the top defensive backs in the nation. He repeated as a first-team All-American, gutting out game after game after suffering a high ankle sprain midway through the season. Playing the nation's toughest schedule, the Trojans went 11-2. After drubbing Iowa 38-7 in the Orange Bowl, they finished at #4 in the coutnry. It was the team's highest ranking since 1988.
As the 2003 NFL draft approached, Troy figured to go in the mikddle of the first round. The team that coveted his services most, the Steelers, were sitting at number 20. They swapped first-round picks with the Kansas City Chiefs and threw in a second-rounder to move to number 16. Pittsburgh wasted little time announcing Troy's name. It marked the first time the team had ever traded up in the draft, and the first time it had used a first-round selection on a safety.
The '03 season was a learning year for Troy. He already had a reputation as a great read-and-react defender—an increasingly important quality for NFL safeties—but there was some question as to how good he would be in straight coverage. Troy showed that he could stick with large NFL receivers, and that he could deal with tight ends on passes and running plays. He watched endless hours of film (and even today studies more film than anyone on the Pittsburgh defense).
Defensive coordinator Dick LeBeau, a Hall of Famer with 62 interceptions to his credit, had coached All-Pros David Fulcher and Carnell Lake earlier in his career. By the end of Troy's first year, LeBeau knew his rookie safety was poised to become a very special player. On special teams, Troy was a monster, leading the team with 25 tackles. He saw more and more action in the defensive backfield, and in the season finale against the San Diego Chargers, he recorded a sack and forced a fumble. While the Steelers may have ended the season at an undertain 6-10, it was clear that Troy was ready to become a star.
MAKING HIS MARK
Anointed Pittsburgh's starting strong safety in 2004, Troy established himself as an impact player right away. Against the Baltimore Ravens in a September game, he made 14 solo tackles and haunted Jamal Lewis all game. In October, he turned a thrilling game against the Bengals in the Steelers' when he returned a fourth-quarter interception for a touchdown.
Troy showed an uncanny ability to disguise his intentions before the snap. Watching tape of Pittsburgh's other safeties, he noticed that they tended to fake exactly the opposite of what they planned to do. He decided to mix things up, and quickly gained a reputation in the NFL as a defensive player who could not be "read."
At season's end, Troy had 96 tackles and a team-high five interceptions. He earned a trip to the Pro Bowl and was named second-team All-Pro at his position. Though rookie Ben Roethlisberger got most of the ink for Pittsburgh's amazing 15-1 record and run to the AFC Championship game, Troy also played a big part in their surprising season.
Against the New York Jets in the Divisional Playoff, he intercepted a pass by Chad Pennington during Pittsburgh's wild overtime victory. In the AFC Championship Game against the New England Patriots, he made seven tackles. Most notable, however, was the hard lesson he learned when Tom Brady caught him out of position and made him pay, burning him for a long TD pass.
As soon as the season was over, Troy started compiling tape of the NFL's best safeties. It ended up being a three-hour DVD starring John Lynch, Roy WIlliams, Brian Dawkins, Michael Lewis, Rodney Harrison, Sean Taylor and Ed Reed. He watched it again and again, looking for ways to improve.
By the start of the 2005 season, Troy was completely comfortable in Pittsburgh's defensive backfield. LeBeau, in fact, decided it was time to set him loose. Rather than lining Troy up in specific places on specific plays, LeBeau set parameters and gave his star the opportunity to freelance based on his read of opponents' offensive sets. Troy quickly became thee most feared safety in the NFL. LeBeau designed his defense to deceive other teams, and Troy's ability to make plays anywhere in the field made him the Steelers' x-factor.
Troy had a record-tying three sacks against the Houston Texans in an early season game, hounding quarterback David Carr all day. In October, he shut down tight end Antonio Gates in a victory over the Chargers. In the final game of the season, Troy registered 10 tackles against the Detoit Lions to give him an even 100 solo stops for the year. Pittsburgh fans found it inconceivable that he did not win NFL Defensive Player of the Year, which went to Brian Urlacher instead. Never one to collect trophies, Troy was simply happy to be named first-team All-Pro and get another trip to Hawaii for the Pro Bowl.
He was most happy about his team's strong finish. The Steelers, who sat at 7-5 after 12 games, ran the table to snag a Wild Card berth. But as good as the team's regular season was, Pittsburgh figured to have a short postseason. The club's first opponent was Cincinnati, led by Palmer, Troy's former USC teammate and the reigning NFL MVP. If the Steelers survived this road meeting, they would likely face the powerhouse Indianapolis Colts in the deafening RCA Dome.
The Steelers dealt the Bengals a huge blow on their second play from scrimmage, knocking Palmer from the contest with an injured knee. When Jon Kitna could not solve the Pittsburgh defense, the Steelers won easily, 31-17. Cincinnati's last hope was snuffed out by Troy, who made a diving interception with four minutes left.
Against the Colts, Pittsburgh clawed its way to a lead, thanks to its defense, which made life miserable for Peyton Manning. Troy chased the Indianpolis quarterback all game, and although he did not record any of the team's five sacks, he was directly responsible for two by Joey Porter. Troy also made what should have been a game-sealing interception, which was mistakenly overturned by the referees. Manning then threw for a touchdown, and the Colts made the two-point conversion to make the score 21-18. The Steelers survived a goal line fumble by Jerome Bettis and hung for the victory.
The AFC Championship Game pitted the Steelers against the Broncos in Denver. Troy made one of the game's defining plays, when he came out of nowhere and dove past two blockers to trip up Tatum Bell on a perfectly executed screen pass. The tackle left the Broncos a yard short on a third-down play. Denver went for it and converted the first down, but Jake Plummer and the offense did not dare test Troy the rest of the game.
Plummer, in particular, seemed to be looking for Troy all game. This was especially true after a signature moment by the Pittsbrugh safety. Plummer thought Troy was in deep coverage only to find him in Mike Anderson's face on a screen pass, which almost resulted in a safety. The Steelers built a 24-3 first-half lead and rode it the rest of the way to reach their sixth Super Bowl.
Their opponent, the Seattle Seahawks, also had a young, fast team. They also knew to keep the ball away from Troy. The Pittsburgh defense played a bend-but-don't break first half, and went into the lockerroom with a 7-3 advantage. Willie Parker opened the second half with a 75-yard touchdown run, and the Steelers scored again in the fourth quarter on an option pass from Antwaan Randle-El to Hines Ward. Pittsburgh won 21-10.
Troy tried to bring the adrenaline rush of the Super Bowl championship into the 2006 campaign, but he learned something that is difficult for many pros to accept—defending a title can be even harder than winning one. The Steelers couldn't seem to get out of their own way on offense, and the defense gave up too many big plays. The result was a lackluster 8–8 season. When the playoffs began, Troy and his teammates were planted on their sofas, watching the games at home.
Troy recorded a personal-high 74 tackles in '06 and picked off a pair of passes. On one of these interceptions, against the Chiefs, he seemed destined to score his second career touchdown. Kansas City running back Larry Johnson caught up to Troy and clutched the first thing available—his hair. Johnson yanked him to the ground, and both players tumbled out of bounds. The tackle was legal—hair is considered part of the uniform when it sticks out of the helmet. However, Johnson was penalized for what he did next. He pulled Troy to his feet by his hair.
Troy was named a First-Team All Pro and was voted to the Pro Bowl as a starter. In that game, he shared the defensive backfield with Ed Reed of the Ravens. A competition had been brewing between the two for quite some time, as Troy had been stealing headlines and highlight clips from Reed for several years. When Tiki Barber floated an ill-fated halfback pass in the game, the pair literally fought each other over the easy interception. Reed ended up coming down with the football.
The Steelers rewarded Troy with a new contract in 2007. The deal guaranteed he would be in Pittsbrugh through 2011. Troy didn't like the idea of switching teams and was grateful for Pittsburgh's gesture. The Steelers rebounded in '07, but Troy limped through an injury-plagued year. He missed five games and had no interceptions for the first time since his rookie season. Pittsbrugh made the playoffs but was one and done with a 31-29 loss to Jacksonville. When Troy was healthy, he was great—a fact supported by his being picked once again to play in the Pro Bowl.
Troy vowed to return to form in 2008, but he was a bit overzealous in his preparation. He pulled a hamstring in the off-season and was unable to suit up for Pittsburgh during the exhibition season.
Troy worked his way back into the lineup and was better than ever. He was the last line of defense in a unit that dominated opponents much of the year. Troy, James Farrior and James Harrison were all candidates for Defensive Player of the Year. Harrison ended up taking home the trophy, but that didn't minimize Troy's contributions. He picked off seven passes and was credited with 73 tackles—54 solo.
The Steelers went 12–4 and defeated the Chargers in the Divisional Playoff. They faced the Ravens in the AFC Championship, which set up as a war between two terrific defensive teams. Pittsburgh clung to a slim lead until Troy sealed the deal with a fourth-quarter interception and touchdown return. He read rookie Joe Flacco's pass to Derrick Mason perfectly and then made a spectacular run to the end zone.
In Super Bowl XLIII against the Arizona Cardinals, Troy had to contend with Kurt Warner, Larry Fitzgerald and Anquan Boldin. Pittsburgh's defensive plan was to hurry Warner whenever possible. On passing downs, the Steelers spread out and guarded the sidelines. This left the middle open for short gains, which Warner took whenever he could.
In the fourth quarter, the veteran quarterback found his rhythm and began riddling the Steelers with pinpoint passes. Fitzgerald caught a slant across the middle and raced 64 yards to give the Carinals a 23–20 lead late in the game. Only an amazing 88-yard drive and a great throw and catch by Roethlisberger and Santonio Holmes saved the day.
It's not that the Steelers played poorly on defense. Harrison returned an interception 100 yards for a spectacular touchdown to end the first half. The Pittsburgh pass rush battered Warner for a good part of the day. Troy was also all over the field, making stops against the pass and the run.
With a second Super Bowl ring—earned against a high-powered passing offense—Troy is on the cusp of Hall of Fame status. That's hardly surprising. He has set an incredibly high standard, both for himself and for enemy offenses. If you challenge him, you're likely to lose. If you ignore him, you'll definitely lose. And if you plan against him, he will find a way to make his teammates more effective. The list of true game-changing defensive stars over the last few years has been a short one. Thanks to Troy, it is one name longer.
TROY THE PLAYER
Fast and physical, Troy is a student of the game and has a great work ethic. He is also a spiritual man. After a bone-crunching tackle, he does not gesticulate, but instead says a quiet prayer of thanks.
Troy is listed as a safety, but in most respects he transcends the concept of the position. Quarterbacks never know where he will be or what he will do. As a rule, he lines up near the tight end when the Steelers suspect a run on first down. On second down, he either stays close to the line of scrimmage or backs up, depending on the situation. On third and long, he becomes the Steelers' wild card, sometimes blitzing, sometimes dropping into coverage. One of his favorite plays is to "hide" behind a blitzing linebacker and then explode into the backfield after his teammate is blocked.
Troy's most remarkable move is the fake-blitz blitz, a play where he lines up in one of the gaps, then spins into coverage when the ball is snapped—only to spin again to go after the quarterback. Opposing teams have not developed a scheme to stop him on this play.
Troy's energetic style of play is an inspiration to teammates. He never gives up, and they follow his lead.
EXTRA
* Growing up in Oregon, Troy often watched an uncle perform in traditional Samoan fire sword dances.
* Troy was a two-time All-State basketball player in high school.
* Troy scored 56 touchdowns in just 32 high school games.
* Troy's 118 tackles as a junior were the most for a USC safety since Tim McDonald had 140 in 1986.
* Troy was USC's first two-time All-American since Tony Boselli in 1992 and 1994, and the school's first All-American safety since Mark Carrier in 1989.
* Troy was a finalist for the 2002 Jim Thorpe Award.
* Troy returned three of his six college interceptions for touchdowns. He also blocked four punts for the Trojans.
* Despite signing a multimillion dollar contract with the Steelers, Troy showed up to his first training camp in a $12,000 Kia.
* Troy won the 2003 Joe Greene Award, given by the Steelers to their top rookie.
* In 2006, Troy tied a record for sacks by a safety with three.
* Super Bowl XL was a big day for Samoans. Troy and Lofa Tatupu of the Seahawks—friends and teammates from USC—were two of the defensive stars of the game.
* Troy was named to the 2009 AFC Pro Bowl squad.
* Troy wanted to sign autographs for fans after the 2006 Pro Bowl, but the Honolulu police would not permit it. The crowd waiting for him was too large to control.
* At the time of Troy's 2007 contract, it was the largest ever given to a Steeler (worth more $30 million). He was the highest-paid safety in the NFL until Bob Sanders inked a new deal with the Colts at the end of '07.
* In 2007, Troy had his name legally changed to Polamalu. Technically, it was stil Aumua.
* Troy was the star of a new Coke Zero that debuted during Super Bowl XLLIII. It was a takeoff on the classic Mean Joe Greene commercial from the 1970s.
* Troy holds rock-paper-scissors tournaments in the Steelers' locker room.
* Troy is a practical joker. He loves to tie teammates' shoelaces together.
* Troy has been timed at 4.3 in the 40-yard dash and has a 43-inch vertical leap.
* Troy became a master woodcarver in high school. He made ornate cabinets and coffee tables, which he sold to earn extra cash.
* Troy's hobbies include fly fishing and orchid cultivation.
* Troy's bother, Kaio Aumua, played football for UTEP. His uncle Kennedy is running backs coach for the Jacksonville Jaguars.
* Troy rarely cuts hs hair. He describes his hair as a "fifth appendage." As it grows to cover his uniform number, the NFL may step in and make him trim it.
* Troy is married to Theodora Holmes, the sister of USC teammate and Dolphins receiver Alex Holmes. They had their first child, a daughter named Paisios.
* Troy has two nicknames—The Tasmanian Devil and The Quiet Storm.
Read more
Latest headlines