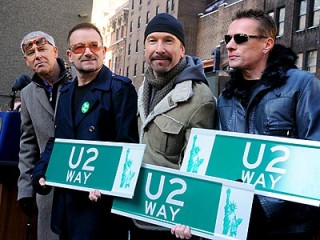 U2 biography
Date of birth : -
Date of death : -
Birthplace : Dublin, Ireland
Nationality : Irish
Category : Arts and Entertainment
Last modified : 2012-03-30
Credited as : Rock band, U2 360° Tour, They won 22 Grammy Awards
One of only a few bands to achieve consistent commercial and critical success across three decades, U2 has charted success on its own terms on both the artistic and business sides of the music industry. From the band's earliest days in Dublin, Ireland, to the present, U2 has broken free from the traditional limitations of what a rock band -- and rock music -- could and couldn't do. By combining an original sound with honest lyrics and a challenging social message, U2 has earned the respect of their peers and critics, and an almost fanatical following of fans around the world. This is their story.
U2 formed in Dublin in the fall of 1976 after 14-year-old Larry Mullen, Jr. posted a note on the bulletin board at his high school seeking musicians for a new band. From the group of hopefuls that showed up at Mullen's home that first day, a five-piece known originally as "Feedback" formed with Mullen (born October 31, 1961) on drums, Adam Clayton (born March 13, 1960) on bass, Paul Hewson (later nicknamed "Bono Vox" and eventually just "Bono", born May 10, 1960) on vocals, and Dave Evans (later nicknamed "The Edge", born August 8, 1961) on guitar. Dave's brother, Dick, also played guitar for a while, but left Feedback very early on to join another Dublin band, the Virgin Prunes.
Feedback quickly changed their name to "The Hype," and began rehearsing on weekends and after school as often as possible, forming genuine friendships and developing an undeniable chemistry in the process. After nearly 18 months of rehearsing, the band's big break came at a talent show in Limerick, Ireland, in March, 1978. With CBS Records' Jackie Hayden judging, U2 (they had just changed their name again) won the contest, earning a £500 prize and studio time to record their first demo.
Shortly after the talent show contest, the band convinced a Dublin businessman named Paul McGuinness to manage them. Now out of school, the band played as many shows as possible in and around Dublin, trying to build up a local fan base. In September, 1979, U2 released its first single, an Irish-only release called "U2:3" which topped the national charts. In December of that year, U2 traveled to London for its first shows outside Ireland, but struggled to get attention from music fans and critics.
After continuing to build a large following inside Ireland, and after the success of a second Irish-only single, Island Records signed U2 to its first international contract in March, 1980. The first album to come from that agreement was Boy, released in October of that year. The album offered a fresh, new sound that earned rave reviews in both the Irish and UK press. Bono's lyrics tackled subjects like faith, spirituality, and death -- subjects generally avoided by even the most seasoned rock acts. U2's first tour outside the UK helped develop new fan bases in other parts of Europe and in the United States, where strong club shows helped propel Boy briefly onto the U.S. album charts.
But while synthesizer acts and bubblegum pop bands dominated the early 80s, U2 went off in their own direction. Their second album, 1981's October, witnessed an open embrace of Christianity, especially in songs such as "With a Shout" and "Gloria".
U2 enjoyed its first international success with the 1983 release of War, U2's third album. An all-out attack against the keyboard- and drum machine-based songs that made up the song and album charts, War featured the band's most aggressive songwriting to date in both music and lyrics. For the first time, Bono addressed the long-standing "troubles" in Northern Ireland with the song "Sunday, Bloody Sunday." Fearful to be seen as taking one side over another, he insisted on introducing the song during concerts by saying "This is NOT a rebel song!", and wrapped himself in a white flag while he sang it, to symbolize the song's call for peace. The album's first single, "New Year's Day," was U2's first legitimate hit single, reaching the #10 spot on the UK charts and almost cracking the Top 50 in the U.S. MTV put the song's video into heavy rotation, and helped introduce U2 to a new audience of fans. Tours that supported the War album in the U.S. and Europe included sold out shows at many stops. The band captured this era with the Under a Blood Red Sky mini-album and video, which also received heavy airplay on MTV and other TV channels in Europe, and only served to add to U2's reputation as a top-notch live act. The success of War and Under a Blood Red Sky allowed U2 to renegotiate their record deal with Island Records, and the band gained more creative control and financial rewards for the future.
Just when it appeared U2 had found the formula for success, they switched gears and took off in an entirely new direction. For their fourth studio album they chose Brian Eno and Daniel Lanois to produce it, a surprising choice Bono explained by saying the band members felt their new music would be more "ambient," and needed an appropriate guiding hand in the control room.
1984's The Unforgettable Fire -- named for a series of paintings drawn by survivors of the atomic bombs at Hiroshima and Nagasaki -- introduced the world to a new U2, a more experimental and unfocused U2. Gone was the aggression of War, but the band's social and political messages stayed alive in songs such as "Pride (In the Name of Love)," which was written for Martin Luther King, Jr., and the mesmerizing "Bad", written in response to the struggles Bono's friends had with drugs in Dublin. While "Bad" quickly became a highlight of the band's live set, it was "Pride" that took U2 up another rung on the charts. The single cracked the UK Top 5 and the U.S. Top 50. The tour that supported The Unforgettable Fire saw U2 expanding its itinerary to more countries than ever before, and saw them playing to sold out sports arenas in the U.S. for the first time. Rolling Stone magazine named U2 its "Band of the 80s," suggesting that "for a growing number of rock-and-roll fans, U2 has become the band that matters most, maybe even the only band that matters."
With four years of nearly constant recording and touring behind them, and with album and single sales increasing with each release, U2 was poised for international stardom in the mid-1980s. They earned it with a pair of charitable live shows. The Live Aid concert for Ethiopian famine relief in July, 1985, was seen by more than a billion people worldwide. Not expected to be one of the main draws, U2 stole the show with a relentless, 13-minute version of "Bad" in which Bono jumped down into the Wembley Stadium crowd to dance with a fan. That performance helped earn U2 the headlining spot on 1986's "Conspiracy of Hope" tour for Amnesty International. This six-show caravan across the U.S. played to sold out arenas and stadiums, and helped Amnesty International triple its membership in the process. It also solidified U2's spot as international stars on the verge of greatness.
Greatness arrived in 1987, with the release of U2's fifth studio album, The Joshua Tree. U2 had delivered a record that caught them at their musical and lyrical peak, finally comfortable with the "rock band with a conscience" label they first encountered with the War album four years earlier. In the spiritual and moral desert that had become the U.S. of the mid-1980s, U2 stood out by bringing meaning and passion to its music. Bono tackled his contradictory feelings about America in "Bullet the Blue Sky" and "In God's Country." Biblical images showed up throughout the record as Bono questioned faith, social injustices, governmental oppression, terrorism, and drug addiction. The album debuted at #1 in the U.K., and quickly reached #1 in the U.S. The songs "With or Without You" and "I Still Haven't Found What I'm Looking For" gave U2 its first #1 singles in the U.S. Even TIME magazine put U2 on its cover, declaring the band "Rock's Hottest Ticket." The Joshua Tree tour sold out stadiums around the world. U2 had become the biggest band in the world.
Just as U2 chronicled their first taste of international success some five years earlier with Under a Blood Red Sky, the band set out to document their latest run at stardom with Rattle and Hum. The project -- a combination big-screen rockumentary and double album -- paid tribute in words, music, and pictures to some of the American music pioneers that had influenced U2 in its rise to the top.
On Rattle and Hum, U2 played with B.B. King and at the legendary Sun Studios in Memphis, where Elvis Presley first found his feet as a rock and roll star. They wrote with Bob Dylan, sang about blues great Billie Holiday, and covered The Beatles. And for many critics, U2 had gone too far. Rattle and Hum was widely praised as a rock movie, but the project as a whole was roundly discarded by critics for being pretentious and excessive. It was seen by many as an overblown homage to U2's self-importance. The U2 backlash had begun, and U2 decided to stay away from the public eye for a while. The brief "Lovetown" tour of late 1989 and early 1990 lasted less than four months, and steered clear of North America.
After taking time off from the band and each other, U2 joined forces again in Berlin in late 1990 to begin work on their next studio album. They were working again with the familiar duo of Brian Eno and Daniel Lanois, but these recording sessions were anything but comfortable. Recognizing they had to "go away and dream it all up again," -- as Bono promised during a Dublin concert before the turn of the decade in late 1989 -- U2 struggled to forge a new sound and a new identity together. But in November, 1991, the new U2 delivered Achtung Baby, an album that Bono would describe as "the sound of four men chopping down The Joshua Tree."
Achtung Baby was U2 at its most adventurous, bringing industrial guitars, feedback, altered vocals, and electronic dance beats into the mix. This was U2's most eclectic record to date, yet fans and critics welcomed it with almost universal praise. Rather than paying homage to the past, U2 were experimenting again -- introducing new sounds and textures, pushing new limits and moving ahead on their own terms.
U2 hit the road in early 1992 for its first American concerts in more than four years. The "Zoo TV" tour was a mind-boggling exercise in sensory overload, complete with dozens of on-stage TV monitors spitting out images from stage cameras, a hand-held Bono-cam, and even direct from satellite TV. U2 ditched the "poor-men-in-the-desert" look in favor of a fun, loose, and raunchy run at glam-rock. Bono dressed in head-to-toe leather for "The Fly" and in a metallic, silver suit for "Mirrorball Man," two characters he adopted on-stage. Zoo TV was U2's attempt at mocking the excesses of rock and roll, and they succeeded so convincingly that some fans missed the point entirely. While U2 pretended to embrace trash and decadence, they still made a point to join a Greenpeace demonstration protesting the Sellafield nuclear power plant in England.
During a break in the nearly two-year Zoo TV tour, U2 went back into the studio to work on song ideas they first developed during the tour. These sessions resulted in Zooropa, the band's seventh studio album, released in July, 1993. Zooropa took the experimentalism of Achtung Baby and multiplied it exponentially. "Numb," the album's first single, featured Edge on lead vocals reciting a monotone list of admonitions over a repetitive guitar riff. But like its predecessor, the album still managed to dominate the charts (admittedly for a shorter time than Achtung Baby did) and provided even more material for the remainder of their world tour.
U2 took an extended break after the Zoo TV tour, working relatively quietly on projects for the Batman Forever and Mission: Impossible soundtracks. In 1995, the band re-emerged with Brian Eno as a collective called "Passengers," and released an experimental album called Original Soundtracks 1. The album produced a memorable collaboration with Luciano Pavarotti, "Miss Sarajevo," but was largely ignored both critically and commercially.
U2 began work on its next studio album in early 1996, with an eye toward releasing the record later that year. The band admitted its desire to incorporate the electronic sounds of bands such as Prodigy and The Chemical Brothers into U2's vision of late '90s rock and roll. Even though the album was pushed back to early 1997, pieces of a couple tracks were leaked and distributed by fans around the globe via the Internet. The brief sample that circulated of "Discotheque", which was already known to be the first single, only reinforced the rumor that U2 were trying to make a dance record.
U2 set out on a full-blown world tour in the spring of 2001 to promote All That You Can't Leave Behind. The Elevation Tour saw the band return to arenas for the first time since Zoo TV in 1992. After the extravaganzas of that tour and PopMart in 1997, the relatively stripped-down Elevation Tour saw U2 perform on a heart-shaped stage which brought the fans closer to the band than ever. The highlight of the tour was an unprecedented two concerts at Slane Castle outside Dublin, the first of which took place just days after the death of Bono's father. The terrorist attacks of September 11th led U2 to rethink continuing the tour, but they chose to tour throughout October and November with a setlist that had changed to reflect the times. The Elevation tour was nearly a complete sellout, and U2 was the top concert draw in North America. The band's 80 shows (of 113 total) in North America grossed $110 million, the second-highest total behind The Rolling Stones' Voodoo Lounge Tour in 1994.
After wrapping up the tour in late 2001, U2 returned to the stage in front of a worldwide audience in early 2002 when they performed three songs in New Orleans at halftime of Super Bowl XXXVI, the NFL's annual championship football game. The band returned to the States just weeks later for the Grammy Awards, where All That You Can't Leave Behind picked up four more awards.
U2 spent much of 2003 in the studio, working on new album with a new producer: Chris Thomas, who had previously worked with Roxy Music and The Sex Pistols. But after eight months together, the two sides went their separate ways and U2's new album was delayed well into 2004.
Old friend Steve Lillywhite came on board in early 2004, and six months later U2 had a new album: How To Dismantle an Atomic Bomb was released in October, 2004. Though the title sounds political, Bono admitted it was a reference to his father and the impact his father's death had on Bono. U2 supported the album with more aggressive marketing, including an unprecedent relationship with Apple, which created a U2-branded iPod. Bono also kept up his fight against AIDS and poverty in Africa with the launch of The ONE Campaign in May, 2004.
In December, 2004, Edge learned that his daughter, Sian, had a serious illness. Though Edge and the band tried to keep the story quiet, it forced a delay in the annoucement of their Vertigo World Tour, and news of the family illness spread rapidly around the world. After working out a new tour schedule that allowed Edge to spend more time with his family, the Vertigo Tour began in San Diego in March, 2005. It was a smashing success, playing to sold out crowds around the world. 2005 also saw U2 get inducted into the Rock and Roll Hall of Fame, and collect three more Grammy Awards. Late in the year, TIME magazine named Bono and Bill & Melinda Gates its Persons of the Year for their humanitarian work.
But in early 2006, the fourth leg of the tour was postponed due to a "family illness." The band never spoke publicly about what was going on until the release of their official biography, U2 by U2, in September, 2006, when Edge confirmed that Sian was ill, but didn't say what the illness was. The tour resumed late in 2006 with shows in New Zealand, Australia, Japan, and Hawaii. New songs from the U2 18 compilation album, including "Window In The Skies" and "The Saints Are Coming" featured prominently at several shows.
U2 returned to the big screen in 2007, with the premiere of the groundbreaking U2 3D at the Cannes Film Festival in May. The band began work on new songs in Morocco with Brian Eno and Daniel Lanois as co-writers, but the only new material released in 2007 was a few outtakes that appeared on the November re-release of The Joshua Tree, celebrating the album's 20th anniversary.
More than thirty years on, it appears that U2 still has plenty of gas in its tank. The four original band members remain close friends and stellar musicians, and their collective ambition appears to be as strong as ever. U2 remains one of only a few bands qualified to wear the label of World's Biggest Band. They continue to write music and explore new ideas on their own terms, and their future releases and tours will be no less anticipated than those of the past.
The group commenced the U2 360° Tour in 2009. The shows featured the largest concert stage structure ever, nicknamed "the Claw", and a 360-degree staging/audience configuration that allowed fans to surround the stage from all sides. The tour visited European and North American stadiums in 2009. At year's end, Rolling Stone named U2 one of eight "Artists of the Decade". The group's tours ranked them second in total concert grosses for the decade after The Rolling Stones, although U2 had a significantly higher attendance figure than the Stones. They were the only band in the top 25 touring acts of the 2000s to sell out every show they played. The tour concluded in July 2011 with a final gross of $736,137,344, and a total attendance of 7,268,430, both record-setting figures for a single concert tour.
U2 have released 12 studio albums and are among the all-time best-selling music artists, having sold more than 150 million records worldwide. They have won 22 Grammy Awards, more than any other band, and in 2005, they were inducted into the Rock and Roll Hall of Fame in their first year of eligibility. Rolling Stone ranked U2 at number 22 in its list of the "100 Greatest Artists of All Time". Throughout their career, as a band and as individuals, they have campaigned for human rights and philanthropic causes, including Amnesty International, the ONE/DATA campaigns, Product Red, and The Edge's Music Rising.
Discography:
-Boy (1980)
-October (1981)
- War (1983)
-The Unforgettable Fire (1984)
-The Joshua Tree (1987)
-Rattle and Hum (1988)
-Achtung Baby (1991)
-Zooropa (1993)
-Pop (1997)
-All That You Can't Leave Behind (2000)
- How to Dismantle an Atomic Bomb (2004)
-No Line on the Horizon (2009)
Read more
U2 Picture Gallery
Latest headlines