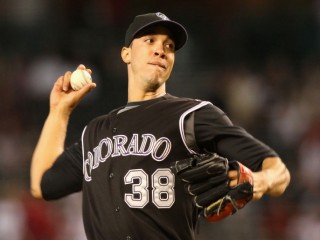 Ubaldo Jimenez Jr. biography
Date of birth : 1984-01-22
Date of death : -
Birthplace : Nagua, Dominican Republic
Nationality : Dominican
Category : Sports
Last modified : 2010-11-02
Credited as : Baseball player MLB, pitcher with the Colorado Rockies,
Ubaldo Jimenez Jr. was born on January 22, 1984 in the town of Nagua, in the Dominican Republic. His father, Ubaldo Sr., drove a bus. His mother, Ramona, was a nurse.
When Ubaldo was still young, the family moved to San Cristobal, a city just west of Santo Domingo. He showed signs of his baseball potential by age six. His father noticed that he threw the ball much harder than other boys his age. As the years passed, Ubaldo also worked harder than his friends. He played five days a week throughout his childhood.
As Ubaldo approached his teen years, his father became convinced that his son could have a career as a major leaguer. Ubaldo's mother had grander plans. She wanted him to become a doctor.
To his credit, Ubaldo studied hard in school and learned the near-flawless English he speaks today. Not many doctors, however, can touch 90 mph on the radar gun. With his father's blessing, Ubaldo put off his medical career and concentrated on honing his high heat.
As a teenager, Ubaldo stood 6–1 but weighed only 160 pounds or so. He immediately drew comparisons to his idol, Pedro Martinez. His fastball was electric, though he didn't always get it over the plate. Ubaldo had a lot of moving parts to his delivery, which would later lead Colorado pitching coach Bob Apodaca to nickname him the Tasmanian Devil.
Just after Ubaldo turned 17, he signed with the Rockies. Scouts Felix Feliz and Rolando Fernandez had gained an inside track on the young phenom. The organization chose to start Ubaldo in the Dominican Summer League. There he could compete against other teen prospects and learn the basics of pitching in more or less familiar surroundings.
In the spring of 2002, 18-year-old Ubaldo began his second Dominican League season. In June, he was promoted to the Casper Rockies of the rookie-level Pioneer League. Among his teammates were hitting prospect Ryan Shealy and fellow Dominican hurler Manny Corpas. In 14 starts, Ubaldo went 3–5 with a 6.53 ERA. On the upside, he averaged better than a strikeout an inning. The remarkable thing about Ubaldo's time in Casper was that he added velocity to his fastball. By the end of the year, he was throwing in the mid 90s.
The following year, Ubaldo really began to hit his stride for the Asheville Tourists of the Class-A South Atlantic League. Throwing consistently in the high 90s, he had a strong second half and finished among the league leaders in starts and strikeouts. Ubaldo enjoyed several lights-out games, including a near no-hitter against the South Georgia Waves. At the tail end of the season, he was transferred to Visalia, making him eligible for the California League playoffs. He lost his only postseason start for the Oaks, 2–1.
Ubaldo returned to the Oaks in 2004 as Colorado's most promising young pitcher. Many felt that he would be ready for the majors by 2005. He did nothing to diminish these expectations in his first half-dozen starts, fashioning a perfect 4–0 record with a 1.50 ERA. But in his seventh start he felt a pain in his right shoulder. The injury was diagnosed as a scapular strain and effectively shut him down for the year. An August comeback attempt ended after two pitches.
ON THE RISE
That winter Ubaldo worked his way back into shape under the watchful eye of the Colorado medical team. He showed enough progress for the Rockies to add him to their 40-man roster, but he struggled during spring training and was sent back to the California League, this time with Modesto. He earned a promotion to Class-AA Tulsa after starting the Cal League All-Star Game in June, and then joined Class-AAA Colorado Springs, where he struggled in a handful of late-season starts. After the U.S. baseball season ended, Ubaldo pitched for Licey in the Dominican Winter Leagu.
Throughout his minor league odyssey, Ubaldo ate well and worked out religiously, packing muscle onto his frame. By the end of 2005, he tipped the scales at 200 pounds. The team wanted to give him one more year of seasoning, which he split between Tulsa and Colorado Springs. Among his teammates at these two stops were future Rockies Troy Tulowitzki, Chris Iannetta, Ian Stewart, Jeff Baker and Seth Smith.
Ubaldo finished the '05 campaign at a combined 14–4 and was the starter for the North in the Texas League All-Star Game. He dominated Texas league hitters and held his own against the better bats he encountered in the Pacific Coast League. He was ready for his first taste of major league competition.
Ubaldo got the big call up with a couple of weeks left in the 2006 season. He appeared in two games for the Rockies—including one start—and had no decisions in 7 2/3 innings with a 3.52 ERA. The start came against the Chicago Cubs in Colorado 's season finale. Ubaldo gave up a three-run homer to Aramis Ramirez. Once again, he for pitched Licey in Dominican Winter League.
Ubaldo spent the first half of 2007 with the SkySox, and then joined the Rockies for good in mid-July, when he replaced Taylor Buchholz in the starting rotation. Manager Clint Hurdle asked Apodaca o work on simplifying Ubaldo's delivery and bolstering his confidence. Both told him that he had the makings of a great starter.
Unlike many young pitchers, Ubaldo was not intimidated pitching in Coors Field. He threw so hard and had such good sink on his fastball that gopher balls weren't a concern. Ubaldo split six decisions at home and finished the year at 4–4 with a 4.28 ERA and 68 strikeouts in 82 innings.
Ubaldo delivered quality starts down the stretch, which contributed to Colorado's remarkable finish. The Rockies dropped just one game after September 15 and nipped the San Diego Padres at the wire to win the National League Wild Card in a dramatic, 13-inning playoff game.
With the Rockies in the postseason, Ubaldo invited his father to fly up to Colorado. Ubaldo Sr. was a jittery flier, so once he arrived in Denver he did not accompany his son on the road trips to Philadelphia and Phoenix. The Rockies took the first two games against the Phillies and then closed them out in four straight with a pair of wins at home. Ubaldo started Game 3 and threw six-plus innings of one-run ball. He received a no decision after Shane Victorino homered in the top of the seventh to knot the score 1–1.
Against the D-Backs in the NLCS, Colorado again took the first two contests in enemy territory. Back at Coors Field, they won the next two on clutch homers by Yorvit Torrealba and Matt Holliday.
Ubaldo took the mound to begin Game 2 in Arizona. Again he performed well under intense pressure. He threw five innings and managed to limit the D-Backs to a single run despite yielding five hits and five walks. He also fanned six.
Ubaldo's father did make it to Boston for the World Series, where he stayed with Ubaldo's cousin, Miguel Segura, at his home in Lynn, Massachusetts. Ubaldo started Game 2 again, in Fenway Park. The magic finally wore off the Rockies' season, as the Red Sox touched Ubaldo for a pair of early runs after his teammates had staked him to a 1–0 lead in the first inning. He took the loss in a 2–1 nail-biter.
When the series shifted to Colorado, the Rockies continued to struggle. The Red Sox took the first two at Coors Field and captured their second championship in four years.
Although he lost the plate at times, Ubaldo showed great poise throughout the playoffs. He allowed just four runs in three postseason starts, surely a sign of great things to come.
Ubaldo led all Colorado pitchers with 34 starts in 2008, finishing the year at 12–12 with an ERA just a tick under 4.00. As might be expected of a live-armed hurler in his first full big-league season, he had his fair share of good starts interspersed with a handful of horrendous ones. Ubaldo allowed three earned runs or less 27 times, but he did not always get good offensive support. He struck out 172 batters, walked 103 and threw 16 wild pitches—both second in the NL. Enemy hitters managed just 51 extra-base hits against Ubaldo, launching a mere 11 homers off him, and batted only .245. Ubaldo's .500 record was actually better than the team's. The Rockies finished a disappointing 74–88.
Ubaldo started making headlines in 2009, a month before the campaign opened. Representing his country in the World Baseball Classic, he fanned 10 of the 13 batters he faced in an opening-round game against the Netherlands.
When the season started, Ubaldo stayed hot. Pitching with more confidence and better control, he limited enemy batters to a .229 average, turned in an ERA of 3.47 and struck out 198. Ubaldo truly shone in the second half, going 9–3 with an ERA just over 3.00. Throughout the season, he never allowed more than one homer in any start.
Ubaldo was one of three Rockie pitchers to win 15 or more, along with Jason Marquis and Jorge de la Rosa. Jason Hammel and Aaron Cook also won in double figures, giving Colorado the only staff with five starters with 10 or more victories. That helped the team snag a Wild Card berth despite the fact that Hurdle was replaced Jim Tracy early in the year. The Rockies did it with power hitting and pitching. No fewer than nine players hit at least 13 home runs, though no one knocked in 100 runs.
The Rockies faced the Phillies again in the Division Series. Ubaldo started Game 1 and was rolling right along until Philly produced two runs in the 5th inning and then three more in the 6th. That was all Cliff Lee needed. The Rockies scored just once and dropped the series opener.
With the Rockies facing elimination in Game 4, Ubaldo got the starting assignment and limited the Philadelphia offense to a pair of runs over seven innings. Colorado rallied to take a 4–2 lead into the 9th, but closer Huston Street gave up three runs to lose the game. "Rock-tober" ended early at Coors Field.
The Rockies began 2010 without a closer, as Street was injured and no one stepped up from the bullpen to seize the job. That hardly affected Ubaldo, who had one of the most dominating starts to a season in recent history. His fastball often touched 100 mph, and all of his pitches were working. On April 17, he threw the first no-hitter in team history, beating the Atlanta Braves 4–0 with a career-high 128 pitches. Dexter Fowler provided some clutch defense with a diving catch in the outfield.
Ubaldo was a no-brainer pick for Pitcher of the Month in April. He was just as dominant in May, winning the award again. Through his first 11 starts, Ubaldo was 10–1 with an ERA of 0.78. He had allowed just one home run. He won three more starts to post 13 victories by mid-June.
Realizing his potentail with awe-inspiring results, Ubaldo has risen to the ranks of baseball royalty. His start to the '10 campaign is reminiscent of remarkable stretches turned in by fellow Dominicans Juan Marichal and Pedro Martinez. Will Ubaldo stand shoulder-to-shoulder with these pitching icons one day? At this point, it's hard to argue otherwise.
UBALDO THE PITHCER
Ubaldo's strong arm enables him to reach triple digits with his fastball. His four-seamer simply overwhelms hitters with its velocity, while his two-seamer (which is a mile or two slower) explodes down and in on right-handed batters. This pitch enables him to induce far more groundball outs than most hard throwers and accounts for the difficulty sluggers experience when swinging for the fences. In many respects, Ubaldo is the perfect pitcher for hitter-friendly Coors Field.
For an off-speed pitch, Ubaldo uses a late-breaking slider. It often tops out at 90 mph—the speed of other hurlers' fastballs. Many of his strikeouts come on this pitch, which bores in on lefties and paints the corner against righties. He also employs a sinker and change-up, both of which he throws in a couple of different ways. Ubaldo occasionally throws a classic 12-to-6 curve, but given the breadth of his repertoire and his past control problems, it is unusual to see this pitch more than a few times a game.
It's easy to look at Ubaldo and assume his success is due solely to natural talent. But few major leaguers work harder. Though still a young player, he sets the tone for the rest of the Colorado pitching staff. Teammates often give up trying to match his workout regimen.
Ubaldo is funloving by nature, but that doesn't diminish his leadership skills. HIs teammates, especially those who have come up through Colorado's minor league system, look up to him and respect him. He is a steely competitor on the mound and a jokester in the locker room.
EXTRA
* Ubaldo's first big-league win came against the Los Angeles Dodgers on July 29, 2007.
* Ubaldo limited Rockies' foes to a .228 average during the 2007 campaign.
* In 2007, Ubaldo joined Shawn Chacon as the only Colorado rookies in franchise history to notch double-digit strikeouts in a game.
* Ubaldo tied Tim Lincecum and Jair Jurrjens for the fewest home runs allowed in the NL in 2008.
* In 2008, Ubaldo threw the best fastball among major league starters, averaging 94.9 mph. In 2009, he led starters again with an average heater of 96.1 mph.
* During the 2009 World Baseball Classic, Ubaldo got to know Pedro Martinez, his boyhood idol, and Miguel Olivo, who would become his catcher on the Rockies in 2010.
* In 2009, Ubaldo set a franchise record by going six innings or more in 25 consecutive starts.
* The only NL player to throw more pitches than Ubaldo in 2009 was Adam Wainwright.
* In 2010, Ubaldo became just the second pitcher in MLB history to throw a no-hitter and notch five wins in the month of April.
* In 2010, Ubaldo surpassed the Colorado mark for consecutive scoreless innings by a starter. The record was held jointly by Franklin Morales and Denny Neagle.
* Ubaldo's explosive four-seamer has been nicknamed the "U-Ball" by his teammates.
Read more
Latest headlines