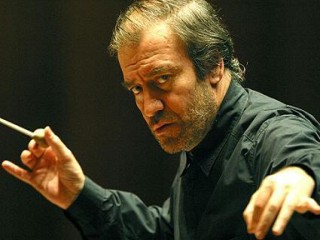 Valery Gergiev biography
Date of birth : 1953-05-02
Date of death : -
Birthplace : Moscow,Russia
Nationality : Russian
Category : Arts and Entertainment
Last modified : 2011-11-16
Credited as : conductor, Mariinsky Theatre director, London Symphony Orchestra conductor
Valery Abisalovich Gergiev is a Russian conductor and opera company director. He is general director and artistic director of the Mariinsky Theatre, principal conductor of the London Symphony Orchestra, and artistic director of the White Nights Festival in St. Petersburg.
Valery Gergiev emerged as one of the superstar conductors of the classical music world in the late 1990s and early 2000s, molding Russia's Kirov Opera into a powerhouse undreamed of since the time of the czars. Western audiences got to know Gergiev through his high-profile guest conducting posts in Europe and in the United States, where he became principal guest conductor of New York's Metropolitan Opera. Gergiev seemed to come out of nowhere, and his rise through both the Russian and Western musical hierarchies was due above all to his prodigious energy level and penchant for hard work.
Gergiev thought nothing of conducting a different piece of music every night of the week, and the attention he paid to detail in the hours of rehearsal he spent with singers and orchestral players resulted in sparkling performances that even ordinary classical music listeners recognized as pleasing and perfectly wrought. Equally at home with opera and orchestral music, Gergiev was named principal conductor of the London Symphony Orchestra beginning in 2007.
Grew Up in Military Family
Valery Abissalovich Gergiev (pronounced GUR-jeff) was born in Moscow on May 2, 1953, into a military family. Gergiev's father, who died when Gergiev was 14, was an army officer in what was then the Soviet Union, and one of his uncles was a tank designer who had been close to Soviet dictator Josef Stalin. Gergiev grew up in Ossetia, a mountainous region of what is now southwestern Russia, and continued to maintain strong ties to that culturally diverse region. He vacationed there and swam in the ice-cold mountain streams of his childhood whenever he could, and in 2004 his was a prominent voice calling for calm after Chechen terrorists killed dozens of student hostages at a school in the Ossetian town of Beslan.
Gergiev showed talent when he was young, and entered a music school in Vladikavkaz, Ossetia, in 1961. The school was later renamed the Valery Gergiev Music Academy. After Gergiev's father's death, his mother and his two sisters encouraged him to continue his musical studies. One of his sisters, Larissa, later became director of a children's music school in St. Petersburg and worked closely with Gergiev at the Kirov Opera. Gergiev enrolled at the Leningrad Conservatory (now the St. Petersburg Conservatory) in 1972.
At the time, coming from rural Ossetia, he was far behind his classmates in the conducting program; he was unfamiliar, for example, with the 15 symphonies of Dmitri Shostakovich, regarded in both the Soviet Union and the West as central works in the canon of modern Russian music. But it didn't take Gergiev long to catch up with and then surpass the others. In 1976 he won the All-Soviet Conducting Prize, and the following year provided an even more significant indication of how highly his talent was regarded: he was given a visa to leave the Soviet Union so that he could enter the Herbert von Karajan Conducting Competition in what was then West Berlin. He took first prize there as well.
Elected by Musicians
On the strength of that showing Gergiev was named assistant conductor to Yuri Temirkanov at the Kirov Opera in 1977, and made his debut there the following year, conducting a performance of Sergei Prokofiev's opera War and Peace. Prokofiev would remain one of Gergiev's favorite composers, and even though he took some criticism in the West for doing so, he revived little-known Stalin-era Prokofiev works, convinced of their musical value. In 1981 Gergiev became chief conductor of the Armenian State Orchestra. His climb up the Soviet musical ladder culminated in 1988 when the musicians of the Kirov Opera orchestra elected him chief conductor to replace the departing Temirkanov. Gergiev was neither a Russian nor a member of the Communist Party, but the musicians perhaps sensed that he had the single-minded drive that would be needed to lead them through the chaotic times ahead.
Gergiev began to build alliances with Western musical organizations even before the fall of the Soviet Union in 1991; he took a Kirov Opera company to Germany's Schleswig-Holstein festival in 1989, and in 1993 he made guest conducting debuts at the two great opera houses of the Anglo-American world, Covent Garden in London and the Metropolitan Opera in New York City. He became principal conductor of the Rotterdam Philharmonic Orchestra in the Netherlands in 1995 and was elevated to principal guest conductor at the Metropolitan two years later. In 1997 he also made his debut on the podium with the Vienna Philharmonic Orchestra, traditionally known as one of the two or three greatest ensembles in central Europe. Back home, he became chief conductor of the Kirov Ballet.
As Western audiences began to get to know Gergiev better, what they found was a musical leader of considerable charisma. It wasn't that he had the airbrushed look of a modern celebrity, but his authority and drive came through. "Mr. Gergiev's dark looks and semi-perpetual scowl--lit up occasionally by a big boyish grin--lend just enough of an aura of badness to make him a media dream," noted The Economist. His intensity carried over to the musicians he worked with, no matter where they were. At first, learning English out of a dictionary he carried, Gergiev had to communicate with English and American musicians mostly via gestures. But he got results. His interpretations were always fresh, but his real skill lay in getting the best out of an orchestra and in communicating his own sense of limitless horizons. "It is not what he does that's different," a Los Angeles Philharmonic Orchestra musician told The Economist, "it is what we do." Sometimes Gergiev added works to a symphonic program on the spur of the moment, rehearsing musicians even as ushers took their places in the aisles.
Shepherded Company Through Hard Times
Economic realities threatened to derail Gergiev's ambitions when Russia sank into economic crisis in the late 1990s, but Gergiev would have none of it. He cajoled funding out of Russian president Boris Yeltsin, and more than once he kept the Kirov on track through the worst of the depression by working a roomful of Western executives. As the Russian economy recovered, Gergiev cultivated the goodwill of new president Vladimir Putin and launched plans to renovate the Mariinsky Theatre, the handsome imperial Russian structure that served as home to the Kirov Opera. His aim was to make the Kirov (also known as the Mariinsky Opera) into Russia's greatest opera company, eclipsing even Moscow's famed Bolshoi Opera.
For many years, marriage did not fit in with Gergiev's busy schedule, but in the early 2000s he married a young Ossetian woman named Natalia, to whom his mother had introduced him. They have three children, Abisal, Valery, and Tamara.
In the early 2000s Gergiev seemed to be everywhere at once. His punishing seven-day-a-week work stints became the subject of feature articles in classical music magazines. Writers marveled at his ability to conduct exacting rehearsals all day, meet with journalists or donors over dinner, lead a concert, and then go out afterwards for food, drink, and a Russian bath or Finnish sauna that might last long into the night--and then to come back the next morning and do it all again. There were a few chinks in Gergiev's musical armor; he was at his best in Russian repertory, and he seemed overextended in a cycle of Giuseppe Verdi operas he conducted in London in 2001. But he rarely faltered, and he was widely admired for directing his ambitions toward the improvement of musical organizations rather than toward his own individual glory. As he prepared to assume the conductorship of the London Symphony in 2007, he also laid plans to take the Kirov Opera to New York that year to present a complete performance of Richard Wagner's gigantic four-opera Ring cycle. "How did we do it?," was his rhetorical question as he surveyed the growing prestige of his beloved Kirov in conversation with The Economist. "The answer is hard work. Hard work was the catalyst." And no one had worked harder than Valery Gergiev himself.
In october 2007 Gergiev took part in a unique holiday project featured in the 100th anniversary issue of the Neiman Marcus Christmas Book. A concert by Gergiev and the Kirov Orchestra featuring piano virtuoso Lola Astanova became a part of a $1.59 million fantasy gift. The super concert is said to be hosted by the Emmy-winning American television personality Regis Philbin.
In june 2011, Gergiev took up a highly prominent reformist role as chairman of the International Tchaikovsky Competition. He replaced academic judges with famous performers and introduced an openness to the process, arranging for all performance to be streamed live and free on the internet and for the judges to speak their minds in public as and where they wished. The contest was considered a massive personal triumph .
Selected discography:
-Alexander Borodin: Symphony No. 1 in E flat/Symphony No. 2 in B minor Philips, 1990.
-Modest Moussorgsky: Khovanschina Philips, 1992.
-Sergei Prokofiev: War and Peace Philips, 1993.
-Mussorgsky: Songs and Dances of Death Philips, 1994.
-Prokofiev: The Fiery Angel Philips, 1994.
-Massenet: Hérodiade Sony, 1995.
-Nicolai Rimsky-Korsakov: The Maid of Pskov Philips, 1997.
-Tchaikovsky: The Nutcracker (complete), Philips, 1998.
-Rimsky-Korsakov: The Tsar's Bride Philips, 1999.
-Sofia Gubaidulina: Johannes-Passion Hänssler, 2000.
-Verdi: Requiem Philips, 2001.
-Moussorgsky: Pictures at an Exhibition Philips, 2002.
-Moussorgsky: Pictures at an Exhibition; Night on Bald Mountain Philips, 2003.
-Shostakovich: Symphony No. 7 Decca, 2003.
-Berlioz: Symphonie Fantastique; La Mort de Cléopâtre Philips, 2003.
-Shostakovich: Symphony No. 4 Philips, 2004.
-Shostakovich: Symphonies 5 and 9 Philips, 2004.
-Tchaikovsky: Symphonies 4, 5, and 6 Philips, 2005.
Read more
Latest headlines