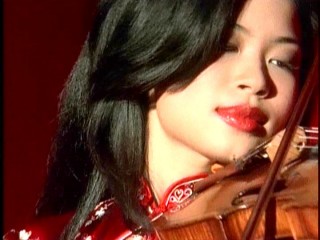 Vanessa-Mae biography
Date of birth : 1978-10-27
Date of death : -
Birthplace : Singapore
Nationality : English
Category : Arts and Entertainment
Last modified : 2012-03-02
Credited as : Violonist, violin techno-acoustic fusion,
Vanessa-Mae Vanakorn Nicholson, known professionally as Vanessa-Mae, is an internationally known British violinist. Her music style is self-described as "violin techno-acoustic fusion", as several of her albums prominently feature the techno style. A former child prodigy, she became a successful crossover violinist with album sales reaching several millions, having made her the wealthiest young entertainer in the United Kingdom in 2006.
Vanessa-Mae Nicholson performed with the London Philharmonic at age ten before attending the Royal College of Music in London. By age 14, she had released three CDs and signed a contract with a major recording company. Even as an adolescent she was uniquely adept in her ability to alternate between performing classical selections on an eighteenth-century acoustical violin and playing modern music on a high-tech electric jazz model violin. Vanessa-Mae has called her musical style "techno-acoustic fusion."
Vanessa-Mae was born Vanessa-Mae Vanakorn in Singapore on October 27, 1978, and growing up took inspiration from the fact that she shared the same birth date as Italian violinist Niccolo Paganini, though born 196 years after the famed musician. Although her parentsdivorced when she was very young, her mother remarried soon after, to Graham Nicholson, anattorney and a member of England's distinguished Freshfields law firm. Graham Nicholson adopted the budding violinist as his own daughter, and moved the family to England whenVanessa-Mae was four years old. She grew up in London, and it was Great Britain that provided her a national identity.
Vanessa-Mae played the piano as a toddler and began to study the violin at age five. She was only eight years old when she traveled to Beijing to study with Lin Yao Ji in the Yankelevich violin method. Vanessa-Mae finished the Yankelevich course, a two-year curriculum, in a brief six months. By the time she returned home she had made a decision to play the violin professionally. As Vanessa-Mae embarked on her quest, she was encouraged and assisted by he rmother, Pamela Soei Luang (Tan) Nicholson, the owner of a private recording label and music agency. A musician in her own right, Pamela Nicholson was a semi-professional concert pianist,who on occasion accompanied her daughter's violin playing.
Young Vanessa-Mae made a formal concert debut as a soloist with the London Philharmonic at age ten, but it was not until one year after her concert debut that she enrolled at the Royal College of Music in London, where she studied with Felix Andrievsky. Vanessa-Mae attended Francis Holland girls' school for a liberal education, but soon dropped out of the school in order to devote more time to her musical studies and her career. Vanessa-Mae by that time was already a veteran of the recording studio, having released three albums on her mother's personal record label. Vanessa-Mae distinguished herself with her very first recordings, renditions of violin concertos by Tchaikovsky and Beethoven. She was the youngest artist to ever record those compositions. By age 14, she was an accomplished professional, having completed her first international tour as a featured soloist with the London Mozart Players. She then signed a recording contract with EMI Records. During those years, despite the demands of her career, she continued her traditional school curriculum under the guidance of private tutors.
Vanessa-Mae, who loved classical music as a child, was nevertheless enthralled by Michael Jackson and other popular artists of her generation. When she signed with EMI she retained the right to control her performance content, in order to accommodate her diverse musical interests. She refused to limit her selections to classical compositions exclusively. Instead she embarked on a career of crossover techno-fusion musical styles. At that time, under the artistic direction of producer Mel Bush, she emerged with a new visual image as an ingenue more mature, and in abject contrast from the little girl persona of her earlier public performances. She then set out on her first tour of the United Kingdom, performing in her own style: Shostakovich in tandem with popular music, including selections by The Artist Formerly Known as Prince. She also appeared as a solo artist at the Royal Festival Hall that year. Vanessa-Mae released her first EMI album, The Violin Player, at age 16. The album it hit number eleven on the British charts and sold over two million copies. One selection from the album, "Toccata and Fugue in D Minor," became a hit single for Vanessa-Mae and remained on the top 40 charts for several weeks.
As a teen-ager performing in a grown-up arena, Vanessa-Mae's talent was frequently overshadowed by her youthful, seemingly suggestive wardrobe, as well as by certain choreography that she performed while playing her violin during her performances and in rock-video style recordings. The visual images of Vanessa-Mae's performances, in fact, generated considerable controversy and raised eyebrows. Many critics labeled her style assexually aggressive. Cries of exploitation accompanied the release of her now-famous wet T-shirt video that was made when the violinist was 15 years old. In the controversial video,Vanessa-Mae emerged from the Mediterranean Sea in a soaking wet white sheath gown, so lightweight that it was barely visible. Some observers suggested that the performance approached being pornographic. Vanessa-Mae responded to the critics and assured the public that she had complete artistic control over her own image. She defended her video to the press with cool articulation. She reiterated that she maintained a presence in the cutting room when the tape was finalized, and that she had total control over the images that were released in the finished product. She further asserted that she enjoyed creating the video and noted that classical divas traditionally perform in provocative gowns. Vanessa-Mae was quoted by Scot Duncan of the Orange Country Register as saying, "Let's face it, I go into the classical department of record stores and I see a lot of grown women in low-cut gowns and flaunty dresses."
Vanessa-Mae celebrated the release of her first album on the EMI label with a promotionaldebut tour of the United States. Among her many tour stops was an appearance on the Tonight Show, as well as stops at Chicago's Wrigley Field and Comiskey Park during the 1995 World Series play offs to perform the national anthem. Vanessa-Mae's style is unusual and unpredictable, and for many of her fans, the highlight of her 1995 tour was a memorable concert at New York City's Times Square. During the finale of the concert, Vanessa-Mae leaped onto the roof of a taxicab without missing a note on her violin. On another occasion early in 1997,Vanessa-Mae performed at St. Moritz, where she arrived in a hang-glider.
Musically Vanessa-Mae is equally unpredictable, often juxtaposing incongruous styles. When she performed a unique arrangement of the Scottish air, "I'm a Doun for Lack of Johnny,"she featured African drums in the background. Her recording of that particular composition, under the title "Scottish Fantasy," came to typify the eclectic quality that characterized many of her selections. Vanessa-Mae's versatile style made it necessary for her to learn to perform on more than one instrument. For purely classical selections, she bows on a Guadagnini violin thatdates back to 1761, a gift that she received when she was ten years old. For her unique techno-fusion adaptations of classic and popular compositions, she employs a MIDI configuration on an angular white electric violin. Her repertoire varies from Brahms, Paganini, Kreisler and Ravel, to syncopated upbeat rhythms.
Vanessa-Mae made her first formal concert tour of the United States in 1996 at age 18. Her mother provided piano accompaniment for some of the performances. Later that summer, Vanessa-Mae performed at a reunification concert in Hong Kong, where she offered a rendition of "Happy Valley the Reunification Overture," a composition of her own creation. She performed at a conference of economic ministers in France that same year, and in 1998 she performed at Buckingham Palace, to an assembly of heads of state who were in attendance at an Asia-Europe Meeting. Her performance at the Royal Albert Hall was well received.
Vanessa-Mae enjoys entertaining, and she embellished her 1998 album Storm with her own singing. She contemplates the possibility of a second career as a supermodel. Indeed she is easy to recognize and possesses striking, exotic features inherited from her Chinese mother and Thai father. She loves to read and plans to attend a university; she has a number of interests that she hopes to pursue academically. Until she finalizes her future plans, Vanessa-Mae hopes to maintain a busy schedule, perform continually, and tour often. She tenaciously guards her privacy when dealing with the press.
In April 2006, Vanessa-Mae was ranked as the wealthiest young entertainer under 30 in the UK in the Sunday Times Rich List 2006. having an estimated fortune of about £32 million stemming from concerts and record sales of over an estimated 10 million copies worldwide, which is an unprecedented achievement for a young female violinist.
Vanessa-Mae announced in 2006 that she would be releasing a new album sometime between 2007 and 2008. The album was said to draw inspiration from great ballets and opera themes. A new album was expected in 2009,but the year ended without the expected release.
Albums:
-Violin (1990)
-Kids' Classics (1991)
-Tchaikovsky & Beethoven Violin Concertos (1991)
-The Violin Player (13 February 1995)
-The Alternative Record from Vanessa-Mae (1996)
-The Classical Album 1 (21 October 1996)
-China Girl: The Classical Album 2 (August 1997)
-Storm (UK: 27 October 1997; US: 14 July 1998)
-The Original Four Seasons and the Devil's Trill Sonata: The Classical Album 3 (UK: 9 November 1998; -US: 9 March 1999)
-The Classical Collection: Part 1 (25 September 2000)
-Subject to Change (14 May 2001)
-Xpectation (Jazz collaboration with Prince) (2003)
-Choreography (18 October 2004)
Read more
Latest headlines