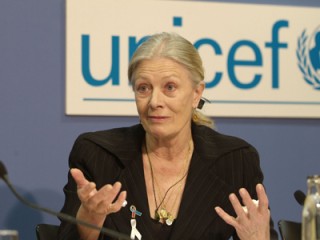 Vanessa Redgrave biography
Date of birth : 1937-01-30
Date of death : 2010-05-02
Birthplace : London, England
Nationality : British
Category : Famous Figures
Last modified : 2010-10-25
Credited as : Actress, won different awards: Oscar, Golden Globe, Emmy and Tony awards, Julia 1971, Wilde 1997
From her start on the London stage in the 1960s,
Vanessa Redgrave
went on to become one of the most internationally respected actresses of stage and screen, with the Oscar, Golden Globe, Emmy, and Tony awards to prove it. Redgrave was trained in the classical tradition but made her mark representing forward-thinking women both on-screen and off, essaying non-conforming free-thinkers like modern dance pioneer Isadora Duncan in
"Isadora" (1968)
and a 19th century American feminist in
"The Bostonians" (1984)
, while earning her share of controversy for her outspoken activism through decades of international politics and human rights issues. Redgrave brought the same passion for her convictions to her acting work, which was very expressive and unafraid of extreme emotional territories. Despite her ability to carry a film with a lead bold character, Redgrave spent a considerable amount of her screen career as a versatile supporting player in art house fare like the controversial
"Julia" (1971)
, biopics like
"Wilde" (1997)
and
"The Gathering Storm" (HBO, 2002)
, period dramas such as
"Howard's End" (1992), "Atonement" (2007)
, and American independent films like
"Little Odessa" (1994)
and
"The Pledge" (2001)
. She also made a few successful forays into Hollywood blockbuster territory with supporting roles in
"Mission: Impossible" (1996)
and
"Deep Impact" (1998)
while her stage career continued unabated, the actress regularly hitting the boards on Broadway and the West End in classical works and modern dramas. As the center of a family acting dynasty that went back several generations and would go on to produce further generations of actors, writers, and directors, Redgrave held an esteemed position in entertainment history for her own high level of work and that which she generated in her collaborators.
Born in London, England on Jan. 30, 1937, Redgrave was born into an acting empire as the daughter of legendary stage and screen performer Michael Redgrave – best known for Hitchcock's
"The Lady Vanishes" (1938)
– and actress Rachel Kempson. The sibling of two equally notable actors – Lynn Redgrave and Corin Redgrave – she entered London's School of Speech and Drama in 1954 and made her professional debut four years later in "A Touch of the Sun," co-starring her famous father. Redgrave became one of the British stage's shining lights during the 1960s with productions of "As You Like It" and "The Seagull," as well as her run in the title role of "The Prime of Miss Jean Brodie" (1966) marking her greatest stage achievement of the period. She was unable to follow the play to Broadway or appear in its movie adaptation – which would win Maggie Smith an Oscar – due to her own film career. Redgrave became a movie star thanks to the 1966 comedy "Morgan: A Suitable Case for Treatment" in which she played the long-suffering ex-wife of an eccentric young man (David Warner). She earned nominations from the Oscars, Golden Globe, BAFTA, and the Cannes Film Festival for her performance and followed it up by playing another hip Londoner in Michelangelo Antonioni's stylish "Blow-Up" (1966). Both pictures helped solidify Redgrave's screen persona as a modern, intelligent woman whose cool and impassive exterior masked a range of conflicting emotions and passions.
Redgrave's next feature was "The Charge of the Light Brigade" (1968), a BAFTA-nominated historical drama by Tony Richardson, who was Redgrave's husband and the father of her two daughters. That union collapsed in 1967 amidst much-publicized allegations of his affair with French actress Jeanne Moreau. That same year, Redgrave crossed the Atlantic to star as Guinevere in the film version of the hit Broadway musical "Camelot" (1967). Her Lancelot was up-and-coming Italian actor Franco Nero, and their on-screen romance translated into an off-screen relationship that produced a son – future director and screenwriter, Carlo Nero. Redgrave was perfectly-cast and earned an Oscar nomination for her portrayal of iconoclastic modern dance innovator Isadora Duncan in the biopic "Isadora" (1968). As her fame grew, so did her reputation as a fierce political campaigner for liberal and world causes. A socialist by her own description, she was arrested during anti-military and nuclear proliferation protests, and led marches against the Vietnam War in the United States. She also ran four times for a seat in the British Parliament as a candidate for the Workers' Revolutionary Party, which advocated the dissolution of capitalism and the British monarchy.
The actress' star dimmed a bit during the 1970s, and her difficulty finding substantial work on screen led to supporting parts or leads in more artistic and independent-minded productions. She was top-billed in the historic drama "Mary, Queen of Scots" (1971) and earned an Oscar nod for portrayal of Scotland's last Roman Catholic leader, but her subsequent appearances found smaller and more select audiences. She played a mentally unstable nun whose passion for a local priest (Oliver Reed) leads to a horrific witch hunt in Ken Russell's shocking "The Devils" (1971), and essayed the tragic Andromache opposite Katharine Hepburn in the US-Greek production of "The Trojan Women" (1971). Returning to film in 1974 as one of the all-star suspects in Sidney Lumet's "Murder on the Orient Express," she also played a patient of Sigmund Freud whose plight attracts the attention of Sherlock Holmes in "The Seven-Per-Cent Solution" (1976). That same year, she made her Broadway debut in Henrik Ibsen's "The Lady from the Sea."
In 1977, Redgrave was cast in the pivotal title role in "Julia" (1977), based on playwright Lillian Hellman's own friendship with a woman who later enlists her in a fight against the growing tide of Nazism in Europe. Redgrave won the Best Actress Oscar for her impassioned performance, but the award ceremony was tainted by protests over her acceptance speech, which cited her refusal to cave in the face of threats from what she described as "Zionist hoodlums." Redgrave was an open supporter of the Palestinian cause, and her portrayal of a Jew in the film generated anger from the Jewish Defense League who openly protested the Oscars due to her nomination. They were also upset about the 1977 documentary "The Palestinian," which she narrated and produced. Despite criticism from Jewish groups, Redgrave won the Oscar for "Julia" in 1977 and went on to earn an Emmy for her performance as a concentration camp survivor in the 1980 television movie "Playing for Time." There was no denying, however, that the controversy had a chilling effect on her career.
For much of the next decade, Redgrave experienced her share of box office failures like "Agatha" (1979), but she maintained the respect and interest of art house fans with roles including that of a lesbian suffragette in "The Bostonians" (1984), which earned her Oscar and Golden Globe nominations, and "Wetherby" (1985), which marked the directorial debut of playwright David Hare. "Prick Up Your Ears" (1987) brought her a New York Film Critics Award for her turn as Peggy Ramsay, agent to playwright Joe Orton (Gary Oldman). Television also offered her exceptional roles, including that of transsexual tennis player Renee Richards in 1986's "Second Serve" and the Joan Crawford role in a remake of "What Ever Happened to Baby Jane" opposite sister Lynne in 1991. She also appeared on Broadway for the first time in over a decade in a 1988 production of Tennessee Williams' "Orpheus Descending," which was filmed for broadcast on TNT in 1990.
Redgrave settled into a string of small but high profile roles like the period costume drama "Howards End" (1992), which earned the actress another Best Supporting Actress Oscar nomination and "Little Odessa" (1994), where she played the seriously ill mother of a Russian mobster (Tim Roth). Tom Cruise and Brian De Palma handpicked her to play arms dealer "Max" in "Mission: Impossible" (1996), and she shone as Oscar Wilde's mother in "Wilde" (1997) as well as in a rare lead as Virginia Woolf's reflective heroine, "Mrs. Dalloway" in 1997. Save for the latter, these supporting turns allowed Redgrave the fluidity to focus on other aspects of her career – from stage performances to her role as a United Nations Special Representative of the Arts, for which she mounted festivals in Kosovo and other war-torn regions. She and brother Corin also established the Moving Theater, which mounted a production of the long-lost Tennessee Williams play "Not About Nightingales" in 1998.
Balancing turns in big budget productions with stellar performances in quieter independent films, Redgrave continued to work steadily after reaching her 60th birthday. She played the female head of a mob family in the campy TV miniseries "Bella Mafia" (1997) and appeared in the sci-fi disaster film "Deep Impact" (1998) while taking supporting roles in dramas "Girl, Interrupted" (2000), Sean Penn's "The Pledge" (2001) and "A Rumor of Angels" (2000). Her turn as a sixties-era lesbian who loses her long-time partner in the tragic "1961" episode of HBO's "If These Walls Could Talk 2" earned her a Golden Globe and an award for Excellence in Media from GLAAD. She followed this with an Emmy-nominated turn as Clementine Churchill, wife of famed British Prime Minister Winston Churchill, in "The Gathering Storm" in 2002. In 2003, she received her first Tony Award for a Broadway production of "A Long Day's Journey Into Night." Her political voice still as strong as ever, during this period Redgrave and brother Corin launched the Party for Peace and Progress, which stumped against the U.S. and U.K.'s involvement in Iraq, as well as for the rights of political dissidents and refugees.
In 2005, Redgrave returned to American television in a recurring role on FX Network's controversial series, "Nip/Tuck" (2003- ) as the mother of Julia McNamara, played by her own daughter, Joely Richardson. She also co-starred with daughter Natasha in the well-regarded Merchant/Ivory production "The White Countess," and enjoyed substantial parts in a string of critically lauded features, including "Venus" (2006), "Evening" (2007), and "Atonement" (2007), which was nominated for Best Picture at the Academy Awards. Consistently active in theater, Redgrave was awarded the Ibsen Centennial Award in 2006 for her efforts in plays by the acclaimed author, but she was nominated for a Tony for portraying author Joan Didion in the one-woman play "The Year of Magical Thinking" (2007). In March 2009, Redgrave found herself in the news for the most unfortunate of circumstances when her eldest daughter and frequent collaborator, Natasha Richardson, suffered critical head injuries in a skiing accident while on vacation in Canada. Redgrave, her daughter Joely, her own sister Lynn, and Richardson's husband of over a decade, actor Liam Neeson, kept a bedside vigil at the New York hospital where Natasha was transferred after the head injury two days before. On March 18, 2009, Redgrave lost her daughter after she was taken off life support following confirmation that she was officially brain dead. She was just 45. A little over a year later, Redgrave also lost both of her siblings within less than a month of each other, with Corin Redgrave dying in London on April 6, 2010 and younger sister Lynn passing on May 2, 2010 after a battle with breast cancer.
Read more
Latest headlines