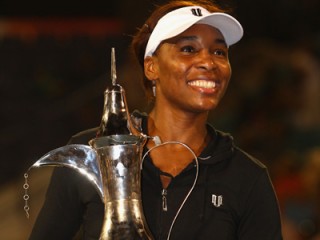 Venus Williams biography
Date of birth : 1980-06-17
Date of death : -
Birthplace : Los Angeles, California, U.S.
Nationality : American
Category : Sports
Last modified : 2010-06-16
Credited as : Tennis Player, winner of U.S. Open 2000, 2008 Olympic Games
Venus Williams
(Also known as:
Venus Ebone Starr Williams
) born June 17, 1980 in Los Angeles, California, United States is an African-American professional tennis player.
When Venus Williams made her debut in professional women's tennis in 1994, New York Times contributor Robin Finn called her "the most unorthodox tennis prodigy her sport has ever seen." Three years later, the 17-year-old, six-foot-two-inch athlete was an international celebrity: photographs of Williams with the beads in her cornrowed hair clicking through the air, her face a study in determination as her racket smacked the ball to her opponent, were some of the most memorable of the 1997 tennis season. By 2007, when she claimed her fourth Wimbledon title, Williams was acclaimed as "the best athlete in the history of women's tennis" by Sports Illustrated. In the years between her promising debut and her astonishing Wimbledon comeback, Williams dominated her sport at the same time that she designed clothes, gobbled up endorsement deals, and even appeared in the swimsuit issue of Sports Illustrated. Williams is more than a great tennis player: she is a true tennis celebrity.
Unlikely Prodigy
Williams was born in the Watts area of Los Angeles, California, in June of 1980, the fourth of Richard and Oracene Williams's five daughters. Richard Williams was part-owner of a security business, and Oracene was a nurse. In the early 1980s the family moved from Watts to nearby Compton. All five Williams daughters played tennis as youngsters, but the two youngest, Venus and Serena, were outstanding players from an early age. Compton was infamous for its troubles with gang-related activity, and the girls practiced the game at a court in a park frequented by gang members. Williams, in fact, lost a sister, Yetunde Price, in 2003 following a dispute with local residents. Venus Williams began entering competitions, went unbeaten in 63 games, and at age ten had won the Southern California title for girls in the under-12 division.
Both Sports Illustrated and Tennis magazine noticed Williams's talent, and ran stories on her in the summer of 1991 calling her "tennis's newest pixie" and "a prodigy." Her father contacted Rick Macci, a tennis coach in Florida, and asked him to come to Compton to meet his daughter and judge her potential. "I hear it all the time: 'I've got the next Jennifer [Capriati],'" Macci told Tennis magazine's David Higdon. "Richard said he'd like to meet me but the only thing he could promise me was that I wouldn't get shot. All I could think of was: 'Who is this guy?'" he recalled. Early one morning Richard drove the visiting Macci to the park. "There must have been 30 guys there already playing basketball and another 20 lying on the grass passed out," Macci recollected in Tennis magazine. He played a few games with Venus, and was unimpressed. Then, he remembered, she "asks to go to the bathroom and as she walks out the gate, she walks at least 10 yards on her hands. Then she went into these backward cartwheels for another 10 yards. I'm watching this and the first thing I thought was: 'I've got a female Michael Jordan on my hands.'"
The Williams family moved to Florida when Venus enrolled in Macci's tennis academy there. She also withdrew from junior tennis that year at the age of 11. Instead of mixing practice with the competition circuit, Williams stayed put, was schooled at home, and practiced six hours a day, six times a week. She did this for four years--a decision, Macci said, that Williams and her family had made based on her unique temperament. "Putting her in a traditional development system would be like putting her in prison," the coach told Finn in the New York Times. When she was 13, companies were already contacting Williams and her family to offer endorsement contracts if she did turn pro.
Tennis-watchers wondered when Williams would succumb to the lure--some young women in tennis entered professional competition at the age of 14, dropping out of school and playing the tournament circuit, and earning large sums of money either by winning prize purses or signing lucrative product endorsement contracts. It was a potentially disastrous situation for many young players. Richard Williams appeared on the ABC news program Nightline in the summer of 1994 after former preteen tennis prodigy Jennifer Capriati was arrested and faced drug charges, and declared he'd never allow Venus to turn pro at such a young age. He was criticized, however for wearing a hat and vest bearing the logo of a sports-energy food product during the television interview.
Turned Pro at 14
Surprisingly, Williams turned pro just a few months later. Her debut came in October of 1994 at the Bank of the West Classic in Oakland, California. There, the 14-year-old beat the woman ranked number 59 in the world, Shaun Stafford, then went on to give Arantxa Sanchez Vicario--women tennis's Number 2 player--a good game before losing. "She's going to be great for women's tennis," Stafford told the New York Times's Finn. Some wondered, however, why Williams had suddenly entered the professional circuit, but new rules adopted by the Women's Tennis Council of the World Tennis Association at the time may have provided just cause. After the close of 1994, 14-year-olds were barred from turning pro, and young women under 18 who entered the competition level from 1995 onward were limited in the number of tournaments in which they could participate.
Though she had skated into the professional level exempt from these rules, Williams restricted her schedule anyway. She stayed in school and did not appear again on the pro circuit until an August 1995 event, the Acura Classic in Manhattan Beach, California; she lost in the first round. Some tennis analysts noted that because she lacked the junior-tournament experience, Williams had not learned to inject a competitive edge to her game. Her father has tried to rectify this, sometimes by rooting against her in public matches. Conversely, he told New York Times Magazine writer Pat Jordan, "Every time she loses, I pay her $50."
As the New York Times Magazine profile pointed out, however, the dedicated fathers of women's tennis are sometimes problematic: Steffi Graf's father was charged with tax evasion, and she herself was nearly arrested for complicity; an American teenage player, Mary Pierce, had to obtain a court restraining order against her father. Richard Williams was well aware of the dangers of the sport on young women, though, and controlled his daughter's career in order to avoid problems. He saw the lesson in Capriati, who turned pro at 14. "At 15, she lost her smile," he told Jordan in the New York Times Magazine. "At 16, there were problems. What happened? I want to make sure that doesn't happen to my kids," he added.
Venus's younger sister, Serena, also showed great promise as a player. Richard Williams predicted that some day the pair would have to play against one another for the women's world title, but he often received more press than either of them. "Richard Williams has been called a 'liar' and 'genius' and everything in between," wrote Higdon in Tennis magazine. The senior Williams asserted that his family did not receive any endorsement money from wearing the logo-emblazoned clothing of one sportswear maker at public appearances, but a spokesperson for the company said they had indeed paid him a consultant's fee. Yet Williams has also been lauded for shepherding his daughter's career down a non-traditional path that kept the focus on her education and allowed her to mature outside of the competitive pressures of the pro circuit. Newspaper reportage about Venus often remarks on her self-assuredness and impressive vocabulary. Her father and Macci, Finn wrote in the New York Times, "have produced a player who appears to possess wit and wisdom beyond her years--with a serve, volley, and vocabulary to match."
Adjusted to Competition
Again Williams stayed out of the limelight for much of 1996, and in the spring of 1997 made her debut at the French Open. A month later, as she turned seventeen, she traveled to England for Wimbledon, perhaps the sport's most famous tournament. Serena and Oracene Williams came with her to lend support, but her father stayed home. She received a great deal of attention, but had a poor showing and lost to Magdalena Grzybowska. "By the time it was over...Williams stood revealed as a huge talent with little idea of how to adjust to an opponent or adversity," wrote S. L. Price in Sports Illustrated. She remained imperturbable, though. "It's my first Wimbledon," she told reporters. "There will be many more."
Her father asserted that his daughter's "only weakness is she's overconfident," he said in the New York Times Magazine. Williams's U.S. Open performance in the late summer of 1997 went somewhat better: she advanced from 66th to 25th in the rankings in one day. "Williams's progress as a player was undeniable; almost overnight she had become a force every player but one fears," wrote Price in Sports Illustrated, referring to Martina Hingis, who would take home the title. Both young women were the same age, but Hingis had far more professional competition experience. Still, insiders predicted future greatness for Williams. Pam Shriver, a former U.S. Open titleholder, once played in a training match against Serena and Venus, and she told Higdon in Tennis magazine that Venus "didn't know tactically how to play points yet, but she had weapons and has this natural way of intimidating."
Unfortunately, Williams's U.S. Open showing was clouded by charges of racism. Her father, in a telephone interview, told journalists that some of the other players had directed racial epithets toward his daughter. Gracefully, the teenager tried to deflect attention from the potential furor at a press conference, but her father's comments caused some watchers of the sport to note this may limit her chances of obtaining endorsement contracts. Other African-American players have hinted that subtle discrimination does indeed occur in what has been called a "country-club" sport, and some of Williams's white competitors on the diva-rife circuit have accused her of not smiling, or of not being friendly enough. "Why don't you guys tell me what they want me to do?" she queried reporters at one press conference, according to Sports Illustrated. "They should come up to me and say, 'Venus, I want you to smile so I can feel better.'"
While the hints of racism continued to plague Williams, she nevertheless proved to be a fearless opponent. Over the next few years, Williams improved her game, and lost weight and the hair beads--she'd been fined when they spilled on the court. In 2000 Williams won Wimbledon by defeating Number 2-ranked Lindsay Davenport; Williams became the first African-American female since Althea Gibson to win at Wimbledon. Venus and Serena also won the doubles' title, becoming the first set of sisters to do so. When the two faced off in the Wimbledon singles' semifinals, it had been over 100 years since a sibling showdown. In the same year, Williams also won two Olympic gold medals in singles and doubles with her sister, Serena, as her partner. She continued the success of her first Grand Slam by winning the U.S. Open in 2000.
Rose to the Top
After a stellar 2000 season, Williams needed to prove to the tennis world that she was going to continue to win championships. The first step on that road was to defend her Wimbledon title. To the amazement of most, she did, defeating Justine Henin in three sets. Next in line was to defend her U.S. Open title. She battled it out through the semi-finals, until she met her opponent for the final: her sister, Serena. Both sisters made history once again by being the first set of sisters to play against each other in U.S. Open history. Venus defeated Serena, winning her second back-to-back grand slam tournament game.
Williams would come out on top in December of 2001 when Reebok re-signed her to a $40 million contract that was believed to be the most lucrative and comprehensive endorsement deal ever created for a female athlete. Of Williams, Reebok said in Footwear News, "Venus Williams is arguably the most admired female athlete and among the most recognizable and exciting young women in the world." Williams has also won numerous honors and awards in 2001, including: being named Ms. Women of the Year (along with Serena), by Ms. magazine. She was also named Female Player of the Year by Tennis magazine. She expanded outside of tennis by designing a clothing line for clothing company Wilsons. She has inked deals with not only Reebok, but also Wrigley gum, makeup giant Avon, and Nortel Networks. Many have criticized Williams for not being focused on tennis, including tennis legend Martina Navritolova, who was quoted in Time as saying her outside interests shows "arrogance and lack of commitment to tennis." Even her father felt that Williams should choose between tennis or the distractions, telling the Florida Times Union, "If it was up to me, I told Venus two or three years ago that she should retire. I think she should."
Despite the distractions, Williams rose to the top of women's tennis. In March of 2002, Williams reached her ultimate goal, earning the top ranking from the Women's Tennis Association. In an interview with Jet she said, "I'm very excited about this achievement and look forward to building on it. I have worked hard for it. I hope I can keep it." Keeping that ranking was not so easy, however, and some of the most intense competition she faced was from her sister. In both 2002 and 2003, for example, the Williams sisters faced off in the finals at Wimbledon; both times, Serena emerged triumphant and seized the top ranking from her sister.
Struggled to Maintain Dominance
Though 2002 was the year in which Venus Williams dominated tennis, she has been in contention for many titles in every year since. Williams, who missed the 2003 U.S. Open because of an injured stomach muscle, won two tournaments in 2004; her furthest penetration into a Grand Slam event that year was the French Open, where she reached the quarterfinals.
In many ways, Williams seemed to have things other than tennis on her mind. In 2005, Williams and her sister Serena starred in a six-episode reality show on ABC Family. They also published a book, Serving from the Hip: 10 Rules for Living, Loving and Winning, with Houghton Mifflin. Serena Williams told Yanick Rice Lamb in Black Issues Book Review that the book "talks about a lot of stuff--every issue that preteens and teens might have to deal with. We consider ourselves role models, and we wanted to do something positive for kids." Venus Williams added, "It was something that we had to do to pass on our knowledge, what we've gone through."
In the summer of 2005, Williams, who had slipped to the No. 16 spot in world rankings, perhaps because of the distractions of the book and television show, was knocked out of the French Open in the third round by 52nd-ranked Bulgarian player Sesil Karatantcheva. However, Williams fought hard and came back to win a third Wimbledon championship later in the summer. Her opponent, No. 1-ranked Lindsay Davenport, told S. L. Price in Sports Illustrated, "She just took it away from me. She just was...incredible." Williams said of her win, "I was just thinking, I've got to stay tougher. I've got to stay tougher than whoever's across the net." Later in the season, Williams defeated her sister, Serena, in the fourth round at the U.S. Open in New York; it evened their record in head-to-head matches at seven victories apiece. To top off a wonderful year, Williams was even featured in the swimsuit edition of Sports Illustrated.
The year 2006 was a down year for Williams, who spent the first third of the year recovering from injuries before getting knocked out of every tournament she entered without reaching the finals. Again, Williams's critics claimed that distractions kept her from playing great tennis. She began 2007 ranked 39th in the world, and promptly withdrew from the Australian Open because of a wrist injury. After some lackluster play in early tournaments, Williams came into the annual Wimbledon Championships ranked 31st. Williams started off slowly in a rain-interrupted tournament, but built pace and confidence with every match. By the time she reached the final against Marion Bartoli on July 7, 2007, Williams was back at the top of her game. Delivering blistering serves--one was clocked at 124 miles per hour--Williams destroyed Bartoli 6-4, 6-1 to take the title.
With her 2007 Wimbledon victory Williams laid claim to her sixth Grand Slam singles title and her Olympic gold medal, not to mention six Grand Slam victories each in women's and mixed doubles. Williams's meteoric return to the top of the tennis world pointed to her uncanny ability to rise above the distractions of superstardom to play great tennis. "I always believe in my game," she told Sports Illustrated. "Losing never really crosses my mind." With that attitude, it seems likely that more victories lie ahead.
Williams continued to do well in 2008. That year, she titles at Wimbledon--her fifth singles title there--and the Zurich Open as well as the WTA tour championships at season's end. Williams also won the doubles title and Olympic gold in doubles with her sister that year. In 2009, Williams did not do as well playing singles, winning only the Dubai Tennis Championships and in Acapulco by mid-summer. She lost to her sister in the Wimbledon finals as well. However, she and her sister Serena repeated as Wimbledon doubles champions and also took home the doubles title at the Australian Open. Though Williams was reaching an age when many other women tennis players retired, she said that she and her sister were planning on playing their sport until at least through the 2016 Olympics.
June 4, 2010: Serena and her sister, Venus, won their 12th major doubles championship, defeating Katarina Srebotnik and Kveta Peschke in the French Open womenÆs final in Paris.
PERSONAL INFORMATION
Born Venus Ebone Starr Williams on June 17, 1980, in Los Angeles, CA; daughter of Richard (a security-business owner and daughters' coach) and Oracene (a nurse) Williams Education: Studied fashion design at the Art Institute of Florida. Memberships: Women's Tennis Association.
AWARDS
2000 Olympic Games, Gold Medals in women's singles and women's doubles; 2008 Olympic Games, Gold Medial in women's doubles.
CAREER
Professional tennis player, 1994-; winner of 41 singles titles, 14 women's doubles titles, and two mixed doubles titles.
Read more
Latest headlines