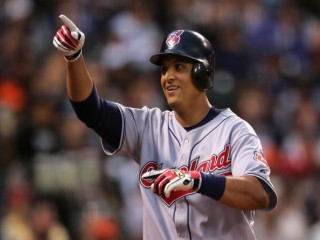 Victor Martinez biography
Date of birth : 1978-12-23
Date of death : -
Birthplace : Ciudad Bolivar, Venezuela
Nationality : Venezuelan
Category : Sports
Last modified : 2010-11-04
Credited as : Baseball player MLB, catcher with the Cleveland Indians,
Victor Jesus Martinez was born on December 23, 1978, in Ciudad Bolivar, in Venezuela. When Victor was a boy, his father—a robust man with no history of illness—died suddenly of a massive heart attack. His mother, Margot, was left to raise four children on her own. A nurse, she was employed at one hospital in the mornings and another in the afternoons, putting in 12-to-16 hour days. Victor was old enough to understand the sacrifices his mother was making. He vowed that someday he would step into the bread-winner's role.
Victor's first experiences on the diamond came in softball games played on the field across the street from his house, when he was six-years-old. He idolized Chicago White Sox All-Star Ozzie Guillen, so he eventually muscled his way into the infield at shortstop. The boys on his team all switch-hit for fun during practice, so Victor could already mash from both sides of the plate when was introduced to hardball.
One day when Victor was 12, he and his mother walked past a sporting goods store. He stopped to admire a new Mizuno fielder's glove in the window, knowing there was no way the family could afford it. Margot started playing the lottery, and hit a number. Victor got his glove after all.
Like his idol Guillen, Victor honed his hitting skills and was a fundamentally sound defensive player. He was quicker than the other boys at picking up the nuances of the game, and soon was competing—and holding his own—against adults.
Victor eventually grew to six feet tall, and was beefier than most teenagers playing in the area. He also had a cannon for a throwing arm and decent speed. That convinced Indians scout Luis Aponte that the teenager was worth a look. Victor signed with the Tribe for $8,000 in 1996, at the age of 17. Victor also met his future wife, Margret, around the same time. She worked down the street from his house. All things considered, it was quite a year.
Victor worked out at shortstop at the team's training center in '96. Already a big kid, and not exactly fleet of foot, he gave his coaches a lot to think about. They wondered whether he might outgrow the shortstop position. Hoping to find a place for his potent bat, coach Minnie mendoza told Victor that he would be converted to catcher in 1997. The Cleveland farm system, Mendoza said, was short on backstops. Victor took this news badly. He thought it was the organization's way of saying they had made a mistake in signing him. He called his mother to ask if he should quit. Margot instructed him to hang in there.
Victor arrived in camp in the spring of 1997 to find that he was one of about 20 catchers. It was at this moment he realized that he would have to work harder than the other guys to become the best receiver in camp. Part of this process meant swallowing the pride he had built up as a switch-hitting shortstop. He showed the club that he was willing to be a blank slate—he asked a lot of questions and learned the ropes quickly.
Victor was assigned to the Indians' club in the newly formed Venezuelan Summer league. By the end of his first season, he had distinguished himself as the best catcher in the league. In 53 games, Victor batted .344 to lead the league. He also spent a second season in the VSL in 1998, and though his average dipped to .269, he continued to make great strides at his new position.
ON THE RISE
After the '98 campaign, the Indians decided that Victor was ready to come to the United States. They assigned the 20-year-old backstop to the Mahoning Valley Scrappers of the NY-Penn League for 1999. Playing for Ted Kubiak, Victor handled a pitching staff that included future big leaguers Ryan Drese and C.C. Sabathia, and helped the team finish with the league's best record. Victor batted .277 with four home runs.
With the Scrappers, Victor gained a reputation for starting slowly and finishing strong. This would be the case throughout his climb to the majors. The Indians saw this as a positive—when he encountered an obstacle, be it physical or mental, he never panicked and eventually overcame it. This was the case in 2000, when he split time between Kinston and Columbus. Victor played 26 games and batted just .217 for Class-A Kinston, but hit .371 after receiving a slight demotion to Class-A Columbus. The Southern League batting leader, J.R. House, hit .348. Victor lacked the official plate appearances to qualify for his second batting title.
Victor's next try at Kinston was a success. He logged the entire 2001 season with the Indians, who ran away with the Carolina League pennant undewr manager Brad Komminsk. Victor coaxed a good performance out of a staff that was bereft of blue-chip talent, and batted .329 with 10 homers and a .488 slugging mark. He was voted the league's MVP, and went from spare-part status to the top prospect in the entire organization.
In 2002, Victor was invited to spring training with the big club. Despite the defensive improvements he had made the previous season, he saw that he had a way to go before becoming major-league ready. Still, he was determined to make it out of Class-AA ball that season. Victor also began working with Hall of Famer Eddie Murray, a fellow switch-hitter who was in camp as a batting coach. Murray began telling people that Victor was already good enough to hit in the majors.
Victor worked feverishly to plug the remaining holes in his game while catching for Class-AA Akron in 2002. Playing for Komminsk again, he blossomed into a power hitter, with 22 homers, a league-high 84 runs, and a third batting championship at .336. Victor earned honors as Eastern League MVP, as he led the Aeros to 93 wins—more than any other team in the minors.
After the Eastern League playoffs, Victor joined the Indians. He got into 12 games, and batted .281. He hit his first home run off Darrell May of the Kansas City Royals. During Victor's stay with Cleveland in 2002, interim manager Joel Skinner, a former big-league catcher, showed him some tricks of the trade, including tips on footwork and throwing mechanics. The plan was for Skinner to step back into a coaching role the following season, which suited Victor just fine.
In 2003, the Indians did indeed hire a new man to run the club, Eric Wedge. Like Skinner, Wedge was a former backstop. He had several heart-to-hearts with Victor and let him know what catching in the majors was all about. Wedge explained that you have to get to know your pitchers, and you have to llive and die with them. You have to baby them sometimes, and you have to put your foot down other times. Though a tall order for a young catcher, Victor understood, and during a half-season at Class-AAA Buffalo, he showed he could handle the respnsibility. And despite being pitched around for the third year in a row, he hit .328, erasing any lingering doubts about whether he could survive against big-league pitching.
The Indians recalled Victor at the end of June and made him their semi-everyday catcher the rest of the way. Working with Chris Bando in Buffalo, he had improved his ball-blocking technique, quickened his release and put a little more mustard on his throws, convincing Wedge he could limit the running game. Victor's numbers offered further proof, as he gunned down eight of 28 runners in 49 games behind the plate.
Victor did well enough with a bat in his hands, hitting .289 in 159 at-bats. While he mostly drove pitches the other way for singles, buried in Victor's stats was something that excited the team. The rookie had batted .412 in clutch situations—tops on the Indians.
Victor decided to remain in Cleveland over the winter and train with the Cleveland staff. Many areas of his game needed further improvement, and he also had to turn some of his pudge into muscle. When spring training began in 2004, he was a new player, and a new man. Victor was more focused on what it would take to handle the Tribe's young pitching staff, and he revealed a newly sculpted upper body.
MAKING HIS MARK
For the first time in his career, Victor got off to a blazing start. In a lineup that included sluggers like Travis Hafner, Casey Blake, and Ben Broussard, it was Victor, however, who was anointed the cleanup hitter in early May. All he did was lead the league with 30 RBIs that month.
Victor was hitting .290 with 12 homers and 63 RBIs at the halfway mark, and made the AL All-Star squad. He ended the year with 38 doubles, 23 homers, 108 RBIs and a .283 average. The Indians got fine offensive years out of Hafner, Blake and Ronnie Belliard, and terrific pitching from Sabathia, Jake Westbrook and Cliff Lee. They ended up with 79 wins—an 11-game improvement over 2003.
Despite having the starting job all to himself, Victor entered 2005 hungry to improve. In spring training, he often headed over to the minor-league complex in the afternoon so he could get in extra work. Once the season started, Victor established himself as a team leader behind the dish, at the plate, and in the dugout.
Before each game, the Indians go through a ritual they call "Victor Time." Victor looks each starting player in the eyes before taking the field, and gives an elaborate, customized handshake. That kind of leadership paid eye-opening dividends in '05, when the Indians mounted one of history's great comebacks to nearly erase a 15-game deficit to the division-leading White Sox—in the final five weeks!
Cleveland, written off in July when its best hitter, Hafner, was hit in the face by a pitch from Mark Buehrle, ran off one victory after another as the ChiSox began to fold. The additions of Kevin Millwood and Aaron Boone, and a lights-out year from closer Bob Wickman—plus the ascent of young stars Grady Sizemore and Jhonny Peralta—sparked the Tribe as they became the hottest team in baseball. The Indians lost a handful of heartbreakers down the stretch, but remained in Wild Card contention until the final day of the season.
Victor got it done at the plate in 2005, surviving an April-May slump to reach 20 doubles and 30 homers again. He topped the .300 mark for the first time as a big-leaguer, and was among the league's slugging leaders at .475.
In an attempt to recapture their dominance of the AL Central during the 1990s, the Indians have moved to lock up a core contingent of young players with long-term deals. In the spring of 2005, they inked Victor to a five-year agreement worth more than $15 million. It was the largest contract ever offered to a catcher who was not arbitration-eligible. With insurance companies refusing to cover deals longer than three years, it could be said that the Indians took a gamble with Victor. Cleveland fans would beg to differ. To them, Victor is money in the bank.
VICTOR THE PLAYER
The major leagues are full of guys who look like champs in batting practice but to turn chumps when the game begins. Victor is the opposite. When he steps into the cage, he is hardly a head-turner. He is there to loosen up and work on a few little things. Against game pitching, however, he is a determined run-producer who does whatever it takes to bring a man in from second or third.
Victor is something of a free swinger with the bases empty, but he becomes very disciplined with men on base. Like most switch-hitters, he prefers the ball low as a lefty and high as a righty.
As a catcher, Victor has improved steadily in all departments. Though he is unlikely to win a Gold Glove, he brings something to his position that many other catchers do not—he cares. He takes wins and losses personally. That's one of the things that also makes him a great leader.
Read more
Latest headlines