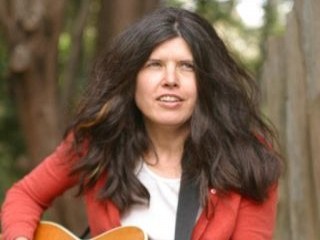 Victoria Williams biography
Date of birth : 1958-12-23
Date of death : -
Birthplace : New Orleans, Louisiana,U.S.
Nationality : American
Category : Arts and Entertainment
Last modified : 2012-03-15
Credited as : Musician, Songwriter,
Victoria Williams is an American student and musician, originally from New Orleans, Louisiana, although she has resided in Southern California throughout her musical career. She is noted for her descriptive songwriting talent, which she has used to immerse the listener of her songs into a vivid feeling of small-town, rural Southern upbringing and life.
Victoria Williams labored in relative obscurity for years before being thrust into the pop limelight. While such a career arc is not unusual in contemporary music, Williams's experience--like the homespun magic of her songs--has a twist. It wasn't until she was diagnosed with multiple sclerosis (MS), a debilitating neuromuscular disease, and a number of alternative heavyweights played her material on a benefit album, that she got the attention she'd long deserved as a songwriter. Her subsequent recordings and performances have only strengthened her reputation.
While much ink has been spilled about her triumph over the illness, less has been said about the qualities of her work that have made her unique. Her distinctive vision as both performer and composer-- redemptive, eccentric, good-humored--has transported a growing audience of fans. "You can't categorize the music--she's found a home in church hymns, psychedelic rock, root country, and [jazz-pop standard] 'Moon River,'" reflected Victoria Cardaro in Spin. "But from her songs you know what's important to her--nature, faith, generous souls, all filtered through a loopy sense of humor." Noted Musician reviewer Jon Young, "Victoria Williams' generosity of spirit is a welcome tonic, whatever one's faith."
Williams was born in Louisiana to a Methodist family, and as a teen she reacted against the conservatism in her home the way many teens do. "Yes, I was rebellious," she confessed in the Los Angeles Reader. "I liked to listen to music really loud. I was a real freak." Pursuing a variety of "tomboyish" activities--and, later, jobs--she had difficulty conforming to the Southern ideal of femininity. In her adolescence she tried being a cheerleader and endured derision from her peers "because I was a little wacky, I guess."
It was in music that she found solace and a fitting means of expression. As a college student majoring in music and French she joined the group G. W. Korners. The band plied its bluesy material around Louisiana and East Texas; Williams played guitar and sang backup vocals. She eventually left school and traveled to Colorado on her own, working in a resort area laundry. The mindlessness of her work, she reflected in Option, inspired her to write songs. "After a while, my mind began to wonder, and this little theme would start in my head. And I'd sing out this continuing story that included people who worked in the laundry or at other parts of the ranch. There were other girls who really liked them, but there was this older man and woman who got nervous about them. I think they were used to it being nice and quiet." She moved on to kitchen detail and then became a tour guide on the resort's trail rides. At the campfires she played guitar, leading sing-alongs and sneaking in her own compositions whenever possible.
After indulging her wanderlust for a time with her sister--singing for meal money at truckstops--Williams made her way to Los Angeles. She had been told of the city's charms by musician friends. "They talked me into going to L.A.," she recalled in an interview with Erik Himmelsbach for the Los Angeles Reader, "but I was always California dreaming when I was a child. I had the seed planted with the flowers in your hair." It was at the "hoot nights" hosted by the city's famed club the Troubadour that she began to make an impression. "I was crazy back then," she told Option. "I billed myself as 'Louisiana Williams and Her Dog Liza,' after this former pet of mine that I really missed. I'd always say that my dog was gonna be with me, but she was never there." The hardscrabble life of the club scene (and sleeping on friends' floors) drove her back to Louisiana within a few months. But after trying to get things going with G. W. Korners--members of which had fallen into drug abuse--and an abortive stint in New Orleans, she again moved to L.A. in 1984.
Williams worked as a waitress in a restaurant that served Southern food, charming customers with her drawling sweetness and off-kilter warbling. Sleeping in her car with, as she recounted in the Reader, "my granddaddy's hat [and] a quilt that my grandmother made for me," she once again set her sights on the club scene. "After seeing her on stage, I was totally taken by her charm," club owner Jean-Pierre Boccara told Himmelsbach. "At first [audience members] say, 'Who is she, what is this? It's kind of weird because it's quirky.' After they listen a few times, they think she's fantastic." Unfortunately, Williams entered a record contract with the EMI label and then saw the person who signed her get fired; as a result, she was unable to release anything and had to wait until the contract ran out.
Shortly after moving to Los Angeles, Williams met Peter Case, a singer-songwriter who'd been a member of local heroes the Plimsouls. They married after a long friendship (and musical collaboration) that blossomed into romance. In the meantime, a single she recorded caught the attention of Geffen Records, and she was persuaded to enter another deal. This time she got to make a record--1987's Happy Come Home--but the experience was not a pleasurable one. Geffen overrode her chosen producer and paired her instead with Anton Fier, drummer and coordinator of the floating supergroup the Golden Palominos. Fier's descent into booze during the making of the record added to Williams's discomfort. The record failed to find an audience upon its release and tanked commercially. It does, however, contain a number of songs that have become standards in her repertoire, including and "Frying Pan" and "Opelousas."
She left Geffen and returned to Rough Trade, the indie label that released her single, and recorded her sophomore effort, Swing the Statue. While the recording process itself was less vexing, Williams endured another painful ordeal during this period: the dissolution of her marriage to Case. By the time the tracks for Statue were being set down, they were going through a divorce. But the tension did not affect her music; most critics agree that Williams's second album shows her growing breadth as a songwriter and singer. Musician Willie Aron, who played on Statue, reflected on Williams's artistic temperament in Option. "Everyone has influences, but I think she's completely original," he observed. "She's just a beautiful spirit, really pure. She's very unjaded and uncynical--that doesn't mean she's not difficult. She can be difficult to work with."
Williams went on tour with one of her many fans, Neil Young, in 1992. She told Himmelsbach that she was onstage "opening for three thousand people, and the next thing you know, I could hardly walk. The guys in the crew said, 'Vic, you gotta find out what's wrong with you.'" Diagnosed with MS, she found her strength deteriorating rapidly; soon she was confined to a wheelchair. Since she had no medical insurance, she was quickly overwhelmed financially as well as physically.
Fortunately, the love and admiration of her peers came to the rescue. A diverse group of performers participated in a series of concerts to raise money for the Sweet Relief Foundation, helping Williams and others in her predicament pay for much-needed medical care. The concerts were successful enough to motivate a tribute album, Sweet Relief, which included renditions of her songs by Lou Reed, Pearl Jam, Soul Asylum, Maria McKee, Michelle Shocked, Matthew Sweet, and others. This recording didn't just help Williams pay her bills; it also gave her vital moral support. "I was thankful to God and his creations for doing that," she declared in the Reader, adding that hearing these other artists' renderings of her material made her "feel more accepted." Sweet Relief earned critical plaudits, raised a substantial sum for the foundation, and helped her land a new record deal.
In late 1993 Williams--who rebounded so much through various treatments that she could not only walk but could play guitar again--married her new beau and old friend Marc Olson, singer-guitarist in the Jayhawks. The next year saw the release of a new studio album, Loose, on the Mammoth label. Featuring appearances by Olson, Soul Asylum's Dave Pirner, and other pals, the album showed a new maturity and grace in her work. Critics lavished her with praise, and new fans were won over by the kind of incandescent, spontaneous concert that was captured on the 1995 live disc This Moment: Live in Toronto.
In the words of Rolling Stone contributor Tom Moon--in a review of a similarly surprise-filled performance in New York--"it seems that awareness of life's fragile, transitory nature has sharpened Williams' artistic sense, her definition of what's possible." But while the drama of her illness and subsequent tenacity has made for compelling journalism, the songs of Victoria Williams have introduced listeners to a more universal story. Her own humble description of her creative process cuts to the heart of the matter: "I kind of make stuff up," she commented in the L.A. Reader. "I take things and I take them somewhere else."
Williams also plays in a band called The Thriftstore Allstars, a group of accomplished touring musicians who regularly play in Joshua Tree, California. The Thriftstore Allstars play what their MySpace page calls "loose drunken square dance country gone electric fantasmo."
In early 2009 Williams commenced the recording of a new album of original material in Tucson with Isobel Campbell producing. In May 2009 Williams and Olson reunited with fellow Creekdipper Mike Russell for a one-off performance at an exhibition opening being stage at the True World Gallery in Joshua Tree, California. In July 2009 Williams embarked on a tour of Australia and New Zealand with Vic Chesnutt, but he died of an overdose of muscle relaxants December 25, 2009. In fall of 2010 she toured Spain and Switzerland with Simone White and in late in 2011 Williams returned to the studio to record another vocal for Robert Deeble for the album Heart Like Feathers which released February 2012.
Read more
Victoria Williams Picture Gallery
Latest headlines