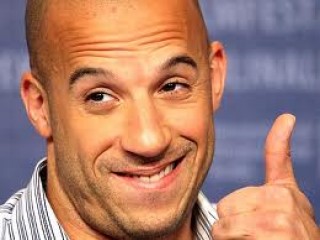 Vin Diesel biography
Date of birth : 1967-07-18
Date of death : -
Birthplace : New York City, New York, U.S.
Nationality : American
Category : Arts and Entertainment
Last modified : 2011-09-15
Credited as : actor, film producer and director, Fast and Furious, XXX
Vin Diesel
is an American actor, writer, director and producer.
A small role in the award–winning movie Saving Private Ryan provided Vin Diesel with the recognition he needed to make his move on Hollywood. The film The Fast and the Furious catapulted him into action–hero stardom. With roles in that film and XXX, he is set to take over where previous action stars like Bruce Willis, Sylvester Stallone, and Arnold Schwarzenegger have left off.
His fast and furious ride to the top of the A–list of action movie stars may seem like a smooth ride to those on the outside, but it is the result of years of preparation plus a life–changing phone call from Steven Spielberg. Diesel's smooth, deep voice and shaved head are the trademarks of a driven man who made his own way when no one else would give him a chance. John Horn of Newsweek wrote of Diesel, "His real draw is a mysterious multicultural look that links him to young men and a surprising number of women of all ethnicities."
Born
Mark Sinclair Vincent
on July 18, 1969, in New York, New York, Diesel never knew his biological father. He was raised by his mother, Delora, and stepfather, Irving Vincent. Delora was an astrologer and Irving was a theater director and teacher. Diesel grew up with his fraternal twin, Paul, who is now a film editor, and his two sisters in Greenwich Village. Because he never knew his biological father, Diesel is reluctant to discuss his racial background. Instead he chooses to remain mysterious about it, insisting that his ethnicity is of no consequence to the kinds of roles he can play.
Diesel and his family lived in Westbeth Artists Housing in Greenwich Village. The government–funded housing was built in the 1960s as a way to assist artists struggling at the beginning of their careers by providing them with affordable housing. By virtue of Irving Vincent's work as a theater director and drama teacher the family was able to live in the project during Diesel's childhood.
When Diesel was seven years old, he and some friends broke into a local theater. As they were messing around inside they were discovered by the artistic director of the Theater of the New City, Crystal Field. Instead of calling the police or kicking them out, Field gave the children scripts as well as $20. She told them to come back every day after school, learn lines from the script, and she would give them each $20 a week for their participation. Diesel claims that from then on he was hooked on acting. He appeared in Off–Off–Broadway productions throughout his teen years and into his twenties.
At age 17, Diesel decided to take advantage of his big physique (he is more than six feet tall and muscle–bound) by working as a bouncer. This line of work left his days open for auditions and gave him his new name. He explained to Jess Cagle of Time, "The name Vin Diesel came out of the bouncing thing. We all had nicknames. It was a wonderful thing to detach a little bit." Diesel worked as a bouncer for nine years while trying to make his way as an actor.
While Diesel was working as a bouncer at such hotspots as the Tunnel, he attended Hunter College. He majored in English and studied creative writing, learning how to write screenplays. After three years at Hunter College, Diesel dropped out and moved to Hollywood. A year in Hollywood left Diesel with no offers and a sense of failure. He returned to New York where the gift of a book helped him refocus.
That book, Feature Filmmaking at Used–Car Prices by Rick Schmidt, inspired him; he went on to write, produce, direct, and star in a short film called Multi–Facial. Echoing Diesel's own experiences, the short was about an actor who couldn't find work because he was never the right color for the part he was auditioning for, even though he always excelled at playing the parts. Made for around $3,000, the film was shot on 16mm film and made in three days.
Multi–Facial premiered at the Anthology Film Archives in Manhattan. Diesel described the effect of that night to Jamie Allen of CNN.com , "That night changed my life completely. I still went through a few more years of sleeping on couches and struggling and taking odd jobs outside film. But I knew my life had changed." From its premier in Manhattan the film went on to play at the Cannes Film Festival in 1995.
Multi–Facial changed Diesel's life, but it was almost shelved. During the making of the film, Diesel was receiving feedback that was not positive; he did not want to continue making the movie. However, advice from Diesel's stepfather put him back on track to finishing the film. He told CNN.com 's Allen, "It was an important lesson for me to learn, to be thorough, to finish what you start."
Feeling confident from the success of his short film at Cannes, Diesel returned to Hollywood intent on making a feature–length film. Diesel worked as a telemarketer selling tools and raised $50,000 to make Strays. Once again, he wrote, produced, directed, and starred in the film about a streetwise New Yorker who falls in love with a midwestern "girl next door" and the effect that relationship has on his friends. In 1997 the film was accepted to the Sundance Film Festival. Although the film was reviewed positively, Diesel was unable to find a distributor for it. He returned to New York to figure out what to do next.
While dealing with the disappointment of not finding a distributor for his film Strays, Diesel received a call out of the blue. Steven Spielberg, the noted director of such films as Schindler's List and Jurassic Park, was calling to ask Diesel to be in his next film. Spielberg had seen Diesel's short Multi–Facial at the Cannes Film Festival and was impressed with the actor's abilities. The role of Private Adrian Caparzo had been written into the already finished script of Saving Private Ryan to accommodate Spielberg's desire to cast the actor. Spielberg's interest did not stop with casting. While filming, Spielberg discussed shots with Diesel and even allowed him to film a few scenes.
Saving Private Ryan was successful and won several awards. The film gave Diesel the exposure he needed to launch his career in Hollywood. From there, Diesel went on to the lead voice role in the animated film The Iron Giant. He also played a crooked stock broker in the film Boiler Room. That film has special relevance for Diesel who feels the film helped him pay his dues for his telemarketing days. He told CNN.com 's Allen, "I did Boiler Room to redeem myself By doing this film, I put out the message that anytime anybody calls you to sell anything, hang up the phone."
From playing an Italian–American stock broker dressed in expensive suits, Diesel went on to play a serial killer in a muscle shirt in the Australian film Pitch Black. In the film, Diesel plays Richard Riddick, a convicted killer who has crash landed on a deserted planet with his captors. He becomes the only means of survival for the crew once the inhabitants of the planet, large man–eating creatures, start killing off everything that walks.
Pitch Black brought Diesel a small—yet adoring—set of science fiction fans. That fan base grew when he starred in The Fast and the Furious, which was released in 2001. As Dominic Toretto, Diesel plays the leader of a gang that hijacks trucks for their cargo. The gangs are also into high–speed street racing. The slick action film highlighted Diesel's sex appeal and became one of the top ten grossing films of 2001.
Riding high on the wave of excitement created by The Fast and the Furious, Diesel teamed up with its director, Rob Cohen, to star in XXX, which was released in 2002. Branded as the secret agent for the extreme sports generation, Diesel's Xander Cage is meant to replace the martini–sipping image created by the James Bond films with a tattooed, hard–edged thrill seeker. He explained his attraction to the character and the film to Jet: "The idea of giving birth to a new breed of secret agent was interesting and challenging.… I like the idea that someone like Xander could be called upon to step into the shoes of professional secret agents. Taking a guy who's the least likely to want to save the world, and having him do just that, fascinates me."
Diesel's sudden rise to stardom also helped bring another film back from the dead. He had been part of an ensemble cast in a gangster film called Knock-around Guys. Its distributor, New Line Cinema, had shelved the film, which contained appearances by veteran actors John Malkovich and Dennis Hopper. The fame that Diesel gained from The Fast and the Furious convinced New Line Cinema to finally release the film.
Stardom has also allowed Diesel to command increasingly higher salaries. For Saving Private Ryan, Diesel earned $100,000. His role in The Fast and the Furious earned him $2.5 million. After the success of The Fast and the Furious his salary rocketed up to $10 and $11 million dollars for XXX and the sequel to Pitch Black respectively. For the sequel to XXX, to be released in 2005, he will be earning $20 million.
With the power that comes from being an A–list action hero, Diesel still takes the time to indulge his other interests. A fan of video games as well as Dungeons and Dragons–style multiple–player games, Diesel announced in 2002 his decision to form a videogame company. He was being asked to contribute to so many other video game projects that he decided to form Tigon Games to see if he could do it on his own. He reported that his first game will be based on a 1970s New York policeman named Perrone.
Diesel also formed his own production company called One Race Productions. One Race is responsible for producing the sequel to XXX as well as an upcoming film about Hannibal Barca, the Carthaginian general who led an unsuccessful attack on Rome in the third century B.C. Diesel also continues to write screenplays. He is working on one based on his years as a bouncer called Doormen.
Diesel lives in Los Angeles with his Staffordshire bull terrier named Winston. He claims not to be romantically involved with anyone. In fact, he is amused by who the media often state he is dating. He told Anderson Jones of E! Online, "If I'm not playing Sony PlayStation or rereading a classic … my friends and I get on the Internet and find out who I'm dating, and it's always hysterical."
Diesel's biggest hope for the future is to play roles outside the action–hero genre. His talent and interests span a wide range of genres. Tigon Games and One Race Productions are likely to keep Diesel busy in between film shoots. While it is obvious that Diesel worked hard to gain the recognition that got him started in Hollywood, he told Nick Charles of People, "At the end of the day, I'm just a lucky kid from New York."
Awards:
- Best on–screen team (with Paul Walker), MTV Movie Awards, for The Fast and the Furious, 2002.
Actor in films:
- Multi–Facial (also writer, producer, director), 1994;
- Strays (also writer, producer, director), 1997;
- Saving Private Ryan, 1998;
- The Iron Giant (voice), 1999;
- Boiler Room, 2000;
- Pitch Black, 2000;
- The Fast and the Furious, 2001;
- Knockaround Guys, 2001;
- XXX, 2002;
- A Man Apart, 2003.
Read more
Latest headlines