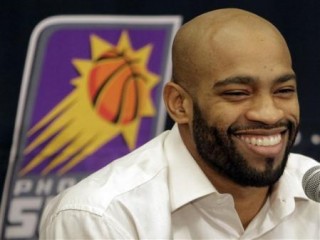 Vince Carter biography
Date of birth : 1977-01-26
Date of death : -
Birthplace : Daytona Beach, Florida, USA
Nationality : American
Category : Sports
Last modified : 2010-08-04
Credited as : Basketball player NBA, guard for the Phoenix Suns, NBA Draft
Vincent Lamar "Vince" Carter is an American professional basketball player for the
Phoenix Suns
. He is a shooting guard who can also play small forward.
2009-10 SEASON:
Played in 75 games (74 starts) with Orlando, averaging 16.6 ppg., 3.9 rpg. and 3.1 apg. in 30.8 minpg….Shot .367 (119-324) from three-point range and .840 (257-306) from the free throw line…Ranked 27th in the NBA in free throw percentage…Also played and started in all 14 playoff outings, averaging 15.5 ppg., 4.2 rpg. and 2.3 apg. in 34.3 minpg….Led (or tied) the team in scoring 24 times, in rebounding twice and in assists 14 times…Scored in double figures 60 times, had 20+ points 25 times and 30+ points twice, including a season-high 48 points on Feb. 8 vs. New Orleans…Became just the fifth player in franchise history to score 48-or-more points…Had one double-double: 17 points and a season-high 10 rebounds on Feb. 2 vs. Milwaukee…Dished out a season-high eight assists on Mar. 17 vs. San Antonio…Recorded at least one steal 37 times, including a season-best four steals on Dec. 25 vs. Boston…Tallied his 1,000th career NBA steal on Jan. 25 @ Memphis…Moved into 42nd on the NBA's all-time scoring list, passing Terry Cummings (19,460 points) on Apr. 12 @ Indiana.
PROFESSIONAL CAREER:
Named to the All-NBA Second Team in 2000-01 and to the All-NBA Third Team in 2001-02…Eight-time NBA All-Star (2000-07), voted a starter seven times and was the league's leading vote-getter four times…Helped the USA capture the Gold Medal at the 2000 Olympic Games in Sydney, Australia…Appeared in 852 career NBA regular season games with Toronto, New Jersey and Orlando, averaging 22.9 ppg., 5.3 rpg., 4.2 apg. and 1.20 stlpg. in 37.1 minpg….Also played in 56 postseason outings, averaging 23.3 ppg., 6.2 rpg., 4.5 apg. and 1.34 stlpg. in 40.3 minpg….Has five career triple-doubles…Averaged 20+ ppg. for 10 consecutive seasons (1999-2000 to 2008-09)
COLLEGE:
Played in 103 career games during three seasons at the University of North Carolina, averaging 12.3 ppg., 4.5 rpg. and 1.9 apg….Led the Tar Heels to the NCAA Final Four in both 1997 and 1998…As a junior (1997-98), named First Team All-ACC and Second Team All-America, after averaging 15.6 ppg. and 5.1 rpg. in 38 outings…Also led the ACC and was 18th in the nation with a .591 field goal percentage (224-379)…As a sophomore (1996-97), named Third Team All-ACC, averaging 13.0 ppg. and 4.5 rpg.
EARLY YEARS:
Vincent Lamont Carter, Jr.
was born on January 26, 1977, in Daytona Beach, Florida. He was the first of two boys born to Michelle and Vince Carter, Sr. Michelle, was a teacher. Vince's stepfather, Harry Robinson, was a teacher, too. Vince's natural father, Vince Sr., left the family when Vince was in second grade, and they had little contact thereafter. When Vince thinks "Dad," he thinks Harry.
Vince picked up his first basketball at the age of two. He was obsessed with the game, and idolized Julius Erving. He marveled at the Doctor's ability to lift off and hang in the air a half-beat longer than anyone else on the court. He copied Dr. J's moves when he practiced on the playground, imaging himself soaring to the hoop with perfect body control. His moves were so wild that his friends nicknamed him UFO.
Vince's parents encouraged him to find different outlets for his creativity. Harry was a bandleader, and introduced Vince to the saxophone, trumpet and drums. Vince enjoyed drums the best—probably because he had a lot of energy, and liked to be in charge. Keeping the beat for the marching band did the trick.
The countless hours spent on the basketball court began to pay off when Vince was 11. That was the year he first ticked the rim with his finger. He stood just over five feet tall. A year later he threw down his first dunk.
Vince competed in pickup games with older boys, and dunking was a big part of the playground culture in Daytona Beach. The crowds that gathered to watch him play, however, recognized that Vince was about much more than dunking. He saw the court, set up his teammates, and played smart D. His uncle, Oliver Lee, had a lot to do with his development as an all-around player. A star for Marquette, Lee was drafted by the Chicago Bulls in 1981, but failed to make the club. He returned to Daytona Beach, where his legend grew on the city blacktops.
Vince's parents supported his basketball, and held up his uncle as an example of how you could trade your hoops skills for an education. The more serious you were about school, they said, the better college you get into. Vince took this lesson to heart and hit the books all the way through high school.
Vince attended Daytona Beach's Mainland High School and was the star of the freshman hoops team in 1991-92. He was double-teamed constantly, which frustrated him to no end. Once, on a drive to the basket, he left his feet earlier than he planned and rose to the rim. Vince was prepared to toss up a floater or flick in a finger roll, but to his amazement he kept going as the defenders descended and pulled off an amazing dunk. The other nine players on the court stood in slack-jawed awe. The referees had to remind everyone that there was a game going on.
Vince sensed that he might have a real gift with his leaping ability and worked hard to develop it. He also practiced dribbling, passing and shooting with both hands. The following year he made the Mainland varsity. He was six feet tall and still growing, but played well above the rim. Vince averaged 20 points a game as a sophomore.
Heading into Vince's junior campaign, coach Charlie Brinkerhoff moved the teen star from guard to forward, where he could use his height (he was approaching 6-6) to post up opponents and grab rebounds. He finished the year averaging 25 points and 11 boards for the Buccaneers, who went 30-2.
Vince had a busy senior year. He maintained a solid 3.0 average, led the Mainland marching band and wrote its halftime music. He was also the most heavily recruited hoopster in Florida. After leading the Buccaneers into some of the country's most prestigious high school tourneys—and being named Florida's "Mr. Basketball"—he confounded the experts who predicted he would attend Florida or Florida State and chose North Carolina.
Vince took some heat for leaving the state. Some questioned why he would pass up a chance to be a marquee player at home and go to a school where his skills would not be showcased. Dean Smith ran a system that did not encourage the kind of showmanship Vince was capable of. Michael Jordan had played for Smith and, although he was named College Player of the Year, no one knew how great he was until he reached the NBA.
MAKING HIS MARK
In many respects, the Raptors were the perfect team for Vince. He would join a couple of veteran bruisers on the frontline, Charles Oakley and Kevin Willis, and a pair of solid all-around guards in Doug Christie and Dee Brown. Butch Carter, brother of football star Cris Carter, was the team's coach.
Vince had to wait a while before he was in uniform, as a lockout postponed the start of the season until January and cut the schedule from 82 to 50 games.
Since training camp was so short, school was in session all season long. Oakley often sat next to Vince during games and taught him how to recognize defenses. Willis would point out weaknesses in opposing players and how they tried to mask them. Christie pushed Vince hard in practice every day. And Brown was always giving Vince pointers on how to carry himself on and off the court.
Vince hit for 16 in his first NBA game, a win over the Boston Celtics. He was a consistent contributor thereafter, leading the Raptors to the first winning month in franchise history that March. In many of the club's victories, Vince was the go-to guy down the stretch—a rare honor for a rookie with a team battling for a playoff spot. He was also making big-time blocks and pulling down clutch rebounds. NBA fans knew Vince from his highlight-reel dunks, which seemed to air every time the Raptors played.
Toronto just missed the final playoff slot, but Vince was recognized for his remarkable effort when he was named Rookie of the Year, garnering 113 of 118 votes. He averaged 18.3 points and 5.7 rebounds a game, while dishing out three assists. He was lost on defense sometimes, but usually made up for it with his quickness and jumping ability.
Toward the end of the year, Vince exhibited a little more dimension to his game, canning some classy pull-up jumpers and finding a bit more consistency from the perimeter. He finished strong, averaging more than 20 a game in April.
The 1999-2000 season was Vince's coming-out party. The Raptors picked up experienced role players in Dell Curry and Antonio Davis, and fashioned a nifty 45-37 record riding their young star's coattails. Vince was sensational, scoring 30 or more on several occasions and a high of 51 on his way to a 25.7 average. McGrady, meanwhile, was a handful in his third year, benefitting from the space created when Vince had the ball or when Curry, a three-point specialist, was lurking outside the arc.
Vince received nearly two million votes for the All-Star Game—the second-highest total in history—and put on a Jordan-like show in the Slam Dunk competition, including a through-the-legs alley-oop jam with McGrady as his spotter.
The Raptors faced the New York Knicks in the first round of the playoffs, and Vince's inaugural postseason effort was a forgettable 3-of-20 shooting performance. He bounced back in Game Two, playing splendidly and keeping his team in a tough contest. The Knicks held a one-point lead with time running out. Vince took the ball to the hole, drew a double-team and then kicked the ball out to Brown for a wide-open shot. He missed the game-winner but Vince took the blame. A true superstar would have taken it all the way, many fans and reporters maintained. The Knicks sent the Raptors packing in Game Three, bottling up Vince with two defenders much of the contest.
The 2000 offseason had its ups and downs for Vince. He was ordered to repay a huge bonus he had received from Puma, after he decided not to wear the shoes the company had paid him to endorse. Vince said they hurt his feet.
Next came the firing of Carter. The coach had not handled the media well in his first playoff, and the team felt he rode Vince a little too hard at times. Lenny Wilkens, a more serene sideline presence, was hired as his replacement.
The next piece of news was that cousin Tracy, who was just coming into his own as a pro, was traded to Orlando. McGrady had one year remaining on his contract and the Raptors believed they would not have been able to re-sign him. The emerging star had some choice words for Toronto management, and told reporters he was looking forward to kicking Vince's butt. Vince was stunned by the quotes he read, but the two eventually worked it out.
Things improved during the summer when Vince was asked to replace Tom Gugliotta on the U.S. Olympic squad. He accompanied the Dream Team to Australia for the Summer Games, and struck up a friendship with Steve Smith. The veteran guard told Vince that he had to start concentrating on the little things that win games in the NBA, and forget about the showtime dunks.
Prior to the Olympics, Team USA played a warm-up game against France. In the most-replayed sequence of the year, Vince took the ball to the hole against 7-2 Frederic Weis. The French center moved to block him, but Vince kept rising off the floor. At one point his waist was chin-high to Weis, who cowered as Vince slammed the ball right over him. The Americans won the gold medal easily a few weeks later.
Without much of a break, Vince began the 2000-01 NBA season. The Raptors tried to assemble a complimentary team around him. New to the roster were workmanlike forward Corliss WIlliamson and veteran point guard Mark Jackson. Rookie Morris Peterson, a member of Michigan State's NCAA champion squad, was also added to the frontline. Vince moved down to two guard, working with Jackson and Alvin Williams in the backcourt for much of the year.
Vince had reached the point where NBA refs were giving him the benefit of foul calls when he took the ball to the hole. This pleased Wilkens, who wanted to see him get more points from the charity stripe. But NBA defenders soon decided if they were going to get called for cheap fouls, then they would make their fouls count. Vince was hammered to the floor again and again.
As a result, Vince played the year with a variety of aches and pains, and missed several games with a sore tendon in his left knee. The injuries made him a bit more timid, and he began shooting more from outside. This kept him on the floor longer, which in turn boosted his average over 27 points a game.
The Raptors were pleased with Vince's progress, but unhappy with the lack of chemistry on the club, which was mired at .500 with almost half the season gone. In early January, a series of moves went into motion that changed the face of the team. Jackson, Williamson and Willis were shown the door, while point guard Chris Childs and rebounding demons Jerome Williams and Keon Clark came aboard. The Raptors won 29 of their final 46 games to snag second place in the Central Division.
In the playoffs, Vince and his teammates got their revenge on the Knicks, taking them out before a shocked crowd at Madison Square Garden. Next up were the Philadelphia 76ers, favorites to reach the NBA Finals. Vince and Allen Iverson hooked up in a thrilling display of basketball genius, as the seven-game series see-sawed back and forth. Vince dropped 50 points on Philly in a Game Three blowout, while Iverson racked up a pair of 50-point performances in the series.
The morning of Game Seven found Vince in cap and gown at his graduation in Chapel Hill. He had completed the requirements for his degree the previous summer and wanted badly to participate in the ceremony. He flew up to Philadelphia in time for the game, where he met with criticism regarding his priorities. When he missed the series-winning shot with two ticks left, he opened himself up to a summer's worth of second-guessing.
The offseason began with speculation that Vince had his eye on a bigger NBA market, and planned to make the 2001-02 campaign his last in a Raptor uniform. He denied these claims, then backed it up by inking a six-year contract extension.
The new season featured the same cast of characters, with the notable addition of Hakeem Olajuwon, who was playing out the string in Toronto as a part-time center. Vince seemed more reluctant than usual to take the ball inside, preferring instead to launch long jump shots. This altered the flow of the offense dramatically, and Wilkens was unable to push his club much past .500.
When Vince injured his left leg, he had to beg out of the All-Star Game and ended up missing most of February. The Raptors floundered in his absence, then lost six straight upon his return. In March, Vince's knee began bothering him again and he opted for arthroscopic surgery, figuring the Raptors were out of the playoff hunt anyway. The team, however, went 12-2 down the stretch and actually made the playoffs. Vince was not available to play and Toronto fell to the Detroit Pistons in the first round.
Suddenly people were wondering if the Raptors might not be better off minus Vince.
This kind of talk stung Vince. He fumed all summer and vowed to slience his critics with a happy, healthy 2002-03 campaign. But three games into the new season, he hurt his left quad again and had to sit out.
Just as it was fashionable to call Vince the new Jordan a couple of years earlier, so it became de rigeuer to drop his name into trade rumors. Toronto sports columns had him headed all over the NBA, with Cleveland mentioned most often. The team denied there were any active trade talks, but they did not hide the fact they were worried about Vince being brittle.
Vince ended up being sidelined for more than half the season, which threw the Raptors into chaos. Antonio Daniels was also hurt most of the year, which sapped the team's strength up front. Newcomers Lindsey Hunter and Lamond Murray were also felled by injury. The result was an embarrassing 24-58 record, third-worst in the league.
Even more embarrassing was the fiasco surrounding the All-Star Game. Vince was voted into the starting lineup on reputation despite having missed most of the games to that point. Everyone wanted Michael Jordan, picked for the team in his final NBA campaign, to start, and assumed Vince would give up his slot. He balked when first approached with the idea, drawing the ire of fans and sportswriters. Only after Vince saw the reaction did he take himself out and let Jordan start.
The bright side to an otherwise dismal year came that June, when the Raptors used their #4 pick to snag Chris Bosh, a 19-year-old pivotman who tore apart the ACC in one season with Georgia Tech. Bosh was the most notable addition to the 2003-04 Raptors, who fired Wilkens and hired former Piston assistant Kevin O'Neill.
Not to worry. With Vince healthy, the club was giving opponents all they could handle. This was a different Vince, a more mature Vince. Instead of killing himself looking for the play that lifted fans out of their seats, he was now saving his best for the fourth quarter, when time and time again he carried the Raptors home.
The rest of the time Vince was content to let his teammates make the highlight reels. He was much quicker passing out of the double team, and initiated plays he knew would result in someone else's dunk, not his own. No longer caught up in his own hype, Vince wasn't worried whether he was the next Jordan or not. And in doing so, he took a crucial step toward the kind of leadership the Toronto franchise so badly needed.
What were thought to be other important pieces of a championship puzzle came when the Raptors picked up Jalen Rose, Donyell Marshall and Lonny Baxter in a December deal with Bulls. Unfortunately, Vince's problems resurrected when he re-injured his right quad in mid-January. He missed the next three games and the Raptors limped into the second half of the season.
For the fourth time in his career, Vince received more All-Star votes than anyone else in the league. But in mid-February he sprained his left ankle, causing him to miss more time as Toronto suffered through a nine-game losing streak. After Vince's ankle injury, the Raptors lost their grip on a playoff spot, and finished out the season winning only eight of their last 30. Injuries to Rose, Williams and Bosh also contributed to the team's demise.
Vince ended the campaign averaging 22.5 points in 73 games. More adept at driving the lane and pitching it out to an open teammate, he raised his passing numbers to 4.8 assists per game. At times, however, he tried to do too much. As a result, his turnovers also climbed.
As the 2004-05 season began, the Raptors let it be known that Vince could be pried away at the right price. The success of the superstar-less Pistons the previous spring had changed the team chemistry paradigm in the NBA, and Toronto was listening to offers for their star. The Raptors had some solid offensive players and talented youngsters, but still harbored reservations regarding Vince's ability to lead them. Though more mature, he simply had too much history in Toronto. A change-of-scenery deal seemed to make sense for both sides.
A nagging Achilles strain limited Vince in the season's first month, taking his scoring down below 20 points a game and eventually landing him on the injured list. Still, plenty of teams were interested.
The Nets had what the Raptors wanted—rebounders and draft picks. New Jersey also had a disgruntled leader in Jason Kidd, who was unhappy when Kenyon Martin was allowed to leave over the summer. After coming back from a bad knee, Kidd reenergized his teammates in December, but was unenthusiastic about playing for a club for which Richard Jefferson was the only consistent scoring option. Acquiring Vince would not only restore the three-pointed star system that had taken the Nets to a pair of NBA Finals, it would keep Kidd from seeking greener pastures. A deal was hammered out that sent Toronto three post players—Eric Williams, Aaron Williams and Alonzo Mourning—plus three non-lottery draft picks, for Vince. Both sides were pleased with what they received.
The Nets were especially happy when Vince regained his scoring touch and showed he could once again be a dominant player. In February alone, he posted three games of more than 40 points, and averaged 30 a night. Vince was just as good in March and April, as New Jersey launched a furious playoff run. Kidd was doing his thing running the offense, while youngster Nenad Krstic emerged as a strong rebounder and inside socrer. The Nets got a another boost when Richard Jefferson returned from a wrist injury.
New Jersey won eight of its final 10 to finish 42-40, and grab the eighth seed in the East. That earned the club a first-round matchup with Miami, a series amyn believed the Nets could take in a mild upset. Shaquille O'Neal , Dwyane Wade and the Heat bench had other things in mind, however. Miami rolled over New Jersey in an impressive four-game sweep. Vince was one of several Nets who slumped from the field. Though he was the team's leading playoff scorer, he shot poorly and often tried to do too much on his own.
Still, Vince has re-established himself as one of the NBA's true impact players. This may mean his time in New Jersey is limited. The Nets have long wanted a true big man, and Vince could end up being the trade bait that lands them what they need.
Wherever Vince winds up, with the spotlight on younger players like LeBron James and Carmelo Anthony, he is happy that he's no longer immersed in a rock star atmosphere. In New Jersey, he's in a system that pushes the basketball, but also stresses lunch-bucket defense, so life may get even less glamorous in the short run. That's fine with Vince, who is all for more Sanity and less Vin in "Vin-Sanity."
Read more
Latest headlines