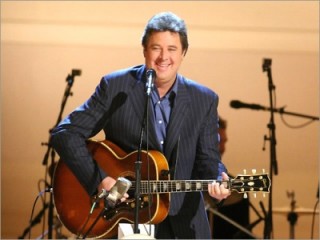 Vince Gill biography
Date of birth : 1957-04-12
Date of death : -
Birthplace : Norman, Oklahoma, U.S.
Nationality : American
Category : Arts and Entertainment
Last modified : 2011-11-16
Credited as : Singer, country music, Pure Prairie League
Vincent Grant "Vince" Gill is an American neotraditional country singer-songwriter and multi-instrumentalist. He has achieved commercial success and fame both as frontman to the country rock band Pure Prairie League in the 1970s, and as a solo artist beginning in 1983, where his talents as a vocalist and musician have placed him in high demand as a guest vocalist, and a duet partner.
Vince Gill worked at the very edge of success for more than a decade before breaking through to country music superstardom in 1990. For many years Gill's vocal and instrumental talents were put to use in the studio by a wide spectrum of country artists. Finally, after struggling to launch his solo career for years, he found his way to fame with a haunting neo-traditional country single, "When I Call Your Name." Chicago Tribune music critic Jack Hurst wrote of Gill, "After six years in Nashville, a man who has sung backup on the records of more than 100 other artists finally has a megahit of his own to his credit."
Many country music enthusiasts have long felt that the talented Gill was a candidate for top success in the industry from his earliest professional efforts. In Who's Who in New Country Music, for instance, Andrew Vaughan noted that Gill "has for years been touted as the man most likely to become a star." With many friends in Nashville and a long string of credits for session work, songwriting, and vocals, Gill needed only to find the style that would best showcase his assets. He succeeded--after years of lackluster work for RCA Records--with his first MCA Nashville release, a project he has called "the right record at the right time." By 2003 Gill boasted a record total of 18 awards from the Country Music Association, including five consecutive awards for male vocalist of the year.
Vince Gill was born in 1957 in Norman, Oklahoma, where he was also raised. Fascinated by country, western, and bluegrass music from childhood, he was playing guitar and singing with a local bluegrass band while still in his teens. Gill's high, expressive tenor was ideally suited for bluegrass and in his early years he worked with such groups as the Bluegrass Alliance and a West Coast band, Sundance. Like many of the other musicians he knew, Gill was strongly influenced by rock as well as country and bluegrass. Playing with such avant-garde artists as the Bluegrass Alliance's Sam Bush and Sundance's Byron Berline, he developed a rock-flavored picking style that proved quite popular in California. He also learned to play banjo, Dobro, and mandolin--ideal preparation for the studio work that would sustain him down the road.
In the mid-1970s Gill joined Pure Prairie League, a soft-rock band based in California; he was featured on three late-seventies Pure Prairie League albums, though the group's heyday preceded Gill's arrival. In 1979, during his stay in California, Gill married Janis Oliver, herself a would-be singer-songwriter. For several years Gill and his wife were content to live and work on the West Coast. Then Gill made a controversial career decision--one that absolutely confounded his California friends.
Gill had known singer Rodney Crowell since the days when the latter sang backup for country star Emmylou Harris. When Crowell decided to go solo and form his own band, he asked Gill to back him up. It was a demotion, in effect, as Gill had been singing lead with Pure Prairie League. "People were telling me, 'Man, how could you make that step backward?,'" Gill recalled in the Lexington Herald-Leader. "Musically, that was a giant step [forward] for me." As the 1980s began Gill moved with more focus into purely country music, forging lasting relationships with Crowell, Harris, and the man who would become his producer, Tony Brown.
Nashville proved a congenial environment for both Gill and his wife, Janis. The up-and-coming singer found as much work as he could handle as a session vocalist and musician; he worked with Crowell, Harris, Bonnie Raitt, Rosanne Cash, and Patty Loveless, to name a few. About that time Janis persuaded her sister to move east as well and the two began recording as Sweethearts of the Rodeo. In 1984 Gill signed a contract for solo work with RCA Records. His first RCA release, a mini-album called Turn Me Loose, yielded a Top Twenty hit and earned Gill the Academy of Country Music's top new male vocalist award.
The sailing was not smooth thereafter, however; Gill had grand ambitions for his music, ambitions that ran counter to the prevailing winds in Nashville. "I felt I was going to be the one who could really bridge the gap between pop and country and get rock fans interested in country music," he told the Chicago Tribune. Through three RCA releases Gill explored his personal vision, bringing all his acoustic and vocal talents to bear. He achieved modest success and even cracked the country Top Ten with a duet--"If It Weren't for Him"--recorded with Rosanne Cash. Still, as Vaughan pointed out in Who's Who in New Country Music, Gill "wasn't the star the pundits had predicted."
In 1990 Gill severed his relationship with RCA and moved down the street to MCA Nashville, where his friend Tony Brown was working as a producer. Gill's first MCA recording, When I Call Your Name, was far more traditional than his previous work; it featured an Oklahoma swing number and several compelling country ballads. The album became Gill's biggest seller, with four-to-five times more units sold than any of his previous releases. "It's the first real country record I've ever made, and I'm extremely proud of it," he told the Chicago Tribune.
Gill's pride was justifiable in light of the awards he garnered for the album's title song. "When I Call Your Name" was judged the best single of the year by the Country Music Association and was awarded a Grammy as best country song of 1990. The album yielded other hits as well, including the Reba McEntire duet "Oklahoma Swing," and the bluegrass-styled "Never Knew Lonely." At long last Gill had stepped out of the shadows of the Nashville recording studios and into the spotlight many felt he richly deserved. His tenor vocals and chilling harmonies may not have closed the gap between country and pop, but they had enriched and enlarged the scope of bluegrass in a country format.
Gill followed up When I Call Your Name with Pocket Full of Gold, an effort replete with no-nonsense shuffles, love ballads, and a rocking version of an old traditional song. Country Music reviewer Rich Kienzle opened his critique of Pocket by stating unequivocally that the record deserved the acclaim it had garnered and allowing that it "nearly" equaled the "special" nature of When I Call Your Name. Citing what he felt were a few clunkers--but mostly praising the album's stand-outs--the writer applauded "Gill's talent for uncanny twists in his songs," and in one instance, his "anguished delivery." Kienzle finished his appraisal by declaring, "Gill deserves credit for maintaining his original direction. With tight production ... combined with his clear, beautifully focused voice, he's moving in a direction that is right for him. Others should be so lucky."
Gill's star shone brighter still in 1992 when Pocket Full of Gold went platinum as did his 1992 release, I Still Believe in You. Also that year he received the priceless honor of membership in the Grand Ole Opry. Gill went on to release three major hits in 1993, including "One More Chance," and he released a true crossover album, When Love Finds You, in 1994. He rounded out the decade with High Lonesome Sound in 1996 and The Key, and Christmas Collection in 1998. Gill released Let's Make Sure We Kiss Goodbye as well as a children's album, The Emperor's New Clothes in 2000.
Although Gill's marriage to Oliver ended in divorce in 1999, the couple has one daughter, Jenny, born in the early 1980s. Her voice can be heard on supporting vocals with her father on Let's Make Sure We Kiss Goodbye. Gill married country singer Amy Grant on March 10, 2000 and one year later--on March 12, 2001--the couple's daughter, Corrina Grant Gill, was born.
In 2003 Gill issued his first complete production, Next Best Thing. Totally self-produced, this effort features guest vocals by Emmylou Harris, Lee Ann Womack, Grant, and daughter Jenny. In addition to a promotional tour for the album, he appeared on Country Music Television's (CMT) Stars over Texas special on March 3, 2003. In 2005 Gill made a guest appearance on a Keni Thomas single, "Not Me."
Considering his wide instrumental experience and proficiency in many styles, it is no surprise that he offers a variety of work on each album. He told the Chicago Tribune that he consciously tries to put "different things" on his releases so that he does not become associated with one particular sound. His biggest challenge, he said, is to find "something to home in on, something folks [are] going to react to."
Gill has recorded more than twenty studio albums, charted over forty singles on the U.S. Billboard charts as Hot Country Songs, and has sold more than 22 million albums. He has been honored by the Country Music Association with 18 CMA Awards, including two Entertainer of the Year awards and five Male Vocalist Awards. Gill has also earned 20 Grammy Awards, more than any other male Country music artist. In 2007, Gill was inducted into the Country Music Hall of Fame.
Selective Works:
-Turn Me Loose RCA, 1984.
-The Things That Matter RCA, 1985.
-The Way Back Home RCA, 1987.
-The Best of Vince Gill RCA, 1989.
-When I Call Your Name MCA Nashville, 1989.
-Pocket Full of Gold MCA Nashville, 1991.
-I Never Knew Lonely (greatest hits compilation), RCA, 1992.
-I Still Believe in You MCA, 1992.
-Let There Be Peace on Earth (Christmas album), MCA, 1993.
-When Love Finds You MCA, 1994.
-Souvenirs MCA, 1995.
-High Lonesome Sound MCA, 1996.
-The Key MCA, 1998.
-Breath of Heaven (Christmas album), MCA, 1998.
-Let's Make Sure We Kiss Goodbye MCA, 2000.
-The Emperor's New Clothes Virginia, 2000.
-Next Big Thing MCA, 2003.
-Christmas: 20th Century Masters/The Millennium Collection MCA, 2003.
-Next Big Thing,2003
-These Days,2006
-Guitar Slinger,2011
Read more
Latest headlines