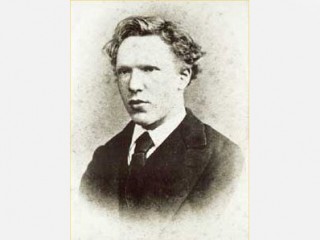 Vincent Van Gogh biography
Date of birth : 1853-03-30
Date of death : 1890-07-29
Birthplace : Zundert, Netherlands
Nationality : Dutch
Category : Arts and Entertainment
Last modified : 2010-07-27
Credited as : Artist painter, teacher and missionary,
Vincent Van Gogh
, also known as
Vincent Willem Van Gogh
born March 30, 1853 in Zundert, Netherlands - died July 29, 1890 was a Dutch Artist Painter, Apprentice, Teacher, Missionary.
Vincent van Gogh's troubled life and tragic death have fascinated people since he committed suicide over hundred years ago. The paintings and drawings he left have appreciated considerably in that time and are now among the most valuable and popular in the world. The unmistakable intensity of his work--his color sense, use of pigments, and above all, his emotional expression--has influenced many of the greatest artists of the twentieth century. And the indelible images he created, including numerous self-portraits, raucous sunflowers, and the swirling blues of the night sky, aresome of the most copied in history.
Born in Zundert, Netherlands, on March 30, 1853, Vincent Willem van Gogh was raised in a small Netherlands town where his father, the Reverend Theodorus van Gogh, was the pastor of the town's Calvinist church. Van Gogh's mother, Anna Cornelia Carbentus, was a woman of formidable character who busied herself with local charity work and shouldered the lion's share of responsibility for bringing up her six children, of whom Vincent was the oldest. Beginning in early childhood, van Gogh struggled with the demands of society. He was unusually shy and spent a lot of time by himself. He also had a very quick temper and sometimes became violent. Yet he loved to wander in the countryside collecting flowers and insects, observing the colors of the sunset or watching the wind move the leaves. The only person close to van Gogh was his younger brother Theo, who was able to draw him out and get him to talk about his problems. Throughout their lives, Theo consistently supported his brother emotionally and financially. Much is known about the artist's life from the many letters exchanged by the two over the years.
Van Gogh's school years were not particularly notable. He was uninterested and often unruly, but he did spend time reading the many books in his father's library and seemed truly inspired by his father's Sunday sermons. His parents were at a loss to handle this child, though his mother was sympathetic and encouraged the boy in his early attempts to express himself through drawing.
When van Gogh was sixteen, his father arranged for him to work in an art gallery with his uncle in The Hague. The family hoped that his interest in art would lead him to a successful career in the gallery world. He did well at first and enjoyed being around the sculptures and paintings that came through the gallery. After a few years van Gogh was sent to work in a branch office in London. There he was able to visit several world-renowned museums and view works by British artists. But his happiness in London did not last long. He fell in love with a young woman who rejected him; the artist was deeply wounded and returned to his sullen, often volatile behavior.
Religious Mission
Still seeking answers to the questions about himself that had plagued him as a boy, van Gogh turned to religion. He became fervently involved in religious ideas and missionary work over the next few years. By the time he was twenty-five, he was working as a missionary in the coal-mining region of Belgium. He had given away most of his belongings and lived in a shack. But his fanaticism, manifested by an overzealous devotion to his work, actually led to his termination by the missionary organization for which he worked.
All along he continued to draw. His work from this period features miners and peasants living in the most dire of circumstances, in dingy huts with little food. He drew groups of women staggering under huge loads of coal on their backs. His most famous work inspired by this time--though it was painted several years after he left the area--is the Potato Eaters. The family of peasants gathered around the table in their dark hovel have only a plate of potatoes to share. Their weathered hands indicate hard labor, their faces fatigue and despair. The colors in the painting, mostly black, brown, and gray, are typical of van Gogh's work in these days. The artist shows with great sympathy the wretched condition of the people he was trying to help and his own sadness as well. "Life has the color of dishwater," he wrote to Theo. Still, despite his uncertainties, van Gogh was increasingly convinced that he was destined to become an artist.
The next few years found van Gogh wandering both physically and psychologically. He lived for a time in Brussels, Belgium, and in The Hague, where he studied with several artists. He also resided with his parents on several occasions, but these episodes always ended with him leaving in anger. In a pattern that would plague him throughout his life, he forged weak relationships with women that ended badly. Spells of depression and illness, a regular occurrence when he lived in cold apartments with little to eat, were common in these years, relieved only by van Gogh's work. Theo faithfully wrote to him from Paris, where he was working in a gallery, sending money and words of encouragement.
In the fall of 1885, van Gogh moved to Antwerp, Belgium. He seemed to be functioning more fully, socializing with other painters and visiting galleries and museums. He was especially fascinated by the works of Flemish painter Peter Paul Rubens. The active figures, unrestrained emotion, and rich colors bewitched van Gogh, who began to use some of these elements in his work. At the port of Antwerp, he came across woodblock prints from Japan and China, which caught his eye for their brightness and flat, clear colors.
Meets Impressionists in Paris
In the winter of 1886, van Gogh once again became ill. After several weeks of recovery, he decided to join Theo in Paris. The reunited brothers shared an apartment. Van Gogh's two years in Paris were very stimulating. Theo introduced him to the young, struggling artists of the day, including Claude Monet, Pierre-Auguste Renoir, Henri Toulouse-Lautrec, Georges Seurat, Edgar Degas, and Camille Pissarro. Van Gogh spent many hours at Paris cafes with these painters, most of whom would come to be called impressionists, discussing the newest notions concerning color, light, and nature. The effects on van Gogh's work were immediate; his colors became lighter and more vivid and his subjects less disturbed.
During his second winter in Paris, van Gogh met Paul Gauguin, another painter who was searching for purpose and expression in his art. They became friends, and van Gogh was able to exhibit some of his paintings in a shop owned by Gauguin's father. But he did not sell anything. In fact, he had never sold a single piece.
Self-portraits Detail Emotional States
While in Paris van Gogh began using himself as a model more frequently; over fifteen self-portraits from a three-year period, 1887-90, have survived. Other artists, among them the German Albrecht Drer and van Gogh's countryman Rembrandt, left a series of self-portraits, so one can see their stylistic development as well as the process of aging. But van Gogh's self-portraits are different; there is little movement in time but an incredible range of emotions and psychological states. In those three years, one can see van Gogh as a dapper gentleman of Paris, a rail-thin, ghostly painter clutching his palette and brushes, a seemingly cruel, sunken-cheeked creature, and a doomed and pathetic figure, the space encircling him filled with tense and disorienting swirls. What ties the self-portraits together is the ability of the artist to illustrate the force of his experiences through his use of color, distortion of form, and control of brush strokes. These are the techniques that would lead art critics to label van Gogh's style expressionism.
By the winter of 1888, van Gogh's mental condition had begun to deteriorate; perhaps the gloomy weather and lack of financial success were too much. The painter also began to feel that he was becoming a burden on his brother. One day he packed his case, left a note for Theo, and took the train to Arles, a town in the south of France near the Mediterranean Sea. The impact of the warm, sunny climate and beautiful surroundings was enormous. Van Gogh began painting with remarkable vigor. With his brush, he captured orchards, riverbanks, bridges, flowers, haystacks, wheat fields, and sailboats, and with each painting his colors got lighter and brighter until he was using pure color right out of the paint tubes, often applying it in thick splotches. This creative energy, much of it expelled in extreme heat and heavy exposure to sunlight, eventually exhausted him. At the same time, van Gogh seemed to become obsessed with the color yellow; for several weeks he painted nothing but sunflowers. These would one day become some of his most beloved work.
His letters to and from Theo brought van Gogh into close contact with the local postman, who, along with his family, befriended the painter and often served as his model. Arguably his most famous portraits from this period are Postman Roulin and La Berceuse, a painting of the postman's wife. Also from this time emerged scenes of the local cafe and of van Gogh's room. In the fall of 1888, Gauguin came to Arles to live with van Gogh and for a while, the two supported each other and lived together peacefully. Van Gogh hoped other artists from Paris would join them and start an artists' community in Arles. But Gauguin did not find Arles as inspiring as had his colleague, nor did he find it easy to live in such close proximity to van Gogh's frenzied working style. Increasingly violent quarrels ensued until finally, Gauguin announced in December 1888 that he was leaving. This abandonment was beyond van Gogh's fragile coping skills; he suffered a severe mental breakdown during which he cut off part of his earlobe. When he recovered enough to leave the hospital, he painted two self-portraits showing his bandaged head underneath a fur cap.
Months after his break with Gauguin, van Gogh entered an asylum, where he hoped to find some peace. He was able to paint there, but the wild brush strokes and severe irregularity of the forms depicted in these works suggest that peace was nowhere to be found. The artist did regain some stability by the fall of 1889, but he worried constantly about his future and his continuing dependence on Theo.
Makes His Only Sale
In early 1890 van Gogh was given a boost by the news that Theo had sold one of his paintings. It was the first and only painting sold during his lifetime. This led to such now-prized works as Cornfield with Reaper and the Starry Night, which illuminates the sparkling, spiraling starlight over Arles. Still, the twisted, rigid shapes of these efforts hint that van Gogh was not past his mental infirmities.
By the spring of 1890, van Gogh felt the need to return to Paris to be near Theo, who set him up in a room in a small town near Paris under the care of a specialist. The doctor was also an art lover and encouraged van Gogh to continue painting, even sitting as a model for him. Van Gogh attacked his canvases as a man possessed in these spring months, producing over sixty paintings, among them Wheatfield with Crows. But black days began to bury the artist, and soon a severe depression overcame him. On July 27, 1890, he shot himself in the abdomen. He survived for two days, Theo ever by his side, his death occurring in Auvers-sur-Oise, France.
Like many artists before him, van Gogh was keenly intent on uncovering the beauty of nature and the extent of his feelings. What sets him apart from the artists who preceded him and also links him to modern artists, was his ability to do away with "accuracy" of shape and color in order to graphically express his emotions. The colors he employed, while perhaps not "realistic," depicted the life of his subjects; his bold brush strokes gave motion to trees, stars, flowers, and the very air. And although viewers of his time found his paintings crude and even frightening, contemporary observers have come to understand and fully appreciate van Gogh's unique and enduring artistic vision.
PERSONAL INFORMATION
Born March 30, 1853 in Zundert, Netherlands; committed suicide July 29, 1890, in Auvers-sur-Oise, France; son of Theodorus (a church pastor) and Anna Cornelia (a homemaker; maiden name, Carbentus) van Gogh. Education: Attended schools in Zundert, Zevenbergen, and Tilburg, Netherlands, to age fifteen.
CAREER
Worked as apprentice for the Goupil Gallery picture dealers in The Hague, 1869-74, London, 1874-75, and Paris, 1875-76; taught in English schools in Ramsgate and Isleworth, 1876; worked in a bookshop, Dordrecht, 1877; prepared for theology study, then took an evangelist course in Brussels, and worked as a missionary in the coal-mining Borinage district of Belgium, 1879; focused attention on his drawing from 1880, living with his family off and on, and in other Dutch towns until 1886 (attended Antwerp Academy briefly, 1885-86); lived in Paris, 1886-88; institutionalized as epileptic in Arles, 1889, Saint-Remy, 1889-90, and Auvers-sur-Oise, 1890. Major collections of van Gogh's work are located in Otterlo and at the Rijksmuseum Vincent Van Gogh in Amsterdam. Masterworks include Bearers of the Burden, 1880; Potato Eaters, 1885; PSre Tanguy, 1887; Orchard, 1888; Sailing Boats at Les Saintes Maries, 1888; Postman Roulin, 1888; Sunflowers, 1888; The Night Caf', 1888; The Arlesienne, 1888; Starry Night, 1889; Portrait of Dr. Gachet, 1890; Wheatfield with Crows, 1890.
WORKS
* Writings
* Verzamelde Brieven, edited by J. Van Gogh-Bonger, four volumes, 1952-54, and two volumes, 1955, published as Complete Letters,[Greenwich, CT], three volumes, 1958.
* 1960: Correspondance complete, enrichie de tous les dessins originaux,edited by Georges Charensol, three volumes, [Paris].
* 1961: Van Gogh: A Self-Portrait,edited by W. H. Auden, [Greenwich, CT].
* 1963: Letters,edited by Mark Roskill, [London], [New York], 1967.
* 1970: Dagboek,edited by Jan Hulsker, [Amsterdam], published as Diary,[New York], 1971.
Read more
Latest headlines