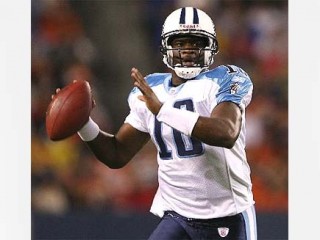 Vincent Young biography
Date of birth : 1983-05-18
Date of death : -
Birthplace : Houston, Texas, U.S.
Nationality : American
Category : Sports
Last modified : 2010-08-20
Credited as : Football player NFL, quarterback for the Tennessee Titans, Super Bowl
GROWING UP
Vincent Young Junior
was born on May 18, 1983, in Houston, Texas. His mother, Felicia, was a home health aide. His father, Vincent Sr., could not find steady employment and became a petty burglar. For most of Vince's childhood, his father was in and out of jail and out of the picture. Felicia and her mother, Bonnie, raised Vince and his two older sisters, Lakesha and Vintrisa. They lived Houston's Hiram Clarke neighborhood, which is part of the historically African-American Fourth Ward.
At the age of seven, Vince was struck by a car while riding his bicycle. The handlebar jammed into his abdomen, causing severe internal injuries that took a hospital stay and many months to heal. Looking back, Vince says this accident made him physically tougher.
Felicia was a young mother who worked hard, but she turned to alcohol and marijuana to forget her struggles. She liked to party and made no secret of this fact. With no father figure in Vince's life, and a mom who didn't set a particularly strong example, the line between right and wrong started to blur for him in early adolescence.
When Vince was in eighth grade, he started to hang out with gang members. Near the age where it wasn't always safe to walk alone, he was looking for a little protection. After a fight among junior gang members at Dowling Middle School, Vince was hauled into the police station. That was a big wake-up call for Felicia. She blew her top, telling her son that if he followed this path, he would end up in jail or dead. Vince's mom realized it was time to clean up her own act, and she became very involved in the church.
Vince was soon introduced Vince to much-needed structure and spirituality. He also met Samuel Smith, the leader of the Mount Horeb Baptist Church, who became an important mentor and role model.
Vince's support network grew from there. His father's brother, Uncle Keith, got more involved in his life and began to talk to him about making the most of his athletic ability. Vince knew a lot of older boys who had squandered world-class talent on the streets of the Fourth Ward. The relationship with Keith also brought him closer to Betty Young, his paternal grandmother.
Vince was beginning to show his prowess in the local youth athletic programs by this time, particularly in basketball. He joined an AAU squad coached by his uncle. He also excelled at football and baseball. Though Vince was ultra-competitive, he was often undone by a raging temper that led to his fair share of shoving matches. During one AAU basketball contest in 1997, he started a brawl after receiving a hard foul, which he felt was a sign of disrespect. Uncle Keith sat him down and played him a video of Michael Jordan getting hammered by defenders again and again. Vince saw MJ's reaction—he picked himself up, showing little emotion, and continued to burn opponents. It made a huge impression on the 14-year-old.
Vince enrolled at Madison High School in 1998. He made Ray Seals' varsity football team as a freshman but did not start. He did, however, get the starting nod on the varsity basketball team for the Marlins, earning his first of four letters in that sport. Over four years, Vince averaged 25 points a game and was named All-District as a junior and senior. He went out for track, lettered three times, and was a star on the district-champion 400-meter relay squad. He also played two seasons of baseball, pitching and playing the outfield.
But it was on the gridiron where his star shone brightest. Coach Seals inserted Vince as his starting quarterback as a sophomore in 1999. As fate would have it, yet another role model had come into his life that summer. Uncle Keith's college friend, Steve McNair, connected with Vince at his his football camp.
The college scouts first came knocking in Vince's junior year. Mack Brown, the coach at the University of Texas, actually got his first glimpse of Vince during a basketball game that winter. Brown had seen film of him on the gridiron and was hoping to get a feel for what kind pf person he was. He was impressed by Vince's leadership qualities and the personal magnetism he exuded.
Vince's senior football season was phenomenal. During the 2001 campaign, he ran and threw for nearly 4,000 yards and accounted for 59 touchdowns. The high point of the year was Madison's victory over the unbeaten North Shore Mustangs. It is still considered one of the most exciting high school games in state history. The Marlins, meanwhile, advanced all the way to the state semifinals before they lost. Vince was named Texas High School Player of the Year.
Vince finished his high school career with 7,624 combined rushing and passing yards. He was named National Player of the Year by Parade and Student Sports, and The Sporting News singled him out as the country's top college prospect. For several years, his dream had been to play quarterback for Texas, a three-hour drive from Houston in Austin. When Brown made the offer, Vince grabbed it.
Vince spent the 2002 season as a redshirt freshman. He learned the Texas playbook, watched senior Chris Simms run the Longhorns, and worked on polishing his fundamentals. The Longhorns went 11–2 and finished in the Top 10.
Brown, meanwhile, found time to focus on Vince. He was very concerned with the teenager's throwing motion, but all attempts at tweaking it cut down on his distance and accuracy. That spring, there was even talk about switching him to wide receiver.
Vince was so upset that he went back and talked to his old high school coach. His advice was to do what he had done at Madison—sit down with the coaches at Texas and say what was on his mind. Brown was not exactly known for his flexibility, but after speaking with Vince, he decided to keep him on the quarterback track.
ON THE RISE
Heading into the 2003 season, Brown installed Vince as his starting quarterback. The Longhorns had been using an I-formation, but Brown recognized Vince's knack for improvisation. To make the most of his quarterback's talents, the coaching staff switched to a shotgun read-option system during the 2003 season. This setup gave Vince great freedom, plus a little extra time to read the field.
Vince finished the year with 1,155 yards and six touchdowns through the air and 998 yards and seven touchdowns on the ground. His breakout perofrmance earned him honors as Big 12 Offensive Freshman of the Year. He was still a work in progress, however, as witnessed by his outing in the Holiday Bowl against Washington State. He completed six passes for a mere 15 yards in the Longhorns' loss.
As the 2004 season began, Brown and his coaches was still uncertain about Vince's throwing mechanics. When he tried to change, he felt uncomfortable in his own skin and began losing confidence in his ability to be a play-maker. Vince's struggles were evident against Missouri, when the Longhorns nearly lost to a team they normally handled easily.
At that point, Brown and offensive coordinator Greg Davis realized they were being far too rigid with Vince. They called him into their office and ran a highlight reel that showed him as a high school senior and redshirt freshman having a blast on the field. The coaches told him to forget about his throwing. Instead, they said, just go out and play, have fun, and win. Vince believed that he could lead the team to great things. With the famously uptight Brown loosening the reigns, Vince was a new man.
Incredibly, the Longhorns would not lose another game for the rest of Vince's college career. Along the way, they averaged over 40 points a game. Texas ran the table on the rest of its '04 schedule to finish 11–1. In turn, the Longhorns were able to leap-frog Cal in the rankings and move to #4 in the country. That earned them a trip to the Rose Bowl, where they faced Michigan.
Against the Wolverines, Vince went wild. He ran for four touchdowns—of 20, 60, 10 and 23 yards—and threw for a fifth. In all, he gained 372 total yards of offense. Michigan simply had no way of containing Vince, who made one great open-field move after another.
Unfortunately, the Longhorns had as much trouble keeping Michigan quarterback Chad Henne off the board. He tied a Rose Bowl record with four scoring passes—including three to wideout Braylon Edwards. Equally unstoppable was Steve Breaston, who shattered O.J. Simpson's Rose Bowl record with 315 combined yards on catches and kick returns. After a 14–14 first half, both teams accelerated their offenses. It eventually became clear that whoever had the ball last would probably have a chance to win.
After the Wolverines took a 37–35 lead on a field goal with 3:04 left, Vince drove the Longhorns to the Michigan 20-yard line. Kicker Dusty Mangum lined up the winning field goal. Michigan coach Lloyd Carr tried to freeze the senior walk-on, but he put it through the uprights from 37 yards away to give Texas a 38–37 victory.
Vince's final regular-season numbers—1,849 passing yards and 12 TDs, plus 1,079 rushing yards and 14 TDs—were excellent, and his bowl performance bordered on superhuman. But that was nothing compared to what he did as a junior the following season.
Vince established himself as the team's leader in the first meeting before spring practice in 2005. The players gathered in a jovial mood, with many flaunting the team rule against wearing hats to meetings. Vince got down to business, announcing that he had the key to the practice field and that he expected his teammates to attend informal 7-on-7 games held evenings twice a week. Often, more than 70 players showed up.
As the season began, Vince made a point to reach out to the backup linemen, imploring them to keep in top physical and mental shape. They were as important as the starters—if one of the front-line guys went down, the season might hinge on their ability to step in and fill the void. He understood all the little things that had to be done to keep a team unified.
Vince also managed to loosen up Brown. Not only did he get his coach to relax his long-standing rule against music in the locker room, he had Brown rapping to 50 Cent before the season was over. Texas had earned a reputation for choking in tight games under Brown, mainly because of the strict way he ran his team. That would not be a problem in the '05 campaign.
One of the major changes for the Longhorns in Vince's junior season was freshman running back Jamaal Charles. Expecting to be redshirted, he instead became the team's feature tailback. In a game against Louisiana-Lafayette, Charles rumbled for 135 yards to set a new Texas freshman record. He went on to become the Longhorns' top runner with 878 yards.Vince used this weapon to full advantage, particularly on play-action passes.
The season's first test for Texas came against Ohio State. Any questions about Vince's receivers were answered when Billy Pittman—a converted quarterback—and Limas Sweed made great touchdown catches in a close game. The Longhorns came out on top 25–22, providing a huge win for the school, which had previously dropped eight straight games against Big 10 opponents.
As the season progressed, Vince continued to display his leadership and playmaking prowess. During a 51–20 trouncing of Missouri, the Longhorns faced a third and 30. Vince called a pass play and asked his blockers to give him time to make three or four sandwiches. That got a big laugh in the huddle—and all the blocking he needed. After scanning the field and failing to find an open receiver, he took off and ran for a huge first down.
Against Oklahoma, which had shut out Texas in their last meeting, Vince engineered a 51–20 victory. He set the tone early, completing a key pass to his fourth option with the pass rush swirling around him. He ended this drive with a 15-yard scoring toss to Ramonce Taylor in the face of an all-out blitz.
In a 47-28 romp over Oklahoma State, Vince was flushed out of the pocket. As he approached the line of scrimmage, he pump-faked a safety out of his jockstrap and continued running for an 80-yard touchdown. The Longhorns were trailing by 19 at the time. The play changed the momentum in startling fashion. Vince's 506 yards of total offense against the Cowboys set a new school record, and he obliterated the rushing mark for Longhorn quarterbacks he had established against Michigan in the Rose Bowl.
Against Colorado, Vince completed 25 of 29 passes to break his own school record for completion percentage. He had connected on 18 of 21 passes against Oklahoma State the previous season.
MAKING HIS MARK
Texas spent virtually the entire '05 season ranked a notch below USC at #2, but the gap between the to teams was thought to be a wide one. The Trojans, the reigning national champs, had All-America players at almost every position, including quarterback Matt Leinart and running back Reggie Bush, both of whom were Heisman Trophy winners. Vince thought he should have won the trophy over Bush and carried a grudge into the BCS championship game—a return trip for Texas to the Rose Bowl.
The Trojans were a solid touchdown favorite and showed why in the first quarter, shutting down Vince and taking a 7–0 lead. Early in the second quarter, Leinart tossed a screen pass to Bush, who sprinted 35 yards before the Longhorns corralled him. As Bush was going down, he tried to lateral to a surprised teammate, and the resulting fumble was recovered by Texas. On USC's previous possession, the Longhorns had stopped them on fourth and inches at their 16. This pair of defensive stops would prove to be a turning point. After the fumble, Vince marched Texas 62 yards for a field goal. Instead of trailing 21–0, the longhorns were down7–3. It was a ballgame!
Midway through the fourth quarter, USC held a 38–26 lead. Vince got the ball on his own 31 and hit five of six passes to bring the Longhorns to the USC 17. He took over from there, running in for a score to cut the deficit to 38–33. On USC's ensuing possession, the Trojans crossed midfield and found themselves with a fourth and one at the 45. Coach Pete Carroll decided to go for it, and the Longhorns held. Texas had one last shot with 2:09 left.
Vince quickly moved the Longhorns down the field and into the red zone. On third down from inside the 10, Texas called a play that flooded the end zone with receivers, but Vince also had a run option if his teammates were covered. With the game clock under 30 seconds, he fired a pass to Limas Sweed that fell incomplete. The season came down to a fourth and five.
Texas chose to repeat the same play. This time Vince spotted two blitzers as he took his three-step drop. With his receivers covered tightly, he knew instantly that he had to take his final option while it was still there. Vince bolted right and galloped untouched into the end zone. Texas now led 39–38. Vince called his own number on the two-point conversation and barreled across the goal line oto make the final score 41–38.
Against the team many had called the greatest in NCAA history, Vince completed 30 of 40 passes for 267 yards and ran 19 times for 200 more. In arguably the greatest performance ever by a college player in a championship game, he set a new Rose Bowl record for total yards. His sublime performance had given Texas its first national championship since 1970.
For the season, Vince threw for 3,036 passing yards and 26 touchdowns and ran for 1,050 rushing yards and 12 socres. Overall, in 32 games as a starter, he was 30–2, with 6,040 yards in the air, 3,127 yards on the ground, and a total of 81 touchdowns.
A few days after the Rose Bowl, Vince announced that he was going pro. Instead of choosing one of the big NFL agents, he opted for a "team" led by Houston defense attorney Major Adams and his uncle, Keith, who were best friends. This raised a few eyebrows around football, but Vince defended his choice, saying he had known these people for years and trusted them to do what was right. Adams wasn't exactly an amateur—he had negotiated deals for defensive back Michael Lewis and his sister, gospel singer Yolanda Adams, as well as Houston rapper Mike Jones.
Prior to the draft, Vince knew his stock would rise or fall based on whether NFL scouts believed he could thrive as a pocket passer. He hired Jerry Rhome as a tutor, and they worked together on being patient and not scrambling at the first sight of penetration. By and large, Vince impressed talent evaluators.
It was the intangibles, however, that concerned many. When the Longhorns were invited to the White House to receive congratulations from President Bush, Vince showed up in jeans and a sweatshirt, while his teammates came in suit and tie. He skipped an important meeting with Reebok and blew off commissioner Paul Tagliabue's party at the Super Bowl. He also scored low on the Wonderlic Test, which measures a player's ability to absorb NFL playbooks. Rumors circulated that Vince had a scored a six out of 50, which the test administrators said was untrue. His actual score was never reported.
Despite these warning signs, Vince figured to be the first quarterback taken in the draft—almost certainly by the Titans. The hometown Houston Texans held the first overall pick, but they decided to stick with David Carr as their quarterbackand selected pass-rusher Mario WIlliams instead. Houston fans were heartbroken at the thought of letting their most popular athlete go to hated Bud Adams, who had pulled the Titans out of Houston years earlier. In fact, yhey had taken out a full-page ad in the Houston Chronicle pleading with Texans owner Bob McNair to draft Vince. But new coach Gary Kubiak talked him out of it, convinced he could do for Carr what he had done for Jake Plummer in Denver. The New Orleans Saints, picking next, had recently signed Drew Brees, so they took Reggie Bush to pair with Deuce McAllister in their suddenly explosive backfield.
Tennessee, having decided to cut ties with oft-injured Steve McNair, called Vince's name next. They later grabbed his teammate, Ahmard Hall. After the draft, Vince still held out hope that he might be McNair's understudy, but it soon became clear that the Titans were set on getting rid of their veteran quarterback. In a controversial move, the team prohibited McNair from working out with the club, fearing that he might injure himself and diminish his trade value. He eventually ended up on the Baltimore Ravens.
The Titans were in need of a little magic. They had won just nine games in the previous two seasons. Coach Steve Fisher and his staff were hoping Vince would show something special in minicamp. They were also wondering how long it would take the rookie to understand the differences between quarterbacking in college and the pros. On the first day of camp, they asked him to diagram one of the pass plays he had been studying in the Tennessee playbook. Vince not only sketched out the play, but he got the offensive and defensive formations right and was able to set up the pass protection. Vince smiled knowingly at them and asked if there were any other questions.
A few practices into minicamp, Vince opened more eyes. He threw a pass that was tipped straight up in the air by 320-pound defensive tackle Randy Starks. As Starks settled under the ball for an interception, Vince knocked him into next week. This was supposed to be a light workout. Neither player was wearing shoulder pads. Needless to say, Vince made a lot of fans among his offensive linemen that day.
The plan for Tennessee heading into training camp was to start longtime backup Billy Volek and ease Vince into the offense. The Titans were hoping he would be ready to face NFL defenses by 2007. Volek, however, was not getting along with his coaches, so the team signed veteran Kerry Collins and handed him the starting job instead.
One of the knocks on Vince was that he had never taken serious snaps in a pro-style offense. Offensive coordinator Norm Chow decided the best way to get his rookie into the flow of things was to meet him halfway. Chow rewrote much of the Tennessee playbook to include more shotgun formations and gave Vince more read-option plays. To his surprise and delight, Vince not only thrived on these sets, he had very little trouble picking up the other plays in the book. The more Chow and Fisher threw at Vince, the faster he learned. So much for the Wonderlic Test.
Vince watched the Titans' season-opening 23–16 loss to the New York Jets from the bench. He saw his first NFL action the following week with Tennessee trailing the San Diego Chargers 33–0 in the fourth quarter. Vince connected with Drew Bennett for his first touchdown pass as a pro. Collins could not move the offense again in Week 3 against Miami, but the defense played tough. It took a fourth-quarter field goal by the Dolphins to win 13–10.
Fisher had seen enough of Collins at this point. Sensing it was time to accelerate Vince's timetable, he anointed his rookie the new starter. Against the Dallas Cowboys, Vince led the team to a field goal on its first drive, but it was all downhill from there, and Tennessee lost 45-14. Unfortunately, that wasn't the worst of it. After a third-quarter touchdown run by the Cowboys, defensive lineman Albert Haynesworth lost it and stomped on center Andre Gurode's head, which led to a five-game suspension and vilification by the national media. The Titans's season had reached its low point.
Next up were the powerhouse Colts. Vince led the Titans to a 10–0 halftime lead, but the offense stalled after the intermission and Indianaplis handed Tennessee its fifth straight defeat, 14–13. Vince, who scored the team's only touchdown on a great 19-yard run, was beside himself after the game. He felt his teammates didn't trust him. Collins told him to hang in there.
Fortunately, the sad-sack Redskins were up next on the schedule. Running back Travis Henry rolled up a career-high 178 yards against Washington, as Tennessee turned a 14–13 halftime deficit into a 25–22 victory. Vince was much more relaxed in this game. He could feel the confidence building in himself and his fellow Titans.
After a bye week, the 1–5 Titans hosted the Texans. Vince was determined to make a good showing against the team that passed on him in the draft. After a scoreless first half, he took Tennessee down to the 20-yard line and then exploded out of the pocket for a breathtaking touchdown run. In the third quarter, Vince threw a scoring pass to Bobby Wade to extend the lead to 21–3. The Titans held on to win 28–22.
The Titans lost their next two, including a defeat at the hands of the Ravens. The Baltimore loss was especially disappointing. Vince led the team to a 26–17 halftime lead, but the Ravens shut him down the rest of the way. McNair, meanwhile, engineered Baltimore's fourth-quarter comeback with a pair of touchdown strikes. At 2–7, the Titans seemed headed into oblivion.
Vince didn't buy it. He had been told to expect losses, but that didn't mean he had to accept them. Each week, the NFL game was slowing down for him. He was seeing the field as he had in college. The opportunities to make game-changing plays were still there. He simply needed to relax and convince his teammates they could win.
Tennessee's amazing turnaround began in Week 11 against the Philadelphia Eagles. Vince got them off on the right foot with a 14-yard touchdown pass to Ben Troupe. The Titans blew the game open in the second half on a 70-yard scoring run by Henry, a 90-yard punt return by Pacman Jones, and a fumble recovery for a score by linebacker Keith Bulluck. The Eagles never knew what hit them, falling 31–13.
The Titans went into their next game with the Giants looking to continue their fine play. But New York's defense shut Tennessee down, building a 21–0 lead after three quarters. With 10 minutes left in the game, the Titans got on the board with a scoring pass from Vince to tight end Bo Scaife. On their next possession, Vince took it into the end zone to make the score 21–14.
After going nowhere and punting the ball back to Tennessee, the Giants were still in decent shape. They appeared to have the game won when Mathias Kiwanuke wrapped up Vince in the backfield on fourth and 10. Fearing a roughing the passer penalty, and believing Vince had released the ball, the rookie let him go. Vince then scampered for a first down. Four plays later, he connected with Brandon Jones for the game-tying score.
Incredibly, the Giants tried a pass in the waning moments of regulation. Eli Manning's underthrown ball was picked off, enabling kicker Rob Bironas to booth the winning field goal from 49 yards. Tennessee's 24-21 victory marked the greatest fourth comeback win in NFL history.
One week later, the Colts became Tennessee's next victim. Indianapolis scored the game's first 14 points, but Vince went to work in the second quarter, following a Bironas field goal with a 20-yard strike to Bennett to make the score 14–10. Vince hit Jones with a fourth-quarter scoring pass before Adam Vinatieri tied the game 20–20 with a chip shot late in the final period. On Tennessee's final possession, Vince moved the ball to the Indianapolis 43-yard line before coming up short on third down. Fisher was set to punt unit until Vince pointed out that the wind was blowing at their back and convinced the coach to let Baronis take a shot. He split the uprights from 60 yards for an amazing win.
The Titans next traveled to Houston for their second meeting with the Texans. More than 200 friends and family showed up for the tailgate party outside Reliant Stadium, five miles from Vince's old neighborhood. Houston businessman Mattress Mac McIngvale—a legendary supporter of sports in the area—made sure that everyone got in the game, purchasing tickets for the fans Vince was unable to cover. In an exciting see-saw battle, Vince engineered a scoring drive in the fourth quarter to give his team a 20–17 lead. The Texans then tied the game 20–20 on a 46-yard field goal by Kris Brown.
In overtime, Vince dropped back to pass on third and 14. When he could not find a receiver, he blew threw the middle of the defense and scored on a 39-yard run to end the game. For any other NFL quarterback, the play probably would have ended short of first-down yardage, but Vince was quick enough to slip past a couple of tacklers, who could only watch from the ground as he accelerated toward the goal line.
He threw the football and his helmet into the stands in celebration of his dream "homecoming." Fisher and Chow smiled broadly on the sideline. The Texans had been dropping all but three players back into coverage on most passing downs, but this time they came at Vince with a blitz. He read it perfectly.
The following week, the Jaguars watched a 10–7 lead disappear after the Titans scored 17 points in the third quarter. Vince had another good day, and the defense returned two interceptions for touchdowns in a 24–17 victory. Now at .500, Tennessee had jumped into the playoff hunt.
Unfortuntely, the Titans finished a game out of the Wild Card. Still, they concluded their year with a very respectable 8–8 record, including eight victories in Vince's final 11 games—and more dramatic comebacks in a season than many pro passers engineer in a decade.
Vince entered the 2008 season at the helm of a talented and confident club. With lightning-quick rookie Chris Johnson in the backfield and a sure-handed receiving corps, Tennessee fans were already punching their ticket to the playoffs. When Vince couldn't get it going in the opener against the Cincinnati Bengals, they let him hear about it in the fourth quarter. He was so angry that he slammed his helmet on the bench, and then he didn't want to return to the field for the next possession. Moments later, he banged up his knee and Collins came in. He engineered a touchdown drive that proved decisive in a 17–10 victory.
Collins remained the quarterback while Vince recovered. He did so well as a fill-in that he was anointed the permanent starter. The 35-year-old veteran led the Titans to 10 straight victories.
Vince was told to sit, watch and learn. He wasn't happy. At one point, he went AWOL. His mother finally spoke up, saying her son was stressed out and wanted to retire. Ultimately, Vince had a change of heart, met his the Titans and sorted out his problems.
He got into two more games in '08, both as a sub, as the Titans finished the year at 13–3, the best record in the AFC. In their playoff meeting with the Ravens, the Titans finally stumbled, losing 13–10 on a fourth-quarter field goal.
The formula was supposed to be the same in 2009, but the law of averages struck with a vengeance. The Titans lost their first six games, the sixth being a 59–0 whumping at the hands of the New England Patriots. After a bye week, Fisher handed the reins back to Vince in a contest against Jacksonville. He managed the game like a pro, letting Johnson run roughshod over the Jaguars. Vince also made the most his opportunities, hitting on 15 of 18 passes in a 30–13 victory.
With Vince back in the starting role, the Titans won their next four in a row before losing to the Colts in Week 13. Vince led the team to three more victories in the season's final four games, including a 47–17 dismantling of the St. Louis Rams. The Titans finished a remarkable 8–8. In six of the eight wins, Vince led the team to victory with a fourth-quarter drive.
Vince had obviously learned something watching Collins. Playing with more maturity, he completed just under 60 percent of his passes, with 10 touchdowns against only seven interceptions. He dodged tacklers when he had to, but he also hung in the pocket and let his receivers get themselves open. When Vince ran, he ran well, scoring a pair of touchdowns and notching a long of 44 yards. He was rewarded for his fine season by being picked for the Pro Bowl after Phillip Rivers was unable to play.
The pieces are there for the Titans to build a playoff contender for years to come. In a league where 9–7 teams often make the playoffs, it would not be shocking for Vince—who has never experienced a losing season—to be playing football in January some time soon.
The road to NFL stardom has not been easy for Vince. He has had to learn valuable lessons, especially in 2008 when he drew the wrath of the fans for the first time. But adversity has never been a complete stranger to Vince. Life on the hardscrabble streets of Houston taught him perserverence. That trait will undoubtedly help him as me moves forward in his NFL career.
VINCE THE PLAYER
Vinceclaims the year he sat and watched may turn out to be the most important of his career. Since then, he appears to have found the balance between his explosive talent and the maturity required to run an NFL offense.
Quickness is the key to Vince's game. He has a quick release and is quick on his feet, but most of all he makes quick decisions. Once he reads a play, either he or the ball is gone in an instant—no hesitation.
Vince's mechanics have been the focus of much conjecture since his high school years. He has a slight hitch in his delivery, and he slings the ball around shoulder-high. Being tall, he can get away with this, though he is susceptible to having his throws batted down at the line of scrimmage.
In college, Vince perfected the quick pass, flicking the ball to receivers using his elbow, forearm, wrist and fingers. It is still a lethal weapon in the pros, particularly against blitzes. He has a terrific instinct for oncoming pass rushers, yet he's clearly unfazed by thought of getting creamed in the pocket.
Having surpassed Michael Vick as the best-running quarterback in college history, Vince showed in his first NFL season that he was more than just a runner with an arm—a tag that still dogs Vick (no pun intended). In fact, the Tennessee coaching staff had to implore Vince to run more often early in his career; he was so intent on making his reads and proving he was a pocket passer that he was underutilizing one of his most potent weapons.
EXTRA
* Vince's mentor as a teenager, Steve McNair, continued to talk to him a couple of times a week while he was in college. He was heartbroken when McNair was murdered in July of 2009. At the funeral, Vince vowed to make sure McNair's sons, Trenton and Tyler, would never want for anything.
* Vince was the 2001 Texas 5-A Player of the Year in football.
* Vince was given the Pete Dawkins Trophy as the MVP of the 2001 Army All-American Bowl.
* Vince roomed with running back Selvin Young at Texas.
* Vince credits much of his college success to lineman Jonathan Scott, his blindside tackle. He once went an entire season without allowing his man to tackle Vince for a loss.
* Vince's passer rating during the 2005 regular season was 168.6, tops in the nation.
* Vince's 200 rushing yards in the 2006 Rose Bowl eclipsed the old NCAA bowl record of 199 for a quarterback, set by Nebraska quarterback Tommie Frazier in the 1999 Fiesta Bowl.
* Along with Charles White, Ron Dayne and Bob Schloredt, Vince is one four two-time Rose Bowl MVPs.
* During his Texas career, Vince accounted for 400+ yards of total offense in a game four times. Chris Simms and Major Applewhite did it once each.
* Vince was one of seven Longhorns to earn All-America honors in 2005.
* Vince finished second in the 2005 Heisman Trophy voting, but won the Maxwell Award as the top college player and the Davey O'Brien Award as the top college quarterback.
* Vince's 30 victories and 61.8% completion percentage were the best marks ever for a Texas quarterback.
* Vince's 9,167 total yards were the most in Longhorns history.
* Vince is the only NCAA player in history to rush for 1,000 yards and pass for 3,000 yards in the same season.
* Vince's .938 winning percentage as an NCAA starter was the sixth best in history.
* In Vince's first start of the 2009 season, the Titans and Jacksonville Jaguars set a record with four touchdown runs of 50 yards or more.
* In 2009, Vince helped the Titans become the first team in NFL history to win five straight after opening a season with six consecutive losses.
* Vince beat the Sports Illustrated cover jinx, turning in a great rookie performance despite being on the front of SI three times—four, including the special Texas National Championship issue.
* Vince credits Kerry Collins—the man he replaced—for helping him keep an even keel during his early losses as an NFL starter.
* Prior to the NFL draft, Vince's mom introduced herself to Texans owner Bob McNair. "I just wanted to meet you, since you won't be drafting my son," she said.
* Vince was given the key to the city by Houston mayor Bill White during a parade celebrating Black History Month in 2006.
* During the Titans's first trip to play the Texans at Reliant Stadium, the TV camera panned to a sign that read: "Houston, We Have A Problem—They Got Vince."
* Vince won an ESPY in 2006 for the Best Championship Performance. He and Matt Leinart accepted another ESPY for Best Game.
* Vince was the first Texas player under coach Mack Brown to leave early for the NFL.
* After Hurricane Rita slammed into the Texas coast in September of 2004, Vince and other Longhorns hosted evacuees in their Austin apartments.
* Vince has a tattoo on his right arm of a vine with four roses. They represent the four women in his life, his mom, two sisters and grandmother.
* Vince gave away the bride at both of his sisters' weddings.
Read more
Latest headlines