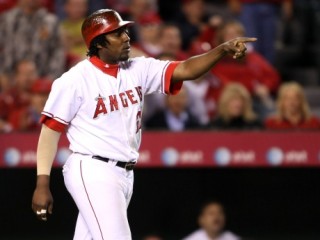 Vladimir Guerrero biography
Date of birth : 1976-02-09
Date of death : -
Birthplace : Nizao Bani, Dominican Republic
Nationality : Dominican
Category : Sports
Last modified : 2010-10-29
Credited as : Baseball player MLB, outfield with the Los Angeles Angels,
GROWING UP
Vladimir Alvino Guerrero was born on February 9, 1976, in the town of Nizao Bani, on the Dominican Republic's south coast, about an hour west of Santo Domingo. His mother, Alvino, managed a food stand. His stepfather, Damian, ran a shuttle bus. He was one of nine kids, four full siblings and four half siblings.
Alvino's father had a small farm, which Vladimir worked as a boy. Among his chores was tending the cattle. Vladimir says he developed his strong, tough hands bringing uncooperative bulls in at the end of the day. (He is one of the few major leaguers who does not wear batting gloves.) Vladimir also sold food from his mother's stand.
Vladimir's family owned their own home. It started as a mud-walled structure with a palm frond roof, and slowly teh Guerreros improved it with wood and concrete. Vladimir was always proud of the modest dwelling. Unfortunately, the money his parents made was not enough to feed such a large family. In 1988, Alvino went to work for a wealthy family in Venezuela. She would come home every other Christmas, and the children would talk to her on a pay phone in Santo Domingo every few weeks. She held this job until the mid-90s.
Although his town was not known for producing great ball players, baseball was part of the rhythm of life in Nizao Bani. The game was contested with a lemon or lime rolled up in old socks, a guava tree limb for a bat, and fielders gloves made of milk cartons. From the age of five, Vladimir was on the field with the big kids, and always one of the better hitters.
The kids of Nizao Bani enjoyed a form of baseball known as La Placa. Home was a license plate, and a batter had to keep his bat touching the dish until the pitcher released the ball. This made Vladimir a great low ball hitter.
Vladimir's brother, Wilton, a year older, was the best player anyone had ever seen in Nizao Bani. A wiry shortstop with a live bat, he was compared to Tony Fernandez. An older boy, Deivi Cruz, gave Wilton a run for his money at the position, but even though Cruz made it to the majors, Wilton was the big-time prospect. He and Vladimir were friends with another youngster in Bani who also was scouted as a shortstop. His name was Miguel Tejada.
The Dodgers discovered Wilton while scouting the oldest of the Guerrero brothers, Elisier. A powerful hitter who projected as an outfielder, he washed out of their academy when he failed to develop the speed the team wanted to see. Wilton was signed at age 16, in 1991 and progressed steadily through the Los Angeles system.
After Wilton was inked by the Dodgers, Vladimir's job was basically to deliver home-cooked meals to his brothers at the team's baseball academy. He endured the long bus ride each day, secretly hoping the team would sign him. Vladimir was already taller than Wilton, but weighed less than 150 pounds. At the same age, WIlton was ripped. The Dodgers had their eye on Vladimir, but his long, loping strides and ill-defined muscles made the team wonder if he was a carbon copy of Elisier. Even so, Vladimir was told that the team would probably offer him a contract at some point—if only to keep Wilton focused and happy. The Dodgers loved the way Vladimir played, but were concerned about how he impatient he got during practice. When they double-clutched on the paperwork, they lost their shot at him.
This turned out to be a monstrously bad decision. Montreal scout Victor Franco and minor league manager Arturo DeFreitas already knew about Vladimir. They contacted a friend of his who shuttled players to and from the various baseball camps on his scooter, and asked him to bring the teenager to the Expos' camp. There, running in a pair of mismatched cleats, he was timed at 6.5 seconds in the 60-yard dash and showed off his arm with several great throws. After taking some hacks in a scrimmage, he pulled a muscle running to first. Unable to continue. he sat on the bench and dropped his head, thinking he had blown his chance. Scout Fred Ferreira had seen enough, however. Determined not to let Vladimir back on that scooter, he offered a contract with a $3,500 bonus, and paid the driver $200 as a finder's fee.
ON THE RISE
Vladimir began his first professional season with Montreal's Dominican League team. He was a raw talent, but managed to hit .333 in 105 at-bats. The club had him slated for centerfield—all the top Expo outfield prospects start there—but he also tried his hand at pitching, an experiment that ended quickly for the safety of anyone within 50 feet of home plate.
Vladimir was back in the Dominican League in the summer of 1994. But after drilling 12 homers in 25 games, he was shipped to the U.S., where he finished out the year in center with Montreal's team in the Gulf Coast League. There he collected 21 extra-base hits and batted .314 in 37 games.
Now on the fast track, Vladimir spent the entire season with the Albany Polecats of the Class-A South Atlantic League. Though overshadowed somewhat by fellow phenoms Andruw Jones and Derrick Gibson, he reached double digits in doubles, triples and homers, and led the league with a .333 average in a difficult hitter's park. Despite the presence of more than a half-dozen future big leaguers—including Javier Vazquez and Brad Fullmer—the Polecats went just 62-78.
Vladimir started the 1996 season with West Palm Beach of the Florida State League, but quickly earned a promotion to Class-AA Harrisburg of the Eastern League. With the Senators, he batted .360—the best mark in the minors— and was named MVP despite being the EL's youngest position player. Vladimir supplie plenty of power, too, with a combined 24 homers and 96 RBIs in his two minor-league stops.
The Senators wound up winning the league championship, after which Vladimir was called up to the Expos in time fore a late-September series with the front-running Braves. He held his own against the league's best pitching staff, going 4-for-17 in the series, and drilling an opposite-field homer against Altanta's closer, Mark Wohlers. At about the same time, the Dodgers promoted Wilton. He became their everyday second baseman the following season.
Vladimir arrived at his first spring training in February of 1997 with a shot at a regular outfield job. He tore it up in practice and Grapefruit League games, prompting reporters to ask manager Felipe Alou why he hadn't been in camp in 1996. Alou half-joked that he had been afraid to extend the invitation—because the kid would have been the best player on the field and he wanted to give him another year of seasoning. Vladimir won the rightfield job over Cliff Floyd, who was shipped to the Florida Marlins at the end of March.
Earlier in the month, Vladimir had shown up in Alou's office with his luggage. When a hotel clerk had asked him a question about his bill, Vladimir—whose English was very poor—thought he was being shipped out. Alou sent him back to the hotel, and the next day he hit an inside-the-park homer and gunned down a runner at the plate.
On the final day of spring training, Vladimir took a Mike Mussina pitch full on the foot, and was sidelined until May. He played a month, then pulled a hamstring. After returning to the lineup, he was plunked on the hand by Stan Belinda, ending his rookie year. In 90 games, Vladimir batted .302 with 11 homers. He was part of a solid outfield, with Henry Rodriguez in right and Rondell White in center. The rest of the club struggled. The Expos, a Wild Card contender in '96, finished 78-84 in 1997.
Vladimir lived with Pedro Martinez that first year in Montreal. The two had first met when Vladimir was delivering food to his brother at the Dodgers camp and Martinez—just breaking into the majors—was visiting the complex. They faced each other in Winter League play, too—Martinez for Licey and Vladimir for Estrellas.
Pedro lived alone and liked Vladimir, so it made sense to take him under his wing and give him a pace to crash. Martinez also helped him through the complexities that faced a young Latino competing an American sport in a French-speaking town.
After the '97 season, Vladimir and Wilton returned home to oversee their pet project—the rebuilding and expansion of the family home. Neither brother was pulling down big bucks yet, so construction progressed a room or two at a time, with everyone pitching in.
Over the winter, there was much conjecture over Alou's next move. The Montreal skipper had a couple of appealing offers on the table, most notably from the Dodgers. The frustrations of managing a cash-strapped team were wearing him down, but the thought of tutoring Vladimir was a good reason to stay. In the end, that is just what Alou did.
MAKING HIS MARK
Heading into 1998, the Expos were now Vladimir's team. After Martinez was traded to the Boston Red Sox in November of '97, he and Rondell White were the only plus position players, and Ugueth Urbina—converted from a starter to a closer in '97—was the only major arm on the staff. Naturally, there was a great outcry to ensure Vladimir remained in Montreal.The team began working on a contract extension, and before the end of the '98, he was locked up through 2003 at $28 million.
It was quite a bargain. Vladimir rapped out 202 hits, batted .324, hammered 38 homers and drove in 109 runs in 1998. The only player to put up those kind of numbers before age 23 was Joe DiMaggio.
Although the Expos went from 78 victories to 65, the '98 campaign was a magical one for the Guerrero family, as Wilton joined the Expos at mid-season in a seven-player trade. The reunited brothers shared an apartment with their mom, who cooked for all the Spanish players on the team, and even sent food to the ballpark for Alou.
Despite their poor record, the Expos still had some good young players on the roster. Vazquez showed grit despite a 5-15 record, Urbina was excellent with 34 saves, Fullmer stroked 44 doubles and eternal prospect Shane Andrews clubbed 25 home runs. Jose Vidro also emerged as a star on the rise, challenging Wilton for the second base job.
The Expos showed slight improvement in 1999. The pitching was still shaky, but the Montreal offense was good enough to win 68 games. In just his second full season, Vladimir went wild, with 42 homers, 131 RBIs, a .316 average and .600 slugging percentage. One of the other bright spots was Vidro, who played well enough to push Wilton out the door. The Expos chose not to re-sign him and he moved over to the Reds during the winter.
The 2000 Expos had the makings of a decent club, but when White was lost to injury for the summer, it left Vladimir and Vidro as the only two run-producers in the lineup. Urbina also went down with a sore elbow, weakening the bullpen noticeably. When it was all said and done, Montreal's record stood at 67-95.
As for Vladimir, he had another wonderful season. He raised his average to .345 and his slugging to .664. He hit 44 homers, knocked in 123 runs and struck out just 74 times despite getting few decent pitches to hit.
The 2001 season saw the Expos lose more money and games. Alou was replaced by Jeff Torborg after 53 games, but it had little effect. Fernando Tatis, brought in to protect Vladimir in the lineup, missed 120 games with a knee injury. Vladimir began to overswing and saw his average drop to .309 with 34 homers and 108 RBIs—not a bad campaign for most, but an off-year for him. Another factor in Vladimir's decline was his baserunning. Alou had spent years telling him not to waste his energy stealing bases. When Torborg came in he was given the green light and stole 37 times.
Prior to the 2002 campaign, the Expos were taken over by Major League Baseball. Frank Robinson was asked to manage the team, and he did wonders with the club, cobbling together a lineup out of young players and cast-offs, with Vladimir hitting third in the lineup in front of Vidro. He recaptured his old magic with 39 homers, 111 RBIs, and a .336 average, and led the NL with 206 hits and 364 total bases. He fell one homer shy of a 40-40 season.
The Expos also got good years at the plate and in the field from Orlando Cabrera and Brad Wilkerson, and solid seasons from Vazquez, Tomo Ohka and Tony Armas, Jr. Among the many notables who did time on the Montreal roster were Bartolo Colon (who went 10-4), Cliff Floyd (who returned for 15 games) and Vladimir's brother, Wilton. When the dust settled, Montreal had 83 wins.
Vladimir's 2003 campaign would be his last as an Expo. There was little chance MLB would saddle a prospective owner with a new contract that promised to fall in the $50-$75 million range, so Vladimir was essentially on a season-long audition. Initially, it was assumed that Montreal would trade him for prospects during the summer. But everyone tried to lowball the Expos, and they held fast.
By mid-season, Vladimir's back had begun to hurt. The diagnosis was a herniated disk, which scared off any serious buyers as the trading deadline neared. He finished the year in Montreal, batting .330 in 112 games with 25 homers and 79 RBIs.
That winter, Vladimir hit the free agent market. Teams were nervous about his back, even though he slammed more than half his homers after coming off the DL. Vladimir was a perfect fit for the New York Mets, but they were unwilling to put more than a three-year deal on the table. Like the Dodgers a decade earlier, they would regret this decision. The Angels, owned by Arte Moreno—the first Latino boss of a major American sports team—inked Vladimir for five years at $70 million.
Vladimir joined a club just one year removed from a World Series title. The Angels had a nice lineup on paper—including Darin Erstad, Troy Glaus, Garrett Anderson and Tim Salmon, the core of their championship club. In 2004, however, each of these players spent significant time on the DL. Vladimir and fellow free agents Jose Guillen and former Expo teammate Colon carried the team all season, keeping them in the mix with the Texas Rangers and Oakland A's.
Despite the injuries, Anaheim's free-swinging offense produced a lot of hits, and just enough runs to win more often than they lost. The pitching-rich A's built a slim lead heading into September and looked like a good bet to hang on in the AL West. When Guillen was suspended by the team for challenging manager Mike Scioscia's authority, Vladimir picked up a sulking club by hitting .650 with five home runs in the next five games.
Ultimately, the entire month belonged to Vladimir, as he hit .371 with 10 homers and 23 RBIs. In the last six games—four of which came against Oakland—he went 14-for-30 with six homers and 11 RBIs. The Angels won the West by a game, and Vladimir was voted league MVP. His final numbers were .337-39-126, and he topped the AL with 124 runs, 366 total bases. He ended third in batting, hits and slugging.
Amazingly, his best moment during this stretch came on defense, in a September 29th game against the Rangers. After catching a fly ball off the bat of Chad Allen on the right field line, he gunned down Kevin Mench, who had tagged from third, by 10 feet to preserve a tie. The Angels went on to win and assumed first place that day.
Anaheim met the Wild Card Red Sox in the Division Series, and their pitching imploded. Boston scored 25 runs in the three-game sweep, while their hurlers neutralized the Angel hitters. Vladimir had a terrible series, but made things interesting in the final game with a grand slam off closer Keith Foulke that knotted the score at 6-6. Boston scored twice in the 10th to advance, and eventually won the World Series.
The 2005 edition of the Angels featured newcomers Steve Finley and Orlando Cabrera, with essentially the same cast of characters that got them to the postseason the previous fall. Vladimir rode a torrid June to another 30 homer–100 RBI season, becoming just the third Angel to do so two years in a row. He also batted .317 and set a franchise record with 26 intentional passes. (He would better that mark by two in 2007). Anaheim won 95 games to finish first again.
Vladimir was a terror in the ALDS against the Yankees, as the Angels won in five games. They were favored by many against the White Sox in the ALCS, but Chicago pitchers continued their outstanding performance and Anaheim fell in five games. A key to Chicago's victory was shutting down Vladimir, who managed just one hit.
Vladimir had another terrific season in 2006, reaching 200 hits for the fourth time in his career. He launched 33 home runs and drove in 116 to go with a sparkling .329 average. Unfortunately, he was a one-man power source for the Angels over most of the season. Despite excellent years from young pitchers John Lackey, Ervin Santana, Jered Weaver and Francisco Rodriguez, the Angels won only 89 games to finish four games behind the A's.
Vladimir continued to shine with the bat in 2007. He drove in 125 runs—his highest total as an Angel—adding 25 homers and a .324 average. Anaheim won the AL West, and Vladimir was among the top finishers in the MVP race. The club's emerging ptiching staff seemed primed to take the next step and make hay in the postseason, but they never got the chance. The Red Sox completely shackled the Anaheim hitters in the Division Series in a three-game sweep. Aside from a three-run inning early in Game 2, the Angels scored only one other run.
The Angels returned to the postseason after capturing the AL West crown again in 2008 with an impressive 100-win campaign. As always, Vladimir was a key component in the offense. He hit .303 with 27 home runs and 91 RBIs. This would be his final season as a regular outfielder. He had lost a step, which was evident both in the field and on the base paths.
The Angels' hopes for a return to glory ended again in the Division Series against the Red Sox, who beat them for the second year in a row. Late runs sunk the team in the first two games, sending the Angels back to Boston down two games to none. They stayed alive with a 12-inning nailbiter in Game 3, but Game 4 ended in frustration. A missed squeeze bunt in the ninth denied Anaheim the lead. In the bottom of the inning, the Red Sox ended the series on run-scoring single by Jed Lowrie. Vladimir did what he could at the plate to help the club, batting over .400. But it wasn't enough.
Vladimir functioned as the Angels' primary DH in 2009. It was a diminished role for a player whose skills seemed to be eroding. Some said that all those years on the hard turf in Montreal were finally taking their toll—that he was an "old" 34. The numbers seemed to support this idea. He hit only 15 homers and knocked in a mere 50 runs despite a .295 average. His slugging average plummeted 60 points.
Still, the Angels turned inn another good performance, claiming the AL West flag with 97 victories. And come playoff time, Vladimir dialed it up against the Red Sox and Yankees. He batted .400 in a three-game ALDS sweep of Boston. Against New York, he pounded out 10 hits in six games. The Yankees, however, had too much offense for Anaheim.
After the season, Vladimir hit the free agent market looking for a DH job with a team that needed a middle-of-the-lineup difference-maker. Unfortunately, not many clubs saw Vladimir in this light anymore. Clearly, there was some baseball left in his body, but how much?
The Rangers were one of the few teams willing to find out. They signed him for the bargain price of $5.5 million and planted him in a batting order that featured fellow sluggers Josh Hamilton and Nelson Cruz. Vladimir owned a career .394 batting average and .705 slugging percentage in the Ballpark at Arlington. He was also a nice veteran presence on a club with loads of young talent.
Vladimir proved his value on Opening Day, breaking up a no-hitter against the Blue Jays in the seventh inning. By midsummer, he was looking like his old self, delivering game-winning hits off of marginal pitches. No one in the majors was more clutch with two strikes on him.
Vladimir appeared in his ninth All-Star Game and was the toast of Texas as he helped the Rangers win their first division title in the 21st century. He spent much of the year hitting third and saw plenty of good pitches; no one wanted to put him on base with Hamilton—who was having an MVP-caliber season—coming up behind him. Vladimir batted an even .300 with 29 home runs and 115 RBIs, his first triple-digit season since 2007. He finished in the Top 10 in the AL in homers, RBIs and total bases.
In the ALDS, the Tampa Bay Rays went right after Vladimir. He struggled to drive in runs, too often chasing pitches out of the strike zone. Fortunately, the Rangers didn't need his bat. Cliff Lee, acquired in a midseason trade, won twice, both times in Tampa. On offense, Cruz, Ian Kinsler and Michael Young led the charge. Texas took the series in five games.
Against the Yankees in the ALCS, Vladimir finally began to heat up. He went 4-for-5 in Game 4, a 10-3 laugher for the Angels in the Bronx. In the decisive Game 6, Vladimir delivered three RBIs. In front of their home fans, the Rangers advanced to the World Series for the first time. Hamilton was named the series MVP, and Vladimir celebrated like a Llitle Leaguer. ollecting 12 hits in 11 games, including a key double in Game 6 of the ALCS. When the smoke cleared, the Rangers had won their first pennant.
No one expects Vladimir to win another MVP award, but in many ways his contributions to the 2010 Rangers are the most valuable he's ever made. From a spirit and team leadership standpoint, it is easy to argue that he was one of the big reasons Texas had the confidence to make it to top. At the very least, there can no longer be any doubt that all those millions of fans who have marveled at Vladimir's outrageous skills have been watching a Hall of Famer in the making.
VLADIMIR THE PLAYER
Vladimir sits dead red on the first pitch, and from there it is an adventure. His willingness to offer at deliveries up, down or outside gives pitchers a large strike zone. His ability to drive those offerings, however, makes him a dangerous hitter—even when he's not being pitched to. The place to go with Vladimir is up and in. He has always had trouble with that pitch, but swings at it anyway, almost as an act of defiance.
At this point in his career, Vladimir has been compared to some of history's greatest righthanded hitters, including Joe DiMaggio, Roberto Clemente and Frank Robinson. Perhaps the closest match is Hank Aaron. Both players could cover every inch of the plate (and then some) yet rarely took a clumsy swing.
In the field, Vladimir was all muscle. He could throw runners out from anywhere, but he often went after guys he shouldn't, costing his team valuable bases. It was not unusual for him to make a highlight-reel throw or catch in the same game as a bonehead play. When he finally slowed down, no one quibbled with the idea of moving him into a designated hitter role.
As he showed against the Yankees in the 2010 playoffs, the longer the game goes, and the longer the season goes, the more dangerous Vladimir becomes. You can fool him once or twice, but in the end he'll get you.
Read more
Latest headlines