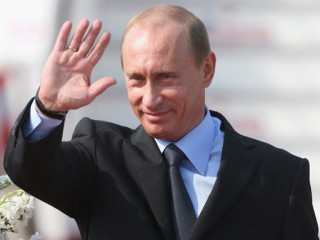 Vladimir Vladimirovich Putin biography
Date of birth : 1952-10-07
Date of death : -
Birthplace : Leningrad, Russia
Nationality : Russian
Category : Politics
Last modified : 2010-04-06
Credited as : Russian president, Prime Minister of Russia, KGB career
Vladimir Vladimirovich Putin was Russian president during 1999 to 2008.
Putin served 15 years with the KGB, including six years in Dresden, E.Ger. In 1990 he retired from active KGB service and returned to Russia to become prorector of Leningrad State University, and by 1994 he had risen to the post of first deputy mayor of the city. In 1996 he moved to Moscow, where he joined the presidential staff as deputy to Pavel Borodin, the Kremlin's chief administrator. In July 1998 President Boris Yeltsin made Putin director of the Federal Security Service (the KGB's domestic successor). In 1999 Yeltsin appointed Putin prime minister, and on December 31 of that year Yeltsin stepped down as president in Putin's favour. Three months later Putin won a resounding electoral victory, partly the result of his success in the battle to keep Chechnya from seceding. In his first term he asserted central control over Russia's 89 regions and republics and moved to reduce the power of Russia's unpopular financiers and media tycoons. The period was also marked by frequent terrorist attacks by Chechen separatists. Putin easily won reelection in 2004. His chosen successor, Dmitry Medvedev, was elected president in March 2008.
Putin was born on October 1, 1952, in Leningrad (now St. Petersburg), Russia. He is an only child. His father, a decorated war veteran, was a foreman in a metal factory. He died in August of 1999, the week his son was appointed prime minister of Russia. Putin's mother, who did not work outside the home, died a year and a half before that. Growing up in Leningrad, Putin lived with his parents in a communal apartment with two other families. Though religion was not permitted in the Soviet Union, his mother secretly had him baptized as an Orthodox Christian. He remains a practicing member of the Church and delivered a Christmas Eve speech in Moscow in 1999.
Though he was a small-built child and is still a short and slim man, Putin could hold his own in fights thanks to martial arts classes. By the age of 16 he was a top-ranked expert at sambo, a Russian combination of judo and wrestling. He attended a prestigious high school, School 281, which only accepted students with near-perfect grades. The institution was the only one in Russia to stress chemistry, which was Putin's interest. However, he soon gravitated toward liberal arts and biology. Putin worked at the school radio station, where he played music by the Beatles and other Western rock bands. Though he attended parties, he was reportedly more mature than others his age, according to one of his fellow students quoted by Michael Wines in the New York Times . Fascinated with spy movies as a teen, he aspired to become a KGB agent.
At Leningrad State University, Putin was the school's judo champion in 1974. He graduated from the law department in 1975. Wines in the New York Times noted that Putin had graduated with honors, but a Newsweek article reported that his thesis adviser, Valery Musin, said he had received "good but not great grades," though he was a "meticulous" student. The Newsweek piece pointed out that his scholastic record had been removed from the university's archives. Later, he received a doctorate in economics as well.
Instead of entering the law field right out of school, Putin landed a job with the KGB, the only one in his class of 100 to be chosen. Though some reports stated that he joined the elite foreign intelligence arm, called the First Chief Directorate, the Newsweek article claimed that his first position was actually in a department called Service Number One in the agency's Leningrad office. This branch was responsible for recruiting foreigners in the country to serve KGB intelligence purposes. Another report by Wines in the New York Times stated that he "was a mid-level KGB agent performing fairly routine duties."
In the early 1980s Putin met and married his wife, Lyudmila, a former teacher of French and English. In 1984 he was selected to attend the prestigious Red Banner Institute of Intelligence, where he mastered German and also learned English in preparation for an international assignment, which he had coveted for some time. In 1985 the KGB sent him to Dresden, East Germany, where he lived undercover as Mr. Adamov, the director of the Soviet-German House of Friendship, a social and cultural club in Leipzig. According to Wines, he spoke so fluently that he could easily mimic regional dialects. Putin appeared to genuinely enjoy socializing with Germans, unlike many other KGB agents, and respected the German trait of discipline.
What Putin did in East Germany has been a matter of some speculation. Wines wrote, "Officially - and perhaps actually - his task was to track the political leanings of East Germans and their contacts with the West." John Lloyd stated in the New York Times Magazine, "His real task was to recruit agents to supply technical and economic information: he may have been involved in setting up a KGB network to prepare for the collapse of East Germany." Insight on the News reporter J. Michael Waller, meanwhile, claimed that Putin oversaw the notorious Stasi secret police force during the 1980s.
Around the time Putin went to East Germany, Soviet leader Mikhail Gorbachev was beginning to introduce economic and social reforms. Putin was apparently a firm believer in the changes. In 1989 the Berlin Wall, separating East from West Germany, was torn down and the two began to unite. Though Putin supposedly had known that this was inevitable, he was disappointed that it occurred amid chaos and that the Soviet leadership had not managed it better.
In 1990 Putin returned to Leningrad and took a job in the international affairs department at his alma mater, screening foreign students. However, that was a cover for his continuing intelligence work. Before long, one of his former university professors, Anatoly Sobchak, who had become the first mayor of St. Petersburg (the former Leningrad), asked him to join his administration. In 1991, just as the Soviet Union was beginning to be unraveled, Putin resigned from the KGB at the rank of colonel, in order to get involved in politics. He allegedly quit because he wanted to be part of the important changes going on in Russia at the time, or perhaps because many of his colleagues in the KGB were persecuted after the fall of the Berlin Wall. In any event, he became the mayor's external affairs aide and, in 1994 became deputy mayor. However, a Newsweek report suggested that he might have been an infiltrator there as well.
During his time in city government, Putin "excelled at unraveling the Goridan knots of Russian bureaucracy and building an infrastructure - highways, telecommunications, hotels - to support foreign investment," according to Wines. Although St. Petersburg never grew to become the financial powerhouse that many had hoped, its fortunes improved as many foreign investors moved in, such as Coca-Cola and Japanese electronics firm NEC. Putin gained the nickname "the gray cardinal" in response to his behind-the-scenes influence and low profile. He was investigated in the early 1990s for allegations of favoritism in granting import and export licenses, but the case was dismissed over lack of evidence.
In 1996, when Sobchak lost his mayoral campaign, Putin was offered a job with the victor, but declined out of loyalty. The next year, he was asked to join President Boris Yeltin's "inner circle" as deputy chief administrator of the Kremlin. He left the Kremlin in 1998 to become head of the Federal Security Service (FSB), the domestic intelligence arm and successor to the KGB, which had been dismantled. In March of 1999, he was named secretary of the Security Council, a body that advises the president on matters pertaining to foreign policy, national security, and military and law enforcement.
In August of 1999, after Yeltsin had gone through five prime ministers in 17 months, he appointed Putin, who was originally dismissed by many observers as not a viable heir apparent to the ill president. For one thing, he had little political experience; for another, his appearance and personality seemed bland. However, Putin increased his appeal among citizens for his role in vehemently pursuing the war in Chechnya. In addition to blaming various bombings in Moscow and elsewhere on Chechen terrorists, he also used harsh rhetoric in condemning his enemies. As Wines reported, this "established his image as a tough and no-nonsense leader at a time when Russians were seeking just such a person." Soon, Putin's popularity ratings were soaring at 50 percent in a nation where an approval rating of even 20 percent is considered a good showing.
In December of 1999, Russia held elections for the 450-seat Duma, the lower house of Russia's parliament. Putin's Unity Party, formed just three months prior, came in a close second to the Communists in a stunning showing. With allies, they were expected to wield just about as much power. Though Putin was not a candidate on the ballot in this election, the candidates rode on his coattails as the obvious front-runner in the upcoming presidential race scheduled for June of 2000.
On New Year's Eve in 1999, Yeltsin unexpectedly stepped down as president, naming Putin as acting president. The election was moved up to March 26 in accordance with the Russian Constitution. Many observers speculated that Yeltsin's move was calculated to ensure Putin's success, just in case public support for the war in Chechnya turned and caused his ratings to fall. It was rumored that Yeltsin also wanted to install Putin in order to escape any prosecution, since Putin had been a loyal follower and Yeltsin had long been accused of corruption and nepotism. Indeed, one of Putin's first actions as acting president was to grant Yeltsin immunity from any future criminal or administrative investigations. The decree also granted continued housing, salary, staffing, and benefits for Yeltsin and his family.
Immediately, Western news media and the United States government scrambled to create a profile of the new Russian leader. Due to Putin's secretive background as a KGB agent, information was scarce. Many articles focused on the fact that, despite his popularity, few even in his own nation knew details of his background or where he stood on issues. His history as a spy caused many Westerners and some Russians as well to question whether he should be feared as a foe of democracy. In addition, Christian Caryl wrote in U.S. News and World Report, "Putin's watch at the FSB (from July 1998 until August 1999) coincided, in part, with a series of high-profile prosecutions of environmental activists accused of 'betraying state secrets' (actually publicizing the lackadaisical disposal of dangerous nuclear waste by the Russian military)."
In Putin's first speech as acting president, he promised, "Freedom of speech, freedom of conscience, freedom of the press, the right to private property these basic principles of a civilized society will be protected," according to a Newsweek report. In addition, Putin rid his cabinet of several of Yeltsin's cronies and relatives, including Yeltsin's daughter, who served as his chief adviser. However, an Economist article dismissed the changes as "cosmetic," saying, "other Kremlin insiders remain firmly in place." In addition, Putin raised eyebrows when, a couple of weeks later, he made a power-sharing pact with Communists in the Duma that effectively shut out most free-market democrats. Still, his popularity among Russians hovered at 50 percent or higher in the weeks leading up to the election.
On March 26, 2000, Russians elected Putin out of a field of 11 candidates, including Communist leader Gennady Zyuganov, who won 42 percent of the vote in a tight race in 1996 against Yeltsin. Putin won with 52.6 percent of the vote as compared to runner-up Zyuganov, who gathered 29.3 percent. After his election, Putin's first legislative initiative, in April of 2000, was to win approval of the Start II arms reduction treaty from the Duma. The deal, which was negotiated seven years earlier, involved decreasing both the Russian and American nuclear buildup by half. Putin's move on this issue was seen as both a positive step in his willingness to develop a positive relationship with the United States but also as a sign that he would resist American efforts on antimissile defenses. In addition to forging talks with the United States, one of Putin's earliest moves involved working with a team of economists to try to develop a plan to improve the country's economy. On May 7, 2000, Putin was officially sworn in as Russia's second president and its first in a free transfer of power in the nation's 1,100-year history.
Putin, a soft-spoken and stone-faced man, keeps his personal life very private. He and his wife have two daughters, Katya and Maria, who were both in their early teens when he became president. Putin has a black belt in judo and enjoys running. He does not smoke, and does not drink alcohol, or at least drinks so rarely that it appears that way. In early 2000, an American publishing company announced that in May it would release an English-language translation of his memoirs, First Person, which was banned from publication in Russia until after the March 26 presidential election.
Read more
Latest headlines