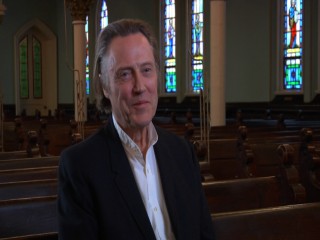 Walken Christopher biography
Date of birth : 1943-03-31
Date of death : -
Birthplace : Queens, New York, United States
Nationality : American
Category : Arts and Entertainment
Last modified : 2010-03-31
Credited as : Actor, film director and script writer, Saturday Night Live
Christopher Walken
is a U.S. stage and screen actor. He has appeared in more than 100 movies and television shows, including Annie Hall, The Deer Hunter, Sleepy Hollow, Brainstorm, The Dead Zone, A View to a Kill, At Close Range, King of New York, Batman Returns, True Romance, Catch Me If You Can, Wayne's World 2, Pulp Fiction, Envy, Wedding Crashers, Click and Hairspray as well as music videos by recording artists such as Madonna, Journey and Fatboy Slim.
A performer since the age of 3, Christopher Walken started out as a dancer, taking lessons as a child. "It was very typical for people—and I mean working-class people—to send their kids to dancing school. You'd learn ballet, tap, acrobatics, usually you'd even learn to sing a song," he explained to Interview magazine.
The son of a baker, Walken would often leave his neighborhood in Queens and head to Manhattan with his brothers. There they would hang out at Rockefeller Center in Midtown where many of the television shows were shot. Sometimes they landed work as extras to make some pocket money. "They used a lot of kids more or less as furniture," Walken later told Entertainment Weekly. At the age of 10, he got a chance to work with comedian Jerry Lewis as an extra in a television skit.
Walken attended the famed Professional Children's School, which was for young people involved in the performing arts. Around the age of 18, he started working in the theater. Walken first landed roles in musicals because his earlier studies. During a tour of West Side Story, he met actress Georgianne Thon, who later became his wife. Early in his career, he changed his first name from Ronny to Christopher while performing in a nightclub act. "A lady in the act said she wanted me to be called Christopher, and I said, 'Fine.' . . . Now I wish I'd picked a shorter name because when I see my name in print, it looks like a freight train," he told the Hollywood Reporter.
After appearing in the chorus in Baker Street in 1965, Walken was asked to try out for a dramatic part. He played King Philip of France in the original production of James Goldman's historical drama The Lion in Winter with Rosemary Harris and Robert Preston in 1966. That same year, Walken had a small role in the Broadway revival of Tennessee Williams' The Rose Tattoo. He then appeared in Peter Ustinov's The Unknown Soldier and His Wife in 1967.
By the early 1970s, Walken had begun working in films. He had a supporting part in 1971's The Anderson Tapes with Sean Connery and Dyan Cannon. His breakthrough role came six years later with his memorable turn in Woody Allen's Annie Hall (1977). In the comedic film, he played Duane, the offbeat, neurotic brother of the title character played by Diane Keaton.
Walken delivered a gut-wrenching performance in 1978's The Deer Hunter, co-starring Robert Di Niro and Meryl Streep. Directed by Michael Cimino, the film followed the impact of the Vietnam War on a group of friends from a small town. Walken's character goes through a brutal transformation during the course of the movie, starting out as a laid-back steelworker and ending as a man tormented by memories of his time in a prisoner-of-war camp. For his efforts, Walken won the Academy Award for Best Supporting Actor.
Walken followed up his performance as the star in Cimino's next effort, Heaven's Gate (1980). The Western historical drama proved to be one of the most legendary flops of all time. Costing around $36 million to make, the film was savaged by the critics and earned little at the box office. That same year, Walken received a warmer reception for his starring role in The Dogs of War, playing a mercenary mixed up with an African dictator. After such serious roles, Walken surprised audiences with his tap-dance routine in the Steve Martin musical comedy Pennies from Heaven (1981).
Walken experienced turbulence in his personal life later that year, as a guest on the boat of actress Natalie Wood and her husband Robert Wagner. On November 29, 1981, Wood accidentally drowned while the boat was moored off Catalina Island in California. Walken and Wood had worked together on what proved to be her final film, the science fiction thriller Brainstorm (1983). Speculation about Wood's death lingered for years.
Cementing his reputation as a top-notch bad guy, Walken starred in A View to a Kill (1985) as the latest villain to take on superspy James Bond (played by Roger Moore). He then paired up with another intriguing actor, Sean Penn, for the crime drama At Close Range (1986). As critic Roger Ebert enthused about Walken's performance, "there is nobody to touch him for his chilling ability to move between easy charm and pure evil."
In 1991, Walken garnered his first Emmy Award nomination for Outstanding Lead Actor in a Miniseries or Special for his work on Sarah, Plain and Tall. He starred opposite Glenn Close as a widower who solicits a new wife to help raise his two children. Back on the big screen, Walken turned in another memorable performance as an evil businessman in
Batman Returns (1992)
starring Michael Keaton as the
Dark Knight.
Despite being often typecast as edgy characters, Walken also displayed a great sensibility for comic roles. He has been a frequent guest host of the late night comedy series Saturday Night Live, as well as a popular target for spoofs and satire. Numerous comedians have been known to imitate his unusual cadence. "I think my rhythm is a bit like someone whose first language isn't English. I could get away with being a German commandant and not really have to do a lot of accent, because I already sound like I don't speak English that well," he told Entertainment Weekly.
In True Romance (1993), Walken again made the most out of a smaller part. The film starred Christian Slater and Patricia Arquette as Clarence and Alabama, a couple on the run from the mob. Walken starred in one of the film's memorable scenes as a mob hitman trying to get some answers out of Clarence's dad (played by Dennis Hopper). The following year, Walken gave another strong performance in Quentin Tarantino's Pulp Fiction (1994). He described the experience to Esquire magazine, saying "Movie scripts are usually pretty loose—things change a lot. But not with Quentin. His scripts are absolutely huge. All dialogue. It's all written down. You just learn the lines. It's more like a play."
Known to work constantly, Walken takes on all sorts of films. He explored the horror genre with the The Prophecy trilogy, playing the archangel Gabriel. Over the years, however, Walken has appeared in more than his fair share of duds, such as the crime drama Things to Do in Denver When You're Dead (1995); the low-brow comedy Joe Dirt (2001); and the family friendly flop The Country Bears (2002). Explaining the motivation behind taking parts in so many projects, Walken said, "I hardly ever like to sit at home. I don't have any children, I don't have any hobbies, I don't like to travel."
In 1999, Walken returned to Broadway with the musical James Joyce's The Dead. He earned a Tony Award nomination for his work in the production. He again reminded movie-goers of his immense talent two years later in Steven Spielberg's Catch Me If You Can (2002). The film tells the true-life story of a young con artist (played by Leonardo DiCaprio) named Frank Abagnale, Jr. Walken gave a subtle performance as Frank's father, which earned an Academy Award nomination for Best Supporting Actor.
Appearances on Saturday Night Live
Walken has hosted the comedy sketch and satire TV series Saturday Night Live seven times, and has a standing offer from Lorne Michaels to host the show whenever Walken's schedule permits. One of his more famous SNL performances was a spoof of "Behind the Music", featuring a recording session of Blue Öyster Cult's "(Don't Fear) the Reaper". In the guise of record producer Bruce Dickinson (not to be confused with Bruce Dickinson, lead singer for Iron Maiden), Walken makes passionate and slightly unhinged speeches to the band and is obsessed with getting "more cowbell" into the song. The phrase "Gotta have more cowbell" has since been adapted to merchandise, e.g. t-shirts, etc. He is also known for his part in one of Will Ferrell and Rachel Dratch's "The Lovers" skits. His character brought a lady friend to meet The Lovers, and she is instead subjected to learning the past history that Walken's character shares with The Lovers. He also divulges private information about his sex life with his girlfriend, much to her horror ("She ventured places no lover had dared go before...specifically, the ear canal")!
Walken spoofed his role from The Dead Zone in a sketch titled "Ed Glosser: Trivial Psychic", in which the title character had the ability to accurately predict meaningless, trivial future events ("You're going to get an ice cream headache. It's going to hurt real bad—right here—for eight, nine seconds.").
He spoofed his role from A View to a Kill in a sketch titled "Lease with an Option to Kill", in which he reprised his role as Max Zorin. Zorin, who had taken on some qualities of other notable Bond villains (Blofeld's cat and suit, Emilio Largo's eye patch), was upset that everything was going wrong for him. His lair was still under construction; his henchmen had jump suits that didn't fit; and his shark tank lacked sharks, having a giant sea sponge instead. A captive James Bond, portrayed by Phil Hartman, offered to get Zorin "a good deal" on the abandoned Blofeld volcanic lair if Zorin let him go, to which he reluctantly agreed.
He performed a song and dance rendition of the Irving Berlin standard, "Let's Face the Music and Dance". Finally, there was the "Colonel Angus" sketch, laden with ribald double entendres, in which Walken played a dishonored Confederate officer. Walken's SNL appearances have proved so popular that he is one of the few SNL hosts for whom a Best of... SNL DVD is available (other celebrity hosts who have a Best of... SNL DVD are Tom Hanks, Steve Martin, and Alec Baldwin), an honor usually reserved only for SNL cast members.
Until 2003, Walken had a recurring SNL sketch called "The Continental", in which Walken played a "suave ladies' man" who in reality cannot do anything to keep women from giving him the cold shoulder. Though he is outwardly chivalrous, his more perverted tendencies inevitably drive away his date over his pleading objections. For instance, he invites a woman to wash up in his bathroom; once she is inside, it becomes obvious that the bathroom mirror is a two-way mirror when the "Continental" is seen lighting up a cigarette. What distinguishes "The Continental" is that various ladies are never seen; the camera represents their point of view.
Walken hosted Saturday Night Live on April 5, 2008, which was the first time an episode hosted by Walken did not have a "Continental" sketch or a monologue where he sings and dances.
Walken has also appeared in a broad range of movies in recent years. He played roles in such comedies as the box-office hit Wedding Crashers (2005); Click with Adam Sandler; and The Maiden Heist (2009) featuring Walken, Morgan Freeman, and William H. Macy.
Walken is scheduled to appear on Broadway in 2010 in the Martin McDonagh comedy A Behanding in Spokane.
When he is not on stage or on set, Walken lives in Wilton, Connecticut, with his wife.
Read more
Latest headlines