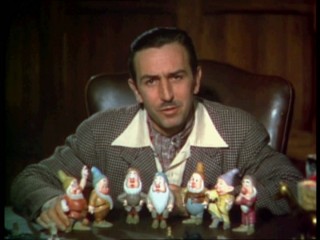 Walt Disney biography
Date of birth : 1901-12-05
Date of death : 1966-12-15
Birthplace : Hermosa, Chicago, Illinois, United States
Nationality : American
Category : Famous Figures
Last modified : 2010-08-30
Credited as : Screenwriter and film producer, animator and entertainer, co-founder of Walt Disney Productions
Walter Elias "Walt" Disney
(born December 5, 1901 in Hermosa, Chicago, Illinois, United States – died December 15, 1966 in Burbank, California, U.S.) was an American film producer, director, screenwriter, voice actor, animator, entrepreneur, entertainer, international icon and philanthropist. Disney is famous for his influence in the field of entertainment during the 20th century. As the co-founder (with his brother Roy O. Disney) of
Walt Disney Productions
, Disney became one of the best-known motion picture producers in the world. The corporation he co-founded, now known as
The Walt Disney Company
, today has annual revenues of approximately U.S. $35 billion.
"Sidelights"
He is a man known for lifting America's spirits through the Great Depression, a World War, and the post-war baby-boom, and he is still present in spirit today as his company, Walt Disney Productions, continues to lead in defining family entertainment in the United States. The legacy of Walt Disney strongly impacts the movie industry, toys, children's clothing and accessories like backpacks and toothbrushes, books and music, and vacation plans. In Children's Books and Their Creators, Terri Payne Butler wrote that "nearly three decades after his death, `Disney' is no longer a name, but a conjuring word, summoning collective memories of poisoned apples, pumpkined carriages, and raucous blue genies."
Although his accomplishments are many, Disney is best known as the creator of the character Mickey Mouse, as the producer of a myriad of films for children and adults, and as the creator of the theme parks Disneyland and Disney World. In his lifetime, he also created and endowed a new university, the California Institute of the Arts, a professional school for the creative and performing arts.
Disney was born in Chicago, Illinois, in 1901, the fourth son in a family of five from a lower middle class family. His father, Elias, who was Canadian, was an unsuccessful farmer, carpenter, and businessman, and his mother, Flora Call, was a patient women who supported her husband through his numerous pursuits. Although it appears that his early life was not marked by harmony and stability, a happy family life is a recurrent theme in all of Disney's work.
In 1906 the Disneys moved from Chicago to a farm near Marceline, Missouri. Later, Disney would remember the friendliness of rural life, but also the hard work that he and his family were forced to perform in order to get the farm established. When his two older brothers left the farm and returned to Chicago, the farm began to fail. It was on the farm that Disney's interest in art began to show itself; he and his sister Ruth would take sticks dipped in tar and paint on the side of the family's white house. In The Disney Version: The Life, Times, Art and Commerce of Walt Disney, Richard Schickel quoted Disney as saying, "I recall when I was about seven. The doctor had a very fine stallion which he asked me to sketch. He held the animal while I worked with my homemade easel and materials. The result was pretty terrible, but both the doctor and his wife praised the drawing highly, to my great delight." Disney also used some of the farm animals as the basis for the animated animals that later appeared in his films. His mother taught him to read at home, but Disney's interest in classwork was minimal.
When the farm failed, the family moved to Kansas City, Missouri. It was 1910, and Elias Disney began to manage a paper route with the help of Walt, who was nine years old at the time. Again, the work was grueling, and Disney remembered delivering newspapers in the morning and evening in summer heat and winter snowstorms. He was not a good student, but his teachers at the Benton Grammar School in Kansas City encouraged Disney's interest in drawing. When his sister Ruth became ill, Disney designed a flip book in which figures appeared to move; this was his first effort in the world of animation. He also began to read the classics and enrolled in children's art classes at the Kansas City Art Institute.
The family moved again in 1917 when Elias Disney invested in a jelly factory in Chicago. Disney graduated from Benton Grammar School in June of that year, spent the summer working for the railroad selling refreshments to passengers, and met his family in Chicago in September, where he enrolled at McKinley High School and began to take art classes at the Chicago Institute of Art. But after a year of high school, Disney was restless and anxious to see more of the world. He was too young to join the military but decided, with his mother's permission, to join the Red Cross Ambulance Corps and become an ambulance driver. He spent most of his tour of duty delivering relief supplies and working in the motor pool; by the time he went overseas, World War I had virtually ended.
After the war, Disney headed to Kansas City. He decided to use his artistic talent to get a job, and he soon found work in advertising as an apprentice at a commercial art studio. It was there that he met a Dutch cartoonist named Ub Iwerks. Together, they left to form their own art studio, but it soon failed.
Next, the pair went to work for the Kansas City Film Ad Company, where they learned the basics of animation as they created one-minute animated cartoon commercials. They also created the concept of Laugh-O-Grams, which were short cartoons that combined a gag and a commercial announcement. Disney and Iwerks left to form Laugh-O-Gram Films in 1922, and the popularity of these Laugh-O-Grams caused them to be prosperous for a while. While at Laugh-O-Gram Films, they also produced several seven-minute animated cartoons based on fairy tales.
Because they had no experience in distribution, this company failed; however, Disney was determined to succeed, and he persuaded his brother Roy to invest in his third company, which would produce a series known as "Alice in Cartoonland." In this series, a live young girl appeared in adventures along with animated creatures and backgrounds. This company failed, too, and Disney and Iwerks declared bankruptcy.
By 1923, Disney was still determined to produce animated films. He moved to Hollywood and revived Laugh-O-Grams and the "Alice" series. Then, he convinced his brother Roy and Iwerks to join him in Hollywood and he formed Disney Brothers Studios. It was here that Disney began to demonstrate a remarkable ability to delegate responsibility to his staff. He became the main idea man behind stories, characterization, and film development. Iwerks took over the art department, and Roy Disney became the business manager. Iwerks was later replaced by a large staff of artists, but Roy and Walt Disney stayed in these respective positions throughout their careers. After this time, Disney never performed the actual tasks involved in cartooning and animation again; he found that he had a gift for creating visionary master plans and for directing others into seeing them through.
As his professional life became more settled, Disney's personal life did as well. In 1925, his company hired an inker and painter named Lillian Bounds. They fell in love, married that summer, and later had two daughters--Diane Marie, who was born in 1933, and Sharon Mae, who was born in 1936. Their marriage appeared to be happy and lasted until Disney's death.
The early years of Disney Brothers Studio were busy ones, as the company produced fifty-six "Alice in Cartoonland" shorts. By 1927, Disney began collaborating with Universal Studios to produce cartoons featuring the character "Oswald the Lucky Rabbit." Using new techniques for producing these films, the company created ten Oswald shorts in 1927 and sixteen in 1928. The humor was slapstick and the plots were simplistic, but the Oswald series was a popular one. When Disney attempted to negotiate a new contract with Universal Studios, he discovered that they actually owned the Oswald character. At this point, Disney vowed never to work on a property that he did not own again.
Next, Disney created his own star, which would become the most famous of all his characters. There are many myths about how the character of Mickey Mouse was created: some say that Disney dreamed up the character when he was working on the drawing board in Kansas City, and others say that the character was created by Disney on the train ride home after the Oswald dispute with Universal. The truth is that the development of the character was a collaboration between Disney, who developed the idea, and Iwerks, who drew the character and created his form. Disney wanted to call him Mortimer Mouse, but his wife thought that the name Mickey would be better. In The Story of Walt Disney, his daughter Diane Disney Miller remembered the conversation this way:
"'I think I've got something,' Father told Mother. `It's a mouse. I'll call him Mortimer. Mortimer Mouse. I like that, Don't you?' "Mother thought it over and shook her head. `I like the mouse idea,' she said, `but Mortimer sounds wrong. Too sissy.' "`What's wrong with it?' Father asked. `Mortimer Mouse, Mortimer Mouse. It swings, Lilly.' "But Mother didn't buy it. She couldn't explain why `Mortimer' grated on her. It just did.
"`All right,' Father said. `How about Mickey? Mickey Mouse?'"
In this way, the world's most famous cartoon character was born. In 1928, the studio produced three animated shorts using their new character Mickey. He was soon joined by a number of supporting characters, including Minnie Mouse, Pluto, Horace Horsecollar, and Donald Duck.
Although Donald Duck is also a popular character, Mickey, whose voice was done by Disney himself, is considered the most memorable of Disney's creations. According to M. Thomas Inge, writing in Dictionary of Literary Biography, Disney once said, "Mickey's a nice fellow who never does anybody any harm, who gets in scrapes through no fault of his own but always manages to come up grinning."
Mickey Mouse and friends became popular around the world, but Disney Brothers Studios was still experiencing financial problems. In his book The Disney Version: The Life, Times, Art and Commerce of Walt Disney, Richard Schickel quoted Disney as describing the problems in this way: "Each film we finished just about paid for getting out the next one. I kept adding new people to our staff, but in spite of that, I had to work over-time night after night myself."
Because Disney owned this group of characters that he had created, he licensed them for use in hundreds of products, including books, games, toys, and watches. Numerous comic strips were created, including an adventure strip based on Mickey that was developed by cartoonist Floyd Gottfredson and was published in daily newspapers from 1930 to 1950. Carl Barks, a former Disney animator, developed a popular comic book series about Donald Duck, Uncle Scrooge (who Barks created), and Donald's nephews that was published in Dell Comic Books from 1943 through the 1960s.
After his first six Mickey Mouse shorts were produced, Disney began working on his next project, a film known as The Skeleton Dance, which was produced in 1929. In this film, which is the first in the "Silly Symphony" series, the bony residents of a graveyard dance to "The Dance of the Dwarfs." In the next of the "Silly Symphonies," Flowers & Trees, Disney added color to the film. In November of 1932, he received an award for this animated cartoon from the Academy of Motion Picture Arts and Sciences.
By 1933, Disney had released his thirty-sixth film in the "Silly Symphony" series. This film was a popular one, primarily because of its upbeat message during the Depression and the memorable theme song "Who's Afraid of the Big Bad Wolf?" In addition to making the nation happy, The Three Little Pigs also made Disney wealthy when it grossed 125,000 dollars in its first year.
At this point, Disney decided to produce a feature-length animated film. This project was an ambitious one that would involve creating seven reels of action in Technicolor. To create this film, Disney introduced the multiplane camera, a machine that was able to photograph characters and settings through several planes, giving the animated cartoon a multidimensional effect. The film that Disney chose to produce was Snow White and the Seven Dwarfs, one of the best loved fairy tales from the Brothers Grimm.
Disney realized the gamble he was taking when he set out to work on Snow White. In The Disney Version, Richard Schickel quoted Disney as saying: "We've got to be sure of it before we start, because if it isn't good we will destroy it: If it is good, we shall make at least a million." The story was trimmed down, and much of the horror was eliminated from the original tale. The Disney film, which had an optimistic tone, was released a few days before Christmas in 1937. The film premiered at the Carthay Circle Theater in Hollywood, and later appeared at Radio City Music Hall in New York City. Thousands of moviegoers flocked to theaters to see the film, and Snow White earned eight million dollars, putting Disney Studios on solid financial ground for the first time. Although Snow White might have looked as though it was easy to produce, it took four years of hard work involving hundreds of talented people. The film won a special Academy Award in 1939, in the form of one large Oscar statue and seven little Oscar statuettes--one for each of the film's dwarfs.
Encouraged by the financial and critical success of his first feature-length animated film, Disney and his staff began working on Pinocchio, another full-length animated film. Taking a classic children's story written by Carlo Collodi in the late nineteenth century, Disney reworked the tale of a puppet who came to life and turned it into a Disney masterpiece that combines comedy, terror, artistry, and memorable music.
Pinocchio was still in production when Disney Studios began working on Fantasia, a revolutionary integration of imaginative visuals and some of the great works of classical music. In an August 1941 interview with Who magazine, Disney described his interest in Fantasia this way: "It seems I'm just finding out about music. . . . I never liked this highbrow stuff. It bored me. Honest, I just couldn't listen to it. But I can now. It seems to mean a little more to me. Maybe Fantasia can do the same for other people." The film was released in 1940, nine months after Pinocchio, but Fantasia was not as popular as Disney had hoped and only came into its own as it was re- released over the years.
The years that directly followed the release of these two films were not as magical for Walt Disney. Production costs on both films had been high, and Fantasia was basically a commercial failure. When World War II began, foreign film markets were closed. Additionally, Disney felt betrayed when many of his employees went out on a labor strike in 1941. The films Dumbo and Bambi were released in 1941 and 1942, respectively, but most of the work on these projects had been completed before problems set in at the studio. Both Dumbo, the story of a flying elephant that contains the surrealistic "Pink Elephants on Parade" segment, and Bambi, the rendering of the Felix Salten novel about the life of a fawn and life in the forest, were popular with moviegoers.
Disney took on many government contracts during the war years. He produced animated training films for all branches of the armed forces. At first, the treasury department did not like the idea of using Donald Duck to represent the average taxpayer in these films. In Diane Disney Miller's The Story of Walt Disney, Disney is quoted as saying: "You wanted me to get this message over, so I've given you Donald. At our studio, that's like MGM giving you Clark Gable. The Duck is well known to the American public and they'll go to theaters to see him. I can promise that they won't walk out on him and I wouldn't promise that they won't take a walk on your Mr. Taxpayer." Later, in a film designed to support a good neighbor policy with South America (The Three Caballeros, 1945), Disney combined live action and animation; this technique was so effective that it was later used in Song of the South (1946), a film collection of selected stories by Joel Chandler Harris. This film included some Old South stereotypes, but it did use some innovative film techniques to tell the stories of Brer Rabbit, Brer Bear, and Brer Fox.
In the years directly following the war, Disney continued to produce anthologies (Make Mine Music, 1946, and Melody Time, 1948), films that combined animation with music (Fun and Fancy Free, 1947) and films that retold old stories (Ichabod and Mr. Toad, 1949, The Wind in the Willows, 1949, and So Dear to My Heart, 1948). Disney Studios also continued to produce a number of short films, including cartoons featuring the popular characters Mickey Mouse, Donald Duck, Pluto, and Goofy. About 180 short films were produced in the 1930s, 150 in the 1940s, ninety in the 1950s, and twelve in the 1960s as theater managers lost interest in this medium. In addition to being shown in theaters, these films were also used when Disney introduced his first television special in 1951 and initiated his weekly show Disneyland in 1954. The Mickey Mouse Club, which was one of the most widely watched children's program of the 1950s, was introduced in 1955. Disney himself became a television personality when he served as host for Disneyland (which became the Wonderful World of Color in 1961).
In 1950, Disney Studios began to produce adaptations of classic fairy tales and children's stories, including Cinderella (1950), Alice in Wonderland (1951, based on the book by Lewis Carroll), Peter Pan (1953, based on the play by James M. Barrie), Lady and the Tramp (1955, based on the story by Ward Greene), Sleeping Beauty (1959), 101 Dalmations (1961, based on the book by Dodie Smith), The Sword and the Stone (1963, inspired by T. H. White's retelling of the Arthurian legends), and The Jungle Book (1967, inspired by Rudyard Kipling's Mowgli stories). The Jungle Book was the last film that Disney actually supervised.
At the same time, Disney Studios was also hard at work producing a number of live action films, including Treasure Island, 20,000 Leagues Under the Sea, Kidnapped, and Mary Poppins. In a sixteen-year period, Disney oversaw the production of sixty-three live-action films. These films are considered great family entertainment and were generally box-office hits, but few of them are recognized as classics. Some exceptions include Treasure Island and 20,000 Leagues Under the Sea, which are considered by many critics the best of these films, and Mary Poppins, which, in 1964, was nominated for thirteen Academy Awards and received five of them.
Disney is not without detractors. In 1965, Dr. Max Rafferty, California's superintendent of public instruction, wrote an article in which he described Disney as "the greatest educator of this century." This claim created a backlash, as educators and critics around the country described the way that Walt Disney had mishandled fairy tales and children's classics. Frances Clarke Sayers, who was director of children's services for the New York Public Library, wrote a letter to the Los Angeles Times in response to Dr. Rafferty's article. In it she said that Disney had "scant respect for the integrity of the original creations . . . manipulating and vulgarizing everything for his own ends. His treatment of folklore is without regard for its anthropological, spiritual, or psychological truths." "I call him to account for his debasement of the traditional literature of childhood, in films and in the books he publishes," she wrote. She also commented that "the acerbity of Mary Poppins, unpredictable, full of wonder and mystery, becomes . . . one great marshmallow-covered cream-puff," and added that Disney "transformed Pinocchio into a slapstick sadistic revel." However, author and illustrator Maurice Sendak, writing in his 1988 collection of essays Caldecott & Co., praised Disney's Pinocchio. "Collodi's book is of interest today," Sendak wrote, "chiefly as evidence of the superiority of Disney's screenplay." Writing in People in 1992, Ralph Novak also gave Pinocchio high marks. "While modern kids may find the ending too low-key or the whole production too low-tech, the film is to children what Casablanca is to adults," he observed.
As might be expected, Disney did not try to recreate fairy tales or children's classics faithfully. In the Horn Book, Betsy Hearne stated that Disney once said to one of his story men assigned to work on The Jungle Book, "The first thing I want you to do is not to read it," adding later, "You can get all bogged down with these stories."
One of Disney's proudest achievements was Disneyland, the amusement park that he built in Anaheim, California, in 1955. At the dedication, Disney said, "Disneyland will never be completed as long as there is imagination left in the world." In Diane Disney Miller's The Story of Walt Disney, she quoted her father as saying: "The germ of Disneyland was planted in my mind when you and your sister Sharon were little and I took you to amusement parks and to zoos on Saturdays and Sundays. Those days were among the happiest of my life." Although he planned it, he did not live to see Disneyworld, which was completed in Orlando, Florida, in 1971. (Disney died of lung cancer in 1966.) Nearly sixteen years after his death, Epcot Center, Disney's vast vision of a combination world's fair, theme park, and dream factory, opened in Orlando, Florida, at a cost of 900 million dollars.
In a 1993 interview with Entertainment Weekly, Adriana Caelotti, who was the original voice in Snow White, described Disney this way: "To me, he was just about the greatest man artistically. He seemed to understand what was correct with anything that had to do with art, with music. And I feel that he will never die."
Among his many accomplishments, Disney is best remembered for bringing about the innovative family amusement parks and for bringing animation to a new level of accomplishment. Today, his financial and cultural empire is secure, and young animators continue to bring forth new feature films every year. Disney characters are known throughout the world and Disney's influence is felt throughout society. Few have influenced popular culture more than Walt Disney.
PERSONAL INFORMATION
Family: Born December 5, 1901, in Chicago, IL; died of lung cancer December 15, 1966, in Burbank, CA; son of Elias (a building contractor and later a farmer) and Flora (a school teacher; maiden name, Call) Disney; married Lillian Bounds (one of his first employees), 1925; children: Diane Marie, Sharon Mae. Education: Attended Chicago Academy of Fine Arts, 1917, and Kansas City Art Institute, 1919. Politics: Republican.
AWARDS
Recipient of over 950 awards and citations over his lifetime. Recipient of forty-eight Academy Awards (the first for Flowers and Trees, the first Technicolor animated film, which he produced in 1932) and seven Emmy Awards. Recipient of the Presidential Medal of Freedom, the Irving G. Thalberg Memorial Award, Legion of Honor from France, Most Noble Order of the Crown of Thailand, National Order of the Southern Cross for Brazil, Order of the Aztec Eagle from the Mexican Ministry of Foreign Affairs, Cross of Merit from the Federal Republic of Germany, Cecil B. DeMille Award, Outstanding Achievement Award from the Freedoms Foundation, and Ambassador of Freedom Award from the Freedoms Foundation, among others. Recipient of honorary degrees from Harvard University, Yale University, Chouinard Art Institute, University of Southern California, and University of California at Los Angeles. A commemorative stamp was issued by the U.S. Post Office in his honor.
CAREER
Animation pioneer. Worked as a mail sorter, factory worker, newspaper deliverer, cartoonist, and commercial artist. Worked for the Kansas City Film Ad Company, c. 1920; founded (with Ub Iwerks) Laugh-O-Gram Films, 1922; founded Disney Brothers Studios, c. 1924. Creator of animated films, including the early cartoon series "Newman Laugh-O-Grams," 1920-22; "Alice in Cartoonland," 1923-26; and "Oswald the Rabbit," 1926-28. Walt Disney Productions (parent company of Walt Disney Music Co., Wonderland Music Co., Buena Vista Distributors, Buena Vista International, MAPO Inc., Walt Disney Travel Co., Walt Disney Educational Media Co., and Walt Disney World), Burbank, CA, president and chair of the board, 1929-60, director, 1929-1945, and executive producer, 1960-66; Walter Elias Disney (WED) Enterprises (family entertainment and recreational company), founder and owner, 1952-65, creator (through his company) of the amusement park Disneyland, which opened in Anaheim, CA, 1955, and Disney World, which opened in Orlando, FL, 1971. Founder of the California Institute of the Arts (through the amalgamation of the Los Angeles Conservatory of Music and Chouinard Art Institute), 1961. Military service: Served in the Red Cross Ambulance Corps as an ambulance driver in France during World War I. Helped in the wartime effort in World War II by involving more than ninety percent of the facilities of Walt Disney Studios in the production of government-related films, such as Armed Forces training films, propaganda films (including der Fuhrer's Face), the 1943 feature film Victory Through Air Power, and a number of educational films that were distributed by the U.S. State Department.
FILMS AS DIRECTOR, ANIMATOR, AND PRODUCER
* "Newman Laugh-O-Grams" series, 1920.
* Cinderella, 1922.
* The Four Musicians of Bremen, 1922.
* Goldie Locks and the Three Bears, 1922.
* Jack and the Beanstalk, 1922.
* Little Red Riding Hood, 1922.
* Puss in Boots, 1922.
* Alice's Wonderland, 1923.
* Tommy Tucker's Tooth, 1923.
* Martha, 1923.
FILMS AS DIRECTOR, ANIMATOR, AND PRODUCER; "ALICE IN CARTOONLAND" SERIES
* Alice and the Dog Catcher, 1924.
* Alice and the Three Bears, 1924.
* Alice Cans the Cannibals, 1924.
* Alice Gets in Dutch, 1924.
* Alice Hunting in Africa, 1924.
* Alice's Day at Sea, 1924.
* Alice's Fishy Story, 1924
* Alice's Spooky Adventure, 1924.
* Alice's Wild West Show, 1924.
* Alice the Peacemaker, 1924.
* Alice the Piper, 1924.
* Alice the Toreador, 1924.
* Alice Chops the Suey, 1925.
* Alice Gets Stung, 1925.
* Alice in the Jungle, 1925.
* Alice Loses Out, 1925.
* Alice on the Farm, 1925.
* Alice Picks the Champ, 1925.
* Alice Plays Cupid, 1925.
* Alice Rattled by Rats, 1925.
* Alice's Balloon Race, 1925.
* Alice's Egg Plant, 1925.
* Alice's Little Parade, 1925.
* Alice's Mysterious Mystery, 1925.
* Alice Solves the Puzzle, 1925.
* Alice's Ornery Orphan, 1925.
* Alice Stage Struck, 1925.
* Alice's Tin Pony, 1925.
* Alice the Jail Bird, 1925.
* Alice Wins the Derby, 1925.
* Alice Charms the Fish, 1926.
* Alice's Monkey Business, 1926.
* Alice in the Wooly West, 1926.
* Alice the Fire Fighter, 1926.
* Alice Cuts the Ice, 1926.
* Alice Helps the Romance, 1926.
* Alice's Spanish Guitar, 1926.
* Alice's Brown Derby, 1926.
* Clara Cleans Her Teeth, 1926.
* Alice the Golf Bag, 1927.
* Alice Foils the Pirates, 1927.
* Alice at the Carnival, 1927.
* Alice's Rodeo (also known as Alice at the Rodeo), 1927.
* Alice the Collegiate, 1927.
* Alice in the Alps, 1927.
* Alice's Auto Race, 1927.
* Alice's Circus Daze, 1927.
* Alice's Knaughty Knight, 1927.
* Alice's Three Bad Eggs, 1927.
* Alice's Picnic, 1927.
* Alice's Channel Swim, 1927.
* Alice in the Klondike, 1927.
* Alice's Medicine Show, 1927.
* Alice the Whaler, 1927.
* Alice the Beach Nut, 1927.
* Alice in the Big League, 1927.
FILMS AS DIRECTOR, ANIMATOR, AND PRODUCER; "OSWALD THE LUCKY RABBIT" SERIES
* Trolley Troubles, 1927.
* Oh, Teacher, 1927.
* The Ocean Hop, 1927.
* All Wet, 1927.
* The Mechanical Cow, 1927.
* The Banker's Daughter, 1927.
* Great Guns, 1927.
* Rickety Gin, 1927.
* Empty Socks, 1927.
* Harem Scarem, 1927.
* Neck 'n Neck, 1927.
* The Ol' Swimmin' 'ole, 1928.
* Africa before Dark, 1928.
* Rival Romeos, 1928.
* Bright Lights, 1928.
* Sagebrush Sadie, 1928.
* Ozzie of the Mounted, 1928.
* Ride 'em Plow Boy!, 1928.
* Hungry Hoboes, 1928.
* Oh, What a Knight, 1928.
* Sky Scrappers, 1928.
* Poor Papa, 1928.
* The Fox Chase, 1928.
* Tall Timber, 1928.
* Sleigh Bells, 1928.
* Hot Dog, 1928.
FILMS AS HEAD OF WALT DISNEY PRODUCTIONS, CO-DIRECTED WITH UB IWERKS; "MICKEY MOUSE" SERIES
* Steamboat Willie (first synchronized sound cartoon; voice of Mickey Mouse provided by Walt Disney), 1928.
* Plane Crazy, released with synchronized sound, 1929.
* The Gallopin' Gaucho, released with synchronized sound, 1929.
* The Barn Dance, 1929.
* The Opry House, 1929.
* When the Cat's Away, 1929.
* The Barnyard Battle, 1929.
* The Plow Boy, 1929.
* The Karnival Kid, 1929.
* Mickey's Choo Choo, 1929.
* The Jazz Fool, 1929.
* Jungle Rhythm, 1929.
* The Haunted House, 1929.
* The Barnyard Concert (sole director), 1930.
* Just Mickey (Fiddling Around) (sole director), 1930.
* The Cactus Kid (sole director), 1930.
ANIMATED FILMS AS HEAD OF WALT DISNEY PRODUCTIONS, CO-DIRECTED WITH UB IWERKS; "SILLY SYMPHONIES" SERIES
* The Skeleton Dance, 1929.
* El Terrible Toreador, 1929.
* The Merry Dwarfs (sole director), 1929.
* Night (sole director), 1930.
* The Golden Touch (sole director), 1935.
ANIMATED FEATURE FILMS AS HEAD OF WALT DISNEY PRODUCTIONS
* Snow White and the Seven Dwarfs, 1937.
* Pinocchio, 1940.
* Fantasia (with live action sequences featuring the Philadelphia Orchestra conducted by Leopold Stokowski), 1940.
* The Reluctant Dragon (with live action sequences featuring Robert Benchley), 1941.
* Dumbo, 1941.
* Bambi, 1942.
* Saludos Amigos (with live action sequences featuring Walt Disney), 1943.
* Victory Through Air Power (with live action), 1943.
* The Three Caballeros, 1945.
* Make Mine Music, 1946.
* Song of the South (with live action sequences featuring James Baskett and Bobby Driscoll), 1946.
* Fun and Fancy Free (with live action), 1947.
* Melody Time, 1948.
* So Dear to My Heart (with live action sequences featuring Burl Ives and Beulah Bondi), 1948.
* Ichabod and Mr. Toad, 1949.
* Cinderella, 1950.
* Alice in Wonderland, 1951.
* Peter Pan, 1953.
* Lady and the Tramp, 1955.
* Sleeping Beauty, 1959.
* 101 Dalmatians, 1961.
* The Sword and the Stone, 1963.
* The Jungle Book, 1967.
LIVE ACTION FILMS AS HEAD OF WALT DISNEY PRODUCTIONS
* Treasure Island, 1950.
* The Story of Robin Hood, 1952.
* The Sword and the Stone, 1953.
* Rob Roy, the Highland Rogue, 1954.
* 20,000 Leagues Under the Sea, 1954.
* The Living Desert, 1954.
* The Vanishing Prairie, 1954.
* Davy Crockett, King of the Wild Frontier, 1955.
* The Littlest Outlaw, 1955.
* The African Lion, 1955.
* The Great Locomotive Chase, 1956.
* Davy Crockett and the River Pirates, 1956.
* Westward Ho the Wagons, 1956.
* Secrets of Life, 1956.
* Johnny Tremain, 1957.
* Perri, 1957.
* Old Yeller, 1957.
* The Light in the Forest, 1958.
* Tonka, 1958.
* White Wilderness, 1958.
* Darby O'Gill and the Little People, 1959.
* The Shaggy Dog, 1959.
* Third Man on the Mountain, 1959.
* Toby Tyler, or, Ten Weeks with a Circus, 1960.
* Kidnapped, 1960.
* Pollyanna, 1960.
* Ten Who Dared, 1960.
* The Swiss Family Robinson, 1960.
* The Sign of Zorro, 1960.
* Jungle Cat, 1960.
* Babes in Toyland, 1961.
* The Absent-Minded Professor, 1961.
* The Parent Trap, 1961.
* Nikki, Wild Dog of the North, 1961.
* Greyfriars Bobby, 1961.
* Big Red, 1962.
* Moon Pilot, 1962.
* Bon Voyage, 1962.
* Almost Angels, 1962.
* The Legend of Lobo, 1962.
* In Search of the Castaways, 1962.
* Son of Flubber, 1963.
* The Miracle of the White Stallions, 1963.
* Savage Sam, 1963.
* Summer Magic, 1963.
* The Incredible Journey, 1963.
* The Misadventures of Merlin Jones, 1964.
* A Tiger Walks, 1964.
* The Three Lives of Thomasina, 1964.
* The Moon Spinners, 1964.
* Mary Poppins, 1964.
* Emil and the Detectives, 1964.
* Those Calloways, 1965.
* The Monkey's Uncle, 1965.
* That Darn Cat, 1965.
* The Fighting Prince of Donegal, 1966.
* Follow Me, Boys, 1966.
* The Ugly Dachsund, 1966.
* Lt. Robin Crusoe, U.S.N., 1966.
* Monkeys, Go Home, 1967.
* The Gnome-Mobile, 1967.
* The Adventures of Bullwhip Griffin, 1967.
Many hundreds of artists, animators, story men, and technicians contributed to the achievement of Walt Disney Studios. Some of the major animators included Ub Iwerks, Disney's earliest collaborator, the designer of Mickey Mouse, and the man responsible for many of the studio's technical innovations (including the multiplane camera technique), Ward Kimball, Les Clark, Frank Thomas, Milt Kahl, John Lounsbery, Ollie Johnston, Marc Davis, Woolie Reitherman, Eric Larson, Norm Ferguson, Art Babbitt, Grim Natwick, Ham Luske, Freddy Moore, Bill Tytla, Fred Spencer, and Preston Blair.
The Disney Studios produced short subjects on a regular basis through the mid-1950s, reaching a total of some six hundred films, in addition to many more 16mm films and filmstrips for educational use, advertising purposes, and for television presentation.
TELEVISION
Walt Disney produced a weekly one-hour series, including drama, cartoons, mystery, action-adventure, educational programs, comedy, and nature and science. On ABC-TV: Disneyland, October, 1954, to September, 1958; Walt Disney Presents (three rotating series: "The Nine Lives of Elfago Baca," starring Robert Loggia and Robert Simon; "The Swamp Fox," starring Leslie Nielsen and Barbara Eiler; and "Texas John Slaughter," starring Tom Tryon and Harry Carey, Jr.), September, 1958, to June, 1959; Walt Disney's Adventure Time, September, 1958, to September, 1959; Walt Disney's World, October, 1959, to September, 1961; on NBC-TV: Walt Disney's Wonderful World of Color, September, 1961, to September, 1981.
Mickey Mouse Club, October, 1955, to September, 1959, ABC TV, daily one-hour series of varied entertainment for children, live and filmed, with Disney cartoons and episodic series (like "Spin and Marty" and "The Hardy Boys") produced in both thirty- and sixty-minute versions, hosted by Jimmy Dodd and featuring a cast of forty-four "Mousketeers," including Annette Funicello, Kevin Corcoran, Tommy Kirk, Johnny Crawford, and Tim Considine. Zorro, September, 1957, to September, 1959, ABC-TV, weekly thirty-minute dramatic series, starring Guy Williams, Richard Anderson, and Annette Funicello.
MEDIA ADAPTATIONS
Hundreds of books have been adapted from Disney films, including Pinocchio, Random House, 1939; Bambi, Simon and Schuster, 1941; Donald Duck in the High Andes (from the film Saludos Amigos), Grosset, 1943; Uncle Remus Stories (retold by H. Marion Palmer [also known as Helen Geisel]; illustrations adapted by Al Dempster and Bill Justice), Simon & Schuster, 1947; Mickey and the Beanstalk (from the film Fun and Fancy Free; illustrations adapted by Campbell Grant), Grosset, 1947; and Lady and the Tramp (illustrations adapted by Claude Coats), Simon & Schuster, 1955.
Read more
Latest headlines