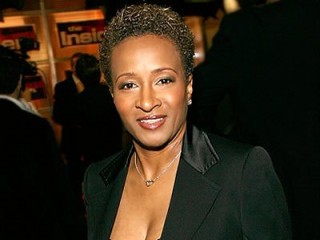 Wanda Sykes biography
Date of birth : 1964-03-07
Date of death : -
Birthplace : Portsmouth, Virginia, U.S.
Nationality : American
Category : Arts and Entertainment
Last modified : 2011-09-13
Credited as : stand-up comedian, actress,
Wanda Sykes
is an American writer, stand-up comedian, actress, and voice artist. She earned the 1999 Emmy Award for her writing on The Chris Rock Show. In 2004 Entertainment Weekly named her as one of the 25 funniest people in America. She is well known for her role as Barbara Baran on The New Adventures of Old Christine and for her appearances on HBO's Curb Your Enthusiasm. In November 2009 The Wanda Sykes Show, her own late-night talkshow, premiered on Fox, airing Saturday nights. It ended in April 2010.
Sykes also had a successful career in film, appearing in Monster-in-Law, My Super Ex-Girlfriend, Evan Almighty, and License to Wed, and voiced characters in Over the Hedge, Barnyard, Brother Bear 2, Rio, and Ice Age: Continental Drift.
After Wanda Sykes established herself as a popular stand-up comic in the late 1980s and early 1990s, she built on her success to become a television and film star. While she had two television series of her own Wanda at Large and Wanda Does It Sykes was better known for her work on other shows, including Inside the NFL and The New Adventures of Old Christine. By the early 2000s, Sykes was also building a strong film acting career both as a live performer and a voice artist for such hit animated features as Over the Hedge and Barnyard.
Sykes was born in 1964 in Portsmouth, Virginia. Her father served as a colonel in the U.S. Army father while her mother was a bank manager. She raised in Portsmouth and near Fort Meade, Maryland. From her earliest childhood, Sykes was outspoken. Her parents would send her to her grandmother's when there were visitors at their home because she might say something unsuitable. They even paid her to be quiet on occasion. Sykes attended Arundel High School, where she continued to be an outspoken comic type and took theater classes.
Though Sykes was set to enter the University of Maryland after graduation, she backed out before attending and went to community college for two years instead. She then went to Hampton University and graduated with a bachelor's degree in marketing in 1986. After completing her degree, she began working for the National Security Agency (NSA) at a desk job, purchasing equipment like spy devices for the government agency. Sykes was not particularly happy, but was unsure of her direction in life until she entered a talent contest on a lark.
Sykes took part in the Coors Light Super Talent showcase in Washington, D.C. and did a five-minute stand-up routine she had written at her desk at work. Though Sykes did not win, she began cultivating her stand-up comedy routines. At the time, Sykes' thinking was simple. She told Jet 's Scotty Ballard, "I started doing stand-up in 1987. I figured the worst that could happen would be that I was wrong. If I tried it and it didn't work out, at least I walk away saying, 'It was something I wanted to try and it didn't work out, but at least I tried.'"
She kept her day job at the NSA for five years while working at comedy clubs around Washington, D.C., and Baltimore, Maryland. Sykes learned what being a comic really meant, including what happens when a joke bombs and how to deal with it. Once Sykes was able to tour as a comedian and support herself, she quit her government job and focused on stand-up full time. In 1992, she moved to New Jersey and began performing in New York City on a regular basis. Over the years, Sykes developed an on-stage persona of a know-it-all, no-nonsense woman who does not take grief from anyone or put up with any stupid situation. She became close friends with other comics, including Chris Rock.
By 1995, Sykes was opening for Rock, by then a major star. Sykes' work and friendship with Rock led to another phase of her career a few years later. She was hired to be on the writing staff for and a performer on The Chris Rock Show . The program aired from 1997 to 2000, and led to an Emmy Award for Sykes and the rest of the writers in 1999. During the run of The Chris Rock Show , Sykes also began her film acting career. She made her film debut in 1998's Tomorrow Night .
Sykes' career also developed in another way as The Chris Rock Show reached the end of its run. A lifelong football fan, she was hired as a field correspondent for HBO's Inside the NFL , hosted by Bob Costas, in 2000. She kept the role of informed comic relief for many years, contributing her own unique segments to the show. Sykes landed the gig by crashing a wrap party for Inside the NFL and impressing Costas and the producers with her quick wit and heady insults.
After the end of The Chris Rock Show , Sykes continued her stand-up and acting careers. She appeared on Curb Your Enthusiasm from 2000 to 2005, then had a memorable turn on The Drew Carey Show in 2001 as a love interest for the titular character. Sykes provided a voice, Gladys Murphy, for the hit Comedy Central crank call puppet show, Crank Yankers , in 2002. She also continued her film career, appearing in 2000's Nutty Professor and both Down to Earth and Pootie Tang in 2001. Sykes played a sarcastic maid in Earth and a hooker, Biggie Shorty, in Pootie Tang .
In 2003, Sykes finally got her own television series. She served as a writer, producer, and performer on Wanda at Large , which originally had a six-episode run on FOX that spring, was picked up for a full run starting in the fall, and was canceled by 2004. In the show, Sykes played Wanda Hawkins, a divorced, unsuccessful stand-up comedian who is hired to be a correspondent on a Washington, D.C.-based political talk show. Sykes' character proceeds to challenge the panel through her reported segments on controversial topics like reparations and gun control. She also has to deal with her friends and home life, aspects of the character expanded especially when the show began its full run in the fall of 2003. Sykes admitted the character was close to her heart. She told Judith S. Gillies of the Washington Post , "Wanda Hawkins is basically me personified. We have the same attitude, the same point of view … pointing out hypocrisies in the way we see the world, but the difference is I'm not always on."
While FOX believed in the show, critics saw its promise squandered and audiences were even less interested. During its original six-episode run, Wanda at Large averaged 12.2 million viewers. During its fall run, it had about a third of that amount at most. Though it was not a success, Sykes' ability to transition from comic to actress was praised by her co-stars. One of them, Phil Morris, told Teresa Wiltz of the Washington Post "Wanda is supremely comfortable, even in this medium. She does not lose herself. She's absorbed this medium as well as any other comic I've work with. She's thinking funny all the time."
While Wanda at Large was not a success, Sykes took its cancellation in stride. She told the Chicago Sun-Times' Jae-Ha Kim, "I was a little upset that FOX didn't give Wanda at Large a chance. I wish they would've tried it on a different night and given it a little longer to catch on…. Things happen and you deal with it. It's not a catastrophe. Everyone loses their job at one time or another."
After the cancellation, Sykes' career took off in a number of ways. In 2003, she served as one of many hosts of the Emmys. She also had a one-hour stand-up special on Comedy Central, titled Wanda Sykes: Tongue Untied . Skyes launched a secondary career as an author as well. Her book of humorous essays on a variety of relevant topics, Yeah, I Said It , was published in 2004. She told Scotty Ballard of Jet , "I enjoyed doing the book because it made me think about different subjects and how I felt about them. There's a little bit of everything in there, from politics to dieting to race to relationships."
Sykes also continued touring as a stand-up comedian, including a well-received national tour in 2004 and 2005 sponsored by Comedy Central. For the same network, she also hosted a critically praised, limited-run television series, Wanda Does It , in 2004. In this program, she took on many non-acting or show business-related jobs for comic fodder, a combination of reality television and scripted television comedy. For example, Sykes worked as a repo man in California, a job for which she had to get her repossession license. Sykes told the Chicago Sun-Times' Kim, "I love trying different things, so this show is the perfect way for me to dabble at a little bit of everything. It also makes me appreciate how lucky I have it to be doing what I'm doing."
While Entertainment Weekly named her one of the 25 funniest people in North America in 2004, Sykes' film career greatly expanded in the early 2000s. She had a co-starring role in the 2005 film Monster-In-Law , the comeback vehicle for Jane Fonda. Wanda played Fonda's sarcastic assistant and friend, Ruby, and in many critics' eyes, the scenes in which she appeared were the highlight of an otherwise disappointing movie. One reason for Sykes' edgy work in the role was her freedom to ad-lib off the script, a privilege granted by director Robert Luketic who wanted her for the role. In addition, Sykes appeared in 2006's Clerks II and My Super Ex-Girlfriend as well as 2007's Evan Almighty , the follow-up to Bruce Almighty .
Sykes also provided voices for a number of popular feature-length animated films in 2006. She was the voice of Sister Moon in the straight-to-video feature The Adventures of Brer Rabbit, as well as Bessy the cow in Barnyard and Innoko in Brother Bear 2 . Sykes also voiced Stella the skunk in the summer hit Over the Hedge as well as its straight-to-video follow-up Hammy's Boomerang Adventure. Sykes noted that playing Stella marked the first time she had to act as a character that was not a version of herself and one that evolved over the course of the film.
Sykes recalled the experience of creating Stella as quite difficult, though she was again allowed to improvise off the script. Regarding the recording of her work on Over the Hedge , Sykes told Robert W. Butler of the Buffalo News , "It's pretty much just you and the microphone. It's the loneliest job I've ever had…. I never saw a complete script just my own lines. You've got to trust the director, who's talking to you over your headphones."
When Barnyard was adapted for an animated television series in 2007, Sykes continued to voice Bessy. By then, Sykes was already on a hit television show. She played Barb on the CBS situation comedy The New Adventures of Old Christine, which began airing in 2006. Sykes enjoyed only having to act on the show. She told Josh Wolk of Entertainment Weekly, "I learned from my FOX sitcom Wanda at Large that it'll be a while before I try another of my own. It's too much work for the way it gets treated and how much of it is out of your control. Doing The New Adventures of Old Christine is a cakewalk for me. I love the people, and it's nice to walk in, do the show, and leave everything there."
While beginning her comedy career initially was a pay cut from her NSA job, Sykes believed it was worth it in more ways than one. She told Rob Nash of the Austin American-Statesman, "I was doing something I felt passionate about. You don't do comedy for the money. You start off in this business looking for a big paycheck, you're going to be disappointed. And you'll quit. You stick with it and eventually it will pay off."
Selected writings:
Yeah, I Said It, Atria (New York City), 2004.
Awards:
- Emmy Award (with others) for outstanding writing in a variety, music, or comedy special, Academy of Television Arts & Sciences, for The Chris Rock Show , 1999;
- American Comedy Award for funniest female stand-up comedian, 2001;
- BET Comedy Award for outstanding supporting actress in a theatrical film, Black Entertainment Television, for Monster-in-Law , 2005.
Read more
Latest headlines