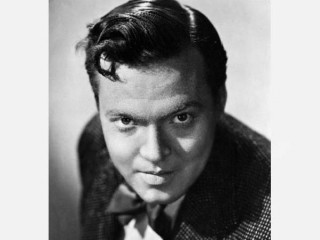 Welles Orson biography
Date of birth : 1915-05-06
Date of death : 1985-10-10
Birthplace : Kenosha, Wisconsin, U.S.
Nationality : American
Category : Arts and Entertainment
Last modified : 2010-05-25
Credited as : Film director and producer, Hollywood writer and actor, Citizen Kane
George Orson Welles
(May 6, 1915 – October 10, 1985), best known as
Orson Welles
, was an American film director, writer, actor, and producer, who worked extensively in film, theatre, television and radio. Noted for his innovative dramatic productions as well as his distinctive voice and personality, Welles is widely acknowledged as one of the most accomplished dramatic artists of the twentieth century, especially for his significant and influential early work and despite his notoriously contentious relationship with Hollywood. His long career in film is noted for his struggle for artistic control in the face of pressure from studios, which resulted in many of his films being severely edited and others left unreleased. He has thus been praised as a major creative force and as "the ultimate auteur."
Known for his amazing acting, directing, and film producing abilities, highlighted in works such as Citizen Kane, Orson Welles became a national and international hit for his dramatic works. He went on to act, write, and record works in film in both the U.S. and in Europe. He even frequented Morocco, where he filmed parts for his movie Othello on its beaches.
Orson was raised by liberal, open-minded parents who imparted their wide range of ideas and beliefs on their young son. Although his mother died when he was only eight years old, he traveled the world with his father, who was an inventor and involved in manufacturing projects around the globe. In Illinois, Orson attended the Todd School for Boys, and it was there that he was introduced to theater. Upon graduation, he was admitted into the Art Institute of Chicago, where he soon dropped out in order to pursue a career as a journalist. Following, he decided to go to Ireland to pursue his first love – acting. In Dublin, he was cast for several lead roles. He then returned to Chicago where he played in Romeo and Juliet. He then debuted in New York City in the same play, this time playing Tybalt.
Orson Welles' work as a radio announcer didn't begin until 1934, when he gained public notoriety for his performance in The Shadow. It was on October 30, 1938, however, that Orson Welles, during a national radio broadcast, announced that aliens from Mars were attacking New Jersey. Many listeners who tuned into the broadcast believed it to be the end of the world.
In 1940, Orson Welles wrote, acted in, and directed what many critics have declared as the number one film ever made – Citizen Kane. With new ways of montage, lighting, and dramatic music, Welles' rendition of the life and times of William Randolph Hearst showed the rise and fall of one of the world's most renowned newspaper tycoons. Welles went on to act and direct many other films in the U.S. and in Europe, namely France. An autobiography of Orson Welles was never published, but much of his private and social life was well known and documented. Before his strange death in 1985, Welles had acted in numerous other films, including The Third Man, Compulsion, and his own Chimes at Midnight.
The Stranger
In 1946, International Pictures released Welles' film, The Stranger, starring Edward G. Robinson, Loretta Young, and Welles. Sam Spiegel produced the film, which follows the hunt for a Nazi war criminal living under an alias in America. While Anthony Veiller was credited with the screenplay, it had been rewritten by Welles and John Huston. Disputes occurred during the editing process between Spiegel and Welles. The film became a box office success and it helped his standing with the studios.
In the summer of 1946, Welles directed a musical stage version of Around the World in Eighty Days, with a comedic and ironic rewriting of the Jules Verne novel by Welles, incidental music and songs by Cole Porter, and production by Mike Todd, who would later produce the successful film version with David Niven. When Todd pulled out from the lavish and expensive production, Welles alone supported the finances. When he ran out of money at one point, he convinced Columbia president Harry Cohn to send him enough to continue the show, and in exchange, Welles promised to write, produce, direct, and star in a film for Cohn for no further fee. The stage show soon failed, due to poor box-office, with Welles unable to claim the losses on his taxes. The complicated financial arrangements concerning the show, its losses, and Welles' arrangement with Cohn, resulted in a tax dispute with the IRS.
The Lady from Shanghai
The film Welles was obliged to make for Cohn helping him complete Around the World in Eighty Days ended up being The Lady from Shanghai, filmed in 1947 for Columbia Pictures. Intended to be a modest thriller, the budget skyrocketed after Cohn suggested that Welles' then-estranged second wife Rita Hayworth co-star. Cohn disliked Welles' rough-cut, particularly the confusing plot and lack of close-ups, and was not in sympathy with Welles' Brechtian use of irony and black comedy, especially in a farcical courtroom scene. Cohn ordered extensive editing and re-shoots. After heavy editing by the studio, approximately one hour of Welles' first cut had been removed, including much of a climactic confrontation scene in an amusement park funhouse. While expressing displeasure at the cuts, Welles was appalled particularly by the soundtrack, objecting to the musical score. The film was considered a disaster in America at the time of release, though the closing shootout in a hall of mirrors has since become one of the touchstones of film noir. Not long after release, Welles and Hayworth finalized their divorce. Although The Lady From Shanghai was acclaimed in Europe, it was not embraced in the U.S. for several decades. Influential modern critics including David Kehr have subsequently declared it a masterpiece, with Kehr calling it "the weirdest great movie ever made." A similar situation occurred when Welles suggested to Charlie Chaplin that he star in a film directed by Welles based on the life of the French serial killer, Henri Désiré Landru. Instead, Chaplin adapted the idea for his own film, Monsieur Verdoux, with Welles officially credited for the idea.
Macbeth
In 1948 Welles convinced Republic Pictures to let him direct a low-budget version of Macbeth, which featured extremely stylized sets and costumes, and a cast of actors lip-syncing to a prerecorded soundtrack, one of many innovative cost-cutting techniques Welles deployed in an attempt to make an epic film from B-movie resources. The script, adapted by Welles, is a violent reworking of the Shakespearean original, freely cutting and pasting lines into new contexts via a collage technique, and recasting Macbeth as a clash of pagan and proto-Christian ideologies. Some of the voodoo trappings of the famous Welles/Houseman Negro Theatre stage adaptation are also visible, especially in the film's characterization of the Weird Sisters, who create an effigy of Macbeth as a charm to enchant him. Of all Welles' post-Kane Hollywood productions, Macbeth is closest to Citizen Kane in its use of long takes and deep focus photography. Shots of the increasingly isolated Scottish king looming in the foreground while other characters address him from deep in the background overtly reference Kane.
The Third Man
The following year, Welles starred as Harry Lime in Carol Reed's The Third Man, alongside Joseph Cotten, his good friend and co-star from Citizen Kane, with a script by Graham Greene and a memorable zither score by Anton Karas. The film was an international smash hit, but unfortunately Welles had turned down a percentage of the gross in exchange for a lump-sum advance. A few years later British radio producer Harry Alan Towers would resurrect the Lime character for radio in the series The Lives of Harry Lime. The 1951 series included new recordings by Karas, was very successful, and ran for 52 weeks. Welles claimed to write a handful of episodes – a claim disputed by Towers, who maintains they were written by Ernest Borneman – which later would serve as the basis for the screenplay by Welles, Mr. Arkadin (1955).
Welles also appeared as Cesare Borgia in the 1949 Italian film Prince of Foxes, with Tyrone Power and Mercury Theatre alumnus Everett Sloane, and as the Mongol warrior Bayan in the 1950 film version of the novel The Black Rose (again with Tyrone Power).
Othello
During this time, Welles was channeling his money from acting jobs into a self-financed film version of Shakespeare's play Othello. From 1949 to 1951, Welles worked on Othello, filming on location in Europe and Morocco. The film featured Welles' old friends, Micheál MacLíammóir as Iago and Hilton Edwards as Desdemona's father Brabantio. Suzanne Cloutier starred as Desdemona and Campbell Playhouse alumnus Robert Coote appeared as Iago's associate Roderigo.
Touch of Evil
Welles stayed on at Universal to direct (and co-star with) Charlton Heston in the 1958 film Touch of Evil, based on Whit Masterson's novel Badge of Evil (Welles, who wrote the screenplay for the film, claimed never to have read the book). Originally only hired as an actor, Welles was promoted to director by Universal Studios at the suggestion (and insistence) of Charlton Heston. Reuniting many actors and technicians with whom he'd worked in Hollywood in the 1940s (including cameraman Russell Metty (The Stranger), make-up artist Maurice Siederman (Citizen Kane), and actors Joseph Cotten, Marlene Dietrich, and Akim Tamiroff), filming proceeded smoothly, with Welles finishing on schedule and on budget, and the studio bosses praising the daily rushes. After the end of production, the studio re-edited the film, re-shot scenes, and shot new exposition scenes to clarify the plot. Welles wrote a 58-page memo outlining suggestions and objections. The studio followed a few of the ideas, but cut another 30 minutes from the film and released it. The film was widely praised across Europe, awarded the top prize at the Brussels World's Fair.
Personal life
In 1932, Welles fell in love with the Mexican actress Dolores del Río. They lived a torrid romance between 1938 and 1942, though he was ten years her junior. They collaborated together in the movie Journey into Fear but the affair ended soon afterward.
In 1934, Welles eloped with Chicago-born actress and socialite Virginia Nicholson. They divorced in 1940 after Welles' affair with Vera Zorina was vaguely mentioned in Walter Winchell's column.
Welles married Rita Hayworth in 1943. The couple had been estranged during the making of The Lady from Shanghai. After five years, Rita filed for divorce, her reason to the press being, "I can't take his genius any more." During his last interview and only two hours before his death, Welles answered Merv Griffin's lustful comment "But one of your wives--Oh, I have envied you so many years for Rita Hayworth," by calling her "one of the dearest and sweetest women that ever lived" and saying that he was "lucky enough to have been with her longer than any of the other men in her life."
In 1955 Welles married Italian actress Paola Mori (Countess Paola Di Girfalco). Estranged for decades, the couple were never divorced. Croatian-born actress Oja Kodar became Welles' longtime companion both personally and professionally from 1966 on. They lived together for the last twenty-four years of his life. A year after Orson's death, Paola and Oja finally agreed on the settling of his will. On the way to their meeting to sign the papers, however, Paola was killed in a car accident.
Welles had three daughters: author Christopher Welles, or Chris Welles Feder (born in 1938, with Virginia Nicolson), Rebecca Welles Manning (born in 1944, with Rita Hayworth) and Beatrice Welles (born in 1955, with Paola Mori).
According to a 1941 physical exam taken when he was 26, Welles was 6 feet (180 cm) tall and weighed 218 pounds (98.9 kg). His eyes were brown. Other sources cite that he was 6 feet 4 inches (193 cm) tall. Welles gained a significant amount of weight in his 40s, eventually rendering him morbidly obese, at one point weighing nearly four hundred pounds (181.4 kg). His obesity was severe to the point that it restricted his ability to travel, aggravated other health conditions, including his asthma, and even required him to go on a diet in order to play Sir John Falstaff. Some have attributed his over-eating to depression over his marginalization by the Hollywood system.
In April 1982, Merv Griffin interviewed Welles and asked about his religious beliefs. Welles replied, "I try to be a Christian, I don't pray really, because I don't want to bore God." After the success of his 1941 film Citizen Kane, Welles announced that his next film would be about the life of Jesus Christ, and that he would play the lead role. However, Welles never got around to making the film. He narrated the Christian-documentary The Late, Great Planet Earth as well as the 1961 Biblical film about the life of Christ, King of Kings.
Some of Welles' claimed familial ties have not held up under scrutiny. Despite the persistent urban legend, promoted by Welles himself, he was not the great-grandson of Abraham Lincoln's wartime Secretary of the Navy, Gideon Welles. Perhaps the genesis of the myth dates to a 1970 interview on The Dick Cavett Show during which Welles remarks about his venerable great-grandfather Gideon Welles. Orson Welles' father was Richard Head Welles, son of his paternal grandfather Richard Jones Welles; Gideon Welles had no son by that name. His sons were Hubert (1833–1862), John Arthur (1845–1883), Thomas G. (1846–1892), and Edgar Thaddeus Welles (1843–1914).
Filmography as Director
1934 The Hearts of Age
1941 Citizen Kane
1942 The Magnificent Ambersons
1946 The Stranger
1947 The Lady from Shanghai
1948 Macbeth
1952 Othello
1955 Mr. Arkadin
1958 Touch of Evil
1962 The Trial
1965 Chimes at Midnight
1968 The Immortal Story
1974 F for Fake
1978 Filming Othello
Read more
Latest headlines