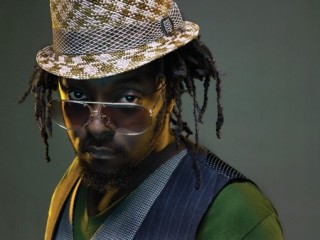 Will.i.am biography
Date of birth : 1975-03-15
Date of death : -
Birthplace : Inglewood, California, U.S.
Nationality : American
Category : Arts and Entertainment
Last modified : 2011-10-29
Credited as : Singer, The Black Eyed Peas,
William James Adams, Jr., better known by his stage name will.i.am ("will I am") and occasionally by his other stage name Zuper Blahq, is an American rapper, musician, songwriter, singer, actor and producer. will.i.am came to prominence in the late 1990s as a member of the hip hop group The Black Eyed Peas along with rappers apl.de.ap and Taboo and, later, singer Fergie.
As a music producer, he has produced with other artists including Michael Jackson, Eazy-E, Britney Spears, U2, Rihanna, Usher, Justin Timberlake, Earth, Wind & Fire, Eazy-E, Nicki Minaj, Cheryl Cole, 2NE1, Daddy Yankee, and Juanes.
will.i.am's music career began in the summer of 1988, when as an eighth-grader, he met up and" with fellow rapper Allan Pineda (apl.de.ap) and fellow student Dante Santiago. They began performing together around Los Angeles and were soon discovered by rapper/entrepreneur Eazy-E, who signed them to his label Ruthless Records in 1992. At the time, Will was known as "Will 1X". The Atban Klann's first ever official track, "Merry Muthafuckin' Xmas", was included on Eazy-E's EP 5150: Home 4 tha Sick. After this, the trio began recording an album, "Grass Roots", with the help of producers Mookie Mook and DJ Motiv8, however, the album was never released, due to Eazy-E's death in 1995. After Eazy's tragic death, Atban Klann changed their name to the Black Eyed Pods, and Will replaced Dante with Jaime Gomez, better known under his stage name of Taboo. In 1997, they once again changed their name, this time to the Black Eyed Peas, and began recording their first album, "Behind the Front", with the help of soul singer soul musician. They were soon signed to Interscope Records, and released their debut single, "Joints & Jam", in early 1998. The album was successful enough for the group's contract to be renewed, and in 2000, a second album, "Bridging the Gap", was released.
Following the release of Bridging The Gap, Will began recording his first solo release, Lost Change, which was the official soundtrack to the film of the same name. Featuring collaborations with Medusa, Planet Asia and Terry Dexter, the album was a critical success,reviews wherever it was covered.
In November 2001, work began on a third Black Eyed Peas album, Elephunk. By this time, Kim Hill had left the group, and was subsequently replaced by Stacy Ferguson, known better by her stage name Fergie. The group released their breakthrough single, "Where Is The Love", in November 2002 (featuring Justin Timberlake, although he did not appear in the video). On the strength of that single and follow-up singles like Shut Up, Elephunk went on to sell 8.5 million copies worldwide. During this time, Will recorded a second solo album, Must B 21.
In November 2003, work began on a fourth Black Eyed Peas album, entitled Monkey Business, the second album with new band member Fergie. Upon the success of Monkey Business, which was released in 2005, the band announced they were going to take a break to focus on their own personal projects. Will went on to produce Ferguson's first solo album, The Duchess, which was released in 2006, before beginning work with Michael Jackson, who had requested Will's expertise for the recording and production of his new album. Work began on the Jackson album in 2006, and continued until the singer's death in 2009, at which point Will revealed that none of the material recorded during the period would be released. However, remixes recorded for Jackson's Thriller 25 anniversary album were released in 2008.
In 2007, Will announced that he had co-created an all-female soul band entitled the Paradiso Girls, who he intended to work with on an upcoming solo project. The album, "Songs About Girls", was released in 2007. The album spawned three singles, "I Got It From My Mama", "One More Chance" and "Heartbreaker", and fared slightly better than his previous solo efforts, however, failed to shift more than 75,000 copies. In January 2008, Will announced plans that he was masterminding a political album, Change is Now: Renewing America's Promise, in support of Barack Obama's presidential campaign.
The video first debuted on The Oprah Winfrey Show. In honor of the inauguration of Barack Obama as president, will.i.am collaborated with producer David Foster on the album's fourth single, "America's Song", with contributing vocals from Seal, Bono, Mary J. Blige, and Faith Hill. In response to Barack Obama's reaction following Kanye West's interruption of Taylor Swift at the 2009 MTV Video Music Awards, will.i.am penned the album's fifth and final single, "The Jackass Song". It features a sample of Kanye West's "Heartless". Will wrote a blog post which featured the song on Dipdive, and released in February 2009. will.i.am attended and spoke at the FIRST Robotics Competition Kickoff on January 8, 2011, declaring, "I am a FIRST fan."
In March 2009, Will announced plans for the Black Eyed Peas to return, and within months, their comeback single "Boom Boom Pow" had reached #1 on the UK Singles Chart. They went on to have three #1 singles before releasing their comeback album, The E.N.D. The album's success warranted a second comeback album, The Beginning, to be released in November 2010. The album spawned another three hit singles, but the band soon announced plans they were to break again, following the conclusion of their world tour.
In January 2010, Will formally announced that he was in the process of recording a fourth solo album, with some material being recorded under the pseudonym Zuper Blahq. In March 2010, under the psedonym, a collaboration with Steve Aoki, "I'm In The House", was released as a single, charting at #29 on the UK Singles Chart due to strong downloads. In October 2010, Will, under his performance name, released a collaborative single, "Check It Out", with American rapper Nicki Minaj, which peaked at #4 on the UK Singles Chart. In February 2011, another single, "Dance", was released under the pseudonym, featuring vocals from Natalia Kills. The music video was directed by Jam Sutton, and features a cameo by Natalia.
In April 2011, Will, under his performance name, released a double A-side single for the soundtrack of the animated film Rio, in which he voiced a character. "Hot Wings (I Wanna Party)" / "Drop It Low", featuring Jamie Foxx and Anne Hathaway, failed to chart. Will announced that he was going to remix the tracks for inclusion on his next album. "Forever", a collaboration with Wolfgang Gartner under Will's performance name, is planned for release in September 2011. The video premiered on August 26, 2011. Black Eyed Peas colleague Fergie announced in an interview that will.i.am is planning to release a new solo album, "Black Einstein".
In August 2011, Will had a video conversation with his fans on twitter to support his project "I Am First Science Is Rock And Roll" show, on this video log he answered his fans questions one of them was on his new album he said "I'm going to release two new albums: one will be Hip-Hop (probably "Black Einstein") and the second will be Dance\Electro and this one in untitled at this moment".
Will.I.Am has confirmed that one of the tracks on his new untitled electro album will be titled "T.H.E (The Hardest Ever)" and will feature Jennifer Lopez & Mick Jagger. He also played the song on a presentation in club hosted by HTC. [15] in October 18 Will confirmed via his twitter this he shot the video for "T.H.E (The Hardest Ever)" in LA, he also confirmed another new single "Great times" and the video for this song is already in process and the location is - Brazil.
will.i.am first started acting alongside the rest of the members of The Black Eyed Peas in the commercial series "Instant Def" to advertise Snickers. He starred in Madagascar: Escape 2 Africa as the voice of the character Moto Moto. He contributed a number of tracks to the movie's motion picture soundtrack in collaboration with industry heavyweight Hans Zimmer. will.i.am played John Wraith in his major film debut, X-Men Origins: Wolverine, a prequel to the X-Men film series.
He also guest starred on the CBS drama Joan of Arcadia as God, one of several actors who played this role during the series. He also starred in the 2011, animated film Rio, as a rapping red-crested Cardinal named Pedro, and like Madagascar: Escape to Africa, he contributed his singing voice to the film's soundtrack, along with his fellow co-stars. will.i.am played a fathering role in The Urbz: Sims In The City, which uses The Black Eyed Peas' songs as its soundtrack. He briefly played himself in the Tina Fey and Steve Carell Comedy Date Night.
Before joining The Black Eyed Peas, will.i.am attended the Fashion Institute of Design & Merchandising in Los Angeles. In 2001, he began designing his own signature clothing line, i.am, which made its official debut in 2005 at the Magic Apparel Trade Show in Las Vegas. In 2007, will.i.am teamed up with Blue Holdings to design a premium denim collection, i.am Antik, that was scheduled to debut in August 2007 at the Project Show in Las Vegas.
will.i.am appeared at the kickoff event for the 2011 FIRST Robotics Competition, Logo Motion held at Southern New Hampshire University. He stated that he is "a big fan", and that the newly unveiled game was "dope". During his interview, he said that "his mama will work with yo mama". He also performed a concert for FIRST at the 2011 FIRST World Championship at the Edward Jones Dome. will.i.am appeared in concert with the Black Eyed Peas as a part of a special concert for 2011 FIRST Robotics Championships. It was recorded for a special aired by ABC on August 14, 2011 at 7 pm. The world's largest chipmaker, Intel Corp., said will.i.am will become a creative director, contributing music and helping in the development of devices such as smartphones, laptops and tablets.
As a "director of creative innovation", will.i.am is responsible to improve the sales in the company. The collaboration and co-development with will.i.am and Intel on these products will provide new modern music that will create trends in the technological world. will.i.am states that there will be "new ways to communicate, create, inform and entertain..." According to Intel, this relationship will bring the technology and entertainment industry together. It is very important to attract the youth culture.
Read more
Will.i.am Picture Gallery
Latest headlines