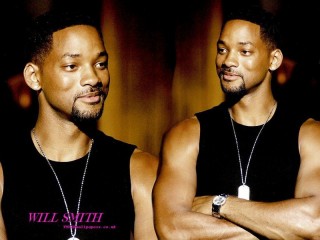 Will Smith biography
Date of birth : 1968-09-25
Date of death : -
Birthplace : Philadelphia, Pennsylvania, U.S.
Nationality : American
Category : Arts and Entertainment
Last modified : 2023-09-25
Credited as : Hollywood actor, The Fresh Prince of Bel Air, Hancock, I Am Legend
Will Smith(Willard C. Smith, Jr.)
born on September 25, 1968, in Philadelphia, PA; son of Willard (a refrigeration engineer) and Caroline (a school board employee) Smith; married Sheree Zampino, 1992 (divorced 1995); married Jada Pinkett, 1997; children: (first marriage) Will III; (second marriage) Jaden Christopher Syre, Willow Camille Reign.
On television he was
the Fresh Prince of Bel Air
, a streetwise Philadelphian sent to live with wealthy relatives in California. In real life he is Will Smith, a streetwise Philadelphian who has-by virtue of hard work and infectious charm-found stardom and wealth in Los Angeles. Smith has enjoyed vast success in two different fields of popular entertainment. While still too young to drink legally he released several platinum rap albums and won the first-ever Grammy Award given in the rap category.
With his accomplishment in the music industry behind him, Smith moved to television situation comedy and scored a hit with "The Fresh Prince of Bel Air." In the mid-1990s, while still a young man by any standards, Smith is in demand for television and film roles, some of which seriously test his acting talent. Premiere magazine contributor Veronica Chambers cited Smith for his "white-bread appeal that very few black men possess," noting that the engaging star is "Ben Franklin with a backward baseball cap."
Acting, for Smith, has often meant being his own quirky self in front of a camera. He has worked hard over the years to invest some realism into the character he played on The Fresh Prince of Bel Air-even if that meant flying in the face of stereotype. "Look what the Fresh Prince represents," Smith told Essence magazine. "He operates on several different levels-a symbol of urban youth, a symbol of Black youth and, most specifically, of Black male youth."
Grew up in a Loving Family
Willard Smith, Jr.
, was born on September 25, 1968, and raised in Wynnefield, Pennsylvania, a middle-class suburb of West Philadelphia. He was the oldest son and one of four children of a refrigeration engineer and a school board employee. His parents were loving but demanding, the kind who took their children to Mount Rushmore on vacation to prove that education does not end with the classroom.
"Dad was tough but not tyrannical," Smith told Essence. "He kept me in line. He'd get this look that said, 'One more step, Will, and it'll get ugly.' He was an independent businessman-he set up refrigeration in supermarkets-and he always provided for us. He's a steady and positive figure in my life. Mom worked as a school secretary-she's a supervisor now-and her thing was education. My folks sent me to a Catholic school because it was the best school in the neighborhood, but I felt some of the priests and nuns were racist."
As a teen, Smith attended Overbrook High, a public school in Philadelphia. His teachers there nicknamed him "the Prince" because they found him so charming. His best subject was mathematics, and he earned good enough grades to be accepted at the prestigious Massachusetts Institute of Technology (MIT) engineering program. By that time, though, fate had decreed a different path for the Prince.
Entered the Music Business as a Teen
When he was just twelve years old, Smith met Jeffrey Townes at a friend's party. Townes was better known as DJ Jazzy Jeff, and although he was only a few years older than Smith, he had been spinning records at parties for quite some time. Smith was just beginning to rap--calling himself the Fresh Prince--and he and Jazzy Jeff became friends. For some years they performed in different rap groups and only occasionally paired up. Then, in 1986, their partnership became more serious. "I worked with 2,000 crews before I found this maniac," Jazzy Jeff told People. "There was a click when I worked with him that was missing before." The two friends performed as DJ Jazzy Jeff and the Fresh Prince.
Jazzy Jeff had already released an album, so the new duo had little trouble finding a record label. In 1986 they cut their first LP together, Rock the House. Their first single, "Girls Ain't Nothin' But Trouble," did well on the charts. Already famous throughout the Philadelphia region, they found themselves in demand in the rest of the country as well. As the money began to roll in, Smith was able to convince his parents that college could wait. In fact, he earned a million dollars before he turned 20.
Rock the House was released in 1987 and sold some 600,000 copies. Major stardom came to Smith the following year with the double LP He's the DJ, I'm the Rapper, one of the first rap albums to reach platinum status with over a million copies sold. Both albums, but especially the second, offered raps about what the musicians understood best-the day-to-day troubles of modern teens. The hit single "Parents Just Don't Understand," for instance, detailed the nightmares of shopping for school clothes with a mother who is hopelessly out of touch with current styles; the Fresh Prince pleads with his mom to "put back the bell-bottom [1970s TV show] Brady Bunch trousers." This universal young adult complaint helped find a crossover audience for DJ Jazzy Jeff and the Fresh Prince. "Parents Just Don't Understand" won the very first Grammy Award given in the category of rap music.
Found Success with Clean Rap
Because their subject matter was not particularly controversial, DJ Jazzy Jeff and the Fresh Prince were afforded greater opportunities to perform their work. Promoters saw less chance for violence at their shows, so they were booked into major concert venues. Even network television executives felt comfortable putting them on the air. The "clean rap" image proved a mixed blessing, because some other rap artists criticized them for ignoring legitimate problems of black youths.
Smith's reply to detractors was that he was just responding to his own personal environment--one that did not include the stresses of a dysfunctional family, drug abuse, or violent crime. "In the beginning, following the fashion of the day, my raps had a small amount of profanity," he told Essence. "I'll never forget what my grandmother said when she read them: 'He who is truly articulate shuns profanity.' Man, I didn't even know what articulate meant, but I knew I wanted my grandmother's approval, just as I wanted my parents' approval."
By 1990 the Fresh Prince had released three top-selling rap albums and was one of the best-known rappers in the nation. He was also broke. "I bought everything," Smith told TV Guide. He had a mansion near Philadelphia, closets full of designer clothing, a fleet of expensive cars, and a jet-set lifestyle complete with fair weather friends. When the money ran out and his friends deserted him, Smith realized how foolish he had been. Already his popularity as a rapper was diminishing. Instead of panicking, however, he just cast about for a new opportunity.
Started Acting
Some Hollywood executives had already noticed Smith's stage presence and his ability to charm an audience. Beginning in 1990 he was invited to audition for small roles on The Cosby Show and A Different World, but he described himself in Jet as being "too scared" to keep the appointments. Finally he met Benny Medina, the head of Warner Brothers Records' black music division. Medina had moved from Watts as a teen to a wealthy Los Angeles neighborhood, and he thought that his experiences would make a funny situation comedy. Medina and Smith talked the idea over and then approached producer Quincy Jones about a pilot episode. Jones immediately sensed that a show of that nature starring Will Smith would be a hit.
The Fresh Prince of Bel Air made its debut on the National Broadcasting Company (NBC) in the fall of 1990. Smith appeared in the starring role as Will, a Philadelphia teen sent to live with his wealthy, refined, and decidedly Republican aunt and uncle in the upscale Bel Air section of Los Angeles. The show found an audience quickly, "almost singlehandedly keeping the network competitive on Monday nights," according to Gordon Dillow in TV Guide. For Smith, who had never done any acting before, the show was quite a challenge. "I was a nervous wreck," he recalled in TV Guide. "I was trying so hard. I would memorize the entire script, then I'd be lipping everybody's lines while they were talking. When I watch those [early] episodes it's disgusting. My performances were horrible."
Smith might not have been satisfied with his work, but almost everyone else was. In a TV Guide poll, young adults voted the Fresh Prince "hippest teen on TV." In addition, The Fresh Prince of Bel Air quickly became the most popular black situation comedy among white viewers, consistently placing in the Nielsen Top Twenty through its first two seasons. "Smith is such a naturally engaging comic talent that he and the show's capable supporting cast usually sidestep the treacle trap," noted Mike Duffy in the Detroit Free Press. "Smith never allows excess cutes to sabotage the chuckles."
Sought Film Work
An astute businessman who also seeks creative challenges, Smith began trying to broaden his horizons in Hollywood. He sought film work and has since then appeared in several movies. His most notable dramatic performance came in 1993 with the release of Six Degrees of Separation, a serious drama in which Smith played a gay con artist trying to fool a couple of white social climbers. "I wanted to work with [filmmakers] Spike Lee and John Singleton," Smith told Premiere, "and I needed to do a film like Six Degrees in order for those people to consider me. Spike Lee would never consider me for a role, because "The Fresh Prince of Bel Air" is all he's ever seen. How would he know that I could do what he demands of an actor?" Smith added that an intelligent choice of future movie roles could assure him a long career in show business. "Film, I think, I can do forever," he said. "As long as you're good, you can always do film," he added.
After Smith expanded his wings with Six Degrees of Separation, he was offered more roles in films such as Where The Day Takes You, and Made In America. But his first role as an action hero made Hollywood sit up and take notice. Smith co-starred with Martin Lawrence in the comedy-thriller, Bad Boys. The film was a box-office success and it set the stage for his next film, Independence Day.
Wanting to focus on his budding film career, in 1996 Smith decided to leave The Fresh Prince of Bel Air after six seasons, even though the show remained successful. The show was translated into more than a dozen languages, and Smith remembered it to Teen People in 2004 as "the biggest thing I ever did."
His move proved fruitful with his next film, Independence Day. Independence Day was an action-packed science fiction film with an all-star ensemble cast. Smith was one of three leads who included actors Bill Pullman and Jeff Goldblum. ID4, as it was nicknamed, earned more than $100 million its opening week. Smith became a bona fide action movie star. He had the sex appeal, the cockiness, and the buffed body. The downside to his success was men wanted to see if he could actually fight. He told Jet that as the Fresh Prince, he "was nonthreatening. So nobody wanted to fight me, but then I buffed up for Independence Day, came on a little cocky, and suddenly people want to knock me down."
Smith's next film was Men In Black. Though it was another sci-fi film, when he was asked by executive producer Steven Spielberg to take the part of Agent J, he told Ebony, "You just can't tell Steven Spielberg no." He teamed up with Academy Award-winning actor Tommy Lee Jones and made box office history. Men In Black was the number one best selling movie of 1997. It grossed over $200 million.


Smith, who described himself as a "one-woman man," married Sheree Zampino in 1992. Their first child, Willard Smith III, was born the following year. "She's wonderful," Smith said of his wife in Essence. "She allowed me to finally put down the bags of emotional stress I'd been lugging around like a fool.... I realized that physically, emotionally and intellectually she was on a higher plane than me."

Smith's life seemed to be perfect. He was a rapper, TV star, husband, father, and a blossoming movie star, but his marriage was on a rocky road. His wife soon asked for a divorce. It was finalized in 1995, and they both share custody of their son. Though devastated, Smith continued with his television, rap, and film careers.

Though Smith met Jada Pinkett when she auditioned for a role on The Fresh Prince of Bel Air, it was not until years later that they connected romantically. Both considered the other their soulmate. Smith told Ebony, "Jada is the first person I've been with willing to accept that it's not always going to be great, but that's okay." The two married on December 31, 1997; they have two children: a son, Jaden Christopher Syre, and a daughter, Willow Camille Reign.


Continued Recording Music


Though quoted as having no desire to make another record, Smith performed the title track to the Men In Black soundtrack. For rap fans who missed his style, it was a much-needed return. Fans who only knew Smith from TV and film were surprised; so was the music industry. His last album had bombed. The song won an NAACP Image award and garnered him his third Grammy.

In 1997, Smith released a solo album under his own name, titled Big Willie Style. His first single, "Gettin' Jiggy With It" was a top ten hit. He spoke with Essence concerning why he released another rap album, "I loved Biggie [slain rapper Notorious B.I.G.], but my son doesn't have any alternatives." Big Willie Style was a multi-platinum success. In 1999 he released another rap album, Willennium, at about the same time as his film Wild Wild West opened in theaters. Willennium was another multi-platinum success. The single "Will 2K" from the album broke into the Top 10 list and the video for the song was nominated for a Grammy Award. Continuing his outpouring of clean rap, Smith released Born to Reign in 2002. The album featured vocals from his wife and son, and a song about his young daughter. In 2005 he released yet another album titled Lost and Found.


Showed Diverse Acting Talents


Smith added two movies to his resume in 2000: Men in Black Alien Attack, and The Legend of Bagger Vance, directed by Robert Redford. In 2001 Smith stayed busy as the star of the feature film Ali, the story of heavyweight champion Muhammad Ali. His performance earned him his first Grammy nomination as an actor.

Sequels to Men in Black in 2002 and Bad Boys in 2003 proved box-office hits. Smith followed these blockbusters with a starring role in Isaac Asimov's classic sci-fi adventure I, Robot. In the 2004 film, Smith plays a skeptical police officer who "is basically Shaft, a black cop who wears lots of leather, earrings, a Mike Tyson gait, an ancient grudge and a face that says: 'I can't stand people's unquestioning faith in robots,' as James Christopher of the London Times put it in his review of I, Robot.

Smith switched gears in 2005 to star in the romantic comedy Hitch. In the film, Smith played a dating consultant who helped men woo the women of their dreams. Film Journal International found Smith the "perfect fit" for the role. And Smith told People that "I am Hitch in my real life." The film became in international success.

Smith showed he was still box office gold when his next film, 2006's The Pursuit of Happyness, became an unexpected hit. The downbeat film about a struggling, sometimes homeless, single father grossed $305 million. Smith was also nominated for an Academy Award for his work in the role. By 2007, Hollywood believed that Smith was the most powerful man in Hollywood. An anonymous industry insider told Sean Smith of Newsweek, "Will Smith is the only thing in this business--the only thing--that represents a guaranteed opening weekend."

Smith's next two films were in the science fiction genre. Released at Christmas 2007, the dramatic thriller I Am Legend was about the last man living on Earth, Robert Neville. The film had an unexpectedly strong opening weekend of $76.5 million and continued to do well in the forthcoming weeks. Next came Hancock, released in early July 2008, in which Smith played a reluctant superhero. Hancock has no memory of his past life just the burden of his extraordinary abilities. The film made over $100 million in its first week of release alone, despite poor reviews. With this figure, Smith became the first actor in history of Hollywood to have eight straight movies gross more than $100 million.

While Seven Pounds, released at Christmas 2008, was not as big a hit as his previous efforts with only $16 million in ticket sales over the first weekend and many poor reviews. As an actor, Smith wanted to take chances, no matter what the outcome. As he told Robert Koehler of Variety, "[M]y strategy from the start was that I would lay down markers, so that I would never be in a situation in which someone considering me for a role would say, 'He can't do that.'"

Smith told TV Guide that his high confidence in himself helped him to leap from local notoriety to national celebrity while still a teenager. "Confidence is what makes me different from guys at home.... I'm the one who always takes the risks." In Seventeen, he said: "You have to believe in something greater than yourself. You have to have faith in the power and believe it has your best interest at heart. That's how I was raised by my parents, and that's my bottom line." One thing Will Smith has proven: he has the business sense, the charm, and the talent to utilize every opportunity that comes his way.



Awards won by Will Smith:

Grammy Award, for Best Rap Performance, "Parents Just Don't Understand," 1989; Grammy Award, for Best Rap Performance, for "Summertime ,"1992; National Association for the Advancement of Colored People (NAACP), Image Award for Best Situation Comedy, for The Fresh Prince of Bel Air, 1992; Grammy Award, for Best Rap Performance, for "Men In Black," 1998; Grammy Award, for Best Rap Performance, for "Gettin' Jiggy Wit It," 1998; ASCAP Awards, 1998, 2000; Blockbuster Entertainment Awards favorite actor (sci-fi), 1996 and 1998, and favorite actor (action/adventure), 1999; Image Award, for Entertainer of the Year, Outstanding Music Video, and Outstanding Rap Artist, 1999; BET Award, for Best Actor, for Ali, 2002; People's Choice Award for Favorite Male Action Star, 2005; Saturn Award for Best Actor, for I Am Legend, 2008; BET Award for best actor, 2009; Image Award for outstanding actor in a motion picture, for Seven Pounds, 2009; People's Choice Award for Favorite Male Action Star, 2009; People's Choice Award for Favorite Male Movie Star, 2009.

CAREER
Rap musician with duo DJ Jazzy Jeff and the Fresh Prince, 1986-; solo performer, 1997-; actor 1990-.


Selected works of Will Smith:


* Albums

* (With DJ Jazzy Jeff and the Fresh Prince) Rock the House (includes "Girls Ain't Nothin' But Trouble"), Jive, 1987, reissued, 1989
* (With DJ Jazzy Jeff and the Fresh Prince) He's the DJ, I'm the Rapper (includes "Parents Just Don't Understand"), Jive, 1988
* (With DJ Jazzy Jeff and the Fresh Prince) And in This Corner, Jive, 1989
* (With DJ Jazzy Jeff and the Fresh Prince) Homebase, 1991
* Code Red, 1993
* Men In Black soundtrack, title cut, 1997
* Big Willie Style, 1997
* Willennium, 1999
* Born to Reign, 2002
* Lost and Found, 2005

* Television

* The Fresh Prince of Bel Air, 1990-96
* (Co-creator) All of Us, 2003-

* Films

* Where The Day Takes You, 1992
* Made In America, 1993
* Six Degrees of Separation, 1993
* Bad Boys, 1995
* Independence Day, 1996
* Men In Black, 1997
* Enemy of the State, 1998
* Wild Wild West, 1999
* The Legend of Bagger Vance, 2000
* Ali, 2001
* Men in Black 2, 2002
* Bad Boys II, 2003
* I, Robot, 2004
* Hitch, 2005
* The Pursuit of Happyness, 2006
* I Am Legend, 2007
* Hancock, 2008
* Seven Pounds, 2008
* Gemini Man (2019)
* Bad Boys for Life (2020)
* King Richard (2021)
* Emancipation (2022)

Read more
Will Smith Picture Gallery
Latest headlines