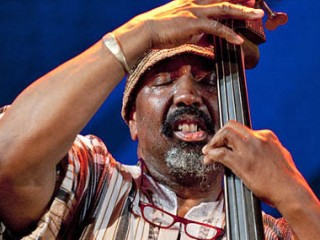 William Parker biography
Date of birth : 1952-01-10
Date of death : -
Birthplace : Bronx, New York City,U.S.
Nationality : American
Category : Arts and Entertainment
Last modified : 2012-01-09
Credited as : jazz bassist, Composer, Poet
William Parker is an American free jazz double bassist, poet and composer.
After three decades of performing with the world's leading improvising musicians, William Parker has been called "the greatest bassist ever to have played avant-garde jazz," by Pete Gershon at the Soundboard website. He was a key member of the Cecil Taylor Unit in the 1980s and has also played with luminaries of free jazz such as Peter Brötzmann, David S. Ware, Roscoe Mitchell, Fred Anderson, and Hamid Drake. He has fronted groups of his own--most notably, his In Order To Survive Quartet and the Little Huey Creative Music Orchestra--which have brought him increased recognition among critics and jazz listeners.
In addition to being an accomplished musician, Parker is also an activist on behalf of avant-garde jazz musicians. His efforts to organize festivals like the Sound Unity Festival and the Vision Festival have been first steps in breaking the control of promoters and corporations and enabling musicians to determine for themselves where and how they will play. Parker's artistic interests extend beyond music, however. He is a published poet, and he writes stories, draws, and paints. Parker sees the purpose of his music in this broader creative context. "My job as organizer," he wrote in the liner notes to his album Flowers Grow In My Room, "is to bring about the optimum setting for dreams, visions and prophecies to come into being."
Parker was born on January 10, 1952, in the Bronx, New York. He felt a creative urge from an early age but was not drawn to music at first. Instead he wrote poems and diaries. His father was a jazz fan, however, and the music of Count Basie, Coleman Hawkins, Ben Webster, and Dizzy Gillespie was continuously playing in the house while Parker was growing up. Duke Ellington's music was the first to captivate Parker as a boy. From Ellington, he progressed to listening to the Modern Jazz Quartet, and then the masters of the Sixties avant-garde: Ornette Coleman, John Coltrane, Cecil Taylor, and Albert Ayler. Ornette was a particularly important turning point, and Parker recalled purchasing all of Coleman's Atlantic albums in mono for 99 cents each when the record companies changed over to stereo. "A fire was lit and hit me and everything came together," he told Robert Hicks in Coda magazine.
Parker's father not only introduced him to recorded jazz music, but he also brought different musical instruments home from a local pawn shop, which included a trumpet and trombone. "I wasn't into music at that point," Parker told Hicks, "and I didn't realize what a gift it would be to play these instruments." Part of the problem was the oppressive atmosphere of the city. "Basically all I saw around me was discouragement. I wasn't encouraged to fly," Parker explained to Hicks. "In my immediate family environment, I was encouraged to get a job and be practical. In that way I was discouraged from the artistic life." This childhood experience eventually led Parker to invent Little Huey, the figure behind his orchestra and the symbol of ghetto children who hoped to become poets, musicians, or artists.
Cello was the first instrument Parker studied formally. It was during his studies that he experienced a kind of epiphany about the importance of music. "When I was in high school, I realized that music had a value," he told Gershon. "That, really, what it was all about was that music and art could heal people, and sort of uplift and enlighten people. And I thought I could participate in the process, so I decided to become a musician." Under the influence of John Coltrane's bassist Jimmy Garrison, Ornette Coleman and Charlie Haden, Parker switched to double bass. He attended the Jazzmobile School in Harlem where he studied bass with Paul West and Richard Davis, and played in the Jazzmobile Orchestra. He went on to study with Wilbur Ware, Jimmy Garrison, and Arthur Davis.
Playing the bass seemed almost second nature to Parker. The walking bass style that was so popular and influential in jazz history came naturally to him, bowing did too. "I felt a kinship to the low notes," he explained to Howard Mandel in Down Beat magazine. Parker got his first gig when he was seen carrying his bass home on his back. He played with anyone he could, including comedians, folk singers, or poets--anything to learn the craft.
Playing was perhaps the most important area of Parker's musical education. He recalled a particular instance: "In 1973, I remember there was a breakthrough in the way I was playing. I was able to get a horizontal and vertical motion at the same time. Meaning that horizontally you are bowing, and vertically you are fingering," Parker said in an interview at the AUM Fidelity website. "The more I played, the more extended techniques developed on the instrument." His confidence and ease with the double bass helped. "I had a very good feel; if I didn't know something I could get by until I did know it. It was just like now," Parker told Mandel.
Along the way, Parker has developed some unconventional ideas about how music functions and what it can achieve, ideas that extend far beyond how most people--musicians and non-musicians alike--think about it. One of these ideas was the "Band of Light" concept. Early on, Parker would practice all day, sometimes only a single note the whole time, and while he played he visualized cathedrals and lakes of light. These sessions led him to think of the strings of his bass as bands of light and of the bow as his prism. When he drew the bow across the string, the band of light was broken up into colors, the way a prism breaks white light into a rainbow. "I looked at each sound, each harmonic as a different color band, and each color band could do a different thing," he told Gershon. "So I wasn't just studying scales, I studied a method of relating these ideas of vision, color and sound, and what sound could do, like mantras and trance chants, ... so this was my guide and underlying aesthetic, that each sound had to have a reason and each sound had to do a specific thing."
Not surprisingly, Parker's own work has a significance that goes far beyond the musical. As a leader, his music has an explicitly political component. Take for example his quartet, In Order To Survive. The band took its name from a statement Parker wrote on the position of musicians in capitalist society in the middle 1980s. Musicians, he said, put together workshops, played loft concerts, whatever they have to do "in order to survive."
The inspiration for the group's albums is explicitly political. "The idea for Compassion Seizes Bed-Stuy comes from a vision," he told Hicks. I was watching an incident on the news where a kid gets hit by a stray bullet. So I had this vision that one day, an angel going through Bedford-Stuy or any ghetto or any camp where Third World people and minorities live and people holding guns to one another's heads are filled with compassion and realize that they are not 'happening.'" The group has boasted a stellar line up over the years that has included drummers Denis Charles and Susie Ibara, saxophonist Rob Brown, pianist Cooper Moore, trombonist Grachan Moncur III, and trumpeter Lewis Barnes.
Toward the end of the 1990s, Parker began focusing most of his attention on his big band, the Little Huey Creative Music Orchestra. He had been interested in large ensembles ever since he experienced a series of performances by Carla Bley's Jazz Composers Orchestra in the 1970s. In 1973, Parker appeared for the first time with Cecil Taylor's orchestra and went on to work with other orchestras, including Gunther Hampel's Big Band, Sam River's RivBea Orchestra, and Ted Daniel's Energy Band. In the early 1970s, Parker formed an orchestra of his own, the Aumic Orchestra. His large groups, however, were always formed for specific projects and then disbanded. Parker intended Little Huey to be a group with staying power, an ongoing entity. He invited players he had played with frequently through the years, such as trumpeter Roy Campbell and violinist Billy Bang, as well as players who were new to him, like Chris Jonas and Gregg Bendian.
Little Huey also had a political facet. "Our philosophy behind the band was to make a contribution for the children of the world," he told Fred Jung of Jazz Weekly online, "for those who really want to be poets, who want to be singers, who want to be dancers, who want to be free and who are not free in a way." Little Huey is musically radical too. It functions like a small jazz group, a trio or quartet--the musicians are ultimately free to improvise if they want. Different sections--the trumpets, for example, or the trombones--are given written parts to play. But the musicians are not required to follow the score. If they have ideas they think will fit, they are free to play them, an idea Parker calls "self-conduction." In addition to giving every member creative freedom, the idea allows Parker to concentrate on playing bass in Little Huey. He doesn't have to conduct the orchestra because the members conduct themselves. Little Huey is, Parker told Jung, "as free as possible, but yet as disciplined as possible ... the goal is to bring the music to life."
In addition to playing music, Parker is also deeply involved in grassroots musical activism, working with other musicians to create opportunities to play while retaining control over what and how they played. Bang and Parker put together a Lower East Side Festival. Called the Sound Unity Festival, organized by and for musicians, the first festival was held in the early 1980s. The idea was to move past the basic drive pushing musicians: to find gigs. The festivals tried to establish opportunities that were more or less permanent and self-determined. It was also important to Parker that these opportunities exist without any corporate funding and therefore without corporate control.
Parker also moves beyond his immediate musical community to the community in which he lives, organizing events including workshops for children and seniors. "They bring the human being part and the musician part together," he told Mandel, "so when you step off the bandstand you've got a whole creative life, not just when you play." Parker sees community involvement as essential if jazz, in particular his brand of avant-garde music, is to survive. "There are probably more people who don't listen to this music than who listen to it," he told Jung. "The people who don't listen to it are really our salvation for the long run and for the long haul. That is why we have to have outreach programs. We have to really have an understanding that it is not just about getting a gig and getting paid. It is about investing in yourself and being part of the whole community that in the long run will allow you to really play for large audiences and actually proceed ahead without any help of any sort of corporation or backing that makes demands on you."
Parker has long invested himself in all his various communities, as well as in the projects, his own and others, that he finds meaningful. "Life is short," he told Gershon, "and we can't expect too much except to try and get close to whatever is beautiful about life."
As leader:
-Through Acceptance of the Mystery Peace (Eremite, 1979)
-In Order to Survive (Black Saint, 1993)
-Flowers Grow in My Room (Centering, 1995)
-Testimony (Zero In, 1995)
-Compassion Seizes Bed-Stuy (Homestead, 1996)
-Sunrise in the Tone World (AUM Fidelity, 1997)
-Lifting the Sanctions (No More, 1997)
-Zen Mountains/Zen Streets: A Duet For Poet & Improvised Bass (Boxholder, 1998)
-Peach Orchard (AUM Fidelity, 1998)
-Posium Pendasem (FMP, 1999)
-O'Neal's Porch (AUM Fidelity, 2000)
-Mayor of Punkville (AUM Fidelity, 2000)
-Painter's Spring (Thirsty Ear, 2000)
-Song Cycle' (Boxholder, 2001)
-Piercing the Veil (AUM Fidelity, 2001)
-Bob's Pink Cadillac (Eremite, 2002)
-... and William Danced (Ayler, 2002)
-Raining on the Moon (Thirsty Ear, 2002)
-Spontaneous (Splasc(H), 2003)
-Eloping with the Sun (Riti, 2003)
-Scrapbook (Thirsty Ear, 2003)
-Mass for the Healing of the World (Black Saint, 2004)
-Fractured Dimensions (Free, 2004)
-Luc's Lantern (Thirsty Ear, 2005)
-Sound Unity (AUM Fidelity, 2005)
-Long Hidden: The Olmec Series (AUM Fidelity, 2006)
-For Percy Heath (Victo, 2006)
-The Inside Songs of Curtis Mayfield (Rai Trade, 2007)
-Volume 2: Summer Snow with Hamid Drake (AUM Fidelity, 2007)
-Corn Meal Dance (AUM Fidelity, 2007)
-Double Sunrise Over Neptune (Aum Fidelity/Arts for Art, 2007)
-Petit Oiseau (AUM Fidelity, 2008)
-Beyond Quantum with Anthony Braxton and Milford Graves (Tzadik, 2008)
-I Plan to Stay a Believer: The Inside Songs of Curtis Mayfield" (AUM Fidelity, 2010)
-Uncle Joe's Spirit House (Centering, 2010)
Read more
Latest headlines