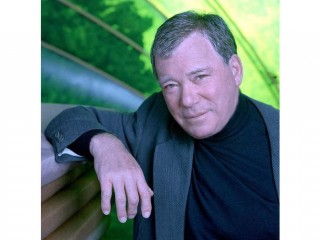 William Shatner biography
Date of birth : 1931-03-22
Date of death : -
Birthplace : Montreal, Quebec, Canada
Nationality : Canadian
Category : Arts and Entertainment
Last modified : 2011-03-22
Credited as : Actor and director, sitcom $#*! My Dad Says, Star Strek series
William Shatner is a Canadian actor, recording artist, and author. He gained worldwide fame and became a cultural icon for his portrayal of James T. Kirk, captain of the USS Enterprise, in the science fiction television series Star Trek from 1966 to 1969, Star Trek: The Animated Series from 1973 to 1974, and in seven of the subsequent Star Trek feature films from 1979 to 1994.
Born on March 22, 1931, in Montreal, Quebec, Canada. Perhaps best known for his roles on Boston Legal and Star Trek, William Shatner is one of the most recognizable stars working today. His distinctive voice and cadence have been the subject of many imitations, spoofs, and parodies—all contributing to his status as a pop icon. In addition to being an Emmy Award-winning actor, he has also written numerous books, directed several projects, and even recorded a few albums.
Shatner started his career as a child performer in radio programs for the Canadian Broadcasting Corporation. As a student at McGill University, he continued to pursue acting. Shatner spent his summers performing with the Royal Mount Theater Company. He graduated from the university in 1952 and joined the National Repertory Theater of Ottawa. Working with Sir Tyrone Guthrie, Shatner also appeared in productions at the Stratford Shakespeare Festival in Ontario.
In 1956, Shatner made his Broadway debut in Tamburlaine the Great, which was directed by Guthrie. He also found work in the emerging medium of television, appearing on such shows as the Goodyear Television Playhouse, Studio One, and Playhouse 90. Playing one of the title characters, Shatner made his film debut in 1958's The Brothers Karamazov with Yul Brynner. That same year, he returned to Broadway for a two-year run in The Secret Life of Suzie Wong. He won the 1959 Theatre World Award for his performance.
In 1961, Shatner had a small part in the Holocaust drama Judgment at Nuremberg (1961), playing an army captain. He had a lead part in The Intruder (1962) as a racist who fought against school integration. On the small screen, Shatner had his first television series, For the People, in 1965. He starred on the short-lived drama as an assistant district attorney in New York City.
The following year, Shatner took on the role that made him famous around the world. As Captain James T. Kirk on Star Trek, he commanded the U.S.S. Enterprise, a starship traveling through space in the twenty-third century. Kirk encountered all sorts of unusual aliens and challenging situations during his journeys. Accompanying him on these adventures was his loyal crew, which included first officer Mr. Spock (Leonard Nimoy) and medical officer Dr. Leonard "Bones" McCoy (DeForest Kelley). The science fiction series created by Gene Roddenberry premiered on September 8, 1966, and lasted for three seasons.
During the run of the show, Shatner also made an unusual career move. He recorded an album, The Transformed Man (1968), which featured spoken word versions of contemporary pop hits. Already known for his overly dramatic, but earnest delivery of his lines on Star Trek, Shatner really went over the top with his renditions of such songs as the Beatles' "Lucy in the Sky with Diamonds."
Not long after the album flopped, Star Trek was cancelled. The show, however, continued to live on in syndication and became even more popular. Star Trek became a Saturday morning cartoon that ran during the mid-1970s, and it was resurrected a live action film in 1979. Returning to the role of Kirk, Shatner starred in Star Trek: The Motion Picture. The film's warm reception by film-goers showed how much affection the public had for the old series. At the beginning of the film, Kirk has become an admiral, Bones has retired, and Spock has returned to the planet Vulcan. But the three return to work on a new version of the Enterprise to solve a crisis involving a mysterious cloud that has destroyed several spaceships.
In the sequel Star Trek II: The Wrath of Khan (1982), Kirk had to overcome an old adversary, Khan Noonien Singh (Richardo Montalban), who was out for revenge. Around the time of the sequel's release, Shatner took on a new leading television role.
On T. J. Hooker, Shatner played a veteran police officer who turned in his detective's badge to return to a street beat. The supporting cast included Heather Locklear and Adrian Zmed as younger officers who worked with and looked up to Shatner's character. Unlike the original Star Trek series, T. J. Hooker was immediately popular with television audiences.
Shatner, however, never abandoned the part that made him famous. During the run of T. J. Hooker, Shatner appeared in two more Star Trek films, Star Trek III: The Search for Spock (1984) and Star Trek IV: The Voyage Home (1986). He remained a fixture on television even after T. J. Hooker went off the air, becoming the host for Rescue 911 in 1989. This was an early entry into the reality television genre, featuring reenactments of emergency situations.
The next chapter in the Star Trek film series received a lukewarm reception. For Star Trek V: The Final Frontier (1989), Shatner not only returned as Kirk, but made his debut as a feature film director as well. The film, unfortunately, received some fairly negative reviews. Movie critic Roger Ebert called it "a mess . . . . There is . . . not much danger, no characters to really care about, little suspense, uninteresting . . . villains, and great deal of small talk."
Not matter what the reviews said, the Star Trek film series continued at warp speed. The next installments were Star Trek VI: The Undiscovered Country (1991) and then Star Trek Generations (1993). In Generations, the members of the original Star Trek hand the franchise baton to the cast of the spin-off series Star Trek: The Next Generation. At the beginning of the film, Kirk is believed to have died trying to save the new version of the U.S.S. Enterprise from total destruction. He is later found inside a strange place called the nexus by Jean-Luc Picard (Patrick Stewart), the captain of the Enterprise from a later time. Together they tried to stop a villain named Soran from setting off a bomb that would wipe out a sun and an entire solar system with it. But, unfortunately, Kirk died while completing this mission.
With the character of Kirk at an end, Shatner moved forward in new directions. He appeared as a beauty pageant host on Miss Congeniality (2000) and its sequel Miss Congeniality 2 (2005) with Sandra Bullock. In 2003, Shatner made a guest appearance as a talented, but eccentric lawyer on The Practice. His turn as Denny Crane brought him his first Emmy Award for Outstanding Guest Actor in a Drama Series in 2004. He had been previously nominated for his guest appearance on the science fiction sitcom 3rd Rock from the Sun in 1999.
The Practice creator David E. Kelley created a spin-off series, Boston Legal, featuring Shatner's character Denny Crane in 2004. Law partner and master litigator Crane acts as a mentor of sorts to Alan Shore (played by James Spader). For his work on the series, Shatner won his second Emmy—this time for Outstanding Supporting Actor in a Drama Series—in 2005. Two nominations in this category followed in 2006 and in 2007.
In 2008, Shatner began work on Shatner's Raw Nerve a celebrity interview program on the Biography Channel. During the show's run, Shatner has spoken with a variety of guests, including Valerie Bertinelli, Rush Limbaugh and Jenna Jameson. In addition to hosting Raw Nerve, Shatner is working on another Biography Channel project entitled Aftermath with William Shatner. The program, which is slated to air in the summer of 2010, focuses on the stories of ordinary citizens who became overnight celebrities. Also in 2010, Shatner will star in the CBS sitcom $#*! My Dad Says, a show based on a Twitter feed of the same name.
In addition to acting, Shatner has experienced great success as an author. During the writers' strike of 1987, he transformed a screenplay idea into a novel. The result was TekWar (1989), a work of science fiction featuring a middle-aged private detective working in the twenty-second century. More Tek titles followed and were later adapted for television. More recently, Shatner has worked with Judith and Garfield Reeves-Stevens to create a series of Star Trek novels.
Also a veteran of nonfiction, Shatner co-authored Star Trek Memories (1993) and Star Trek Movie Memories (1994) with Chris Kreski. He and Kreski also worked together on Get a Life! (1999), a look at the whole Star Trek fan phenomenon. His most recent work is Up Till Now: The Autobiography (2008) with David Fisher.
His personal life has been filled with many ups and downs. From 1956 to 1969, he was married to Canadian actress Gloria Rand. The couple had three children together. Shatner married actress Marcy Lafferty in 1973. That marriage ended in divorce in 1996. Shortly thereafter, he married model Nerine Kidd. Kidd's life came to a tragic end in 1999. She accidentally drowned in a pool at the Shatners' home in Studio City, California.
After such a tragic loss, Shatner was able to find happiness with Elizabeth J. Martin, a horse breeder. The couple married in 2001. As part of his own love of horses, Shatner started the annual Hollywood Charity Horse Show to raise funds for children's charities in 1990.
Works:

Television:
1965 For the People
1966-1969 Star Trek series
1973-1975 Star Trek: The Animated Series
1975-1976 The Barbary Coast
1982-1986 T J Hooker
1989-1996 Rescue 911
2004- Boston Legal
Films:
1958 The Brothers Karamazov
1961 Judgement at Nuremberg
1961 The Explosive Generation
1962 The Intruder
1964 The Outrage
1974 Big Bad Mama
1974 Dead of Night
1975 The Devil's Rain
1975 Impulse
1977 A Whale of a Tale
1977 Kingdom of the Spiders
1979 Riel
1979 Star Trek: The Motion Picture
1981 The Land of No Return
1982 Star Trek: The Wrath of Khan
1982 Airplane II
1984 Star Trek III: The Search for Spock
1986 Star Trek IV: The Voyage Home
1989 Star Trek V: The Final Frontier (also director)
1991 Star Trek VI: The Undiscovered Country
1991 Bill and Ted's Bogus Journey
1993 National Lampoon's Loaded Weapon I
1994 Star Trek: Generations
1997 Starfleet Academy
1998 Free Enterprise
2001 Miss Congeniality
2005 Miss Congeniality 2
2006 Over the Hedge
Read more
Latest headlines