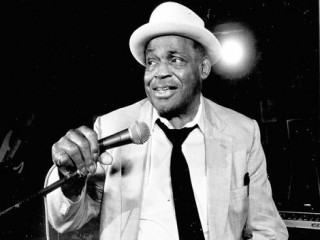 Willie Dixon biography
Date of birth : 1915-07-01
Date of death : 1992-01-29
Birthplace : Vicksburg, Mississippi, U.S.
Nationality : American
Category : Famous Figures
Last modified : 2011-11-09
Credited as : singer-songwriter, Producer, Chicago blues sound
William James "Willie" Dixon was an American blues musician, vocalist, songwriter, arranger and record producer. A Grammy Award winner who was proficient on both the Upright bass and the guitar, as well as his own singing voice, Dixon is arguably best known as one of the most prolific songwriters of his time. Dixon is recognized as one of the founders of the Chicago blues sound. His songs have been recorded not only by himself, or that of the trio and other ensembles in which he participated, but an uncounted number of musicians representing many genres between them.
Willie Dixon was one of the greatest and most prolific artists ever to sing the blues, with more than 500 compositions to his credit. Born and raised in Mississippi, he rode the rails to Chicago during the Great Depression, eventually becoming the primary songwriter and producer for legendary Chess Records. "Willie Dixon is the man who changed the style of the blues in Chicago," proclaimed fellow bluesman Johnny Shines, as quoted in Guitar Player. "As a songwriter and producer, that man [was] a genius. Yes, sir." Dixon literally created the so-called "Chicago blues sound." His songs have been recorded by countless performers, including Muddy Waters, Howlin' Wolf, Bo Diddley, and Koko Taylor. One of his best-known compositions, "Back Door Man," was recorded by rock and roll's the Doors. And several of Dixon's songs went on to reach an international audience in the 1960s when they were popularized by such British artists as the Rolling Stones, Cream, the Yardbirds, Jeff Beck, and Led Zeppelin.
Dixon was born on July 1, 1915, in Vicksburg, Mississippi. Vicksburg was a lively town located on the Mississippi River midway between New Orleans, Louisiana, and Memphis, Tennessee. Known as the site of a famous Civil War battle, Vicksburg was important musically as well. As a youth, Dixon heard a variety of blues, Dixieland, and ragtime musicians performing on the streets, at picnics and other community functions, and in the clubs near his home, where he would listen to them from the sidewalk. He grew up in an integrated neighborhood on the northern edge of town. His mother ran a small restaurant nearby. The family of seven children lived behind the restaurant, and next door was Curley's Barrelhouse. Listening from the street, Dixon, then about eight years old, heard bluesmen Little Brother Montgomery and Charley Patton perform there along with a variety of ragtime and Dixieland piano players.
Dixon first ran away from home when he was 11. As he recalled in his autobiography, I Am the Blues, "I ran out in the country to a place 11 miles from home called Bovine, Mississippi.... It was nothing like I expected--man, you're talking about a shack.... I thought our house was raggedy but ... the house [I stayed] in had great big holes in the floor. You could see the hogs and chickens running around under the house." His first taste of country living also introduced him to hard work, something he would become more familiar with as he grew older. Although Dixon was to return home, his pre-teen and teen years were filled with travels and run-ins with the law. During the late 1920s and early '30s, many men were riding the rails in search of work. Dixon soon discovered that "hoboing" was considered a crime, though, as he noted in his autobiography, it seemed that only black men were arrested for it.
Only 12 when he first landed in jail, Dixon was sent to a county farm for stealing some fixtures from an old torn-down house. He recalled in I Am the Blues: "That's when I really learned about the blues. I had heard 'em with the music and took 'em to be an enjoyable thing, but after I heard these guys down there moaning and groaning these really down-to-earth blues, I began to inquire about 'em.... I really began to find out what the blues meant to black people, how it gave them consolation to be able to think these things over and sing them to themselves or let other people know what they had in mind and how they resented various things in life."
About a year later Dixon was apprehended by local authorities near Clarksdale, Mississippi, and arrested for hoboing. He was sentenced to 30 days at the Harvey Allen County Farm, located near the infamous Parchman Farm prison. At the Allen Farm, Dixon saw many prisoners mistreated and beaten. According to his autobiography, the authorities who were "running the farm didn't have no mercy--you talk about mean, ignorant, evil, stupid and crazy. [They] fouled up many a man's life.... This was the first time I saw a man beat to death." Dixon, too, was mistreated at the county farm, receiving a blow to the head that he claimed deafened him for about four years. He managed to escape, though, and walked to Memphis, where he hopped a freight into Chicago. He stayed in the Windy City briefly, at his sister's house, then went to New York for a short time before returning to Vicksburg.
When Dixon landed back in Chicago, in 1936, he started training to be a boxer. A big man, he was in excellent physical condition from the heavy work he had been doing down South. In 1937 he won the Illinois Golden Gloves championship in the novice heavyweight category. But, after getting into a brawl in the boxing commissioner's office over the money owed him, Dixon was suspended for six months, and his handlers were expelled permanently.
Throughout the late 1930s, Dixon sang in Chicago with various gospel groups, some of which performed on radio. Dixon had received good training in vocal harmony from one Theo Phelps back in Vicksburg, where he sang bass with the Union Jubilee Singers. Around the same time, Leonard "Baby Doo" Caston gave Dixon his first musical instrument--a makeshift bass guitar made out of an oil can and one string. Dixon, Caston, and some musical colleagues formed a group called the Five Breezes. They played around Chicago and in 1939 made a record that marked Dixon's first appearance on vinyl. Despite this progress, Dixon's life was far from trouble-free; he was beset by a variety of problems, particularly with the local draft board. He took the position that black people had been exploited so much that they should not be obligated to serve in the armed forces. He spoke out on this issue frequently and with great force; eventually he was classified as unfit for military service and forbidden to work in any defense industry.
In 1946 Dixon and Caston formed the Big Three Trio, named after the wartime "Big Three" of U.S. president Franklin Roosevelt, British prime minister Winston Churchill, and Soviet leader Joseph Stalin. The trio was modeled after other popular black vocal groups of the time, such as the Mills Brothers and the Ink Spots. By this time Dixon was singing and playing a regular upright bass. While Chicago blues musicians like Muddy Waters and Little Walter were performing for all-black audiences in small clubs, the Big Three Trio played large venues with capacities of three to five thousand. But in 1951, after several years of successful touring and recording, the Big Three disbanded. Many of Dixon's compositions were never recorded by the trio, though some of these songs did turn up later in the repertoires of the blues artists with whom Dixon worked in the 1950s.
Leonard and Phil Chess began recording the blues in the late 1940s, and by 1950, the Chess brothers were releasing blues records on the label bearing their name. Over the next decade, Chess became what many consider the most important blues label in the world, issuing material by blues giants Howlin' Wolf and Waters and early rock and roll artists like Bo Diddley and Chuck Berry. Many of the blues songs recorded at Chess were written, arranged, and produced by Willie Dixon, who was first employed by the Chess brothers for session work in the late 1940s. After the Big Three Trio disbanded, Dixon became a full-time employee of Chess. He performed a variety of duties, including producing, arranging, leading the studio band, and playing bass.
Dixon's first big break as a songwriter came when Waters recorded his "Hoochie Coochie Man" in 1954. Waters was one of Chess's most popular artists and had recorded blues classics like "Long Distance Call," "Honey Bee," "Still a Fool," and "She Moves Me" in the early years of the 1950s. When "Hoochie Coochie Man" became Waters's biggest hit, reaching Number Three on the rhythm and blues charts, Dixon became the label's top songwriter. Chess also released Waters's recordings of Dixon's "I Just Wanna Make Love to You" and "I'm Ready" in 1954; they both became Top Ten R&B hits.
In 1955 Dixon scored his first Number One hit when Little Walter recorded "My Babe," which would become a blues classic. Songwriter Mike Stoller, of the famed R&B songwriting duo Leiber and Stoller, told Goldmine, "If he'd only done 'My Babe' [and nothing else], I think his name would have gone down in the history of American popular music. He created the entire sound that we now know as the Chess sound, and as such, he's one of the most important record producers ever in the history of popular music. What impressed me most about his songs were their economy, their simplicity and their depth." "My Babe" has been performed and recorded by artists as varied as the Everly Brothers, Elvis Presley, Ricky Nelson, the Righteous Brothers, Nancy Wilson, Ike and Tina Turner, John Lee Hooker, Bo Diddley, and Lightnin' Hopkins.
Dixon supplied Chess with songs for three years, from 1954 through 1956. At the end of 1956, however, he left the label over royalty and contract disputes. He continued his session work, though, most notably providing bass on Chuck Berry's recordings, starting with "Maybellene"--which would become a best-seller in 1955. Two years later, Dixon joined Cobra Records, a small, independent label, where he recorded Otis Rush, Buddy Guy, and Magic Sam, creating what became known as the "West Side sound." According to Don Snowden in I Am the Blues, it was a style that "fused the Delta influence of classic Chicago blues with single-string lead guitar lines la B. B. King. The West Side gave birth to a less traditional, more modern blues sound and the emphasis placed on the guitar as a lead instrument ultimately proved to be a vastly influential force on the British blues crew in their formative stages."
Gradually learning more about the music business, Dixon formed his own publishing company, Ghana Music, in 1957 and registered it with the performer's rights organization Broadcast Music Incorporated (BMI) to protect his copyright interest in his songs. His "I Can't Quit You Baby" was a Top Ten rhythm and blues hit for Otis Rush, but Cobra Records soon faced financial difficulties. By 1959 Dixon was back at Chess full time. The late 1950s were, in fact, hard on Chicago bluesmen across the board, even as the blues were gaining popularity in other parts of the U.S. In 1959 Dixon teamed up with an old friend, pianist Memphis Slim, to perform at the Newport Folk Festival in Rhode Island. They continued to play together at coffee houses and folk clubs throughout the country and eventually became key figures in a folk and blues revival among young white audiences that achieved its height in the 1960s.
Dixon began internationalizing the blues when he went to England with Memphis Slim in 1960. He performed as part of the First American Folk Blues Festival, which toured Europe in 1962. Organized by German blues fans Horst Lippmann and Fritz Rau, the festival also included Slim, guitar innovator T-Bone Walker, John Lee Hooker, Sonny Terry, and Brownie McGhee, among other blues musicians. The festival ran from 1962 through 1971 and helped the blues reach an audience of young Europeans. American blues musicians soon found they could make more money playing in Europe than in Chicago. Across the Atlantic they played in concert halls and were reportedly treated like royalty. Dixon participated in the tour for three years, then became Lippmann and Rau's Chicago talent-booking contact.
Perhaps the tour's greatest impact was in England, where it was organized by Giorgio Gomelsky at his London Crawdaddy club. At that time, Gomelsky was managing the Rolling Stones and the Yardbirds, groups that went on to record in Chicago at Chess Studios later in the 1960s. Dixon often provided young British musicians with original compositions, and as a result, his reputation as a songwriter grew among the new generation of rock musicians. Jack Bruce, bass player for the British power trio Cream, told Goldmine how thrilled he was when Dixon offered him encouragement about the band's version of "Spoonful." "It was as a writer that Willie Dixon most influenced music--and me," Bruce noted. "His incredible ability to tap in to the whole world's consciousness made it possible for him to write songs that will never die."
Toward the end of the 1960s soul music eclipsed the blues in black record sales. Chess's last major hit was Koko Taylor's 1966 recording of Dixon's "Wang Dang Doodle." Also contributing to a decline in the popularity of the genre were the deaths of several key blues practitioners, including Elmore James, Sonny Boy Williamson, Little Walter, and J. B. Lenoir. Chess Records was sold in 1969; Dixon recorded his last session for the label in 1970.
The many cover versions of his songs recorded by the rock bands of the 1960s enhanced Dixon's reputation as a certified blues legend. He revived his career as a performer by forming the Chicago Blues All-Stars in 1969. The group's original lineup included Johnny Shines on guitar and vocals, Sunnyland Slim on piano, Walter "Shakey" Horton on harmonica, Clifton James on drums, and Dixon on bass and vocals.
Throughout the 1970s Dixon continued to write, record other artists, and release his own performances on his Yambo label. Two albums-- Catalyst in 1973 and What's Happened to My Blues? in 1976--received Grammy Award nominations. Dixon's busy performing schedule kept him on the road in the U.S. and abroad for six months out of the year until 1977, when his diabetes worsened and caused him to be hospitalized. He lost a foot to the disease, but after a period of recuperation, continued to perform into the next decade.
Dixon resumed touring and regrouped the Chicago Blues All-Stars in the early 1980s. A 1983 live recording from the Montreux Jazz Festival in Switzerland resulted in another Grammy nomination. That year Dixon and his family moved to southern California, where Dixon began working on film scores. He produced a new version of "Who Do You Love" for Bo Diddley, which was included on the soundtrack for La Bamba, a film about Mexican American rock and roll sensation Ritchie Valens, and he performed his own "Don't You Tell Me Nothin'" in Martin Scorsese's 1986 pool hustler flick, The Color of Money.
Also in the 1980s, Dixon established the Blues Heaven Foundation, a nonprofit organization that provides scholarship awards and musical instruments to poorly funded schools. Blues Heaven also offers assistance to indigent blues musicians and helps them secure rights to their songs. (In 1993, the foundation purchased Chess Studios). Ever active in protecting his own copyrights, Dixon himself reached an out-of-court settlement in 1987 over the similarity of Led Zeppelin's 1969 hit "Whole Lotta Love" to his own "You Need Love."
Dixon's final two albums were well received, with the 1988 release Hidden Charms winning a Grammy Award for best traditional blues recording. The following year Dixon recorded the soundtrack for the film Ginger Ale Afternoon, which also was nominated for a Grammy.
Dixon died of heart failure in 1992 in Burbank, California; he was 76. From his musical roots in the Mississippi Delta and Chicago, he left a legacy that reflects the changing times in which he lived. Indeed, his later songs kept pace with dynamic world issues, as exemplified by the composition "It Don't Make Sense (You Can't Make Peace)." As Dixon concluded in I Am the Blues, "If you accept the wisdom of the blues, we can definitely have peace."
Selective Works:
-Willie's Blues Prestige/Bluesville, 1959.
-(With Memphis Slim) Memphis Slim and Willie Dixon Folkways, 1959.
-(With Slim) The Blues Every Which Way Verve, 1960.
-(With Slim) At the Village Gate Folkways, 1960.
-(With Slim) Live at the Trois Mailletz Polydor, 1962.
-I Am the Blues Columbia, 1969.
-Peace Yambo, 1971.
-Catalyst Ovation, 1973.
-Maestro Willie Dixon and His Chicago Blues Band Spivey, 1973.
-What's Happened to My Blues? Ovation, 1976.
-Mighty Earthquake and Hurricane Pausa, 1984.
-15 July, 1983 Live! Backstage Access Pausa, 1985.
-Hidden Charms Bug/Capitol, 1988.
-The Chess Box MCA/Chess, 1989.
-Ginger Ale Afternoon (soundtrack), Varese Sarabande, 1989.
Read more
Latest headlines