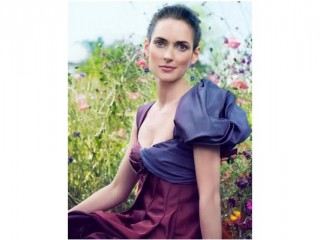 Winona Ryder biography
Date of birth : 1971-10-29
Date of death : -
Birthplace : Minnesota, U.S.
Nationality : American
Category : Arts and Entertainment
Last modified : 2011-10-29
Credited as : Actress, Black Swan, Star Trek
Winona Ryder is an American actress. She made her film debut in the 1986 film Lucas. Ryder's first significant role came in Tim Burton's Beetlejuice (1988) as a goth teenager, which won her critical and commercial recognition. After various appearances in film and television, Ryder continued her career with the cult film Heathers (1989), a controversial satire of teenage suicide and high school life, which drew Ryder further critical and commercial attention.
Having played diverse roles in many well-received films, Ryder won a Golden Globe Award for Best Supporting Actress and an Academy Award nomination in the same category for her role in The Age of Innocence in 1993, as well as another Academy Award nomination for Little Women the following year for Best Actress. In 2000, Ryder received a star on the Walk of Fame in Hollywood, California.
Ryder's personal life has been widely reported by the media. Her relationship with actor Johnny Depp in the early 1990s was highly publicized and received much scrutiny by the media and tabloid press. A much talked-about 2001 shoplifting incident led to a four-year hiatus from acting. She has also revealed her personal struggle with anxiety and depression, briefly checking into a clinic.
In 2006, Ryder returned to the screen, later appearing in high-profile films such as Star Trek and Black Swan. In 2010 she was nominated for two Screen Actors Guild Awards, as the lead actress of When Love Is Not Enough: The Lois Wilson Story, and as part of the cast of Black Swan.
In 1985, Ryder sent a videotaped audition, where she recited a monologue from the novel Franny and Zooey by J. D. Salinger, to appear in the film Desert Bloom. Although the part went to Annabeth Gish, writer/director David Seltzer noticed her talent and cast her in his 1986 film Lucas, about a boy called Lucas (Corey Haim) and his life at high school. The film co-starred Charlie Sheen and Kerri Green with Winona playing Rina, one of Lucas's friends at school. When asked how she wanted her name to appear in the credits, she suggested "Ryder" as her surname because a Mitch Ryder album that belonged to her father was playing in the background.
In 1990, Ryder was selected for four film roles. She played the leading female role alongside her then-boyfriend Johnny Depp in the fantasy film Edward Scissorhands. The film reunited Tim Burton and Ryder, who had previously worked together on Beetlejuice in 1988. Edward Scissorhands was a significant box office success, grossing US$56 million at the United States box office and receiving much critical devotion. Later that year, she withdrew from the role of Mary Corleone in Francis Ford Coppola's The Godfather Part III (after traveling to Rome for filming) due to exhaustion. Eventually, Coppola's daughter Sofia Coppola was cast in the role. Ryder's third role was in the family comedy-drama Mermaids (1990), which co-starred Cher and Christina Ricci.
Mermaids was a moderate box office success and was embraced critically. Ryder's performance was acclaimed; critic Roger Ebert of the Chicago Sun-Times wrote: "Winona Ryder, in another of her alienated outsider roles, generates real charisma." For her performance, Ryder received a Golden Globe nomination for Best Actress in a Supporting Role.Ryder then performed alongside Cher and Christina Ricci in the video for "The Shoop Shoop Song", the theme from Mermaids.
Ryder starred in The Age of Innocence with Michelle Pfeiffer and Daniel Day-Lewis, a film based on a novel by Edith Wharton and helmed by director Martin Scorsese, whom Ryder considers "the best director in the world." In the film, Ryder plays May Welland the fiancée of Newland Archer (Day-Lewis). The film, based in the 1870s, was principally filmed in New York and Paris. Her role in this movie won her a Golden Globe Award for Best Supporting Actress as well as an Academy Award nomination in the same category. Although not a commercial success, it received critical praise. Vincent Canby in the New York Times wrote; 'Ms Ryder is wonderful as this sweet young thing who's hard as nails, as much out of ignorance as of self-interest.'
She made a guest appearance in The Simpsons episode "Lisa's Rival" as Allison Taylor, whose intelligence and over-achieving personality makes her a rival of Lisa's. Her next starring role was in How to Make an American Quilt (1995), an adaptation of the novel of the same name by Whitney Otto, co-starring Anne Bancroft. Ryder plays a college graduate who spends her summer hiatus at her grandmother's property to ponder her boyfriend's recent marriage proposal. The film was not a commercial success, nor was it popular with critics.
Ryder made several film appearances in 1996, the first in Boys. The film failed to become a box office success and attracted mostly negative critical reaction. Roger Ebert of the Chicago Sun-Times stated that "Boys is a low-rent, dumbed-down version of Before Sunrise, with a rent-a-plot substituting for clever dialogue." Her next role was in Looking for Richard, Al Pacino's documentary on a production of Shakespeare's Richard III, which grossed only $1 million at the box office, but drew moderate critical acclaim.
She starred in The Crucible with Daniel Day-Lewis and Joan Allen. The film, an adaptation of Arthur Miller's play, centered on the Salem witch trials. The film was expected to be a success, considering its budget, but became a large failure. Despite this, it received acclaim critically, and Ryder's performance was lauded, with Peter Travers of Rolling Stone saying, "Ryder offers a transfixing portrait of warped innocence."
In December 1996, Ryder accepted a role as an android in Alien Resurrection (1997), alongside Sigourney Weaver, who had appeared in the entire Alien trilogy. Ryder's brother, Yuri, was a major fan of the film series, and when asked, she took the role. The film became one of the least successful entries in the Alien film series, but was considered a success as it grossed $161 million worldwide. Weaver's and Ryder's performances drew mostly positive reviews, and Ryder won a Blockbuster Entertainment Award for Best Actress. Ryder then starred in Woody Allen's Celebrity (1998), after Drew Barrymore turned down Ryder's role, in an ensemble cast.
The following year, she starred in the romantic comedy Autumn in New York, alongside Richard Gere. The film revolves around a relationship between an older man (Gere) and a younger woman (Ryder). Autumn in New York received mixed reviews, but was a commercial success, grossing $90 million at the worldwide box office. Ryder then played a nun of a secret society loosely connected to the Roman Catholic Church and determined to prevent Armageddon in Lost Souls (2000), which was a commercial failure. Ryder refused to do commercial promotion for the film.
Later in 2000, she was one of several celebrities who made a small cameo appearance in Zoolander. On October 6, 2000, Ryder received her own star on the Hollywood Walk of Fame, located directly in front of the Johnny Grant building next to the Hollywood Roosevelt Hotel on Hollywood Boulevard.
In 2002, Ryder appeared in two movies, filmed before her arrest. The first was a romantic comedy titled Mr. Deeds with Adam Sandler. This was her most commercially successful movie to date, earning over $126 million in the United States alone. The film was not a critical success, however, film critic Philip French regards it a terrible film, saying that "remakes are often bad, but this one was particularly bad."
The second film was the science fiction drama S1m0ne in which she portrayed a glamorous star who is replaced by a computer simulated actress due to the clandestine machinations of a director, portrayed by her Looking for Richard costar Al Pacino. In July 2003, she was number 183 on VH1's and People Magazine's "200 Greatest Pop Culture Icons" countdown list.
In 2006, following her hiatus, Ryder appeared in Richard Linklater's A Scanner Darkly, a film based on Philip K. Dick's well-received science fiction novel of the same name. Ryder starred alongside Keanu Reeves, Robert Downey, Jr., and Woody Harrelson. Live action scenes were transformed with rotoscope software and the film was entirely animated. A Scanner Darkly was screened at the 2006 Cannes Film Festival and the 2006 Seattle International Film Festival.
Critics disagreed over the film's merits; Carina Chocano of the Los Angeles Times found the film "engrossing" and wrote that "the brilliance of [the film] is how it suggests, without bombast or fanfare, the ways in which the real world has come to resemble the dark world of comic books."
Matthew Turner of View London, believing the film to be "engaging" and "beautifully animated," praised the film for its "superb performances" and original, thought-provoking screenplay." Ryder appeared in the comedy The Darwin Awards with Joseph Fiennes. The film premiered at the Sundance Film Festival on January 25, 2006.
Ryder reunited with Heathers screenwriter Daniel Waters for the surreal black comedy Sex and Death 101 (2007). The story follows the sexual odysseys of successful businessman Roderick Blank, played by Simon Baker, who receives a mysterious e-mail on the eve of his wedding, listing all of his past and future sex partners. "We will be doing a sequel to Heathers next." Ryder stated. "There's Heathers in the real world! We have to keep going!" In a more recent interview Ryder was quoted as saying on the speculation of a Heathers sequel: "I don't know how much of the movie is official; it's a ways away. But it takes place in Washington and Christian Slater agreed to come back and make an Obi-Wan-type appearance. It's very funny."
Ryder appeared in David Wain's comedy The Ten. The film centers around ten stories, each inspired by one of the Ten Commandments. The film debuted at the 2007 Sundance Film Festival on January 10, 2007, with a theatrical release on August 3, 2007. Ryder played the female lead opposite Wes Bentley and Ray Romano in Geoffrey Haley's 2008 offbeat romantic drama The Last Word. In 2009, she starred as a newscaster in the movie version of The Informers.
Ryder appeared in a cameo role for director J. J. Abrams's Star Trek, as Spock's human mother Amanda Grayson, a role originally played by Jane Wyatt. Several media outlets have noted her return to the box office and upcoming roles as a remarkable comeback.
She starred alongside Robin Wright and Julianne Moore in Rebecca Miller's The Private Lives of Pippa Lee, released on February 9, 2009 at the 59th Berlin International Film Festival, with a limited US release scheduled for November 2009. On June 2, 2009, Entertainment Weekly reported that in an interview with Ryder in Empire magazine, she revealed that she and Christian Slater will reprise their roles in a sequel to Heathers.
In 2010, Ryder plays Beth McIntyre, an aging ballet star in Darren Aronofsky's Black Swan.She also was cast in an independent film, Stay Cool, alongside Hilary Duff, Mark Polish and Chevy Chase. The same year, she also starred as Lois Wilson in the TV movie, When Love Is Not Enough: The Lois Wilson Story for which she has received leading female Screen Actors Guild Award and Satellite Award nominations.
Ryder appeared in a leading role in the Ron Howard-directed film, The Dilemma, previously called Cheaters and What You Don't Know. The film, which also starred Vince Vaughn and Kevin James, began filming in Chicago in May 2010 and was released in January 2011. It was recently announced that she will be reunited with Tim Burton for a role in his upcoming animated 3D feature film Frankenweenie. It is scheduled for a March 9, 2012 release date.
On December 12, 2001, Ryder was arrested on shoplifting charges in Beverly Hills, California. She was accused of stealing $5,500 worth of designer clothes and accessories at a Saks Fifth Avenue department store.
Ryder hired noted celebrity defense attorney Mark Geragos. Negotiations for a plea bargain failed at the end of summer 2002. As noted by Joel Mowbray from National Review, the prosecution was not ready to offer the actress what was given to 5,000 other defendants in similar cases, an open door to a no-contest plea on misdemeanor charges. Ryder agreed under signature to pay two Civil Demands, as permitted under California's Statute for Civil Recovery for Shoplifting, from Saks Fifth Avenue that completely reimbursed Saks Fifth Avenue for the stolen and surrendered merchandise while detained in the Security Offices of the Saks Fifth Avenue store, and before she was read her Miranda rights and arrested by the Los Angeles Police Department.
During the trial, she was accused of using drugs without valid prescriptions. Ryder was convicted of grand theft, shoplifting and vandalism, but was acquitted on the third felony charge, burglary. In December 2002, she was sentenced to three years' probation, 480 hours of community service, $3,700 in fines, $6,355 in restitution to the Saks Fifth Avenue store, and ordered to attend psychological and drug counseling.
After reviewing Ryder's probation report, Superior Court Judge Elden Fox noted that Ryder served 480 hours of community service and on June 18, 2004, the felonies were reduced to misdemeanors. Ryder remained on probation until December 2005.
Read more
Winona Ryder Picture Gallery
Latest headlines