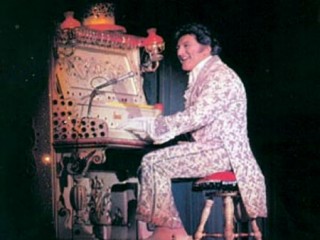 Wladziu Valentino Liberace biography
Date of birth : 1919-05-16
Date of death : 1987-02-04
Birthplace : West Allis, Wisconsin, United States
Nationality : American
Category : Famous Figures
Last modified : 2010-08-24
Credited as : Pianist , vocalist, entertainer on television
Wladziu Valentino Liberace
, born May 16, 1919 in West Allis, Wisconsin, United States - died February 4, 1987 in Palm Springs, California, United States was an American
pianist, vocalist, and entertainer best known for his flamboyant showmanship in rendering classical and pop music in nightclubs and on television.
Sidelights
One of the most flamboyant and popular entertainers in show business, Liberace was known as much for his wild stage costumes and theatrics as for his flowery piano playing. He was, David Richards noted in the Washington Post, "the Lord High Poobah of Glitz, the King of Conspicuous Consumption, [and] the Emperor with the New Clothes." Liberace's gaudy theatrics upset many critics, but his millions of fans loved him. He was one of the biggest acts in the Las Vegas nightclubs, had an award-winning television program, grossed some five million dollars a year for nearly three decades, and sold over sixty million records.
Born into a musically talented family--his father played French horn with the Milwaukee Philharmonic Orchestra and his mother was a pianist--Liberace first worked as a piano player in Milwaukee speakeasies and as an accompanist to silent films in local theaters. He played under the stage name of "Walter Busterkeys" because his father disapproved of his work. But Liberace's skill as a pianist was soon appreciated in wider circles. After his teachers at the Wisconsin College of Music recommended him to the conductor, Liberace was hired by the Chicago Symphony Orchestra at the age of sixteen.
For several years Liberace worked with the Chicago Symphony Orchestra and supplemented his income with evening and weekend shows at local nightclubs. His career took a dramatic turn one evening when, for a nightclub encore, he decided to play something a little different. "I played a novelty tune, `Three Little Fishes,' that was very popular at the time," Ted Thackrey, Jr., of the Los Angeles Times quoted Liberace as explaining, "and followed with `Mairsy Doats,' another well-known novelty, dressing them up in arpeggios and flourishes to give the impression that I was trying to pass them off as classics." The audience laughed, and Liberace incorporated such classical-style novelty songs into his act, combining them with light classical tunes and a self-deprecating line of banter. "It was," Bill Barol wrote in Newsweek, "a winning formula--a few light classics, a few pop tunes, all folded together with winks and smiles."
During the 1940s and 1950s, Liberace toured the nation's supper clubs and hotels with his act. The 1945 movie "A Song to Remember," the story of composer Frederic Chopin, inspired him to display a candelabra atop his piano while performing; the fixture fast became a trademark. Another trademark was acquired accidently. During an engagement at a Las Vegas club in the late 1940s, someone dared Liberace to wear a gold lame jacket onstage. He did so only as a joke. But the costume was a hit with the audience, and flashy costumes were soon an integral part of the Liberace act, growing more outrageous with each passing year. He was to wear a fur coat with a sixteen-foot train, a cape decorated with pink feathers, a tuxedo with his name spelled out in diamond buttons, and many other lavish costumes. "Liberace's wardrobe," James Barron reported in the New York Times, "eventually filled rack after rack in his mansions."
Liberace's stage theatrics were as dramatic as his costumes. He sometimes played a glass piano, or rose into the air on an elevated stage, or swung above the crowd while suspended from wires. He usually arrived on stage for a concert in a white limousine covered in rhinestones. "His act was based on excess," Richards acknowledged. "But the man himself was without pretense. Underneath the feathers and the finery and the trains fit for a coronation, he remained an eternal child, as dazzled by the wonderland he inhabited as the tourists who regularly paraded before his many houses." (In 1958, attempting to rid himself of the costumes, Liberace switched to a formal black tuxedo. Ticket sales fell dramatically, and the costumes returned.)
Offstage, Liberace's life was also flamboyant. His Las Vegas mansion featured a master bedroom decorated with a reproduction of Michelangelo's Sistine Chapel ceiling. Other houses included piano-shaped swimming pools, musical water fountains, and marble bathtubs surrounded by Doric columns and lit by chandeliers. He wore a ring depicting one of his beloved poodles (Liberace owned over twenty dogs) in emeralds and rubies. He acquired collections of antique cars and unique pianos. His extravagance extended to his gift-giving as well. When his housekeeper of thirty years retired, Liberace bought her a house.
But his critics argued that Liberace's flamboyance was used to conceal his modest musical abilities. "Few dispute the fact," Michelle Green explained in People, "that he possessed talent; but the consensus is that it was showmanship, rather than technique, that was his forte." Critics pointed out that Liberace shamelessly condensed classical pieces of twenty or thirty minutes length down to three or four minutes, eliminating the less popular passages and bridging the gaps with his own flourishes. As Henry Mitchell of the Washington Post put it, Liberace "hammered away at the fringes of music, embellishing it with cornball flourishes as if to say, `Well, we all love Chopin, but upon my word nobody has the patience to sit through the B Minor Sonata. But we're all very cultured lads, so let's have six bars of the prelude you all know and love."
But Liberace defended what he termed his "Reader's Digest versions" of the classics. His audience enjoyed them, and that was what mattered most. He routinely joked about the critical attacks on his music, often claiming during concerts that he had "cried all the way to the bank." In later years he further explained: "You know that bank I cried all the way to? I bought it." He once boasted tongue-in-cheek that his version of Chopin's "Minute Waltz" was only thirty-seven seconds long because he had cut out "all the dull parts."
"The Liberace Show" of the 1950s first brought the entertainer to national attention. A syndicated television show featuring Liberace playing the piano and telling jokes, the program was carried on more television stations than were the popular "I Love Lucy" and "Dragnet" shows. It also earned Liberace two Emmy Awards in 1952. Because of the nationwide exposure provided by his own television program, Liberace became, Barnes reported, "the biggest solo attraction in American concert halls" during the 1950s. By the 1960s, he was the highest-paid performer in the world, earning some $400,000 a week for his Las Vegas show. He set a record at the Radio City Music Hall in 1984 by selling out a series of fourteen appearances and grossing $2.5 million.
But Liberace's career had its problems too. In 1959, a London newspaper columnist suggested that Liberace was a homosexual. Liberace sued for libel and won. But in 1982, Scott Thorson, Liberace's personal chauffeur and companion for nearly ten years, alleged in a palimony suit that he and the entertainer had been lovers. He asked for a $113 million settlement after the pair broke up. The case was settled quietly out of court. "Liberace's homosexuality," Green commented, "had been one of the worst-kept secrets in show business, but he had guarded it until the end."
Yet another scandal broke when Liberace died in February of 1987. Several reports maintained that he had died of acquired immune deficiency syndrome (AIDS), a disease especially prevalent among homosexuals. "California state law," Ronald Clarke of the Toronto Globe and Mail reported, "requires county coroners' offices to investigate any deaths suspected of being caused by contagious diseases." But the reports were denied by Liberace's family and friends, who attributed his death to such causes as emphysema, heart failure, and encephalopathy. A court-ordered autopsy revealed that Liberace had indeed died of AIDS.
Overviews of Liberace's career cite him as an enormously influential performer. As Green reported, "the critics allow that he was a seminal influence in popular music. He paved the way for flamboyant figures like Elvis Presley, Michael Jackson, and Boy George, all of whom adopted the Liberace formula of high costume and camp." Richards believed that by the 1980s, "the outrageousness of his act seemed curiously appropriate in the high-gloss age of rock stars who routinely wear sequined gloves and high drag and gleefully turn our notions of gender inside out. Liberace was, arguably, their spiritual granddaddy."
But Liberace's self-mocking and extravagant stage show was the key to his long-lasting popularity. He knew, Larry Kart wrote in the Chicago Tribune, "how to create an aura of extravagant glamor and wink about what he was up to at the same time." "It was hard to make fun of him," Barron admitted, "because he seemed to have so much fun making fun of himself." Richards maintained that "with an ingenuousness that remained fresh to the end, [Liberace] incarnated the spirit of joyful indulgence: high calories without the usual guilt trip." William A. Henry III, writing in Time, characterized Liberace as "a synonym for glorious excess."
Many of the extravagant trappings of Liberace's life and career are on display in the Liberace Museum, which contains a collection of his cars, stage costumes, pianos, gifts from fans, and career memorabilia. Founded by Liberace in 1975, the museum is located in Las Vegas and is open to the public for a nominal fee. In the same year Liberace also founded the Liberace Foundation for the Creative and Performing Arts, an organization providing scholarships for art and music students at twenty-two colleges in the United States. The bulk of the entertainer's estate was left to the foundation, while funds raised by the Liberace Museum are used to support the foundation's work.
Speaking of Liberace's flamboyant stage personality, Alan Pearson of the Toronto Globe and Mail remarked that it blended "naivete and shrewdness, vulnerability and strength. He was a quite simple yet larger-than-life person; improbably, he was an enduring all-American folk hero." Barol saw Liberace as a unique entertainer on the cultural scene. "It is a measure of his talent," Barol wrote, "that he made the two biggest celebrity cliches ring quite true: there was no one else like him, and he will never be replaced." Pearson concluded that Liberace's was "a wonderful, outrageous life that was harmless and glittered like a never-ending rainbow."
PERSONAL INFORMATION
Family: Known professionally by his surname only; born May 16, 1919, in West Allis, WI; died February 4, 1987, from complications caused by acquired immune deficiency syndrome, in Palm Springs, CA; buried at Forest Lawn Memorial Park, Hollywood Hills, CA; son of Salvatore (a musician) and Frances Liberace. Education: Attended Wisconsin College of Music. Memberships: American Society of Composers, Authors, and Publishers, National Academy of Recording Arts and Sciences.
AWARDS
Two Emmy Awards, American Academy of Television Arts and Sciences, 1952, for best entertainment program and for outstanding male personality; San Fernando Criminal Bar Association award for philanthropic work, 1983; honorary doctorate of music degree, Alliance College, 1983.
CAREER
Pianist and composer. Performer with Chicago Symphony Orchestra, beginning 1935; solo pianist, 1939-87; host of television program "The Liberace Show," 1952-59; actor in motion pictures, including "Sincerely Yours," 1955, and "The Loved One," 1965. Founder of the Liberace Museum and of the Liberace Foundation for the Creative and Performing Arts, both 1975.
WRITINGS BY THE AUTHOR
Under name Liberace
* (With Carol Truax) Liberace Cooks!: Recipes from His Seven Dining Rooms, Doubleday, 1970.
* Liberace: An Autobiography, Putnam, 1973.
* The Things I Love, edited by Tony Palmer, Grosset, 1976.
* The Wonderful Private World of Liberace, Harper, 1986.
Also composer of songs, including "Rhapsody by Candlelight" and "Boogie Woogie Variations."
Read more
Latest headlines