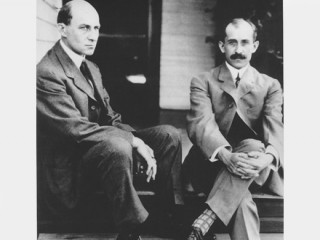 Wright Brothers biography
Date of birth : -
Date of death : -
Birthplace : Millville, Indiana, United States
Nationality : American
Category : Famous Figures
Last modified : 2010-09-21
Credited as : Inventors and aviators, Built wind tunnel,
The Wright Brothers
* Born: April 16, 1867 in Millville, Indiana, United States
* Died: May 30, 1912 in Dayton, Ohio, United States
* Nationality: American
* Occupation: Inventor
* 1867: Wilbur born.
* 1871: Orville born.
* 1893: Opened Wright Cycle Shop.
* 1901: Built wind tunnel.
* 1903: First flight lasted 12 seconds.
* 1906: Received a patent for their flying machine.
* 1908: Received government contract for airplanes.
* 1912: Wilbur died.
* 1915: Orville sold rights to firm.
* 1948: Orville died.
Overview
Brothers Orville
and
Wilbur Wright
changed the course of the nineteenth century and beyond with their revolutionary invention, the airplane. There is no area of political or social life that remains untouched by the airplane, a technological concept conceived and developed by two inventors with little formal training.
Personal Life
Wilbur Wright
is the oldest of the two brothers, born 16 April 1867, near Millvale, Indiana.
Orville Wright
followed on 19 August 1871 in Dayton, Ohio. There were three other siblings in the family, and Wilbur was born the third to parents Milton and Susan Catharine Koerner Wright. Their parents married in 1859 while she was a student and he was an instructor at Hartsville College in Indiana. Milton was also pastor of a local church, rising to become Bishop of the United Brethren Church. Interestingly in 1878, Bishop Wright brought home a toy helicopter for his children. Wilbur and Orville were intrigued by the novel item, which ignited an early interest in aviation.
In their early years, the two boys helped their father edit an evangelical journal called the Religious Telescope. Later, they began a paper of their own, West side News, which was produced on a printing press they devised; Wilbur was the writer. The family moved often, as their father's clerical duties required frequent relocation, causing the children to attend a variety of public schools. Wilbur and Orville, however, never attended college. Wilbur was more athletic, and enjoyed gymnastics. But at the age of 18, a hockey stick struck his face, causing him to undergo extensive medical and dental reconstruction. Wilbur, however, became a recluse after that and seldom ventured far from home. Of the two brothers, Wilbur was the more mature, meticulous partner in their ventures. He was the one who attended to detail, thought out the process and more often brought a project to completion. Orville, on the other hand, was the ideas man, full of enthusiasm and spontaneity. He was the eternal dreamer, always coming up with an idea or concept. He had a passion for reading and tinkering. Wilbur finished high school; Orville did not.
The turning point for the boys came in 1892, when the brothers bought two new safety bicycles, which had chain-driven gearing and wheels that were the same size, a noticeable difference from the existing awkward two-wheelers. Within one year, they opened their own bicycle outlet and repair shop, and by 1896, they were selling their own Wright Special bicycle. Business was booming and, subsequently, Orville abandoned his journalism career for the shop.
Something else happened in 1896 that refocused their interests on faster moving objects. A tragic crash by a German glider pilot caught their attention, and renewed their interest in flying. Throughout the rest of their lives, the Wright Brothers worked to perfect their invention.
Recognized as a scientific pioneer, Orville received several honorary degrees: from Earlham College in Indiana and Royal Technical College of Munich in 1909, from Yale in 1919 and from Harvard in 1931, as well as a doctorate of Engineering from the University of Dayton in 1943. Wilbur received honorary degrees from Earlham College in 1909 and Oberlin College of Ohio in 1910. Both brothers were awarded a medal from the French Academy of Sciences in 1909. Orville received the Langley Medal from the Smithsonian Institution in 1910, the Elliot Cresson Medal from the Franklin Institute in 1914, a Cross of an Officer of the Legion of Honor in 1924, and the Distinguished Flying Cross in February of 1929. Orville was also the first recipient of the Daniel Guggenheim Medal in 1930.
Orville was also a member of various aeronautical and technical societies, both in the United States and abroad. In 1940, he was issued an honorary pilot certificate #1 by the new Civil Aeronautics Authority. In 1944, at the age of 73, Orville took the pilot's controls for the last time, flying Lockeheed's fast new C-69 Constellation, nicknamed "Connie."
Until their deaths, the brothers were inseparable. They never married. Orville once said: "You can't support a wife and a flying machine, too." Wilbur died first, in Dayton on May 30, 1912 at the age of 44. It was a devastating blow for Orville, who never really recovered from his brother's death. Three years later, Orville sold his rights to the firm, choosing instead to conduct experimental work on mechanical problems of interest to him, none of which proved to be of any significance. His chief public activity was service on the National Advisory Committee for Aeronautics, the predecessor for an agency of the National Aeronautic and Spacae Agency. He was a member from its inception by President Woodrow Wilson in 1915 until January 30, 1948, when he died of an heart attack.
Career Details
The Wright brothers knew absolutely nothing about flying. But they had a deep interest in it. They began to educate themselves systematically in the theory and the art of flying. They were unique in their approach. The rest of the world was enthralled with the combustion engine that had been adopted for use in the automobile, another breakthrough invention that continues to influence civilization to this day. The brothers ignored all of that and, after watching two birds in flight in 1899, concluded the pilot had to be able to control every movement of the vehicle under wind power, thus being able to move horizontally, vertically, and left to right. In fact, their greatest contribution to the science of aerodynamics was solving the three-axis control problem. By 1903 the brothers had solved that problem, and also had determined the amount of engine power needed to lift their most advanced biplane glider. The brothers flew double-winged kites and gliders in order to gain experience and to test data. Soon, though, the time had come to test the theories. After consulting with the U.S. Weather Bureau, they chose an area of sand dunes near the small town of Kitty Hawk, North Carolina, as the site for their experiments. In September 1900 they set up camp there and began the work that culminated three years later in success.
By 1903 they were ready. Time magazine described the aircraft as "a great, wide box kite, with struts supporting vertical and horizontal rudders far out in the rear. The engine was at one side of the flyer's seat, so that if the plane tumbled, it would not fall on him." The local undertaker sat nearby. Orville was at the helm of the completed aircraft, Flyer 1. On December 17 it took off, flying 120 feet in 12 seconds. By the end of the day, however, on its fourth flight with Wilbur at the controls, the plane stayed in the air for 59 seconds and traveled 852 feet. Only five people witnessed this historic event. Michael Patrick of Popular Mechanics described the scene for the event: "Suddenly, the whole machine lifted from the rail. For 12 long seconds, the Flyer wobbled and snaked 10 feet above the dunes, landing 100 feet away. [John] Daniels had snapped the shutter, freezing in an instant what mankind had sought for millennia."
This historic moment, a world-changing event, went virtually unnoticed by the world, partly because the brothers wanted to secure a patent for their invention. The patent was granted in 1906, and two years later, they approached the U.S. government with their invention. On February 8, 1908, the Army Signal Cops accepted the Wright's bid to make a plane according to Army specifications for $25,000. In Europe, Wilbur had caught the attention of observers there. Finally, the aviation industry was adopting the Wright's method of aerodynamic control. In the United States, Orville impressed the government with their contract plane, even though the event was marred by a crash a week later. Orville was injured and a passenger was killed.
Social and Economic Impact
After years of studying, testing, failing, and starting all over again, it seemed the Wright brothers would finally reap the economic benefits of their invention. In 1909 the brothers formed the American Wright Company, with Wilbur taking the lead in setting up and directing the business as president. Orville was quite satisfied to serve as vice president so he could teach flying and improve aircraft designs. They also received the recognition they sorely deserved. That same year, Dayton threw a surprise parade and party in their honor on June 17th and 18th. In addition, the brothers received gold medals from the City of Dayton, the State of Ohio and the United States Congress. In Europe, they had been awarded gold medals from French and British aero clubs, among others. Time magazine said "President William Howard Taft received them with fanfare at the White House. Shy, low-spoken Midwestern-bred men, the Wrights were embarrassed by the fuss." According to the magazine, Wilbur, after sitting through a long-winded dinner in France, stood up and remarked, "The most talkative bird in the world is a parrot. But he is a poor flyer."
Despite the fame, patent infringement battles ensued, with the brothers taking legal action against several manufacturers, and there were other legal disputes as more and more manufacturers entered the growing aviation field. Whatever the legal merits of their case, the airplane was one of those inventions that belonged to humanity as a whole and could not be controlled through patents. The brothers did not object to others imitating their design, but they steadfastly opposed any who used if for profit without recompense to them. The principal focus of their anger was Glenn H. Curtiss, a manufacturer who adopted a European version of their technology. Ironically, the Wright Company merged with the Curtiss firm in 1929 to become Curtiss-Wright.
The defeating blow for Orville came when Wilbur died in 1912 of typhoid fever. Orville succeeded to the presidency of the company, but his heart was not in it. His interest was in research; not business. "He had sported a reddish mustache since high school. Once full, almost a handlebar, it was now clipped short, just bushy enough to cover a pair of very thin lips that turned up at one corner when he smiled. He was the enthusiast of the pair, ever on fire with new inventions, and the optimist as well, the one who always saw the brighter side," was how author Tom Crouch described Orville, according to Edwards Park of the Smithsonian magazine.
Wilbur's death left Orville with little enthusiasm and, in 1915, he sold his interest in the company, and gave his last flying lesson. Orville served as a major in he Army Air Service as a technological adviser at Dayton. At age 47, he was no longer interested in flying.
The legacy left by Orville and Wilbur is undisputed. "In classic American fashion -- in a pattern that would give birth to such age-defining products as the Model T and the Apple personal computer -- a breakthrough that would fundamentally alter society was the product of inspired tinkering by dedicated shade-tree mechanics," Time magazine said. That sums up the life of the Wright brothers who literally turned flying into a reality. Until they came along, it was merely something to dream about. The airplane has changed civilized life in every respect. Travel times have been greatly reduced, places that were once unreachable by boat or horse, were now within reach, wars could now be fought in the air, medical supplies, food and other necessities can be delivered quickly, and the U.S. mail system became that much faster. Without doubt, the two brothers ushered in the age of flight, leaving their fingerprints throughout aviation history.
Read more
Latest headlines