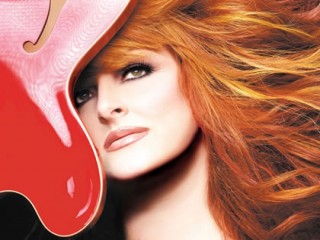 Wynonna Judd biography
Date of birth : 1964-05-30
Date of death : -
Birthplace : Ashland, Kentuchy
Nationality : American
Category : Arts and Entertainment
Last modified : 2010-05-10
Credited as : Country music singer, The Judds, Kath & Kim
Wynonna Ellen Judd
(born
Christina Claire Ciminella
, May 30, 1964, in Ashland, Kentucky) is an American country music singer. Her solo albums and singles are all credited to the singular name
Wynonna
. Wynonna first rose to fame in the 1980s alongside her mother, Naomi, in the country music duo
The Judds
. The duo released seven albums on Curb Records, in addition to charting twenty-six singles, of which fourteen were Number One hits.
After The Judds disbanded in 1991, Wynonna began a solo career, also on Curb. In her solo career, she has released eight studio albums, a live album and a compilation album, in addition to charting more than twenty singles of her own. Her first three singles — "She Is His Only Need", "I Saw the Light" and "No One Else on Earth" — all reached Number One on the U.S. country singles charts, as did 1996's "To Be Loved by You". Three of her albums are certified platinum or higher by the RIAA. Her most recent recording, Sing: Chapter 1, was released on February 3, 2009. Wynonna is most recognized for her musical work, although starting in the 2000s, has also pursued other interests, including acting and philanthropy.
As one half of the Judds, Wynonna Judd became one of the most popular and respected female country stars of her time. On her own since the early '90s, Judd demonstrated an eclecticism that increasingly confounded hardcore country fans and radio programmers but also helped her retain a core of admiring followers. Her solo records might stick with Judds-style country-pop or delve into roots rock, blues, gospel, adult contemporary pop, folk, or Southern R&B.
Judd was born Christina Ciminella in Ashland, KY, on May 30, 1964. Her mother, Naomi (then known by her birth name, Diana), was still in high school at the time, and her biological father abandoned the family almost immediately; Naomi married another man, Michael Ciminella, to create a traditional family unit. In 1968, they moved to Los Angeles, but the marriage disintegrated in 1972. Wynonna spent parts of the next few years living on welfare and returned to Kentucky with her mother in 1976. They lived in a mountain home with no phone or television, and listening to country music on the radio was a major source of entertainment. Wynonna learned to play guitar after receiving one as a gift and was soon singing close harmony with her mother. By the time she was a teenager, her vocal talents were apparent, and in 1979, the family moved to Nashville to try their luck in the music business. Naomi and Wynonna landed a contract with RCA in 1983, and over the remainder of the '80s, they became the biggest-selling duo in country music history (a title that would later be taken over by Brooks & Dunn). Wynonna wasn't always as career-minded as her mother, who effectively ran the group, and was growing ever more rebellious when, in 1990, Naomi was diagnosed with hepatitis C; she retired from performing after a farewell tour in 1991.
Wynonna was at first unsure whether she wanted to carry on without her mother but quickly decided to embark on a solo career, signing with MCA. Her first album on her own, Wynonna, was released in 1992 and was an instant smash, selling over three million copies; it also topped the country charts, reached the Top Five on the pop side, and earned many positive reviews as well. Her first three solo singles -- "She Is His Only Need," "I Saw the Light," and "No One Else on Earth" -- all went to number one on the country charts, and "My Strongest Weakness" also made the Top Five. Judd's 1993 follow-up, Tell Me Why, was another platinum-selling, number one country/Top Five pop album; it gave her five more Top Ten hits in the title track, "Only Love," "Girls with Guitars," "Rock Bottom," and "Is It Over Yet." However, Judd's career hit a snag when it was revealed that, like her mother before her, she had become pregnant out of wedlock. The tabloids had a field day, and more conservative country fans attacked her as being an immoral role model.
Judd eventually married her son's father, Nashville businessman Arch Kelly, in 1996, and that year she finally released her third album, Revelations. It was a more introspective affair that gave her a number one single in "To Be Loved by You" and eventually went platinum despite not producing any further Top Ten hits. For the follow-up, 1997's The Other Side, Judd refashioned her sound into a bluesy, rock-driven roots music blend that often recalled Bonnie Raitt. It reached the country Top Five yet failed to sell a million copies for the first time in Judd's solo career, prompting her to split with MCA and move to Mercury. By this point, Judd had also had a second child, but her marriage fell apart in 1998; instead of releasing another solo album right away, Judd reunited with her mother for a New Year's Eve concert to ring in the year 2000. They embarked on a full-fledged tour together in 2000, and four new Judds songs were released on an exclusive bonus disc with Wynonna's Mercury debut, New Day Dawning. Her most eclectic effort to date (and her first as a co-producer), the album featured covers of Joni Mitchell and the Fabulous Thunderbirds, and while it didn't spawn any major hit singles, it again climbed into the Top Five on the country album charts.
Judd returned to her country roots in 2003 with What the World Needs Now Is Love, which found her reuniting on one track ("Flies on the Butter") with her mother. The live Her Story: Scenes from a Lifetime, released on DVD and CD, arrived in 2005, hitting number two on the Top Country Album charts, and the next year, just in time for the holiday season, the singer released Classic Christmas.
Her second release for Asylum-Curb was a live CD/DVD package called Her Story: Scenes from a Lifetime, released in 2005. The album included one new studio track, "Attitude". Written by Wynonna and John Rich of Big & Rich, this song was issued as a single, peaking at #40 on the country charts.
Sing: Chapter 1, her first studio album in six years, was released on February 3, 2009. This album is largely composed of cover songs, except for the title track, an original composition by Rodney Crowell. It also reunites her with producers Brent Maher and Don Potter, who produced all of The Judds' 1980s albums. This album's lead-off single is "I Hear You Knocking", a blues standard first recorded by Smiley Lewis.
Wynonna and Naomi, also known as the Judds, will reunite in
2010
, which will include a new album release and tour. Wynonna is also begun work on the follow-up studio album to "Sing: Chapter 1" which could include renditions of classic 80's Rock songs.
Television
Judd provided the voice of the rock star Molly Cule in the cartoon The Magic School Bus (Meets Molly Cule). During the fifth season of Touched by an Angel, Judd guest starred as a singer whose son was dying of Cystic Fibrosis. In 2007, Wynonna starred in a special television event on NBC honoring her 23 year career titled "Wynonna: A Tribute on Ice", which featured skating champions such as Kimmie Meissner and Brian Boitano. Both Wynonna and Naomi performed on this special. Additionally, in 2007, Wynonna hosted the fourth season of USA Network's "Nashville Star". She also appeared as herself on the NBC sitcom Kath & Kim. In August 2009, she guest starred as herself on the 10th anniversary of Who Wants to Be a Millionaire with Regis Philbin for Backpack Ministries.
Awards and nominations
In 2007, Wynonna was presented with a star on the Music City Walk of Fame.
In 2005, she received the USO's Merit Award for service to all divisions of the United States Armed Forces and teamed up with Habitat for Humanity to record "Heart of America", with Michael McDonald and Eric Benet which in turn helped raise over $90 million dollars for victims of natural disasters to the Gulf Coast. She continues to bring attention to the global emergency of AIDS in her fourth year as United States Ambassador for YouthAIDS .
Additional Interests
On June 7, 2008, Wynonna sat down for a live Internet chat for her fans in which she was asked questions submitted during the session. Over 6000 fans signed up in a 5 minute span causing the server to crash. A total of 18,000 fans eventually logged on to watch Wynonna's chat live via Stickam.com. She also lent her voice to an international music documentary on BBC radio about Stevie Wonder. In 2009, she also became the spokeswoman for alli, the only FDA-approved over-the-counter weight loss product, which features the artist in a national marketing campaign.
Personal life
Wynonna met Arch Kelley III in 1993, and their son Elijah Judd was born on December 23, 1994, in Nashville by C-section. In response to feedback from conservative fans, she married Kelley on January 21, 1996, when she was four months pregnant with their second child. Their daughter Grace Pauline was born June 21, 1996. Kelley was an observer rather than a participant in his wife's fame and felt out of place in her world. He settled into the role of househusband on her 500-acre farm outside of Nashville. She divorced in 1998.
Wynonna's second husband was her former bodyguard, D. R. Roach, whom she married on November 22, 2003, in Tennessee. On March 22, 2007, Roach was arrested for sexual assault of a child under the age of 13. On March 27, 2007, Judd filed for divorce after his indictment on three counts of aggravated sexual battery against a minor.
In November 2003, just two weeks before her DUI arrest, Wynonna taped an appearance of an episode of The Oprah Winfrey Show discussing what she described as a "severe" dependency on food . The episode aired in February 2004. Judd had been working with the show in an effort to lose a significant amount of weight and get to the root of her dependency. In September 2005, Wynonna made a second appearance on the show, discussing how she had lost some weight, had patched up relationships with her mother and with the man she considered "her dad", Michael Ciminella, from whom she had been estranged for almost a decade.
Wynonna was also a judge for the 6th annual Independent Music Awards to support independent artists' careers.
Read more
Wynonna Judd Picture Gallery
Latest headlines