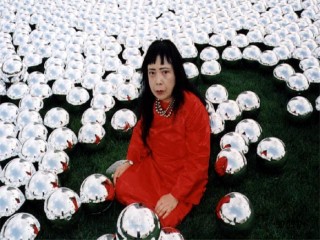 Yayoi Kusama biography
Date of birth : 1929-03-22
Date of death : -
Birthplace : Matsumoto City, Nagano, Japan
Nationality : Japanese
Category : Arts and Entertainment
Last modified : 2010-07-16
Credited as : Artist painter, soft sculptures, performance art and enviromental installations
Yayoi Kusama
, born March 22, 1929 in Matsumoto City, Nagano, Japan is a Japanese artist whose paintings, collages, soft sculptures, performance art and environmental installations all share an obsession with repetition, pattern, and accumulation.
What makes Yayoi Kusama's art notable is a kind of cosmological obsession integrated into art as forms of proliferating repetition and endless accumulation. She is a painter, sculptor, performing artist, film maker and novelist.
In her childhood in Matsumoto city in Nagano, Japan, where she was born in 1929 and graduated a local high school, Kusama was a great visionary; it was reported that she frequently saw aurora-fringed objects and heard animals and plants uttering human languages. She studied art at Kyoto Arts and Crafts School, and her extraordinary visions in paintings caught the interest of a psychopathologist, who reported her case at academic meetings.
She held her first one-person show with 240 paintings at Matsumoto city in 1952, and became known to the avant-garde art circles in Tokyo.
It was after 1957 when she went to New York and studied at the Art Students League that her idiosyncratic vision and idea began to bloom as comprehensive art forms. Her repetitive pattern painting in monochrome starting in 1957 was one of the earliest examples of Systematic Painting which was to come out of New York in the 1960s, though Kusama's obsession for microbiological multiplication was quite different from the ideas of the Systemic painters.
She gradually aroused interest in New York by the end of the 1950s, creating paintings with multiplicative net patterns or polka-dotted overall surfaces. In 1961, she took up making soft sculptures which developed into perhaps one of her best known works in 1962, 1,000 boats, boats made of thousands of phallic sacks with stuffing in each of them.
Kusama's activities in the 1960s depict the worldwide explosion and expansion of ideas in art of the decade, ranging over kinetic art, environmental art, Happenings, Pop art, filmmaking, fashion, publication and private enterprise.
In the early 1960s, she began to create works with mirror and electricity which led the artist into making moving sculptures. Her shows were apt to be accompanied with Happenings around the middle of sixties, and she received the Rockefeller Foundation Scholarship in 1965. She staged an enterprising Mirror Ball Sale Happening at the premiere of the Venice Biennial, 1966, and made a film, Kusama's Polka Dot Obliteration, written and played by herself in 1967. The film was honored at the Belgian International Short Film Festival in 1968. In this period, she repeatedly performed artistic, anti-establishment and immoral Happenings in New York. She established her private enterprises for purposes of producing and selling her dresses and films.
After coming back to Japan in 1974, she began to make ceramic works and pastel collages. Her first novel came out in 1978; the second, Christopher Homosexual Brothel, won a new novelist prize from Kadokawa publishing company. A golden prize was awarded to the artist in 1982 from Art Academy of Italy. She never lost her energy throughout the 1980s, showing her works in lot of exhibitions in and out of Japan.
Kusama's obsessive idea for self-obliteration (frequently the titles of her Happening shows), seems to have been derived from an inner desire to be emancipated from the psychopathic anguish which has been her old complaint. But it is obvious to anyone's eyes that the nightmarish beauty in Kusama's art claims a high reputation as one of the wondrous achievements created by an avant-garde artist regardless of her continuous endeavoring to conquer sufferings.
PERSONAL INFORMATION
Nationality: American. Born: Matsumoto City, Nagano, Japan, 22 March 1929; immigrated to the United States, 1960; naturalized, 1966. Education: Arigasaki High School, Matsumoto, 1943-47; studied at the Arts and Crafts School, Kyoto, 1948-51; Art Students League, Brooklyn Arts School, and Washington Irving School, all in New York, 1957-58. Career: Independent painter, sculptor and environmental artist, in Kyoto, 1951-57, in New York, 1957-74, in Tokyo since 1974; first monochrome pattern paintings, 1957; soft sculptures, 1961; infinity mirror works, 1964; happenings and kinetic works, 1965; films, 1966; ceramics and pastel collages, from 1974. Founder-director, Kusama Enterprises, Kusama Polka Dot Church, Kusama Musical Productions, Kusama Fashion Compay Ltd., Kusama International Film Company Ltd., Body Paint Studio Company model agency, and KOK Homo Social Club, all in New York, 1968; Japan Edition Art Company publishing house, Tokyo, 1977. Founder-editor, Kusama Orgy weekly newspaper, New York, 1968; editorial board member, Kindai Foudo (Modern Climate) magazine, Tokyo, 1978. Awards: Rockefeller Foundation Scholarship, New York, 1965; Film Prize, Belgian International Short Film Festival, Knokke-le-Zoute, 1968; Gold Award, Accademia di Belle Arti, Rome, 1982; Kadokawa Shoten Novelist Prize, Tokyo, 1983. Agent: Robert Miller Gallery, 524 West 26th Street, New York, New York 10001; Victoria Miro Gallery, 16 Wharf Road, London N1 7RW. Address: 1008 Ushigome Heim, Shinjuku-ku 30-2 chome, Haramachi, Tokyo, Japan.
WORKS
* Individual Exhibitions:
* 1952: Matsumoto Civic Hall, Japan
* 1954: Shirokiya Department Store, Tokyo
* Mimatsu Shobo Gallery, Tokyo
* 1955: Takemiya Gallery, Tokyo
* Kyuryudo Gallery, Tokyo
* 1957: Zoe Dusanne Gallery, Seattle, Washington
* 1959: Brata Gallery, New York
* Nova Gallery, Boston
* 1960: Gres Gallery, Washington, D.C.
* Stephen Radich Gallery, New York
* 1961: Detroit Gallery, Michigan
* Stephen Radich Gallery, New York
* 1962: Gertrude Stein Gallery, New York
* 1963: Castellane Gallery, New York (twice)
* 1964: Stedelijk Museum, Schiedam, Netherlands
* 1965: Orez Gallery, The Hague
* Stedelijk Museum, Schiedam, Netherlands
* 1966: Galleria del Naviglio, Milan
* Galerie M. E. Thelen, Essen, Germany
* 1971: Orez Gallery, The Hague
* 1975: Nishimura Gallery, Tokyo
* 1976: Osaka Form Gallery, Tokyo
* 1977: Galerie Nikko, Tokyo
* 1978: Chamber of Commerce and Industry, Matsumoto, Japan
* 1979: Chugeki Art Salon, Matsumoto, Japan
* Inoue Department Store, Matsumoto, Japan
* 1980: Toho Gallery, Osaka, Japan
* American Center, Tokyo
* Tokyu Department Store, Nagano, Japan
* Yurakudo Gallery, Matsumoto, Japan
* Gallery Toshin, Tokyo (twice)
* 1981: Shibuya Seibu Department Store, Tokyo
* Gallery Kodosha, Ichinoseki, Japan
* Gallery Kumo, Tokyo
* 1982: Box Gallery, Nagoya, Japan
* Fuji Television Gallery, Tokyo
* Galleria del Naviglio, Milan
* 1983: Jardin de Luseine, Harajuku, Tokyo
* Supplement Gallery, Tokyo
* Video Gallery Scan, Tokyo
* Galerie Ornis, The Hague
* 1984: Fuji Television Gallery, Tokyo
* Video Gallery Scan, Tokyo
* 1985: Missoni Boutique, Yurakucho-Marion, Tokyo
* 1986: Tamagawa-Takashimaya, Tokyo
* Fuji Television Gallery, Tokyo
* Galerie Christian Cheneau, Paris
* 1987: Municipal Museum of Art, Kitakyushu, Japan
* 1994: Kusama Yayoi Ten: Yayoi Kusama, Nagano-Ken Shinano Bijutsukan (catalog)
* Japanese Art After 1945: Scream Against the Sky, Yokohama Museum of Art, Yokohama (traveling exhibition)
* When the Body Becomes Art, Itabashi Art Museum, Tokyo (traveling exhibition)
* 1995: Division of Labor: "Women's Work" in Contemporary Art, Bronx Museum of Arts, Bronx
* View of Contemporary Prints, Part II, Niigata City Art Museum, Niigata
* Revolution: Art of the Sixites From Warhol to Beuys, Museum of Contemporary Art, Tokyo
* 1996: The 1950s and 1960s, Paula Cooper Gallery, New York (catalog)
* With Drawing, Robert Miller Gallery, New York (catalog)
* 1964: A Turning Point in Japanese Art, Museum of Contemporary Art, Tokyo
* Now Here, Louisiana Museum of Modern Art, Humlebaek, Denmark
* 1997: A Snake, D'Amelio Terras, New York
* Recent Work and Paintings from the New York Years, Baumgertner Galleries, Inc., Washington, D.C. (catalog)
* Mattress Factory, Pittsburgh, Pennsylvania
* Obsessional Vision, The Arts Club of Chicago (catalog)
* 1998: Works from the 1950s, Peter Blum Gallery, New York
* Tension, Robert Miller Gallery, New York (catalog)
* Essence of the Orb, Michael Rosenfeld Gallery, New York
* Painting: Now and Forever Part 1, Pat Hearn Gallery, New York
* 1999: Love Forever: Yayoi Kusama, 1958-1968, Los Angeles County Museum of Art, (also Walker Art Center, Minneapolis; Museum of Modern Art, New York and Museum of Contemporary Art, Tokyo) (catalog)
* In Full Bloom: Yayoi Kusama, Years in Japan, Museum of Contemporary Art, Tokyo (catalog)
* 2000: Yayoi Kusama: Early Drawings from the Collection of Richard Castellane, Class of 1955,Birmingham Museum of Art (traveled to The Art Museum, Princeton University, Princeton, New Jersey; Art Gallery of York University, Toronto; Indianapolis Museum of Art, Indiana; and Munson-Williams-Proctor Arts Institute, Utica, New York) (catalog)
* From Zero to Infinity: Yayoi Kusama in Context, Jack S. Blanton Museum of Art, University of Texas at Austin, Texas (catalog)
* Yayoi Kusama,Serpentine Gallery, London
* 2001: Death of an Illusion, Galerie Pièce Unique, Paris
* Selected Group Exhibitions:
* 1955: International Biennial of Watercolor, Brooklyn Museum, New York (and 1959)
* 1960: Monochrome Malerei, Stadtische Museum, Leverkusen, Germany
* 1962: Tentoonstelling Nul, Stedelijk Museum, Amsterdam
* 1966: The Object Transformed, Museum of Modern Art, New York
* 1973: American Art, Civic Center, Philadelphia
* 1977: Improbable Furniture, Institute of Contemporary Art, Philadelphia
* 1979: Soft-Art, Kunsthaus, Zurich
* 1982: Art Today--November Steps, Yokohama City Hall, Japan
* 1985: Reconstructions: Avant-Garde Art in Japan 1945-65, Museum of Modern Art, Oxford
* 1986: Le Japon des Avantgardes, Centre Georges Pompidou, Paris
* 1993: XLV Biennale di Venezia (catalog)
* 1998: Bienal de São Paulo 98, Brazil
* 1998 Taipei Biennial, Taipei Fine Arts Museum, Taipei
* 2000: Repetitive-vision, Phallus-boat, Galerie Pièce Unique, Paris
* 12th Biennale of Sydney, Australia
* Collections:
* Stedelijk Museum, Amsterdam
* Chrysler Museum, Provincetown, Massachusetts
* Oberlin College, Ohio
* Jack S. Blanton Museum of Art, The University of Texas at Austin
Read more
Latest headlines