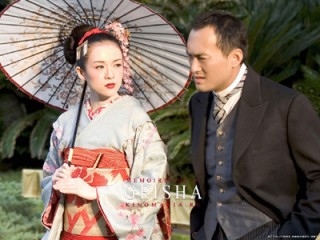 Yeoh Michelle biography
Date of birth : 1962-08-06
Date of death : -
Birthplace : Ipoh, Malaysia
Nationality : Malaysian
Category : Arts and Entertainment
Last modified : 2010-06-11
Credited as : Actress, Memoirs of a Geisha, The Mummy: Tomb of the Dragon Emperor
Michelle Yeoh
(also known as:
Michelle Khan, Yeung Chi-King
) born August 6, 1962 in Ipoh, Malaysia is a Malaysian actress .
One of the biggest female film stars in Asia, Michelle Yeoh has been called the female Jackie Chan (an accolade she rejects) because, like Chan, she got her start in Hong Kong action films, she performs her own stunts, and has become an international superstar. She broke through to Western audiences when she costarred with Pierce Brosnan in the 1997 James Bond film Tomorrow Never Dies, and she won further acclaim in the West as costar of the Academy Award-winning Chinese-language film Crouching Tiger, Hidden Dragon, which was released in the United States in 2000.
Although she is famous in part for performing her own stunts, Yeoh nevertheless insisted in an interview with Lionel Seah of the Straits Times, "I've never done action for action's sake. What is action without dramatic development? Roger Spottiswoode, producer for Tomorrow Never Dies, once told me he could have a stand-in for me for the stunts. But he could never send in someone for me to do the drama. It's an added skill. In any case, I like to do my own stunts because I don't like other people to have the fun."
Michelle Yeoh was born Yeoh Chu-Kheng in 1962 in Ipoh, in western Malaysia. Her parents are both of Chinese heritage, and her father is a politician and lawyer. Yeoh learned Malay and English as her first languages, and she learned the Cantonese she would later speak in Hong Kong action films as her third language. When she was just four years old, Yeoh began taking ballet lessons. She knew that show business was her calling by the time she was 16 years old, and she then moved to London, England, to study at the Royal Academy of Dance. However, her dancing career ended almost as soon as it began when, after graduating from school, she suffered a back injury.
At the urging of her mother, Yeoh reluctantly entered the Miss Malaysia beauty pageant in 1983. She won the event, which directly led to a role in a commercial with Hong Kong movie star Jackie Chan. Yeoh's work in the commercial with Chan attracted the attention of executives at a small film production company, D&B Films. The company then hired Yeoh for a series of small parts in films without wide distribution, in which she acted under the name of Michelle Khan.
In 1985, Yeoh landed a role that was to set the tone for her later career. This was a part in D&B Film's Yes, Madam, an action-comedy in which Yeoh appeared with Cynthia Rothrock, a well-known martial arts action film star. The film called for Yeoh to defend herself in the opening scene with dazzling martial arts moves, first against a flasher, and then a band of robbers.
Without any previous martial arts experience, Yeoh had to hit the gym for nine hours a day to get up to speed for the film. Her hard work paid off; audiences loved her performance in Yes, Madam, and she quickly became one of the biggest female stars in Hong Kong action films. Films followed in rapid succession, including Royal Warriors, released in 1986, again featuring Yeoh with Rothrock, Easy Money, released in 1987, and Magnificent Warriors, also released in 1987. In this last film, she followed in Chan's footsteps by performing all of her own stunts. Also in 1987, Yeoh became engaged to one of the principals of D&B films, Dickson Poon. After marrying Poon, Yeoh dropped out of filmmaking to become a homemaker. The marriage failed, however, and the couple were divorced in 1991.
Fortunately for Yeoh's legions of fans in Asia, and for her future fans in the West, Yeoh returned to action films in a big way with her role in Police Story 3: Super Cop, released in 1992. In this film, she starred alongside Chan, matching his amazing stunts. Chan, said to be initially skeptical of a woman's ability to perform the same kind of death-defying stunts that had made him famous, was concerned by the end of the shooting of the film that he might be upstaged by Yeoh. One of the most nerve-wracking stunts Yeoh performed in this picture was a motorcycle jump onto a moving train. She had learned to ride a motorcycle only the day before the shooting of that scene.
Now firmly established as a major star, Yeoh became the highest-paid female actor in Asia. Working under the name Michelle Yeoh, she went on to star in numerous action films, including Heroic Trio, released in 1992, Tai Chi Master, in 1993, along with fellow kung fu star Jet Li, and Wing Chun, released in 1994.
Performing her own stunts was not without its hazards. While she considered the shoulder dislocation and the occasional cracked rib she had already suffered while making films to be a normal part of her job, she was given a serious scare during the making of Ah Kam in 1995, when she mistimed a jump from an 18-foot wall. The star landed on her head and cracked a vertebra. Initially put in traction, and afraid that she might never walk again, Yeoh nevertheless made a spectacular recovery, and returned to the set of the film in full fighting form before a month had passed.
Yeoh has strenuously resisted the obvious comparisons many have made between her and Chan. "I'm not the female Jackie Chan," she told Cindy Pearlman of the Chicago Sun-Times, "and that's what I've heard. I'm not quite as foolish as Jackie." When asked how many broken bones her career has resulted in, she responded. "I have no broken bones. I have dislocated my shoulder. I've cracked my share of ribs. I've ruptured an artery. But I have never broken a bone."
After Supercop was released in the United States, American producers tapped Yeoh for the James Bond film Tomorrow Never Dies, released in 1997. In this film she starred opposite the charismatic Pierce Brosnan, who played James Bond, and very nearly stole the movie from him. "He's wonderful," Yeoh said of Brosnan to Pearlman in the Chicago Sun-Times. "He's handsome. Best of all, he's not intimidated by strong women in real life." Yeoh chose this role not only because it was a tremendous opportunity to reach new audiences, but also because, as she told Pearlman, "I love to see an Asian woman portrayed as something other than that demure, frightened, frail thing." Also, she told Pearlman, "This is the first really strong woman in a Bond movie who is not a villain. I've proven you don't have to be a b**** if you're a strong woman." As a result of her heightened profile in the United States, Yeoh was named one of People's sexiest 50 people in 1997.
Working on a Hollywood film held unusual challenges for Yeoh. American insurance companies insisted that she not perform all of her own stunts, as she was accustomed to doing. Much to Yeoh's amusement and eventual frustration, the studio had difficulty finding stunt doubles who more or less matched Yeoh's diminutive frame, and who could perform the stunts as well as she could. "I knew I could do some of those stunts as well or better as most of the stunt people," she told Pearlman. "I like that they do have a difficult time finding a stunt double for me. I'm always sitting on the sidelines saying, 'I could do it.'"
Yeoh proved her versatility as a serious actress, as well as an action star, to Western audiences when she costarred in the Academy Award-winning Crouching Tiger, Hidden Dragon, released in the United States in 2000. As Jonathan Crow put it on the All Movie Guide website, with this film, "Yeoh cemented her status as an incredibly graceful fighter with the unusual ability to display a remarkable dramatic range as well." As in her previous films, Yeoh performed her own stunts in this film, sustaining a knee injury that required surgery.
Crouching Tiger, Hidden Dragon won the Academy Award for best foreign film of 2000, as well as three other Academy Awards. The film also shattered United States records for top-grossing Asian film and top grossing foreign-language film of all time.
Affirming her commitment to remain based in Asia, Yeoh started her own Hong Kong film production company in 2000, called Mythical Films. "Why do I have the need to be a producer?" she asked Zainal Alam Kadiar of Malaysia's New Straits Times. "Well, it's a very personal decision, having a great passion for the industry.... It's more like a natural progression to what I have been doing. It is important to me to have a level of control, and ensure that I have enough creative input in my work." And she added, "Perhaps the decision to produce is also a selfish one.... So I can act my role according to how I want it. You see, as an actress, most of the time when I get a certain script, I always find myself wanting to do the male roles. I find them more challenging and demanding and it is in my nature to push myself."
Mythical Films immediately went into production on a romantic action film, with Shanghai, Xian, and the Himalayas as its principal locations. Called The Touch, the film features Yeoh as both producer and star of the film, and it was directed by Peter Pau, who won an Academy Award for best cinematography for Crouching Tiger, Hidden Dragon. Named one of the ten most anticipated films of 2002 at the 2001 Cannes Film Festival, the film features Yeoh as an acrobat charged with retrieving a sacred relic said to contain the spirit of a Buddhist holy man--a task impossible for an ordinary person to complete.
Speaking of the film to Chee-may Chow of Australia's Newcastle Herald, Yeoh said, "I believe there are so many tales to be told from our side, around our region, up in China and locations that we know better and stories that we can tell better." She continued, "I would not think that I would pack up my bags and go over there," she said of Hollywood. Especially when Hollywood comes to her; Miramax bought the right to distribute the film in the United States before it was even completed.
Mythical Films had four more films slated for eventual production at the time of the opening of The Touch in Asia, including the company's second production, Hua Mulan, in which Yeoh plays a woman who dresses as a man to go to war to help her ill father. In spite of heading her own production company, Yeoh told Mathew Scott of the South China Morning Post that she had no intention of becoming a director. "It's not something I've ever had any interest in doing. I think I'm very honest with myself; I know what I like to do and what I don't want to do."
Yeoh divides her time between Malaysia, where she helps to care for her elderly parents, and the United States. "I have the best of both worlds," she told Pearlman in the Chicago Sun-Times. "I'm a superstar in Asia. I'm in demand in Hollywood."
In 2005, Yeoh starred as the graceful Mameha in the film adaptation of
Memoirs of a Geisha
, and she continued her English-language work in 2007 with Sunshine. In 2008, Michelle Yeoh also starred in the fantasy action film
The Mummy: Tomb of the Dragon Emperor
with actors Brendan Fraser and Jet Li.
Read more
Latest headlines