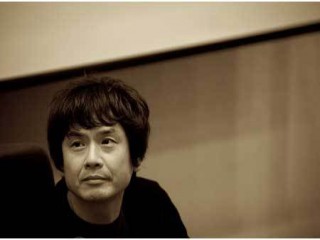 Yoshitomo Nara biography
Date of birth : 1959-01-04
Date of death : -
Birthplace : Hirosaki, Japan
Nationality : Japanese
Category : Famous Figures
Last modified : 2011-08-24
Credited as : Artist, pop art movement,
Yoshitomo Nara
is a Japanese artist. He currently lives and works in Tokyo, though his artwork has been exhibited worldwide. Nara received his B.F.A. (1985) and an M.F.A. (1987) from the Aichi Prefectural University of Fine Arts and Music.
Between 1988 and 1993, Nara studied at the Kunstakademie Düsseldorf, in Germany. Nara has had nearly 40 solo exhibitions since 1984. He is represented in New York City by Marianne Boesky Gallery and in Los Angeles by Blum & Poe.
Japanese artist Yoshitomo Nara specializes in flat, two-dimensional drawings depicting sulky, bigheaded cartoonesque characters who are cunningly cute yet corrosive. His pictures, clearly full of angst, pack a warped visual punch that appeals to a broad range of viewers. During the 1990s, Nara burst onto the international art scene, showing his work at solo exhibitions across the globe, from Tokyo and Berlin to New York and Los Angeles. Within a few years he had achieved cult status for his work, which is admired by art critics and punk kids alike. Nearly every fan can afford a Nara piece to fit their budget. Fine art pieces can top $20,000, while Nara key chains cost just a few dollars.
Some critics have been at a loss to describe the Nara phenomenon. Most often they admit it is sometimes hard to take Nara's work seriously, but on the other hand, they acknowledge it is also hard to dismiss. Art critic Kristin Chambers, writing on the San Jose Museum of Art website, had this to say: "Exploring Nara's realm and its inhabitants can be as bewildering and delightful as taking one of Alice's trips through Wonderland." She went on to describe Nara's characters as "devilish, fairy-tale strange, and not afraid to embrace the experiences of anxiety, fear, and escape into fantasy that define human existence at any age."
Nara was born on December 5, 1959, in Hirosaki, a rural village in Northern Japan. Though he was the youngest of three boys, Nara's upbringing more closely resembled that of an only child because his brothers were so much older. In addition, Nara's parents kept busy work schedules, as did many adults in post-World War II Japan, an era of fast-paced economic development. Because his parents worked so much and because he was so introverted and sensitive Nara spent most of his time alone with his imagination, his pets, and the television for company. He liked to watch cartoons, particularly Astro Boy, Gigantor, and Speed Racer. He also amused himself by painting and drawing.
There were other children to play with, but Nara was not outgoing and struggled to fit in. He recalled being so sensitive that when a group of boys stormed off to smash an anthill, he could not join them. While Nara has acknowledged that his lonely childhood influences his art, he said that he did not realize he was lonely when he was young. "When you are a kid, you are too young to know you are lonely, sad, and upset," he told ARTnews ' Kay Itoi. "Now I know I was."
During high school Nara took a nude-sketching class and realized that drawing was a natural outlet for his fertile imagination. He finally found a way to express all that he held inside. Speaking to the Tokyo-based Asahi Shimbun newspaper, Nara described his awakening this way: "It was just copying what I saw on the paper by drawing lines. Everyone does the same thing, but I found my originality there."
From 1979 to 1981, Nara took art classes at the Musashino Art University. Next, he studied at the Aichi Prefectural University of Fine Arts and Music in Nagoya, Japan, earning his bachelor of fine arts in 1985 and his master of fine arts in 1987. Then it was off to Düsseldorf, Germany, to study at the Kunstakademie Düsseldorf, also known as the German State Academy of Arts. After graduating in 1993, Nara stayed in Germany, setting up a studio in Köln. That same year he received a small amount of exposure after drawing promotional poster art for the Swedish film Letta Leaves Home.
During the years he spent in Köln, Nara refined his skills and began exploring his own vision of art by plumbing the depths of his subconscious. His first sulky-girl portraits materialized during this time. Nara said that his artwork comes through him and reflects his accumulated past. "When I make the drawings, I don't think of it," he told Asahi Shimbun. "My brush just moves unconsciously."
After completing his art training Nara resisted taking his portfolio around to galleries or entering contests because he still felt tentative about the vocation. "All through university I was never sure that I wanted to be an artist by profession," Nara remarked in an article printed in the Japanese Art Scene Monitor. "I went to art school because I could draw. It was when I was teaching art … and I was telling all the students that ' this is how artists should be,' and so on, it occurred to me that one could draw as a way of finding oneself." Following this realization, Nara made a long-term commitment to the profession.
Nara's first big break came in the late 1990s when he joined Japanese cult novelist Banana Yoshimoto on a book project. Around this time Nara also created the CD jacket artwork for The Star Club, a Japanese punk band, as well as for Japanese girl band Shonen Knife. These projects exposed Nara's work to a broader audience. He continued teaching and in 1998 worked as a visiting professor at the University of California at Los Angeles.
In 2000 Nara packed up his studio in Köln and returned to Japan, setting up shop in a two-story Tokyo warehouse. Though the place was cold in the winter and hot in the summer, the high ceilings and open floor plan made it an ideal workplace. In the early 2000s, photographer Mie Morimoto spent six months with Nara and produced a documentary book titled, Birth and Present: A Studio Portrait of Yoshitomo Nara. In the book, Morimoto made notations about Nara's lifestyle. She said Nara uses the second floor of the building for working and living space. The first floor is for storage and also has a kitchen; however, Morimoto said that Nara generally ate dinner at his assistant's neighboring home or at local fast-food restaurants; rarely did he cook his own meal.
Morimoto also described Nara's unflinching ability to press on with work. "He plays deafeningly loud punk rock as he works through the night and sleeps whenever he chooses to. In his daily routine, life and work have become one." She also noted that when Nara is preparing for an exhibition, he works without ceasing. As soon as he finishes one piece, he is on to the next and seems irritated at the time lost priming a canvas.
Over the years Nara has developed his own distinctive style. Common motifs include children who have fallen into water, or into a hole. Animals, particularly Snoopy-like dogs, also populate his work. His children are typically bulbous-headed with crescent eyes and cynical grins. His work shows a heavy influence from a childhood spent watching 1960sera cartoons in that his characters are simplistic and rounded like the early animations found in Speed Racer as opposed to the more contemporary anime, where characters are detailed and angular.
Some of Nara's characters smoke cigarettes or wield tiny knives. Steam emerges from their heads and expletives written in either German, English, or Japanese are common. Writing in Metro, art critic Sharon Mizota described the artist's oeuvre this way: "Nara's children, with their oversized heads, milk-saucer eyes and blunt, pawlike limbs, look infantile and defenseless, but far from innocent. They sneak sidelong glances and grimace knowingly, hinting at some secret transgression or imagined subversion." Mizota continued her description by saying, "Their faces, at first placid and cute, betray an indignant, yet impotent anger." The pieces, however, do not just show the angry side of human nature. They exude a clear understanding of the duality of being Nara's children are both sweet and sour, happy and sad, generous and mean, all at the same time.
A recurring character in Nara's work is a girl called Ramona, named in honor of the New York punk band the Ramones. Rebellion can almost be seen percolating inside her. The punk movement has always played an important role in Nara's life. Not only does he listen to punk music while he works, he also got his start doing cover art for punk bands, which are typically adored by disaffected youth. In the same way that punk bands use their music to convey their displeasure with the status quo, Nara uses his characters to send the same message. At several shows he includes an installation titled My Drawing Room, which resembles his workspace at home, complete with personal belongings and sketches he keeps in his work area. The display even features a replica of his desk with a note written in German which translates to: "For always I want to be a punk, for always I want to punk, because there still is something I must do."
Nara's other influences include Renaissance painting, Japanese pop culture, and minimalism. He also likes the music of The Star Club and Neil Young and takes song titles from favorite bands as an inspiration for his own titles. Nara has titled works I just want to be a cosmic cowboy and My 13th Sad Day. Other pieces include Melting Moon/Moon Children, which features an assortment of vacant-faced, three-dimensional baby heads sitting atop a large, white plate. The angle of each head is different, each portraying a distinct phase of the moon. Another piece is called Slash With a Knife. In this one, an overly wide-eyed child, complete with miniature knife, snickers at viewers, leaving them to wonder if the child is about to make a nasty remark. While many of Nara's pieces convey anger and sorrow, he also tackles the emotion of hope. Sprout the Ambassador is one such piece. This Nara child is shown offering green sprouts, representing hope, in each hand.
Besides oil and acrylic paintings, Nara crafts installations that take up whole rooms. He makes the figures for these pieces out of fiber-reinforced plastic. One example is 1994's Hula Hula Garden. This piece features three kid-sized dolls, lying face down on the floor looking at children's books. The floor is littered with small, plastic flowers. The walls are be-decked with animal-child heads mounted like hunting trophies. They feature names like Upset Kitty, Puffy Girl and Grinning Little Bunny. Nara usually installs this piece in a closed room, forcing viewers to look through low, tiny windows, thus evoking a sense of those childhood worlds adults cannot enter.
In 2004 and 2005 a Nara retrospective titled Yoshitomo Nara: Nothing Ever Happens, toured the United States, making stops at several venues, including the San Jose Museum of Art in California, the Contemporary Art Museum in St. Louis, the Institute of Contemporary Art at the University of Pennsylvania, and the Contemporary Museum in Honolulu, Hawaii. It contained pieces Nara created between 1997 and 2004, many of which had never been on display. The show featured Nara's sulky kids on huge, nearly six-foot plates, as well as drawings and large-scale sculptural relief.
Because Nara has found a way to straddle the line between fine art and illustrator, he has earned a legion of fans from serious art collectors to punk youth. His art is accessible, with his characters appearing on gallery and museum walls, as well as on T-shirts, key chains, CD cases, ashtrays, and clocks. Nara's cult status became evident when television characters on Dawson's Creek and Buffy the Vampire Slayer appeared in Nara T-shirts.
Despite his raging success, Nara still feels like a lonely kid sometimes and finds it hard to work. When he hits such lows, he reads positive exhibition comments until he feels well enough to go back to work. For inspiration, Nara also keeps little notes tacked to his studio walls with messages such as "It's only drawing but I like it!." To remember to work freely and without pressure, just for the joy of it, Nara keeps these words posted: "Never forget your beginner's spirit." It is a state of mind he tries to dwell in daily as he works.
Awards:
Award for Artist, Nagoya City, Japan, 1995.
Read more
Yoshitomo Nara Picture Gallery
Latest headlines