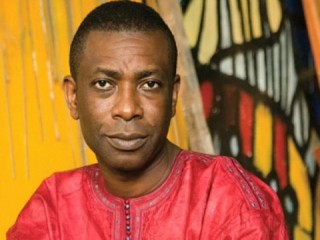 Youssou N'Dour biography
Date of birth : 1959-10-01
Date of death : -
Birthplace : Dakar, Senegal
Nationality : Senegalese
Category : Arts and Entertainment
Last modified : 2012-01-04
Credited as : Singer, Actor, candidate in the campaign to be president of Senegal
Youssou N'Dour is a Senegalese singer, percussionist, occasional actor, and a current candidate in the campaign to be president of Senegal. In 2004, Rolling Stone described him as, in Senegal and much of Africa, "perhaps the most famous singer alive."
He helped develop a style of popular music in Senegal, known in the Serer language as mbalax, a type of music that trace most of its technique from the conservative Serer music tradition of "Njuup" (the progenitor of Mbalax). He is the subject of the award-winning films Return to Goree directed by Pierre-Yves Borgeaud and Youssou N'Dour: I Bring What I Love directed by Elizabeth Chai Vasarhelyi, which were released theatrically around the world.
Youssou N'Dour is an international star in a field of popular music that has come to be known as "Afro-pop" or "world beat." He is a singer, composer, and drummer whose style has been given the name "mbalax." N'Dour's own particular brand of mbalax has become so popular and widespread that he is often credited with inventing the genre. Ronnie Graham has explained in The Da Capo Guide to Contemporary African Music that mbalax is a generic Senegalese music characterized by a percussion base and featuring an improvised solo on the sabar drum. It has also been described as modern Senegalese rock.
Graham described Senegalese pop music of the late 1980s as "a sophisticated blend of the old and the new," with the old being primarily Cuban-influenced melodies and rhythms that dominated Senegalese music prior to the 1970s. The development of local styles was seriously hindered by the French philosophy of exporting its own culture to its colonies; local idioms, instruments, and traditions did not begin to appear in urban contemporary music until the 1970s, after Senegal had achieved independence. The tama, a small talking drum, was introduced in the 1970s and became a popular lead instrument.
N'Dour's take on mbalax features a rhythmic dance band consisting of as many as 14 members, including multiple percussionists, guitarists, saxophonists, and backing vocalists. As N'Dour achieved greater recognition and acceptance among Western audiences in Europe and the United States during the late 1980s, he was relieved of some of the pressure to incorporate Western rock styles into his own music. Although he is fluent in French, Arabic, and his native Wolof, N'Dour's English is not very good. Thus, he is at his best when able to present an appealing and authentic brand of African pop, with its own unique rhythms and vocalizations sung in Wolof, one of Senegal's major native languages.
N'Dour was born in 1959 in Dakar, the capital of Senegal, on the west coast of Africa. He grew up in a traditional African community within the Medina section of the city. "Living on the street was like being in a family," the musician was quoted as saying in the Detroit News. "Everybody knows one another, there's a great feeling of togetherness." N'Dour's father was a mechanic who discouraged him from a musical career. His mother, however, was a griot in the community. A griot is a West African musician-entertainer whose performances include tribal histories and genealogies; N'Dour's mother was a respected elder who kept the oral tradition of the community's history alive through traditional songs and moral teachings.
With his mother's encouragement, N'Dour would sing at kassak, a party to celebrate circumcision. As N'Dour described his work then to the Detroit Metro Times, "Sometimes on one street there would be four or five kassaks going on at the same time. They would start in the evening and I would go to one and sing two numbers, then on to the next.... Sometimes I used to sing at 10 kassaks a night. Gradually, my friends and others encouraged me and gave me confidence, because they liked my singing."
"The Little Prince of Dakar"
By the age of 14, N'Dour was performing in front of large audiences and had earned the nickname, "Le Petit Prince de Dakar," or "The Little Prince of Dakar." As a teenager he joined the Star Band, the best-known Senegalese pop band of the time, recording with them and performing in clubs in Dakar. By the time he was 20, he had left the Star Band to form his own group, Etoile de Dakar (Star of Dakar). They recorded three albums in Dakar and had a hit with their first single, "Xalis (Money)."
Looking back in 1990, he stated in the Detroit News: "When I started to play music, I was playing traditional music. But when I came to Europe to listen to the sounds around me, by 1984 I had a new attitude. I'm a new person now, opening fast. I like to change. I'm African, yes, but I like to play music for everybody. But my identity is African. That will never change." N'Dour and the Super Etoile began to win over Western audiences to the sound of mbalax. The Super Etoile consisted of 14 members, probably the largest aggregation with which N'Dour would ever perform. The group used traditional Wolof and African rhythms behind N'Dour's unique tenor. N'Dour continued to sing in Wolof, his vocal style often compared to the Islamic chanting heard in mosques and temples.
By the mid-1980s, the group was ready for a major international breakthrough; in addition to playing at N'Dour's nightclub in Dakar, the Thiosanne, they had toured the United States, Great Britain, and Holland. Remembering his audiences in Dakar and his friends from the Medina, N'Dour made it a point to return there. A song he wrote, "Medina," celebrates his old neighborhood and his old friends, who he told the Detroit News "are still my friends today and are the people I have around me."
In 1985 N'Dour and Super Etoile released Immigres, which became a classic in the Afro-pop field. It was issued in the United States three years later. N'Dour increased his exposure to Western audiences in 1986 by appearing as a drummer on Paul Simon's Graceland album. He recorded the Nelson Mandela album in Paris that year and toured the United States twice with Super Etoile, once on their own and once opening for Peter Gabriel. N'Dour sang backing vocals on Gabriel's So album; in fact, Gabriel is the Western musician most responsible for bringing Youssou N'Dour to America and other Western nations.
N'Dour continued to tour with Peter Gabriel in 1988, reducing the size of his band to six pieces and a dancer. In the summer of that year, N'Dour played New York's first International Festival of the Arts at the Beacon Theatre. The influence of American music on N'Dour was revealed in his half-set of American pop and soul, during which singer Nona Hendryx joined him for a song in English and Wolof. New York Times writer Jon Parelis wrote of N'Dour, "What makes Mr. N'Dour an international sensation, along with the dance rhythms of mbalax, is his unforgettable voice, a pure, pealing tenor that melds pop sincerity with the nuances of Islamic singing." Noting that mbalax has always combined international influences with Senegalese traditions, Parelis expressed his concern that American pop was diluting the effect of N'Dour's singing and the band's rhythms. N'Dour would later echo this concern in Rolling Stone, saying "It's a very difficult balance to keep the roots and bring in a bit of the Western world."
In the fall of 1988, N'Dour gained even greater international exposure as part of Amnesty International's "Human Rights Now!" world tour. At London's Wembley Stadium, N'Dour joined pop stars Bruce Springsteen, Sting, Gabriel, and Tracy Chapman to sing Bob Marley's classic reggae song, "Get Up, Stand Up." It was the start of a 44-day tour of five continents, including such nations as Hungary, India, Zimbabwe, Argentina, and Brazil. Only two U.S. dates were included, Los Angeles and Philadelphia.
Diverse Lyrical Content
N'Dour's original songs feature political and social commentary. He also writes and performs songs with a personal lyric content--about his old neighborhood and childhood pals, the youth of his country, and about roaming the countryside with a friend. In 1989 Virgin Records released an N'Dour album, The Lion (Gaiende). It was recorded in Paris and Dakar and was produced by George Acogny and David Sancious, who have combined backgrounds in jazz, pop, and rock. The Super Etoile, then an eight-piece band, was joined by some Western musicians, including pop-jazz saxophonist David Sanborn. Gabriel and N'Dour sing a duet on one of the album's tracks, "Shaking The Tree," a song celebrating women's rights. N'Dour sings in Wolof on the album, but English translations of the lyrics are provided. In a review of The Lion, New York Times commentator Parelis again expressed his concern that too much Western influence was creeping into N'Dour's music and writing, "Despite an undercurrent of Senegalese drums, the rippling vocal lines and dizzying polyrhythms that made Western listeners notice him are usually truncated."
By the fall of 1989, Super Etoile was back to full strength with 12 pieces for N'Dour's club dates in the United States. The extra percussion and instrumentation helped restore the driving rhythm of N'Dour's music. Reviewing a performance at New York's the Ritz, Parelis described the "two percussionists whose doubletime and tripletime rhythms restored mbalax's sense of swift, sprinting momentum." He noted that the intricate cross-rhythms combined ably with a firm downbeat to provide a mix of Western and Senegalese styles. The show ended with a song--about toxic waste--intended as a single from N'Dour's Virgin album, Set.
Set deals with personal emotions, social problems, and political issues. N'Dour remarked on the record in the Detroit News: "Most of the songs I heard in my youth were either love songs or traditional songs recounting the history of the people that I come from--praise songs, historical songs. The lyrics of my own works today I consider to be about the society in which I live, the world in which I live. I want my words to have an educational function."
Set, which means "pure" or "clean" in Wolof, had an unexpected effect on the youth of Senegal. It started an underground movement among the children living in the ghettos of Dakar. They took it upon themselves to clean up their neighborhoods and homes, removing unsightly waste and painting colorful murals with uplifting messages and pictures of cultural icons on city walls. "Set," N'Dour told RootsWorld magazine, "became a rallying cry for good behavior in public, for getting things done without waiting for the government to do them, for taking responsibility for one's environment, at the level of your own block."
Released Several Albums on Own Label
One of N'Dour's most successful songs was a duet with Swedish singer Neneh Cherry on a track called "7 Seconds," from the 1994 album Guide: The Wommat. More than three million copies of the single were sold worldwide, and the track received significant airplay on radio stations around the world. N'Dour released several albums during the 1990s on his label Jololi in Senegal. The albums Lii, St. Louis, and Rewmi featured roots-oriented music and were more world beat than his mainstream Afro-pop recordings that have been released in the United States. Six years passed between Guide: The Wommat and his next international release, Joko (From Village to City).
Joko, which was released in 2000 on the Warner Bros.-owned Nonesuch Records, features collaborations with several artists including Sting, Peter Gabriel, and Wyclef Jean. Jean also produced several tracks on the album, which received mixed critical response and some accusations that he had "sold out" to commercial pressure by making such a collaborative and crossover album. Nevertheless, the album was nominated for a Grammy Award in the Best World Music Album category. Two years later, Nothing's in Vain was released, again on Nonesuch, in the United States. The Asia Africa Intelligence Wire called the album "poetic and uncompromising, a more authentic experience [than Joko], suggesting a return to his African roots."
N'Dour launched another community-building project at the same time Joko was released. The project, also called Joko (which means "connection" or "link" in Wolof) aims to make the Internet accessible and relevant to those living in Africa. N'Dour, in a partnership with Hewlett Packard, set up a network of Internet access centers and Internet training in Senegal to bring the medium to those who wouldn't otherwise have such access to the Internet.
N'Dour is one of the rare stars who has chosen to stay in Africa even after achieving international renown. "Performers leave Senegal because there's nothing there to help them fulfill their potential," he told the United Nations' UNESCO Courier. "This has made me want to change things.... Artists have power and should use it to get their messages across."
In 2006, N'Dour played the African-British abolitionist Olaudah Equiano in the movie Amazing Grace, which chronicles the efforts of William Wilberforce to end slavery in the British Empire.Since 2007 he is also council member of the World Future Council.In 2011, N'Dour was awarded an honorary doctoral degree in Music from Yale University.
At the beginning of 2012, he announced he is in the race for the presidency of Senegal in the elections this year, competing Abdoulaye Wade.
Albums:
-Bitim Rew (1984)
-Nelson Mandela (1986)
-Immigrés (1988)
-The Lion (1989)
-Set (1990)
-Eyes Open (1992)
-The Guide (Wommat) (1994)
-Djamil (1996)
-Inedits 84-85 (1997)
-Special Fin D'annee Plus (1999)
-Lii (2000)
-Joko: From Village To Town (2000)
-Joko: The Link (2000)
-Rewmi (2000)
-Le Grand Bal (2000)
-St. Louis (2000)
-Le Grand Bal a Bercy (2001)
-Ba Tay (2002)
-Nothing's In Vain (2002)
-Youssou N'Dour and His Friends (2002)
-Kirikou (2004)
-Egypt (2004)
-Alsaama Day (2007)
-Rokku Mi Rokka (2007) — #30 in Rolling Stone's Top 50 Albums of 2007.
-Special Fin D'annee : Salegne-Salegne (2009)
-Dakar - Kingston (2010)
-Mbalakh Dafay Wakh (2011)
Films:
-Amazing Grace (2006)
-Retour à Gorée (2007)
-Youssou N´Dour: I Bring What I Love (2008)
Read more
Latest headlines