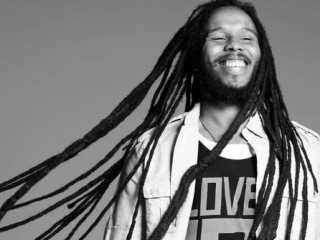 Ziggy Marley biography
Date of birth : 1968-10-17
Date of death : -
Birthplace : Trenchtown, Jamaica
Nationality : Jamaican
Category : Arts and Entertainment
Last modified : 2011-12-12
Credited as : musician, oldest son of Bob Marley, leader of the band Ziggy Marley and the Melody Makers
David "Ziggy" Marley is a Jamaican musician and leader of the band Ziggy Marley and the Melody Makers. He is the oldest son of famed reggae musician Bob Marley. His father gave him the nickname "Ziggy"; he has stated that it means "a small joint".
However, Marley has spent more than 20 years in the music business carving out a name for himself on his own terms. While willing to accept his role as heir to his father's throne as king of reggae, Marley has built on his father's music and life to create a broad eclectic spectrum of reggae sounds that bring in influences from roots rock to hip-hop. Between 1985 and 2000 he released ten albums with three of his siblings, known as the Melody Makers. In 2003, after a decade of falling sales and declining public interest in his music, Marley released his first solo album, Dragonfly, which sparked renewed critical attention and praise, with particular notice given to his hit single, "True to Myself."
David Marley was born on October 17, 1968, in Trenchtown, a poor section of Kingston, Jamaica, the oldest son of reggae legend Bob Marley and Rita (Anderson) Marley. Despite his humble beginnings, Marley's life was soon transformed by his father's growing fame. The senior Marley soon moved his family away from the tough Trenchtown streets, but could not entirely shield them from the violence that permeated all of Jamaica during the 1960s and 1970s. Popular around the world, in Jamaica Bob Marley's status neared mystical proportions. He was revered as a poet and a prophet, which was cause for concern among the island's radical political factions. On December 3, 1976, both Bob and Rita Marley were seriously wounded in an assassination attempt.
Banned by his parents from the recording studio during his youngest years, Marley, who was given the nickname Ziggy by his father, grew up playing soccer and fishing in Jamaica. When his father's music business brought the family to the United States, Marley spent several years living and going to elementary school in Wilmington, Delaware. His father taught him to play drums and guitar, and at the age of ten, back in Jamaica, Marley began sitting in on sessions with the Wailers, his father's background group, which included his mother Rita, also an accomplished singer.
When Marley was 11 years old, his father was diagnosed with untreatable cancer. After spending time in the United States attempting to fight the disease, the senior Marley eventually returned to Jamaica to live out his final days. He died in 1981 at the age of 36; Ziggy was 12 years old. In 1979, knowing his death was imminent, Bob called Ziggy into the studio to record a children's song he had written in 1975. "Children Playing in the Streets" was a protest song that dealt with the terrible conditions of poverty under which most of Jamaica's children were raised. Ziggy took lead vocals on the track, with background vocals provided by his older half-sister Sharon (Rita's oldest daughter, adopted by Bob), his younger brother Stephen, and his older sister Cedella. The proceeds from the single were donated to the United Nations Children's Fund. Later Marley recalled the studio session in an interview on the Relix website: "I remember it was like a free-for-all. We were just like children expressing. We weren't singing in key. We just sung. We were free and whatever notes came out it was okay. It wasn't even like a big deal. We just went there to sing and we just sing."
The four Marley children, who became known as the Melody Makers, began performing at special functions, including their father's state funeral in 1981. Marley began to write songs for the Melody Makers, and in 1985 the group released their first album, Play the Game Right. The album was formed around the reggae sound of their father and included the single "Children Playing in the Streets." Along with the title track, other cuts included "Reggae is Now," "What a Plot," and "Naah Leggo." Although the album received mostly positive reviews and attention, album sales were not impressive. Just 17 years old at the time of the album's release, Marley was still finding his place in the music world, dealing with both the privileges and problems of being heir apparent to the vacated throne of the king of reggae. Marley's strikingly similar physical appearance to his father fueled comparisons and heightened expectations.
Although Marley's lyrics were socially conscious, and many of his songs were written in the political protest vein of his father's music, the Melody Makers were marketed as another teenage kiddie band. Following up their debut album with the release of Hey World! in 1986 under the EMI America label, the group once again experienced the disappointment of poor marketing by the record label. Although the album once again earned positive reviews, sales lagged. When EMI pressured Marley to abandon his siblings for a solo career, Marley passionately defended the cohesiveness of the Melody Makers and his complete commitment to performing with his family. Rita, who served as her children's manager, abandoned EMI to sign a deal with the Virgin label, which promised to keep the Melody Makers intact.
The Melody Makers' third album was produced by husband-and-wife team Chris Frantz and Tina Weymouth of the group Talking Heads. Conscious Party, released in 1989, became the Melody Makers' break-through album, winning a Grammy Award for Best Reggae Recording. The album featured an eclectic mixture of reggae, roots rock, and pop that combined seemingly opposite influences within single tracks. For example, the cut "New Love" melds a dance beat with both a ballad setting and rootsy undertones. Other tracks included the upbeat "Have You Ever Been to Hell," and "Lee and Molly," a roots rock tune about love gone terribly wrong. The album included contributions from some of Jamaica's best-known reggae artists, along with appearances by Keith Richards of the Rolling Stones, Jerry Harrison of the Talking Heads, the Ethiopian band Dalbol, and the cast of the Broadway musical Sarafina! For Marley, Conscious Party became the proving ground for his own talent and charisma. Previously listened to primarily as Bob Marley's son, Conscious Party gave Ziggy a voice all his own.
The Melody Makers released three more albums on the Virgin label: One Bright Day, Jahmekya, and Joy and Blue. One Bright Day followed closely on the heels of Conscious Party in 1989. As with most of the Melody Makers' albums, Marley was the featured songwriter. He continued to mature as a songwriter, and One Bright Day features songs that are uplifting and optimistic without edging over into the preachy and pretentious. According to Jose F. Promis, who reviewed the album for All Music Guide, "There is not a single dud on this thoroughly engaging set, which helped cement Ziggy Marley and the Melody Makers as first-rate artists in their own right." Conscious Party and One Bright Day popularized Marley and the Melody Makers' reggae tunes among the urban crowds in both New York and California.
In the decade that followed Bob Marley's death, Jamaican music turned from reggae to dancehall music, which became very popular among younger Jamaicans. Released in 1991, Jahmekya ventured in new directions that reached out to the new hip-hop element with its digitized beats, while continuing to incorporate meaningful lyrics. Stephen, the youngest member of the Melody Makers, took a stronger lead on Jahmekya, authoring or co-authoring a number of the tracks. Although Marley himself was beginning to lean toward the more mature sounds of the urban rock scene in the United States, he fully supported the new directions explored by the group on Jahmekya. According to Billboard, Marley said, "I wanted to change everything with this album. I just wanted it to be different. When we were recording, I would say, 'That sounds too much like me, let's try something new.' I wanted to ... stir it up." The album was subsequently nominated for a Grammy Award.
Joy and Blue, released in 1993 when Marley was 25 years old, once again took the group in new directions, dominated by more soulful and personal lyrics. The Melody Makers stepped away from the influence of the Jamaican dancehalls and softened their approach to their roots rock past, bringing to life some of their best lyrics to date. "Mama" is a tribute to Rita Marley, who continued to serve as her children's manager and occasional background vocalist, and the group's soulful cover of "There She Goes" honors their legendary father. Despite slower sales than previous releases, Joy and Blue once again proved the eclectic appeal of the Melody Makers and their ability to alter their music as they matured.
Disturbed by the slow sales of their previous two albums and unhappy with the publicity efforts of Virgin, in 1995 the Melody Makers switched to the Elektra label to release their seventh album. Free Like We Want 2 B looked back to the reggae-dominated beats of Conscious Party and One Bright Day. The title track "Free Like We Want 2 B" is something of a rebellious song, at least indirectly aimed at shrugging off years of being compared to their father. When asked by the Michigan Chronicle yet one more time about living in his father's shadow, Marley responded: "The thing is that it is not my intention to come out of any shadow. My intention is only to make music.... I don't know what they [the public] expect of me. A lot of people expect not what they are getting. The song 'Free Like We Want 2 B' is about becoming a slave to no one."
The album, which introduced small changes in the way of style, provided some sharper-edged political songs, more in line with the protest songs of their father. "Hand to Mouth" addressed the exploitation of the Jamaican worker and the existence of many hungry children in Jamaica. "G7," another politically loaded song, focuses on the exploitation by the seven major world powers who play god and king to the rest of the world.
Marley and the Melody Makers released three more albums under the Elektra label: Fallen is Babylon, The Spirit of Music, and Ziggy Marley and the Melody Makers Live, Vol. 1. Experiencing declining popularity during the 1990s after peaking in the late 1980s, the Melody Makers were rewarded in 1997 with a Grammy Award for Fallen is Babylon. Once again incorporating elements of roots rock, reggae, hip-hop, blues, and even rap, the Melody Makers offered something for everyone on Fallen is Babylon. The most popular single to be pulled from the album was the reggae version of Curtis Mayfield's "People Get Ready."
In 1999 Marley, now 31 years old, produced his tenth album, The Spirit of Music. Picking up where Fallen is Babylon left off, Marley and his siblings fully returned to their father's reggae roots. Covering two of their father's songs, "All Day All Night" and "High Tide or Low Tide," the group filled out the album with pure reggae-driven songs that emphasized faith, love, and harmony. Tracks include "Keep My Faith," "We are One," "Beautiful Day," "Won't Let You Down," and "Jah Will Be Done." However, despite putting out an album referred to by Rosalind Cummings-Yeates in All Music Guide as a "must-have for even casual reggae fans," The Spirit of Music did not fare well in stores.
Despite having left Virgin Records for Elektra in hopes of boosting sales, Marley and the Melody Makers continued to experience declining popularity throughout the 1990s. By 2000 Marley was showing signs of frustration with the music world and was looking for new venues for his creative energies. "The music is there, the message is there," he told the Los Angeles Sentinel. "My father say it, me say it; how much more can I say?" Although Elektra released Ziggy Marley and the Melody Makers Live, Vol. 1, a compilation of the group's greatest hits, Marley was clearly unhappy with the support he was receiving from the record company. He publicly blamed the record business for pushing flash-in-the-pan artists who had instant fan appeal but no substance to their work, while abandoning artists and groups such as himself and the Melody Makers.
In 2003 Marley released his first single album, Dragonfly. This album shelved traditional reggae to depend much more heavily on rock and world-music themes. Although the songs were written in Jamaica, Marley recorded the album in California and Florida, with guest appearances by Flea and John Frusciante from the Red Hot Chili Peppers and Chris Kilmore and Michael Einziger from Incubus. After 18 years with the Melody Makers, Marley's crossover to become a solo artist garnered widespread media attention; however, the 34-year-old Marley has insisted that the Melody Makers are not defunct, but rather on a break while each member pursues individual interests and projects. No timetable has been set for the group's return to the studio.
With the cut "True to Myself" receiving significant radio air play, Marley took advantage of his increasing exposure in order to step out in new directions. He served as narrator for the film Life and Debt, a documentary that examines the social and economic problems of Jamaica, in which he argues that the country's excessive debt load dims any hope for significant recovery. Marley has also worked with the family's Jamaican record label, Ghetto Youths United, producing many of the studio's artists. In 2003 he became involved with DreamWork's animated feature Shark Tale, due in theaters in 2004. In this underwater mob film, starring the voices of Robert DeNiro, Angelina Jolie, Will Smith, and Renée Zellweger, Marley lends his thick Jamaican accent to the character of "Ernie," alongside cohort Doug E. Doug as "Bernie." Marley has also confirmed rumors that in the future he may star in a stage production about his father's life.
In April 2011, Marley announced his fourth album, entitled Wild and Free would be released on June 14. The title track, featuring Woody Harrelson, is available for free with the pre-order of Ziggy's first comic book, "Marijuanaman."
Solo Albums
2003: Dragonfly
2006: Love Is My Religion
2008: Love Is My Religion Live
2009: Ziggy Live From Soho
2009: Family Time
2011: Wild and Free
Read more
Latest headlines