Sports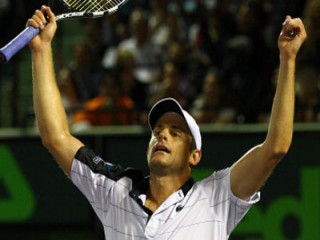 Andy Roddick beats Federer at day 7 of the Sony Ericsson Open, Azarenka and Sharapova reached quarter-finals
American Andy Roddick ended on Monday Federer's streak of 77 consecutive wins against players outside the top 20 by winning in the third round 7-6 (7-4), 1-6, 6-4 at the Sony Ericsson Open when he unleashed a 126-mph serve into the corner on match point and pulled one of the most satisfying upsets of his career.
After the match, he pointed to the sky, a tribute to his late agent Ken Meyerson of Miami, who died in October at the age of 48. Roddick said he felt like "a crazy person" because he was "having full dialogues with him the last 30 minutes of the match, so I was just letting him know I heard him."
It was just the third time in 24 tries that Roddick beat No. 3 seeded Roger Federer, and the sellout crowd of 14,278 could tell how much it meant to him. The last time he beat the Swiss was on the same court, in the 2008 quarterfinal. I'm never going to catch up to Roger, but I love when I have days like this, Roddick said on court after the match. This is why I play. I can understand why Roger had so many fans here, because of all his achievements, and it didn't matter to me who you were rooting for, I'm just so happy fans are excited about tennis. This was a great atmosphere to play in.
He later said after spending a day with Federer at a Madison Square Garden exhibition a few weeks ago, he "fully gets" why Federer has such a huge fan base. He was so impressed with how he handles all his obligations. A few years ago, playing at home as an American, I'd have been [ticked] off when fans cheered for him, but now I get it.
Meanwhile, No. 1 Novak Djokovic advanced to the fourth round by beating No. 27-seeded Viktor Troicki 6-3, 6-4. Djokovic is bidding for his third Key Biscayne title and second in a row. At the same time, American Mardy Fish, No. 8 seeded assured he'll remain the top-ranked American man by beating No. 28 Kevin Anderson 6-4, 6-3. Fish has yet to play in the stadium this tournament and instead faced Anderson at 11 a.m. on the grandstand court, but he said that was fine because prefers an early start. I like to know my fate, Fish said. I like playing in the heat. And I think everyone likes to know exactly when they play.
The Miami evening session at the Sony Ericsson Open at Crandon Park also saw Serena Williams matching a career high with 20 aces and whacking enough thunderous groundstrokes to beat Samantha Stosur 7-5, 6-3 and advance to the quarter-finals. My serve was hot, Williams said. I was like, 'That's pretty cool.' She avenged a loss to Samantha Stosur when they last met in the U.S. Open final in September.
Top-ranked Victoria Azarenka lost 10 of the first 11 games, then rallied to remain unbeaten this year by beating No. 16-seeded Dominika Cibulkova 1-6, 7-6 (7), 7-5. Azarenka was two points from defeat five times, but swept the last three games and extended her winning streak to 26 matches, all in 2012. Also reaching the quarter-finals was No. 2 Maria Sharapova, who overcame 11 double-faults to beat Ekaterina Makarova 6-4, 7-6 (3). Sharapova won despite committing 52 unforced errors and losing her serve four times.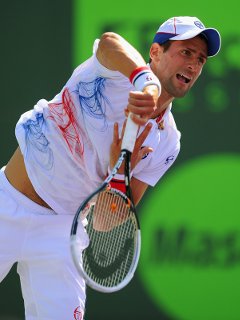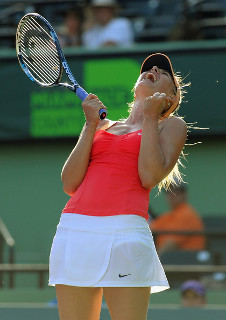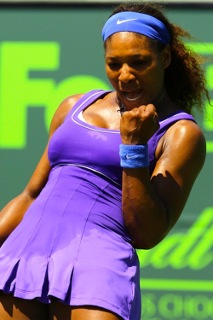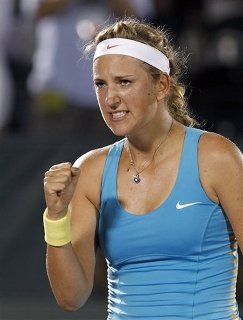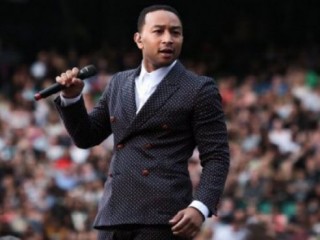 John Legend collaborates with Pharrell, Q-Tip and Hit-Boy for upcoming album
added on Tuesday 6th August 2013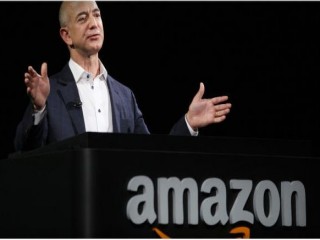 Jeff Bezos buys The Washington Post though he won't be leading it
added on Tuesday 6th August 2013