Arts and Entertainment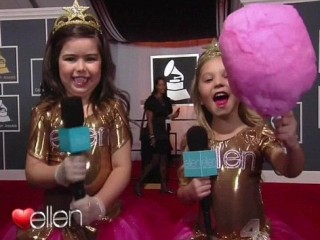 Video: Sophia Grace and Rosie Brownlee meet their favorite artists at Grammys
The Ellen Show has updated a new video on the YouTube channel with the the 8-year-old Sophia Grace Brownlee and her 5-year-old little sister Rosie during their interview at 2012 Grammy Awards. Both dressed in their now famous pink ballerina outfits and tiaras, the two meet their favorite artists on Sunday night, once again.
Speaking about their favorite moment of that night, Sophia Grace confessed it was the moment when they met Flo Rida who gave her his sunglasses, which told Sophia that he never takes off the sunglasses for anyone, but he did it for the little star. "I'm wearing Flo RIda's shades!" Sophia screamed.
Taylor Swift, Lady Antebellum, Katy Perry, Rihanna and Maroon 5 were amongst the stars that were interviewed by the Youtube sensations. When the girls met Lady Antebellum for their second time this past weekend (the first was at the AMAs), Hillary Scott asked who their favorite star is that they've met so far, and without skipping a beat Sophia Grace answered, "You!"
After a short "bubble party" with Lady A on camera, the girls met up with some of their favorite pop acts, with Rosie telling Rihanna she's her favorite singer. Then, pointing to her own gold, sparkling shirt, Sophia Grace began to speculate about what it was going to be like to meet Taylor Swift. "I bet you any money that Taylor Swift, when she comes up, she'll be wearing gold because gold really suits her, and in a magazine I've got it's got gold in all of it. So I bet you she'll be wearing gold," she dished to viewers. When the cameras show the country starlet making her entrance across the way, a high-pitched squeal of delight can be heard from about three feet above the red carpet. "It's Taylor Swift!" Sophia screamed. "And she's wearing gold!"
When they signed off: "Thanks Ellen," said Sophia. "We had so much fun at the Grammys. Now it's time for some cotton candy," added Rosie, producing a giant pink stick of the sweet treat.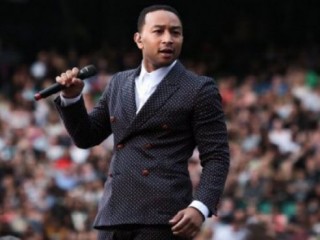 John Legend collaborates with Pharrell, Q-Tip and Hit-Boy for upcoming album
added on Tuesday 6th August 2013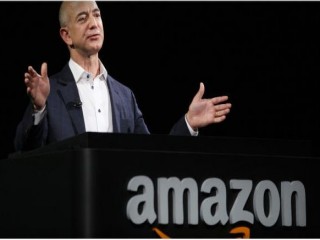 Jeff Bezos buys The Washington Post though he won't be leading it
added on Tuesday 6th August 2013